THAYER-ST. JAMES The Lost Tapes


By Ruben Mosqueda, Contributor
Thursday, July 7, 2022 @ 8:03 AM


| | | |
| --- | --- | --- |
| | | |
THAYER-ST. JAMES
The Lost Tapes
Independent Release 2022




When I got wind that BLACK 'N BLUE's TOMMY THAYER and JAIME ST. JAMES were releasing unearthed recordings from the late 80s, I was excited. Having been a fan of the band since the early 80s and gone to countless shows, I had to have it. Thayer and St. James issued The Lost Tapes independently and is available only through them. They've done something unique in that they've issued this only on CD and The Lost Tapes is not available on any streaming platform and cannot be downloaded. I love that. The Lost Tapes is aimed for the 'diehards' and BLACK 'N BLUE 'fanatics'. The album is composed of five songs that were cut by Tommy Thayer and Jaime St. James after BLACK 'N BLUE was let go by Geffen Records. St. James explained to me when I spoke with him, "It's five songs that Tommy and I wrote. It's what we started doing after Geffen [Records] had dropped us. So, we started working on some new songs to try to get another deal. GENE SIMMONS was working with us at the time, he had that label that he was working with at the time [Simmons Records] and he would have put us on his label. These recordings which we're offering now were originally paid for by Gene Simmons. We didn't follow through with anything because Tommy quit the band. He told me at the time that he wanted to go on and do other things. So once Tommy left, we owed Gene some money. Since then, Gene has given everything back to Tommy and me. He was like "It's all yours guys. Do what you want with these recordings."

The duo performs on The Lost Tapes mostly with some appearances from BLACK 'N BLUE bassist PATRICK YOUNG, PAT REGAN [producer and engineer] and [Portland, Oregon] guitarist JEFF LABANSKY, who had replaced JEFF WARNER. Also featured is guitarist MITCH PERRY. Labansky received co-writing credit on the track "Sweet Sensation", one of the highlights on The Lost Tapes. With songs like the aforementioned, "American Man", "Time" and "Ballad Of The Bullet", one has to wonder why Simmons didn't sign the band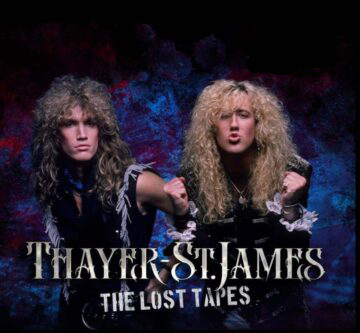 to his label? After all, he signed bands like SILENT RAGE and GYPSY ROSE, who had at best a couple good tunes on their albums. My favorites on The Lost Tapes are "Time", which is a fun, good time 80s influenced rocker and what could be their "Wanted Dead Or Alive" it's that good, and "Ballad Of The Bullet". Jaime St. James is doing something a little different here, still very much BLACK 'N BLUE but he sounds like he's channeling JANI LANE vocally, who ironically he'd go on to replace in WARRANT a few years later. A song that I just didn't get is the closer, "Work It". The song has potential but lacks that little something that the other tunes on The Lost Tapes possess. St. James told us that he used a drum machine on these cuts and it's noticeable at times but probably no more so than the drums of TWISTED SISTER's Love Is For Suckers or drums on KISS' Animalize or Asylum.
If you're a BLACK 'N BLUE fanatic you need to have this in your collection. It's a snapshot of what Thayer and St. James had up their sleeves and could have been going into the 90s. The album is available at www.thayerstjames.com, you'll pay a little more because they're putting this out themselves. As a little added bonus they're mailing out signed copies for those that order The Lost Tapes.
3.0 Out Of 5.0

Please log in to view RANTS


THE WINERY DOGS, BLACK HEART SAINTS In Houston, TX With Photos!

ROBIN MCAULEY Alive

CRADLE OF FILTH, DEVILDRIVER In Santa Ana With Photos!

KAMELOT The Awakening

ALTER BRIDGE, MAMMOTH WVH In Houston, TX With Photos!

ACID KING Beyond Vision

STEEL PANTHER On The Prowl

NIGHT DEMON Outsider

YNGWIE MALMSTEEN In Ottawa, Canada

THEORY OF A DEADMAN, SKILLET, SAINT ASONIA In Houston, TX With Photos!

OFFICER X Hell Is Coming

PERIPHERY Periphery V: Djent Is Not A Genre

INSOMNIUM Anno 1696

STEEL PANTHER, CROBOT, TRAGEDY In Houston, TX With Photos!

BABYLON A.D. Live Lightning

ROTTING CHRIST, CARACH ANGREN, UADA, GAEREA In Houston, TX With Photos!

MOTÖRHEAD Bad Magic: Seriously Bad Magic

TRAGEDY I Am Woman