AMON AMARTH The Great Heathen Army


By Peter Atkinson, Contributor
Thursday, August 4, 2022 @ 10:06 AM


| | | |
| --- | --- | --- |
| | | |
AMON AMARTH
The Great Heathen Army
Metal Blade Records




Since setting the benchmark for Viking-themed melodic death metal – a narrow category, to be sure – with 2006's With Oden On Our Side, Sweden's AMON AMARTH has been employing subtle tweaks to its signature sound to keep things fresh. Relatively speaking, anyway.

Some, like the epic conceptualizing of 2016's Jomsviking, have worked better than others, say the arena-metal bluster of 2019's Berzerker that even included groan-worthy clean vocals – albeit, and thankfully, briefly. But with 11 albums and now 30 years under its belt, you certainly can't fault AMON AMARTH for trying a bit of experimentation here and there instead of merely trotting out more of the same again and again.

For album #12, the quintet has taken a more back-to-basics approach, reminiscent of its work up to and including Oden. But it does not completely abandon the sense of adventure that marked 2008's Twilight of The Thunder God and the albums that followed.

For The Great Heathen Army, however, the band largely employs "tricks" that have worked previously, like the guest vocal tradeoffs with SAXON's Biff Byford on the rampaging "Saxons And Vikings", or improving on those that didn't, as on the romanticized, yet spirited "Heidrun", making for a more cohesive and spirited effort. And after the bloat of the nearly hour-long Berzerker, Heathen Army pares things down to a tidy, tenacious 43 minutes that hits the sweet spot between just enough and too much – which may explain why "Put Your Back Into The Oar", issued as a single in February, is not included here, buoyant though it is.

Heathen Army kicks off with the bracing "Get In The Ring" and its timeless "put up or shut up" challenge that would work great as theme music for just about any wrestling/ultimate fighting event these days – indeed, former AEW wrestler Erick Redbeard is featured in the video and is apparently using the song as his entrance music, so there you go. With its drum gallop and death knell bells, manic riffs and frontman Johan Hegg's emphatic growl, it's also the perfect album/show opener and lets you know these guys mean business here.

"Oden Owns You All" and "Saxon And Vikings" are as equally hard-charging, and some of the feistiest tracks AMON AMARTH has done of late. "Dawn Of Norseman" and "Skagul Rides With Me" provide more measured intensity with their ample guitar harmonies, swelling trems and tempo changes, but pummel nonetheless. Perkier and certainly more lighthearted is "Heidrun" and its salute to the goat that ate the foliage of the tree Læraðr to produce mead from its teats for the einherjar warriors - per Norse mythology. Complete with goaty bleats and a shout-along chorus near the end, it's a more "rustic" take on "Raise Your Horns" from Jomsviking that has been a live staple for the band.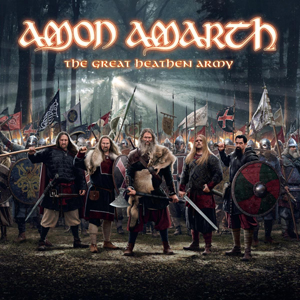 Of course, it wouldn't be an AMON AMARTH album without a few odes to epic quests and battles. So along with the furious "Saxons And Vikings" is the anthemic title track that essentially serves as its prelude. "The Great Heathen Army" chronicles the Viking invasion of England in 865 that went on for 13 years until the Vikings were defeated by Alfred The Great at The Battle of Edington, which is detailed in "Saxons And Vikings".
Hegg's "Chaaaarrrrrge!!!" bellow at the midway point of "Heathen Army" will make the hair stand up on the back of your neck. Even beefier and more assertive is "Find A Way Or Make One" with Hegg's especially commanding vocals. Shouting - a la MANOWAR - what amounts to a series of empowering slogans "Stand Tall! And Fight! The Ground will Quake!" over some seriously hulking hooks, Hegg sounds like some berserker life coach.
Heathen Army wraps with the fairly textbook epic "The Serpent's Trail" that offers plenty of drama and emotion, but feels a bit tepid as a closing number. After all of the energy and vitality that came before it, the album deserves a more resounding finish – which "Put Your Back Into The Oar" might have provided had it made the final cut. But that's a minor opportunity lost on an otherwise pretty solid and satisfying effort.
4.0 Out Of 5.0

Please log in to view RANTS