ARCH ENEMY Deceivers


By Andrew Depedro, Ottawa Corespondent
Thursday, August 11, 2022 @ 10:26 AM


| | | |
| --- | --- | --- |
| | | |
ARCH ENEMY
Deceivers
Century Media Records




If the last few years have taught us anything, it's that we need regular, jolting doses of heavy fucking metal to keep us on the right track. That, and that the genre, much like the ongoing pandemic, knows no borders or limitations. Case in point would be the unstoppable tenacity of the balls-out, melody-stuffed heaviness of ARCH ENEMY, who have been one of the most talked-about metal bands over the course of the past year with its upcoming 11th studio album Deceivers, an explosive-packed banger of an album that not only showcases the band's ongoing ability to blend its powerful hard-hitting metallic onslaught with harmonious riffs and vocals, but also triumphing over adversity throughout its recording. Indeed, the band has been privy to lineup changes throughout its 25 year-long career, not least with the arrival of Alissa White-Gluz (ex-THE AGONIST) who joined following the departure of its most well-known iconic singer Angela Gossow and has shaped the band's sound since her debut on 2014's Will To Power. Yet, the pandemic had managed to briefly curtail the band's activity in delaying this album's release date at least twice.

"Our last concert was December 15, 2019," recalls band founder and guitarist Michael Amott. "So then we took a year off, because we'd been in everyone's faces for a while, and we thought we'd start writing a new album and start recording it at the end of 2020...and that's what we did! In January 2020, me and Daniel (Erlandsson, drums), went over to Mexico and rented a place for a couple of weeks. It was on the beach, which was great, but we turned the living room into a little makeshift demo studio, with a couple of guitars and programmed drums. It was just nice to take time out and get away from everything. We did quite a lot of demoing there, but then the pandemic hit. I was stuck in Sweden, as was Daniel, so we continued writing. There weren't really many restrictions in Sweden, we didn't have lockdowns like most of the world, so it was kind of easy to meet up and keep working on the music." Which they did, but there was still the matter of geography and different approaches to the pandemic elsewhere that had also delayed the contributions to the band's two North American-born members.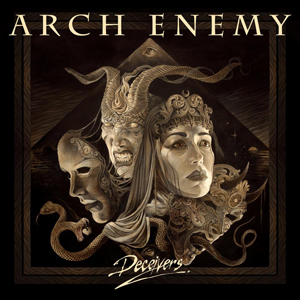 "It did turn out to be the worst time ever to have an international line-up!" laughs Michael, "That part of it sucked. It was like, 'Now we want Alissa to come in and do the vocals, and Jeff (Loomis, guitarist) to come in and do his solos, both from North America...' Well, that wasn't going to happen, but in the end we made it work. It was just more complicated, the logistics were shit and everything was a lot more expensive! (Laughs) But we got it done in the end. I think we really wanted to get it done."
And done it eventually became, assisted in part with individual releases of several tracks throughout the spring during its recording, starting with the belligerent fury of recent single "Deceiver, Deceiver" and the dramatic, viciously melodic "House Of Mirrors" followed by the lengthy yet fast-paced visceral crush of "Handshake With Hell" featuring some of cleanest-sounding vocals in the band's career, Deceivers is the sound of ARCH ENEMY at the top level. With the duelling riff work of Loomis and Amott at its nadir and White-Gluz' vocals sounding as powerful as ever, there is not a single opportunity to thrash out on this album that goes missing. Even on deeper tracks such as "In The Eye Of The Storm" and "Spreading Black Wings", Alissa puts more of her own indelible signature on her vocals while channeling the raw punk-sounding passion and savage realism of her predecessors, Johan Liiva and Angela Gossow respectively.
The result is a sharper and more ferocious ARCH ENEMY than we have heard before, and despite the album moniker, Deceivers never tries to disguise itself or lead anyone on about its place on metal's cutting edge in an environment it's otherwise conditioned itself to adapting to while helping to hammer home those metal hooks with more intensity than ever.
5.0 Out Of 5.0
https://www.archenemy.net/en/
https://www.facebook.com/archenemyofficial
https://www.instagram.com/archenemyofficial/
https://twitter.com/archenemymetal

Please log in to view RANTS