ANTHRAX, BLACK LABEL SOCIETY, HATEBREED In Hollywood, CA With Photos!


By Francisco Zamudio, Metal X Candy 2.0
Monday, August 15, 2022 @ 10:48 AM


| | | |
| --- | --- | --- |
| | | At The Hollywood Palladium |
All Photos By Diego Gonzales Pictures
From what has to be added to the list of all the amazing concerts I've witnessed at one of my favorite venues in Los Angeles, ANTHRAX at the Hollywood Palladium is definitely one I'll be feeling. Along with HATEBREED and Zakk Wylde's BLACK LABEL SOCIETY, it made this sold out night in Hollywood one for the books. With Les Claypool playing up the street and an always option-filled town on a Friday night, old school and new school Thrashers came to catch the 40th Anniversary tour by New York's finest. From The Jeff Hanneman Memorial to the original SEPULTURA around the time for their '96 release, CHAOS A.D., The Hollywood Palladium holds a special place in my heart. As we approached the venue, you could clearly see the line getting longer and the crowd rising with anxiousness just as the heat was starting to come down. You could see a mix of people, fans I should say, of various backgrounds and ages. Though 4 decades, ANTHRAX has crossed boundaries and reached such a wide audience through so many ways, with their appearance on the TV comedy Married…With Children, their crossover collaboration with PUBLIC ENEMY (more on that later) and even the 'BIG 4' which brought together the most successful mainstream bands in Thrash Metal. Some parents are doing parenting right though, passing on this love of Metal to their young ones as there were lots of youngbloods who are learning to appreciate the hardcore, die-hard veterans still doing it today. To hell with all this culture appropriation that trendy, ignorant minds try to spoil and sweep under the rug. They can't overshadow what we've created. Never gonna happen. After all we are "AMONG THE LIVING!!"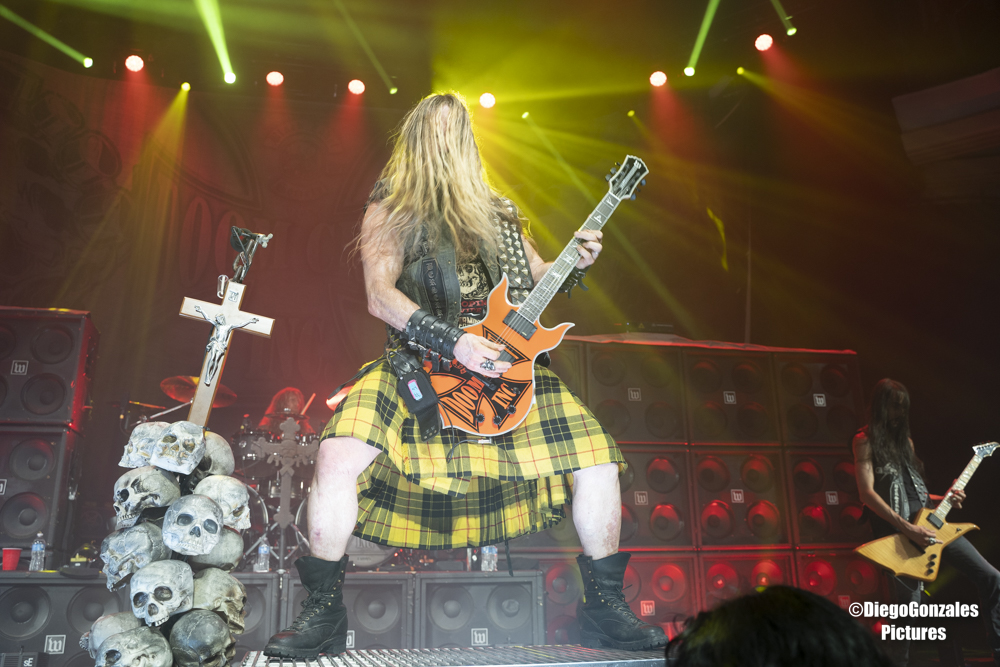 Opening the night was modern Hardcore badasses HATEBREED led by a true Metal Ambassador Jamey Jasta who has been a great face for modern Metal and doing his part with his various inclusions whether on music news sites or hosting video shows. And on this night he showed off a new look with much more hair. Jamey had grown out a nice full beard and long hair tucked underneath his trademark baseball cap. A far cry from his previous clean cut look, this "what-2-years-of-seclusion-looks-like" was definitely an attention grab. It was a good look on him. I've been to a few HATEBREED shows and they always bring the energy. As one of the best modern Hardcore bands of the time, they've shed some more light on the Metal scene with their positive message in Jamey's lyrics, making them a real personable band people easily gravitate towards. Speaking for a new era in Metal, "I Will Be Heard" had become the anthem that would push HATEBREED into the mainstream, evident by the Palladium as it was already jam packed on this sold out nite. The crowd came to "Destroy Everything" and let out some frustration, stress and lots of emotion brought on by what was outside those doors. Once you came into this safe-space, you were among family.
Praise given where praise is due, Zakk Wylde is one of the greatest guitarists of our modern day. Since his days with Ozzy, the Randy Rhoads prodigy has made a name for himself along with his group BLACK LABEL SOCIETY. A style that blends Blues, Rock and Metal – his guitar sound is unique as well as his vocal style that feels very similar to Ozzy's approach. Starting from a high energy and aggressive tone on the night, to BLS to bring it down a bit and made things feel much more somber, settling the mood down to possibly calm the crowd down so when ANTHRAX hits the stage, it would just make it that much more explosive. With their Faux-wall of guitar cabinets, the Zakk show is what you'd expect in that of him showing off how much of an impressive shredder he is. As beach balls got tossed around during the set, it helped keep the energy going through their mellow set. With a beautiful dedication to the Abbot Brothers, guitar-dueling action, the guitar-behind-the-neck trick, and beach balls dropped onto the crowd their set was filled with flashy showmanship to keep the crowd entertained. So whether you're a guitarist yourself or simply a fan who enjoys (guitar) soloing, this was right up your alley.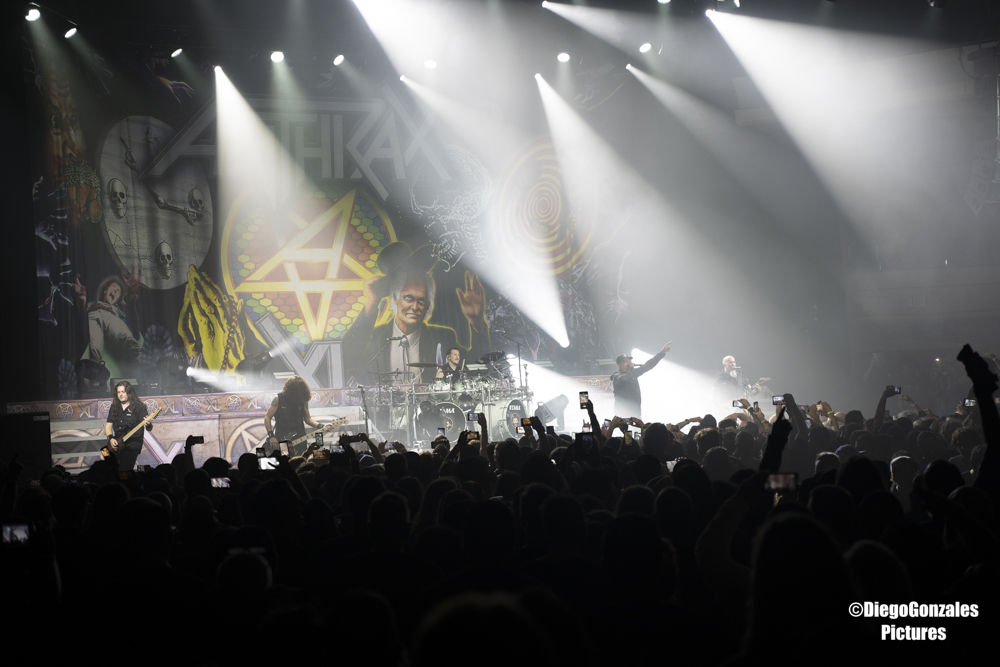 Now ANTHRAX, for me, is one of those bands that that just moves me. I told myself I was just going to stand back and watch the show but I couldn't help but get "Caught In The Mosh". They get me every single time and every single time they come through, they put on an amazing show. They energy flowing from the stage and from the crowd, there is nothing like it. ANTHRAX is one of those bands that seemed to have gotten more polished in these later years, showing no signs of rust and for their 40th Anniversary tour, they pulled out the big guns. How about Chuck Mutha-f*kin D in the house to "Bring The Noise", throwing in classic cuts like "Metal Thrashing Mad", they were intent on causing a "Madhouse". Let's rewind a second… To introduce the band, they projected a video on the screen covering the stage, of various artists giving their praise of ANTHRAX and what they've done, what they represent and congratulating them on their 40 years. Actors and Musicians showed their love by sharing their thoughts, from Keanu Reeves, Gary Holt, Rob Zombie, Dave Mustaine, Rick Nielson, Henry Rollins, Brian Posehn, Norman Reeedus, Phil Anselmo… and many, many more. Nevermind being recognized as part of "The Big 4", ANTHRAX are their own animal with their own style that could not, would not, cannot be duplicated. With what felt like a short set, there are of course so many songs that we would love them to play but how do you fit in 40 years into 90 minutes?
Check out some more photos from the show!
All Photos By Diego Gonzales Pictures

Please log in to view RANTS



SOEN In Paris, France

TRAUMA Awakening

STRYPER, STEPHEN PEARCY In Houston, TX With Photos!

ELLEFSON/SOTO Vacation In The Underworld

THE DEAD DAISIES, GILBY CLARKE, ENUFF Z'NUFF In Los Angeles With Photos!

AUTOPSY Morbidity Triumphant

CHEZ KANE Powerzone

LAMB OF GOD Omens

GOATWHORE Angels Hung From The Arches of Heaven

REVOCATION Netherheaven

VENOM, INC. There's Only Black

STRYPER The Final Battle

TALAS 1985

QUEENSRYCHE Digital Noise Alliance

MOTÖRHEAD Iron Fist 40th Anniversary Edition

TESLA, KURT DEIMER In Houston, TX With Photos!

CLUTCH Sunrise On Slaughter Beach

SCORPIONS, THUNDERMOTHER In Houston, TX With Photos!

BEHEMOTH Opvs Contra Natvram

IRON MAIDEN, TRIVIUM In Austin, TX With Photos!

AEROSMITH, EXTREME In Boston, MA With Photos!

SAMMY HAGAR, GEORGE THOROGOOD, QUEENSRYCHE In Ridgefield, WA With Photos!

KINGS OF MERCIA Kings of Mercia

OZZY OSBOURNE Patient Number 9 In-Store Record Signing In Long Beach

ALICE IN CHAINS, BREAKING BENJAMIN, BUSH, THUNDERPUSSY In Ridgefield, WA With Photos!

GOATWHORE, INCANTATION, BEWITCHER In Los Angeles With Photos!

SKID ROW The Gang's All Here

FALLUJAH Empyrean

FIVE FINGER DEATH PUNCH, MEGADETH, THE HU, FIRE FROM THE GODS In Houston, TX With Photos!

DEICIDE, KATAKLYSM, INHUMAN CONDITION In Los Angeles With Photos!

KING'S X Three Sides Of One

BLIND GUARDIAN The God Machine

BUTCHER BABIES, UNCURED In Los Angeles

STYX, REO SPEEDWAGON, LOVERBOY In Mansfield, MA With Photos!

AT THE GATES, MUNICIPAL WASTE In Los Angeles With Photos!

OCEANS OF SLUMBER Starlight and Ash

A-Z A-Z