BELPHEGOR The Devils

By Peter Atkinson, Contributor
Tuesday, August 23, 2022 @ 7:58 AM

| | | |
| --- | --- | --- |
| | | |
BELPHEGOR
The Devils
Nuclear Blast Records




Austria's BELPHEGOR has been doing its thing for a mighty long time, 30-plus years if you go all the way back to its origins as BETRAYER. And while the lineup has often changed over the years, bandleader/frontman/guitarist Helmuth Lehner has managed to keep things moving forward through thick and thin – including a bout with typhoid fever that nearly killed him a decade ago.

And as creative director, he has steered the band's eclectic, self-described "diabolical death musick" with remarkable consistency on occasionally curiously titled albums like Necrodaemon Terrorsathan, Pestapokalypse VI or Bondage Goat Zombie. So while something like The Devils may seem a somewhat ordinary or mundane title by comparison, the band's 12th and latest album is anything but when it comes to the music.

After 2017's comparatively streamlined Totenritual, BELPHEGOR returns to the more expansive and elaborate presentation that it didn't get quite right on 2014's Conjuring The Dead. But where Conjuring bogged down in its myriad accoutrements - female vocal accompaniment, samples, industrial elements and contributions from MAYHEM's Attila Csihar and DEICIDE's Glen Benton – The Devils is somewhat more modest in its ambitions and most of the extras are done within the confines of the band, which here is Helmuth, long-time bassist Serphenth and guest drummer David Diepold of COGNIZANCE/OBSCURA.

Helmuth and Serpenth provide the chanted, ritualistic lead/backing vocals that come and go on the likes of "Glorifizierung des Teufels" and "Damnation – Höllensturz" and predominate on the meditative "Virtus Asinaria – Prayer", which is is sung in Latin over opulent trem guitars and the martial pace set by Diepold. As with past BELPHEGOR albums, The Devils' lyrics switch from English to Latin to German - sometimes line by line - throughout many of the songs, though it can often be tough to tell which is which given Helmuth's scabrous growl that lends uniformity to go along with its menace.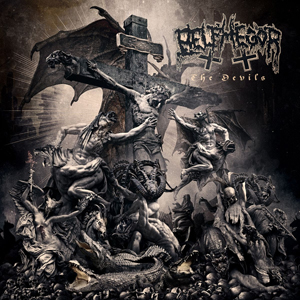 Tempo is really the key to providing the drama and contrast here. Over the bulk of the album, the songs slingshot back and forth from gothy/gloomy trudge to black/death metal tumult, with Diepold ably steering the ship in his turn as one of more than a dozen drummers BELPHEGOR has employed as live/session/full members over the years. The slower tunes, like the title track that opens the album or the aforementioned "Glorifizierung des Teufels" are redolent with layers of moody guitar that when accentuated by the often haunting vocal delivery build atmosphere without resorting to symphonics or embellishments – other than brief acoustic guitar interludes and some sparse mournful female wails that lend a Middle Eastern flavor. Jens Bogren's bold, clear production makes it all the more resonant.
And when they are played against the blackened outbursts of "Totentanz - Dance Macabre", "Kingdom Of Cold Flesh" or "Ritus Incendium Diabolus" with their technical twists, or sudden dynamic shifts like the absolutely breathless finale of "Damnation – Höllensturz" it makes for an effective, often exhilarating ebb and flow. The double-barrel intensity of "Kingdom Of Cold Flesh" and "Ritus Incendium Diabolus" points toward a furious finale, but the Eastern hues, wails and Gregorian-like chants of earlier all morph into one for "Creature Of Fire" and close things out with more fizzle than pop.
However, most formats include the bonus track "Blackest Sabbath 1997" which rectifies that to a degree. The song is a corrosive, elongated update of "Blackest Ecstasy" from 1997's Blutsabbath, with the final verse of the song "Blutsabbath" tacked on at the end, that provides a more satisfying denouement than "Creature Of Fire" – unless you get the standard CD. And who buys those nowadays anyway?
3.5 Out Of 5.0