All Photos By Hannah Laney
MY CHEMICAL ROMANCE put on one hell of a performance Tuesday night in Nashville. The early 2000's punk rock band who started a revolution is back and better than ever. The Way brothers, Gerard and Mikey, Frank Iero, Ray Toro, and Jarrod Alexander were back to finish what they started.
Canadian alternative rock band DILLY DALLY started the show as the pre-opener for the evening. Singer and guitarist Katie Monks gave off a unique energy while expressing different worries and troubles through the music being played. "Sober Motel" sounded like it could have been released in the early 90's in the Seattle grunge scene. Holding a sparkly emerald Ibanez electric guitar, Monks screamed into the microphone a few times here and there, shooting electricity throughout the room.
TURNSTILE made an absolute monster of a return to Music City, just a few short months after their own headliner show. Songs like "Mystery", "Blackout" and "…Holiday" drew an incredible reaction from the crowd, most of which seemed to already be fans. The band has been around long enough to have somewhat of a more than decent following, but it has appeared that their popularity has only been skyrocketing in the last couple of years with the release of their latest album, Glow On. Donning a t-shirt with "THANK YOU" written across the front, frontman Brendan Yates had an impressive stage persona from the beginning.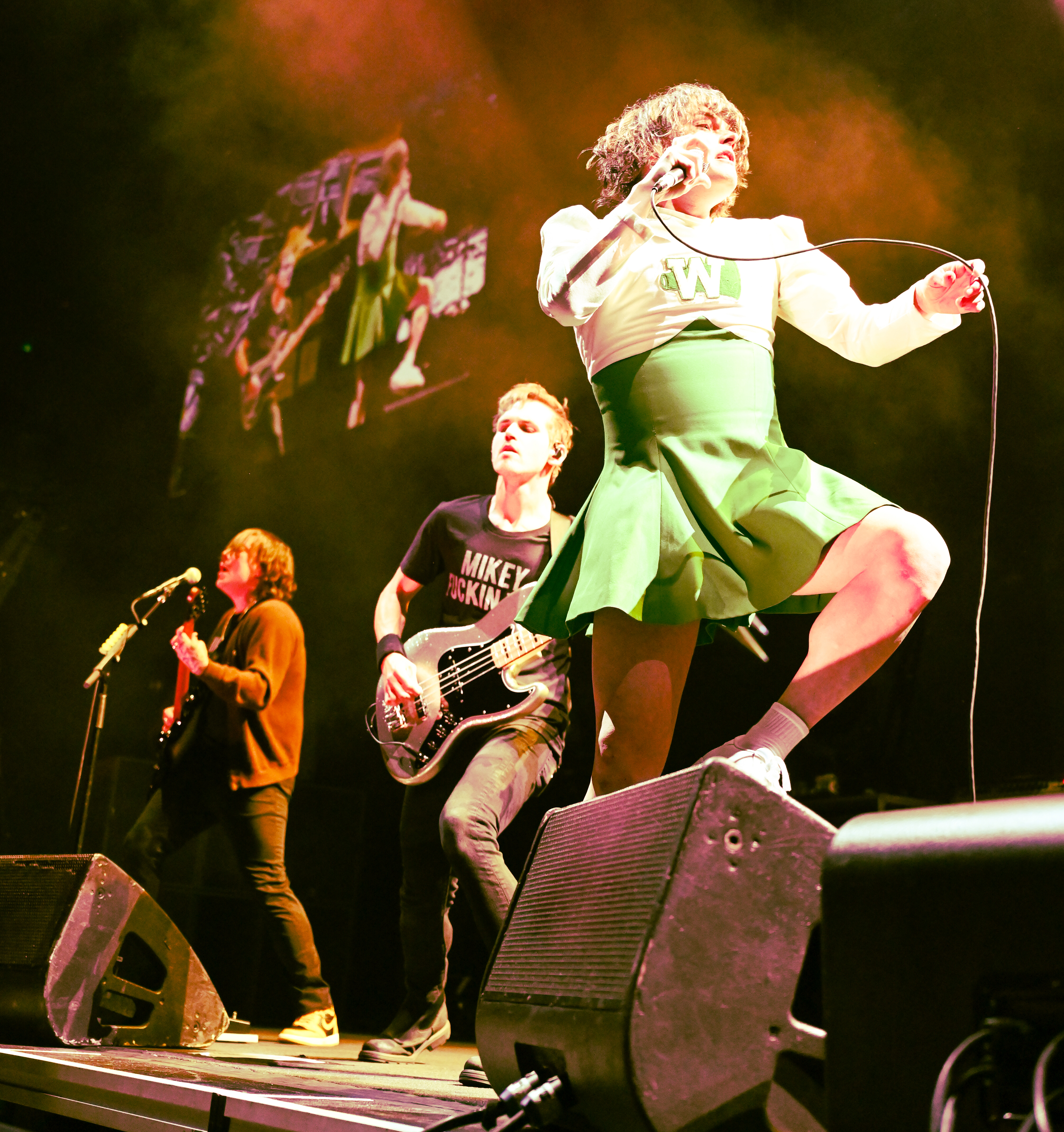 The crowd was roaring before the group even took the stage. It was a night of sweat, tears, and angst that had been pent up over the past few years. Gerard Way made his entrance dressed in a cheerleader uniform, more than likely making every single person in the room envy his swagger. Introducing themselves as basically just a band from New Jersey, the five members led a humble pathway into an extremely imposing set. Opening with "The Foundations of Decay" was a solid choice made by the seasoned rockers, easing into the set slowly. With such a legendary catalogue, it wasn't hard to start from a sweet spot. For the first time ever, MCR performed "The World Is Ugly" live. Other songs that had been performed live many times, such as "Welcome To The Black Parade" and "Teenagers" must have been so perfected over the years, but the musicians made it seem like they were just as eager now to play them as they had ever been.
There are really no words to describe the insanity a band like MY CHEMICAL ROMANCE has brought up in society, for the better.
Song after song, note after note, bodies were crashing into each other like it was the first and last show they would ever go to. There were fans lined up for hours just waiting to experience the incredible feeling that the night would ultimately bring.
The smiles that lit up each member's face on stage said that they were just as happy to be there as we were. It was one of the shows you felt like you could live in for the rest of your life.
Closing the night with "The Kids From Yesterday" off their 2010 album Danger Days: The True Lives of The Fabulous Killjoys, MY CHEMICAL ROMANCE knew that they had given a performance that would stand the test of time. Nashville is known for providing a different frequency when it comes to live music, and that's exactly what happened at Bridgestone Arena when this iconic music was played. These lyrics from "Helena" sum it up perfectly:
"What's the worst that I can say?
Things are better if I stay
So long and goodnight
So long and goodnight…"
Check out some more photos from the show!
All Photos By Hannah Laney