MACHINE HEAD ØF KINGDØM AND CRØWN


By Peter Atkinson, Contributor
Friday, August 26, 2022 @ 7:58 AM


| | | |
| --- | --- | --- |
| | | |
MACHINE HEAD
ØF KINGDØM AND CRØWN
Nuclear Blast Records




The conventional view of MACHINE HEAD's last album, 2018's Catharsis, was that it pretty much sucked ass. I sure thought so. Aimless, overblown, bloated and tedious, it was the sound of a band seemingly set to implode. Indeed, in its aftermath, longtime guitarist Phil Demmel and drummer Dave McClaintook their leave after 15 and 23 years with the band, respectively.

At that point, things looked rather grim for MACHINE HEAD. But frontman/guitarist/band leader Robb Flynn had been down that road before. Following 2001's ill-fated Supercharger, it seemed like it might be curtains when Roadrunner essentially pulled the plug on the band. Yet, ironically, after Demmel joined for 2003's Through The Ashes Of Empires, what initially was the Bay Area quartet's last stand turned out to be the comeback album that saved its bacon. Now here we are, 20 years later, and it seems like déjà vu all over again, as Yogi Berra would say.

So, can lightning strike really twice? With ØF KINGDØM AND CRØWN I would say that indeed it can. At the very least, it is a definite and dramatic improvement over Catharis. At best, it's a focused, genuinely satisfying and resounding effort that steers relatively clear of its predecessor's pretensions and utter ponderousness and is a return to form akin to Empires, when the band was able to shed its nu-metal trappings. And where Catharsis dabbled in curious Celtic punk/bluegrass, lame rap and other divergences, the new album wears its metallic crown – or CRØWN, as it's stylized here – proudly, if a bit pompously.

Obviously, the post-Catharis/pre-COVID reunion shows MACHINE HEAD did with the Burn My Eyes lineup – or at least drummer Chris Contos and guitarist Logan Mader – to mark that album's 25th anniversary and the addition of Polish guitarist Wacław "Vogg" Kiełtyka of DECAPITATED and English drummer Matt Alston (ex-DEVILMENT) to the current lineup have resonated with Flynn and bassist Jared MacEachern in that regard. And as CRØWN illustrates, that's a good thing, even if Vogg and Alston's contributions were limited at best, thanks in part to geography – the drums were recorded by local whiz Navene (ENTHEOS, JOB FOR A COWBOY) Koperweis – and Vogg's commitments to DECAPITATED, which issued a new album of its own and toured earlier this year.

Regardless, CRØWN is a heavy duty, tenacious piece of work. Though it takes awhile to uncoil – opening with the slow-burn, 10-plus minute "Slaughter The Martyr" – the band gets cooking with "ChØKe ØN The Ashes ØF YØUr Hate" and maintains a level of intensity somewhere between simmer and boil the rest of the way. "Hate" offers one of CRØWN's more pronounced forays beyond MACHINE HEAD's typical groovy histrionics with its barnstorming hardcore/thrash mash up, as does its follow up "BecØMe The FirestØRm" with its black metal trems and furious blast beaty tempo. But both are well-executed and well-intentioned, and don't come of as the naff, half-baked ideas that bogged down Catharsis.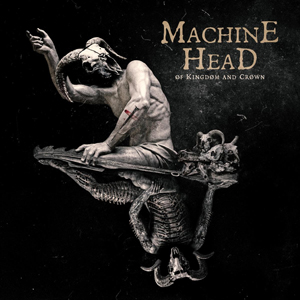 Much of CRØWN, though, is all about groove, with flashes of KILLSWITCH ENGAGE-like melodic metalcore here and there, which also manage to connect. The hulking riffs from Flynn and Vogg are dense and meaty throughout, be they on the turbulent "My Hands Are Empty", the more direct, chuggy tandem of "BlØØDshØT" and "RØTten" or the thunderous "Kill Thy Enemies".
Boasting a theme that is loosely inspired by the often horrific anime "Attack On Titan", CRØWN is split into similarly configured segments separated by brief segues that work well together to give the album a cinematic grandeur. The three opening tracks build to "FirestØRm"'s fury. "My Hands Are Empty" and "UnhallØWed" blend anthemic sweep and tempo-change dynamics with distinctive melodies complete with clean vocals. "Kill Thy Enemies" through "RØTten" step up the crunch to sometime PANTERA-esque proportions before the epic "ArrØWs In WØRds FrØM The Sky" delivers the album's majestic, soulful finale.
At 13 songs and an hour's worth of music, CRØWN is certainly a hefty slab to chew through. But sans the flab and gristle that made the 75-minute Catharsis all but inedible, it is far more palatable – not to mention tolerable. Indeed it is a resilient effort by a band that has shown a willingness to push the envelope – often at its own peril – but a propensity for bouncing back when the chips are down. We all make mistakes. And even if MACHINE HEAD's tend to be self-inflicted, the band is able to learn from them and move on. At least until the next one, anyway.
4.0 Out Of 5.0

Please log in to view RANTS