DEICIDE, KATAKLYSM, INHUMAN CONDITION In Los Angeles With Photos!


By Francisco Zamudio, Metal X Candy 2.0
Wednesday, September 7, 2022 @ 10:29 AM


| | | |
| --- | --- | --- |
| | | At the Regent In Downtown Los Angeles |
All Photos By Diego Gonzales Pictures
Day 2 of my 4 day metal-bender went to solid line-up at The Regent in Downtown Los Angeles. Headlining this night was Florida Death Metal GOATís (pun intended), DEICIDE who have also bought into the era of performing iconic full-length albums, live. They decided that 1992ís LEGION would be the best way to terrorize the masses, and a great decision it was. For me, LEGION had to be one of the most evil albums I was hearing at the time during my initial, initiating phases into the Metal world growing up in the 90ís. Having been only 12 at the time, I was already getting to know some of Death Metalís would-be pioneers, especially band from Florida. In support of this eventful night was INHUMAN CONDITION who is also part of the Florida Death Metal scene as Iíll explain next. Sandwiched in between is Canadaís KATAKYLSM who helped make this night even heavier who unbeknownst to me would also perform an entire album on this tour, but weíll get to that later.
INHUMAN CONDITION, though a relatively new name, already have 2 outstanding albums out. Consisting of former members of the Old School Floridian Death Metal band MASSACRE (hence the name taken from the 1992 EP) which also includes Bassist Terry Butler who has been around some of the greats as well in that of OBITUARY and DEATH, he should add this one to the list. It seemed the crowd didnít have too much of an idea of who they were unfortunately but they did enjoy what they were hearing despite the lack of movement in the pit that would eventually pick up near the end of their set. Had they known who was in front of them, it likely would have added to the energy in the room. Whatever lacking, it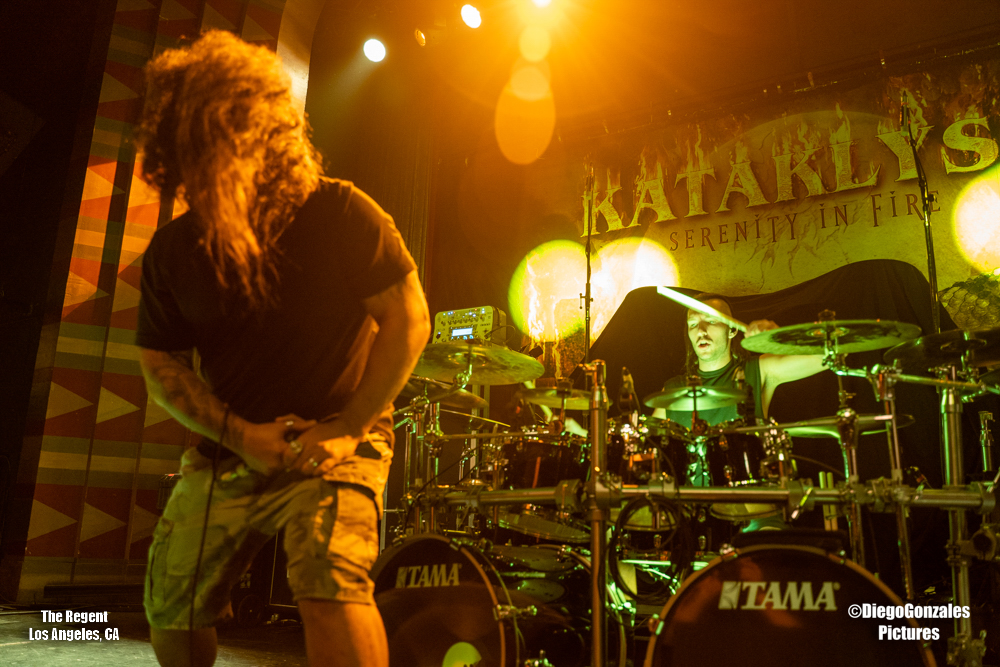 didnít take away from their performance and still sounded great. Drummer-turned-Vocalist Jeramie Kling was really engaging the crowd, stomping back and forth and interacting with his bandmates. While vying for the crowdís acceptance, they were a lot of fun to watch with their organic stage presence. INHUMAN CONDITIONís sound which is the crossover of Old School Death Metal and Thrash is sure to catch on in the future and I highly recommend people check out their 2 releases, their 2021 debut Rat Lord and their recent of this year FEARSICK. Worth noting, on drums was Simon McKay who plays in THE AGONIST, another group we here at KNAC.COM covered not long ago.
Also celebrating an albums anniversary was KATAKLYSM and their 2004 release SERENITY IN FIRE of which they would also play in its entirety. By this point, The Regent was jam packed on this sold out night. That I recall it was my first time seeing the Canadian group and they left a big impression on me and the crowd. They started out going right into the album with the opener "The Ambassador Of Pain" and their set time would essentially consist of the album alone. On drums for this tour was James Payne whoís worked with VITAL REMAINS briefly and HOUR OF PENANCE, would show off a bit of his prowess on a drum solo leading into "Blood On The Swans". Vocalist Maurizio Iacono tried to get the crowd more active as it seemed they were saving their energy for DEICIDE. KATAKLYSM sounded top notch and I look forward to seeing a full show from them soon.
Arguably, Glen Benton has one of the most unique voices in Death Metal. DEICIDE violent imagery like the "Once Upon A Cross" uncensored art, to the self-titled debut and of which we were all here to celebrate in Legion, the simple yet quite effective art and symbols helped propel the Benton and (Sick) Drummer Steve Asheim led group as one fo the most darkest bands to come out of Florida. Once the lights went out into a blood red flood on stage, and the sound of the sheep was playing through the P.A., it was clearly understood what a sold-out crowd was anxiously awaiting for since the bands announcement months ago. Even though practically everyoneís phone went up in the air to catch the first song, there was a frenzied pit that let loose. Guitarist Taylor Nordberg who did double duty this night, earlier with IC, along with Kevin Quirion (also on guitar) sounded on point and brought many DEICIDE classics to life, especially when providing back-up vocals on many of the songs and ripping solos. The nite was not without folly as not only did the guitars cut out during "Scars Of The Crucifix" but Asheim had a couple of moments where he forgot what song they were going into. Nothing to be too embarrassed about, we donít find this candid moment as a fault but adds an endearing touch to this already monumental event.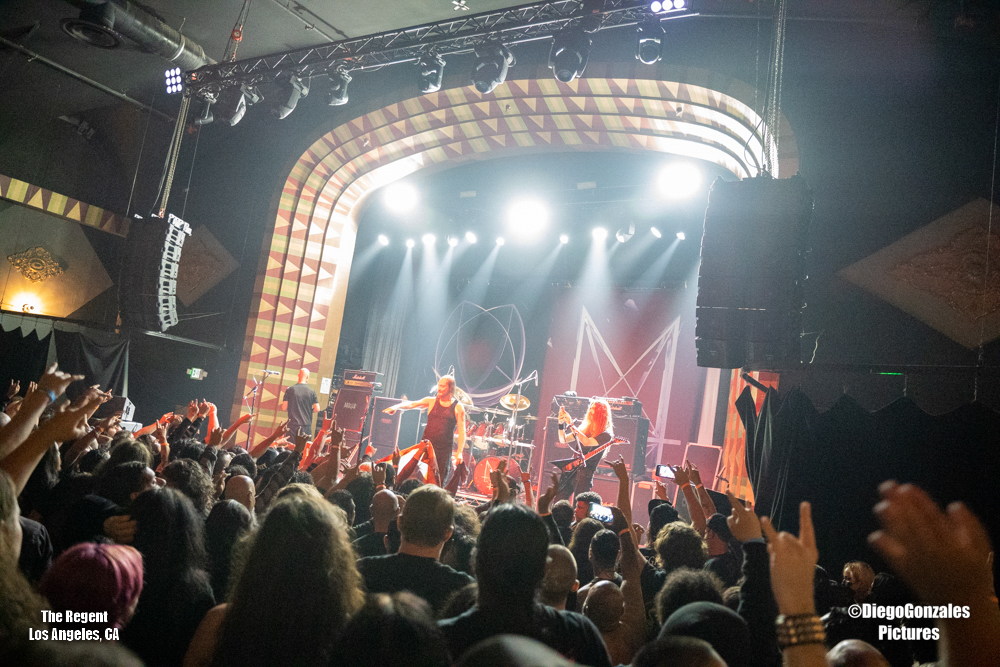 After damning our ears with LEGION, the rest of the set HAD to consist of tracks from their self-titled with "Sacrifical Suicide" and deadite crowd favorite, "Dead By Dawn". Also in the set was the title track off 1995ís "Once Upon The Cross" as well as one of my favorites "They Are the Children of the Underworld". Also included in the set was the song "Seal The Tomb Below" from their last album from 2018, "Overtures of Blasphemy" which is a real great album by the way.
The sea of Black LEGION shirts (me included) was a sight to behold. Of the growing trend of bands revisiting and performing full albums, THIS has to be one of my favorites of all time. The Death Metal scene is alive and well in Los Angeles and this SOLD OUT show is proof of that. No over-the-hill, watered down commercial BS here. Just Glen Benton and his satanic dad-bod and DEICIDE being just as evil as when they were back in 1988 as AMON on public access (look it up).
Check out some more photos from the show!
All Photos By Diego Gonzales Pictures

Please log in to view RANTS



SAVOY BROWN Blues All Around

JAG PANZER The Hallowed

THE DEFIANTS Drive

GLORYHAMMER Return To The Kingdom Of Fife

NIGHT LEGION Fight Or Fall

IMMORTAL War Against All

JOE PERRY Sweetzerland Manifesto MKII

BUCKCHERRY Vol. 10

DAVE LOMBARDO Rites Of Percussion

HELLOWEEN, HAMMERFALL In Worcester, MA With Photos!

DARK FUNERAL, CATTLE DECAPITATION, 200 STAB WOUNDS, BLACKBRAID In Houston, TX With Photos!

MR. BUNGLE, MELVINS, SPOTLIGHTS In Portland, OR With Photos!

PANTERA At Welcome To Rockville With Photos!

THE BLACK DAHLIA MURDER, TERROR, FROZEN SOUL, FUMING MOUTH, PHOBOPHILIC In Anaheim, CA With Photos!

ENFORCER Nostalgia

BUZZFEST Featuring GODSMACK, I PREVAIL, HIGHLY SUSPECT, THE STRUTS And Others In Houston, TX With Photos!

SLEEP TOKEN Take Me Back to Eden

UGLY KID JOE, FOZZY, PISTOLS AT DAWN In Houston, TX With Photos!

TESLA, FASTEST LAND ANIMAL, KURT DIEMER In Orlando, FL With Photos!

CATTLE DECAPITATION Terrasite

TYGERS OF PAN TANG Bloodlines

MYSTIC PROPHECY Hellriot

WHITECHAPEL, ARCHSPIRE, SIGNS OF THE SWARM, ENTHEOS In Santa Ana With Photos!

ALCATRAZZ Take No Prisoners

BURNING WITCHES The Dark Tower

ELVENKING Reader Of The Runes - Rapture

CHAOS AND CHARNAGE Tour Featuring SUICIDE SILENCE, DYING FETUS, BORN OF OSIRIS, ABORTED, CROWN MAGNETAR, SANGUISUGABOGG And SLAY SQUAD In Anaheim With Photos!

ENFORCED War Remains

SAVAGE EXISTENCE Savage Existence

BLACK ROZE Penny For Your Sins

WINGER Seven