GOATWHORE, INCANTATION, BEWITCHER In Los Angeles With Photos!


By Francisco Zamudio, Metal X Candy 2.0
Sunday, September 11, 2022 @ 3:00 PM


| | | |
| --- | --- | --- |
| | | At Venue 1720 |
All Photos By Diego Gonzales Pictures
This was the third night of my Metal bender and much as the previous 2 nites were amazing and acts that I was really anxious to see, this one was no different as I got to see INCANTATION again and for the first time in a long time since 2017, GOATWHORE. My fondness for Blackened Thrash has grown in the last couple of years and I consider GOATWHORE one of the top bands in that underappreciated category. There was a lot of emotion (for lack of a better word) leading up this show and I'm glad I got to share this night with one of my favorite concert partners, my girl Ivy. We were both super stoked to see them and meet guitarist, Sammy whom I had a chance to interview before the show. We gifted him and the band a case of beer and a bottle of Maker's Mark as a couple of tokens of high appreciation that would help them along the road.
Part of the touring bill was another Blackened Thrash group. The band from Oregon known as BEWITCHER is a 3-piece group and that alone is always cool. With 3 albums under their belts, the recently CENTURY MEDIA signed group is looking to establish themselves with their VENOM-meets-MOTORHEAD-esque style. They are affectionately known as "Unholy Weaver of Shadows & Incantations" on Guitars and Vocals, "Infernal Magus of Nocturnal Alchemy" on Bass and simply put, Aris Wales on drums. They came with a fury and I think it's safe to say that the crowd, although mostly pit-less, was still rocking out to their sound. They're relatively a new band only having been around almost 10 years but are showing a lot of promise this nite.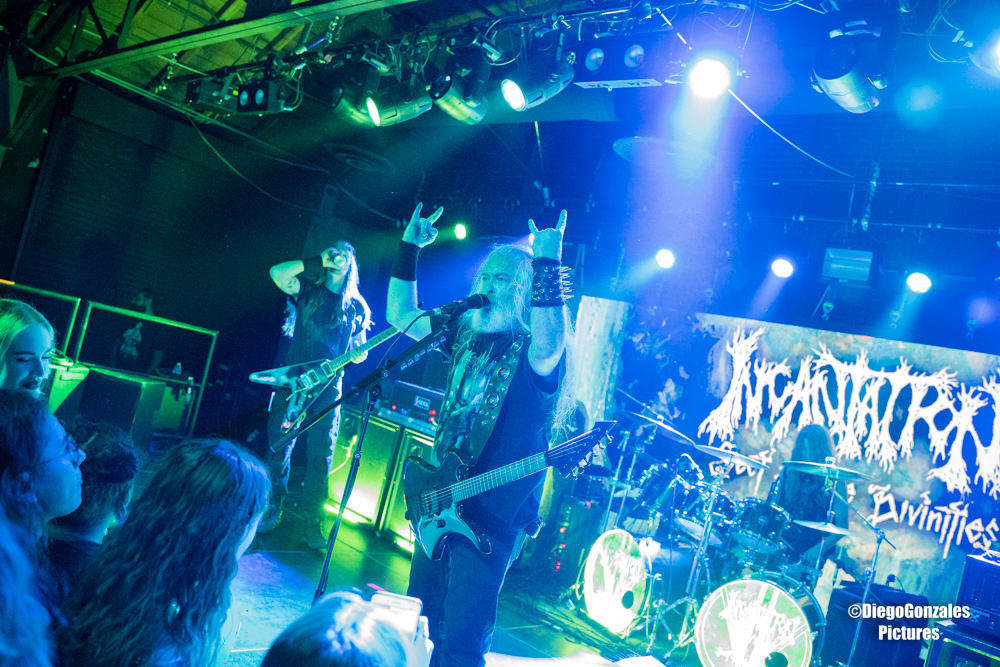 They gave their all for a half hour and was well received by the crowd. I'd keep an eye/ear on these guys if I was you. One of the dual headers on this, the VILE ASCENSION tour was INCANTATION bringing back to Los Angeles that epic Death Doom greatness once again. It had only been a few months that they made a stop here along with NILE back in February. I'd be lying if I didn't say I'm making up for lost time and catching the legend John McEntee and company as much as possible. Their latest release SECT OF THE VILE DIVINITIES was one of the best in 2020. By the sound of it, the crowd was supper pumped for some Old School New York Death Metal and INCANTATION was more than happy to oblige. There set of 45 minutes was chockfull of classic hits as well as some cuts from their latest.
For the second time in a few days, I had heard the Evil Dead intro. This time, along with some pretty cool lighting effects, it was used to introduce INCANTATION to a packed house and pumped up crowd and the 1st song off their last album, to start off the set only to follow it up and go all the way back to 1998's 'DIABOLICAL CONQUEST with ETHEREAL MISERY. It's necessary to say that INCANTATION is one of those bands that has sustained consistency and those first few albums are absolutely amazing, putting a close to the 90's as Death Metal was starting to mature. It did take a while for the crowd to get active but at the same time they were totally into INCANTATION's sound. They would go back and forth from recent release to older albums throughout their set as they proceeded with a track from 2014's DIRGES OF ELYSIUM and the song "CARRION PROPHECY". The crowd this time around seemed more responsive than the last time I caught them. Whatever was the reason, They sounded amazing this nite. "ENTRAILS OF THE HAG QUEEN", "SIEGE HIVE" and "FURY'S MANIFESTO" would be the only recent album cuts they would play, mixed within the total songs played as they'd go farther and farther back throughout the set. Great fkn show put on by New York's finest.
On the verge of their upcoming release ANGELS HUNG FROM THE ARCHES OF HEAVEN, GOATWHORE decided to hit the road to get a piece and when it came time, they pulled no punches. They were intense from beginning to end for a blistering hour (nevermind it was blistering hot in L.A.) The Blackened Thrash NOLA group decimated Los Angeles with Ben Falgoust towering over the crowd and Sammy's shredding guitar work (he also gives us a gear breakdown during our chat), decked in spiked gauntlets, GOATWHORE took no prisoners.
Credit to the techs who supported the bands this nite because they all sounded amazing. The crisp and crunchy sound and wailing solos that Sammy honed in was face-melting. They opened up their set with a track from 2017's VENGEFUL ASCENSION in that of "Under The Flesh", "Into The Soul". Took a bit for the pit to get moving and there was some stage-diving and crowd surfing going on and lots of head-banging and fist pumping up in the air. They'd only perform one cut from the new album in that of "BORN OF SATAN'S FLESH" of which was their first single and video recently released. The anticipation has grown and I've had a chance to hear the new album and it rips. GOATWHORE has maintained its ferocity for quite some time and it showed this nite.
Check out some more photos from the show!
All Photos By Diego Gonzales Pictures

Please log in to view RANTS



IMMORTAL War Against All

JOE PERRY Sweetzerland Manifesto MKII

BUCKCHERRY Vol. 10

DAVE LOMBARDO Rites Of Percussion

HELLOWEEN, HAMMERFALL In Worcester, MA With Photos!

DARK FUNERAL, CATTLE DECAPITATION, 200 STAB WOUNDS, BLACKBRAID In Houston, TX With Photos!

MR. BUNGLE, MELVINS, SPOTLIGHTS In Portland, OR With Photos!

PANTERA At Welcome To Rockville With Photos!

THE BLACK DAHLIA MURDER, TERROR, FROZEN SOUL, FUMING MOUTH, PHOBOPHILIC In Anaheim, CA With Photos!

ENFORCER Nostalgia

BUZZFEST Featuring GODSMACK, I PREVAIL, HIGHLY SUSPECT, THE STRUTS And Others In Houston, TX With Photos!

SLEEP TOKEN Take Me Back to Eden

UGLY KID JOE, FOZZY, PISTOLS AT DAWN In Houston, TX With Photos!

TESLA, FASTEST LAND ANIMAL, KURT DIEMER In Orlando, FL With Photos!

CATTLE DECAPITATION Terrasite

TYGERS OF PAN TANG Bloodlines

MYSTIC PROPHECY Hellriot

WHITECHAPEL, ARCHSPIRE, SIGNS OF THE SWARM, ENTHEOS In Santa Ana With Photos!

ALCATRAZZ Take No Prisoners

BURNING WITCHES The Dark Tower

ELVENKING Reader Of The Runes - Rapture

CHAOS AND CHARNAGE Tour Featuring SUICIDE SILENCE, DYING FETUS, BORN OF OSIRIS, ABORTED, CROWN MAGNETAR, SANGUISUGABOGG And SLAY SQUAD In Anaheim With Photos!

ENFORCED War Remains

SAVAGE EXISTENCE Savage Existence

BLACK ROZE Penny For Your Sins

WINGER Seven

JASON BIELER AND THE BARON VON BIELSKI ORCHESTRA Postcards From The Asylum

TITAN'S WRATH Will Of The Beast