ALICE IN CHAINS, BREAKING BENJAMIN, BUSH, THUNDERPUSSY In Ridgefield, WA With Photos!


By Krishta Abruzzini, Pacific Northwest Writer
Sunday, September 11, 2022 @ 6:04 PM


| | | |
| --- | --- | --- |
| | | At The RV Inn Style Resorts Amphitheater, September 2 |
All Photos By Krishta Photography
ALICE IN CHAINS kicked off their first US tour in three years. Co-headliners, BREAKING BENJAMIN and special guests BUSH are part of the 30-city run. Several opening acts have been added to the tour. THE L.I.F.E. PROJECT (feat. Josh Rand of STONE SOUR), PLUSH and THUNDERPUSSY are at select shows.
THUNDERPUSSY opened the show in Ridgefield on 9/2/22. Formed in Seattle in 2014, vocalist Molly Sides, guitarist Whitney Petty, bassist Leah Julius and drummer Lindsey Elias proved their worth being on such a heavy hitting tour.
Iíve always hated it when I hear references to all-girl bands as being a novelty. ďShe rocks for a girl.Ē This tribe of girls are not only theatrical in their 70ís glam attire, but they are all consummate musicians. They take no quarter compared with the seasoned bands they shared the bill with. As a photographer, this band is a dream to shoot. Singer Molly Sides, with a history of studying dance at the Cornish College of the Arts, flawlessly executes moves that would put any rock frontman to shame. Iíve seen bands that have well rehearsed ďrock movesĒ, but this band is naturally just badass.
Check them out at: www.thunderpussy.com
Next up was BUSH. Formed in London, England in 1992, their current lineup consists of lead vocalist and rhythm guitarist, Gavin Rossdale, lead guitarist Chris Traynor, bassist Corey Britz and drummer Nik Hughes.
I have to say, Rossdale has not aged at all. The entire band was tight, fit and obviously ready for this tour. What struck me most about Rossdale as a frontman, is his ability to connect with the audience. He was all over the stage, from side to side, making eye contact with several attendees, pointing, smiling, waving and Iím sure making them all feel very seen and special. The entire band seemed very happy to be there.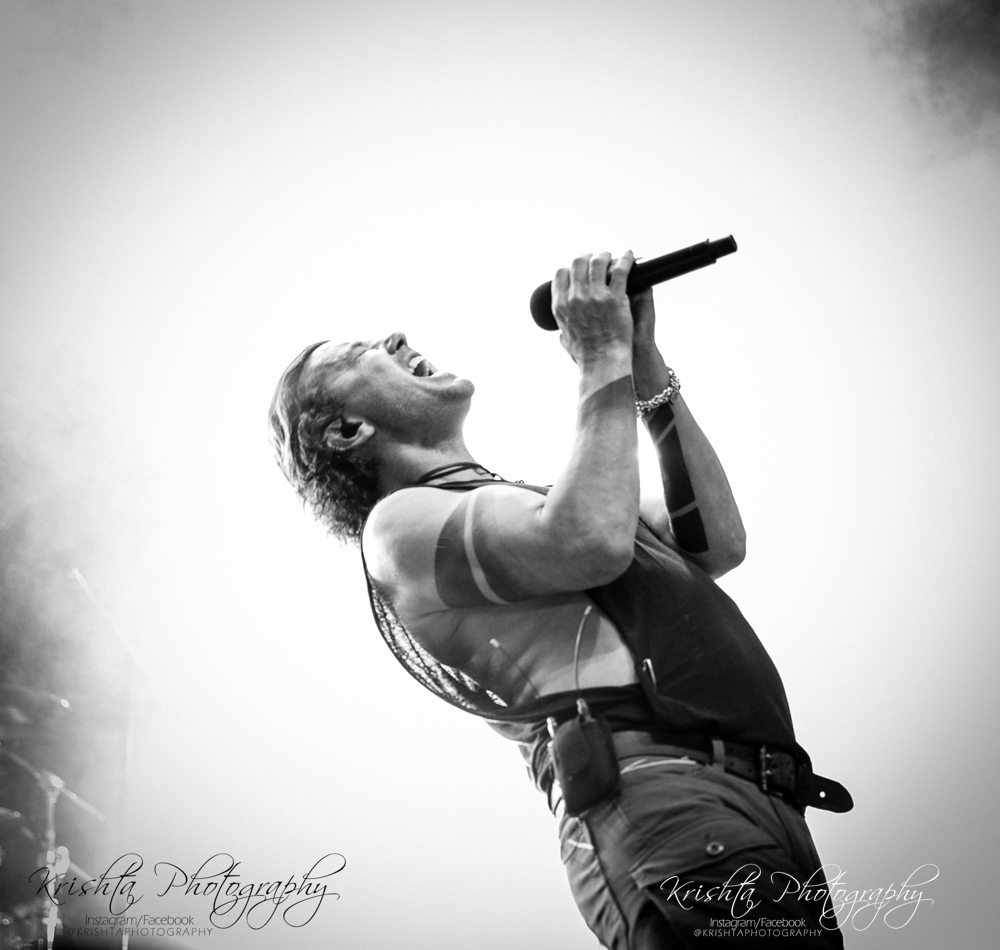 With an album released in 2020, The Kingdom, they performed a few tracks off of it. "The Kingdom" was the opening song, followed by the popular "Machinehead". The songs were performed flawlessly. Rossdaleís vocals have held up through the years. It was an absolute pleasure to see them at this show.
SETLIST:
"The Kingdom"*
"Machinehead"
"Quicksand"*
"The Chemicals Between Us"
"The Sound of Winter"
"Everything Zen"
"Blood River"*
"Flowers On a Grave"*
"More Than Machines"
"Glycerine"
"Comedown"
* Songs off The Kingdom album performed at this show.

BREAKING BENJAMIN was up next. Formed in 1999 from Wilkes-Barre, Pennsylvania, the band got its name when singer Benjamin Burnley borrowed a microphone and broke it, prompting the owner to say, ďThanks to Benjamin for breaking my fucking mic.Ē The current lineup is Benjamin Burnley, Aaron Bruch, Shaun Foist, Jasen Rauch, and Keith Wallen.

While I have heard of BREAKING BENJAMIN, I have never actually followed their music or knew much about them. My bad. They are great.

I couldnít figure out what all the large white tubing was from the beginning of this show sitting in the photo pit that I had to continually trip and step over to get shots of the previous bands, until this band took to the stage. While perhaps a rumor, I was told that singer Benjamin has a lot of social anxiety issues, and the large tubing is actually an air conditioning unit that blows cold air onto the stage which calms his nerves. I completely understand social anxieties, but itís always a bit trippy seeing those in entertainment having such crippling issues at times. All the kudos go out to those talents that can overcome their fears and share their talents.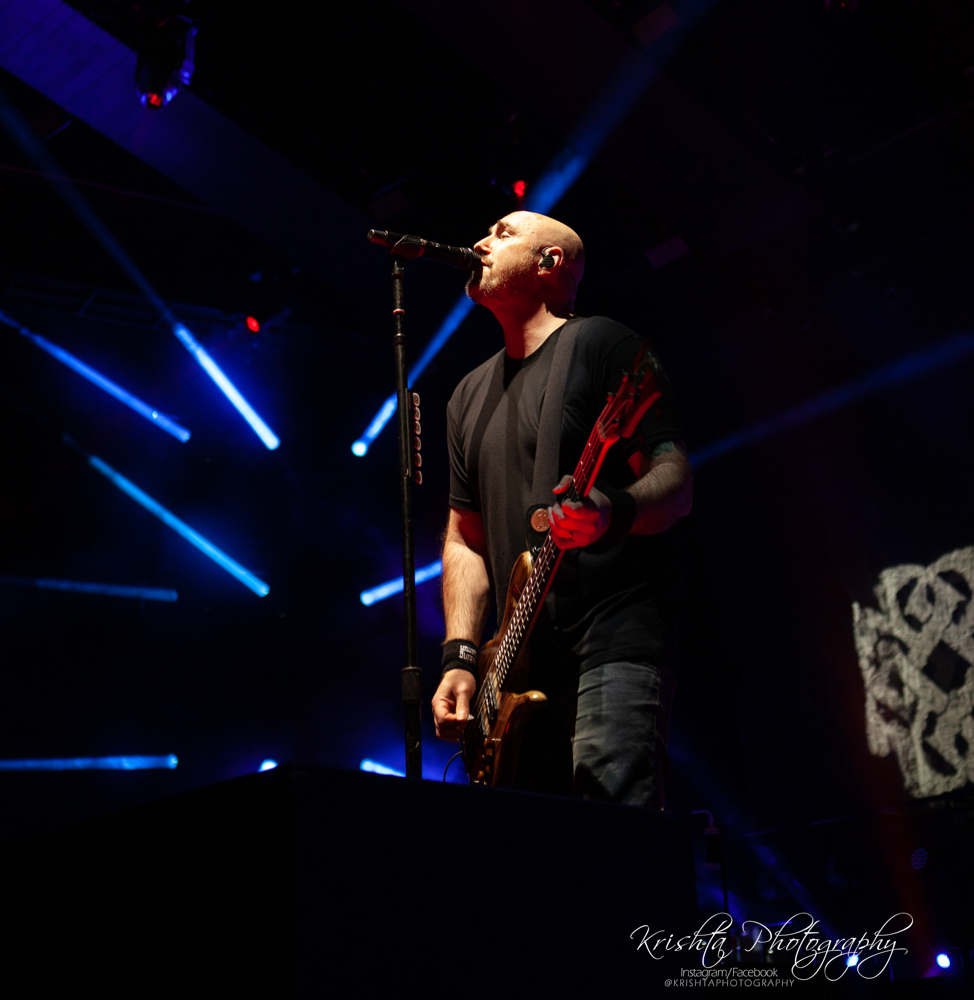 On each side of the stage were risers with about 10-guests that had all bought the VIP experience. From what I have investigated, that adventure will set one back about a cool $5000. Whew. For a fan, Iím sure itís amazing being onstage throughout the performance. As with most things, especially as Iíve had a few birthdays, and seeing a lot of them with large beverages in their hands, I just have to wonder what one does if they have to use the facilities? Like, do you excuse yourself in front of the thousands of folks watching and then come back to your space? Or are you stuck there until the bitter end?
Yet another band to have released an album in 2020, the band is out supporting their release of Aurora. Their setlist was:
"Blow me Away"
"Sooner or Later"
"Firefly"
"Tourniquet"*
"So Cold"*
"Angels Fall"*
"Breath"
"Failure"*
"Who Wants to Live Forever"
"Polyamorous"
"Give Me a Sign"
"Red Cold River"*
"Until the End"
"Torn in Two"*
"I Will Not Bow"
"The Diary of Jane"
* off new album

Last up was ALICE IN CHAINS. Formed in 1987 by guitarist and vocalist Jerry Cantrell and drummer Sean Kinney, along with Mike Starr and lead vocalist Layne Staley. Starr was replace by Mike Inez in 1993, and William Duvall joined the band in 2006 as co-lead vocalist and rhythm guitarist, replacing Staley who died in 2002.

With their seminal sophomore album, Dirt turning 30-years old, their setlist had several songs from the 1992 classic to the delight of their fans.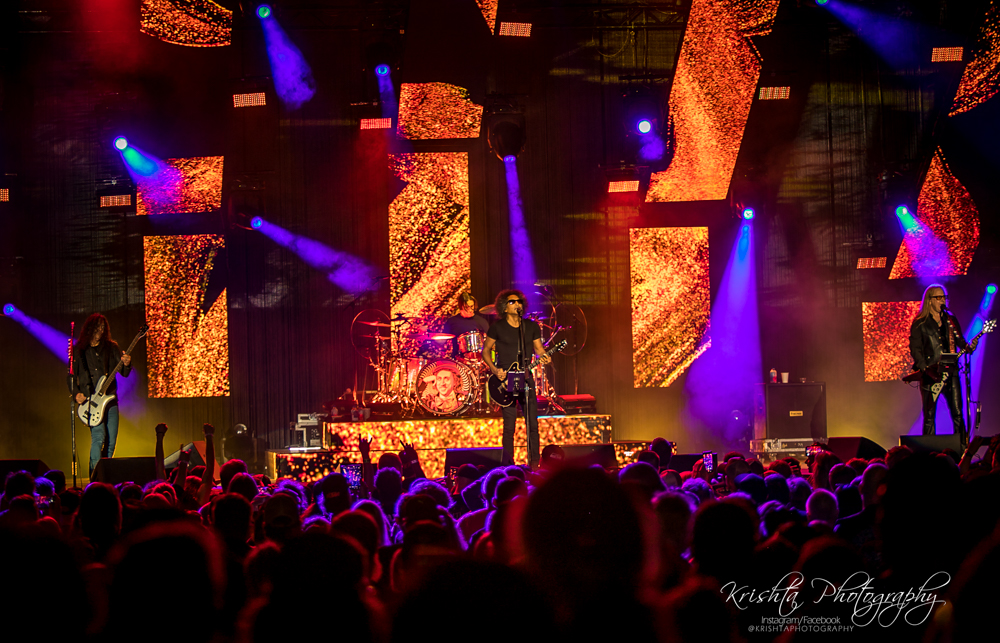 Earlier in the year, singer/guitarist Jerry Cantrell did a solo tour in support of his 2021 album, Brighten, in which he played several AIC songs. I had always thought earlier AIC songs were heavily laden with Layne Staleyís vocals. When I saw Jerry Cantrell many years ago performing a solo tour, I realized that so many of the songs I related to it being Staley, were actually Cantrellís vocals. He has the signature sound that is AIC and I think itís always a surprise to fans when they realize this.
As a photographer at this show, I only have one gripe. If youíre going to have photographers at your show, itís really tough when you place them at the soundboard. I donít care what great gear and zoom lens you may have, the magic of a pit shoot gets completely lost that far back. It becomes weirdly sterile. This isnít inherent to only AIC, itís for all bands with this photo policy. With todayís cell phone technology advancing with cameras, anyone in the first few rows can get decent to good photos that can be used for any web application, potentially far better than any shots with pro-gear from half-way across a stadium/venue. With this show, we started out in the pit, and quickly got escorted out to the soundboard, which required a quick run to get that far back and change lenses to accommodate the distance. To say it was stressful, is an understatement. Make it one song from the pit if it seems too invasive. I heard that some photographers at the other venues had to sign contracts stating they would send their photos into the bandís publicist without watermarks within 48-hours, and that management had full rights to the photos without any payment or photo credit to the photographer. I just canít understand any artist being okay with this policy whatsoever. Itís an artist taking from another artist in my humble opinion. Iíve been beyond grateful to have shot this band through the years, and I have friends in the band. I understand it is an opportunity and privilege to take photos of those with a recognizable image. I respect that wholeheartedly. I will never be okay with ďimage grabsĒ without so much as a credit going to the photographer however.
Okay, off my soapbox.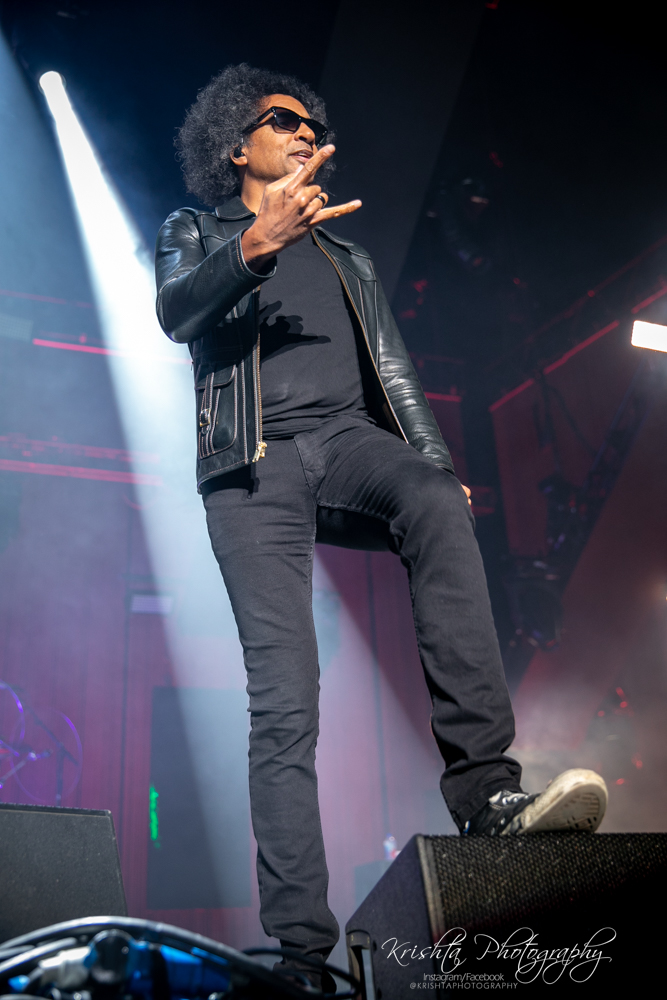 In closing, the band looked healthy and as always, their performance was stellar. I love William Duvall as a frontman. Heís not only very handsome, but gives such a dynamic performance. Drummer Sean Kinney seriously looked like he may be going backwards in aging. He looks like heís in his 30ís. I want his plastic surgeonís number, that weird Dorian Gray he keeps in his basement, or the number where he signed to sell his soul. Itís nice to see this band out again after such a long (covid induced) hiatus. May their tribe keep on the move!
AIC setlist:
"Again"
"Check My Brain"
"Grind"
"Them Bones"
"Dam That River"
"Hollow"
"Got Me Wrong"
"Junkhead"
"Man In The Box"
"Nutshell"
"The One You Know"
"No Excuses"
"It Ainít Like That"
"Would"
"Rooster"
Check out some more photos from the show!
All Photos By Krishta Photography

Please log in to view RANTS