BEHEMOTH Opvs Contra Natvram


By Francisco Zamudio, Metal X Candy 2.0
Tuesday, September 20, 2022 @ 1:22 PM


| | | |
| --- | --- | --- |
| | | |
BEHEMOTH
Opvs Contra Natvram
Nuclear Blast




No Metal band is safe from the curse of mainstream popularity as it bodes the end of an era for diehards, often shunned as "elitists" (which I REFUSE to acknowledge as a negative connotation), who are passionate about a bands original sound as well as their stance. While the warrior's survival against cancer is certainly deserving of praise, Poland's most popular man (to make you understand, the equivalent of an American pop icon, minus the douchebag and toxicity) has a duty to uphold along with Inferno and Orion, to produce some of the darkest and heaviest music that Poland and Black Metal's elite has to offer. Coincidence that their "popularity" that has made them more mainstream relates to what I describe as a less-than-favored and more groove oriented approach, and less "extreme" (whatever that means nowadays) as it's become nearly more 'Avant-Garde', which points towards the visual aspect of their Art when you see the live online, "virtual" performances and videos they've put out as of late. This nearly has me feeling that it has made the music is secondary.

This prelude brings us to Poland's BEHEMOTH who in their amazing 3-decade career have unleashed their 12th album entitled OPVS CONTRA NATVRAM. The entity which encompasses Black Metal, Blackened Death Metal and Avant-Garde Metal returns with what could be viewed as its most talked about and perhaps controversial album to date. Four years since their last album and 27 years since their full length debut, not only has their sound changed, or as many would believe "evolved", but as has their image which compliments their style exceptionally well and has certainly influenced many Metal modern bands who have added and relied too much on this sort of visual aspect (and not enough on their music).

Made up of only 10 songs, with a 3-minute intro, OPVS CONTRA NATVRAM explores an array of styles that BEHEMOTH has gotten cozy with. Creating an ominous atmosphere, the music is more like a soundtrack or background noise meant to accompany their visual aspect, a concept that no doubt will be simply outstanding live when they go on tour. After the 3 minute intro opening the album, the second track, and the shortest as well, "Malraia Vulgata" threatens the belief that this album will be a return to form for BEHEMOTH, a move that longtime fans would want to hear again, versus the stagnation from the last couple of albums. Sucks to say but true. While there is still much of a Black Metal tone to them on this new album, a lot of the songs are atmospheric filler and toned down for that mainstream audience I previously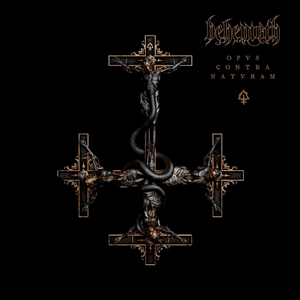 mentioned. It almost feels like modern metalcore has had an influence here when you hear a lot of basic riffs on many of the songs. The simplicity on songs "Ov My Herculean Exile" and "Once Upon A Pale Horse" are examples of this with a lot of melody written in that makes it easy for novice listeners of the band. "Thy Becoming Eternal" and "Disinheritance" are the more impactful songs on this record that I believe really captured what I believe BEHEMOTH should be. Before you know it, the albums comes to a close with the Avant-Garde (there's that word again) styling of "Versus Christus".
Many of the songs sound like chanting or hymns of war as Nergal's lyrics tell a story and give a lengthy praise to Satan, bordering on idolization, it maintains that shock value with so much substance behind it and his message is clear.
The last great album of theirs for me was EVANGELION, including everything prior. Their sound through the production was so massive on it and it was here that I feel they started to go down a different path in the vibe of the Metal they produced, yet still very much enshrouded within a Blackened, dark and evil sound. From THE SATANIST and those that followed seemed to lack something that was more prevalent in the past albums, and apparently many as well as the Encyclopedia Metallum agrees with me too. Now, I'd seriously like to have a talk with the Arts department regarding the conceptual design they decided upon for Opvs Contra Natvram and how SLAYER's GOD HATES US ALL was an influence for the cover art.
3.5 Out Of 5.0

Please log in to view RANTS



PANTERA At Welcome To Rockville With Photos!

THE BLACK DAHLIA MURDER, TERROR, FROZEN SOUL, FUMING MOUTH, PHOBOPHILIC In Anaheim, CA With Photos!

ENFORCER Nostalgia

BUZZFEST Featuring GODSMACK, I PREVAIL, HIGHLY SUSPECT, THE STRUTS And Others In Houston, TX With Photos!

SLEEP TOKEN Take Me Back to Eden

UGLY KID JOE, FOZZY, PISTOLS AT DAWN In Houston, TX With Photos!

TESLA, FASTEST LAND ANIMAL, KURT DIEMER In Orlando, FL With Photos!

CATTLE DECAPITATION Terrasite

TYGERS OF PAN TANG Bloodlines

MYSTIC PROPHECY Hellriot

WHITECHAPEL, ARCHSPIRE, SIGNS OF THE SWARM, ENTHEOS In Santa Ana With Photos!

ALCATRAZZ Take No Prisoners

BURNING WITCHES The Dark Tower

ELVENKING Reader Of The Runes - Rapture

CHAOS AND CHARNAGE Tour Featuring SUICIDE SILENCE, DYING FETUS, BORN OF OSIRIS, ABORTED, CROWN MAGNETAR, SANGUISUGABOGG And SLAY SQUAD In Anaheim With Photos!

ENFORCED War Remains

SAVAGE EXISTENCE Savage Existence

BLACK ROZE Penny For Your Sins

WINGER Seven

JASON BIELER AND THE BARON VON BIELSKI ORCHESTRA Postcards From The Asylum

TITAN'S WRATH Will Of The Beast

VADER, KRISIUN, DECREPIT BIRTH In Los Angeles With Photos!