TESLA, KURT DEIMER In Houston, TX With Photos!


By Larry Petro, News Monkey
Monday, September 26, 2022 @ 9:33 AM


| | | |
| --- | --- | --- |
| | | 'Let's Get Real' Tour Hits House Of Blues |
All Photos By Larry Petro/Petrofyed Photography
Winding down their 'Let's Get Real' summer tour, long running California rockers TESLA made a pit stop at the House of Blues in downtown Houston for a performance along with up and coming artist Kurt Deimer and also Dallas rock outfit ANYTHING BUT HUMAN, and as usual, TESLA managed to pack them in.
ANYTHING BUT HUMAN opened things up and the 3 piece group played a spirited set of tracks from their recent EP Push, which also included a cover of THE BEATLES classic "Eleanor Rigby". Although I had never heard of the band, they obivously brought a lot of support with them because the crowd loved their set.
Next up was Kurt Deimer, a relative unknown to most. This guy seems to have dabbled in lots of things including acting, singing and songwriting and now you can add film producer to that list as he's about to launch his movie Hellbilly Hollow. But for the TESLA Texas shows it was all about the rock and if you want to get your name out there sometimes the best way to do that is by collaborating with a known famous musician and in this case that just happens to be guitarist Phil X of BON JOVI, with whom Deimer is working on a new album. Of course Phil was with Deimer as his band as they opened their show with the track "Dance" and he was off a rocking. Deimer released his debut EP last year and it was represented with 4 songs: "Only Time Will Tell", "Back Of The School", "Watcha Sayin'" and set closer "Naive". New tracks "Hero" and "Have A Cigar" were also included. The band was tight and Phil X certainly looked like he was having fun. The band is currently out supporting Geoff Tate in Europe and will be out once again in the states supporting DROWNING POOL on their 'Strike A Nerve' fall tour.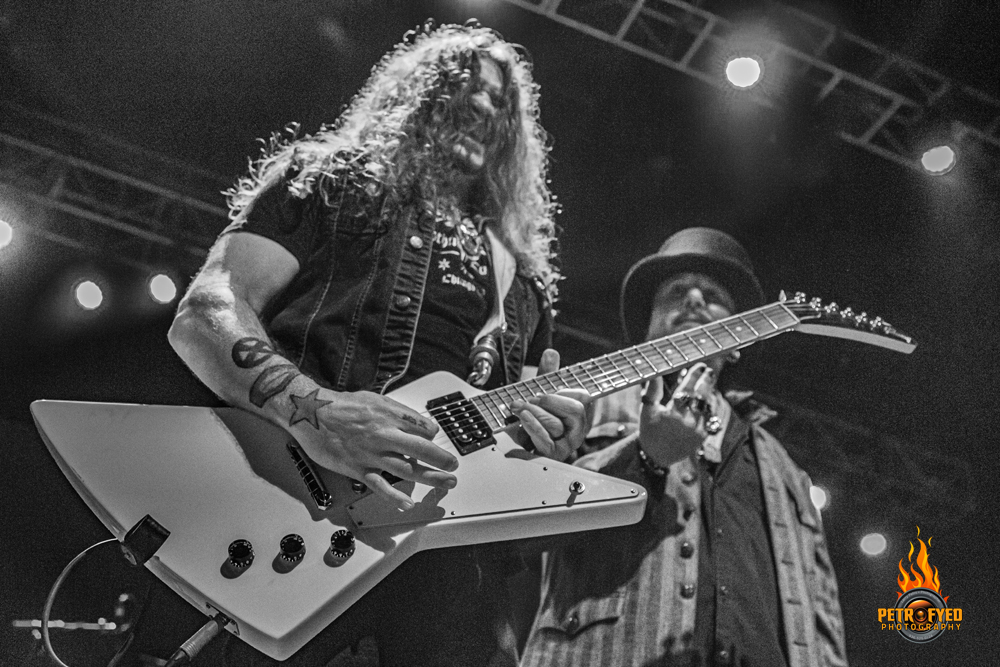 Setlist:
"Dance"
"Only Time Will Tell"
"Back Of The School"
"Have A Cigar"
"Hero"
"Watcha Sayin'"
"Naive"
Now it was TESLA's turn. Now 40+ years since their inception the band continues to deliver great performances for their fans and tonite was no exception. Launching their set with "Modern Day Cowboy" the band treated the faithful in attendance with a string of TESLA's hits like "Hang Tough", "Heaven's Trail (No Way Out)", "Call It What You Want" and one of my personal favorites, "Edison's Medicine". The band also played the new song they released back in July called "Time To Rock" as well as digging deep into their catalog for a few hidden gems, "Breaking Free" from the 2008 album "Forever More and "Miles Away" from 2004's Into The Now. TESLA was also in fine form musically even though vocalist Jeff Keith appeared to be just a tad under the weather which resulted in the band having to cancel their show in Lubbock, Texas a few days later. Original drummer Troy Luccketta continues his leave of absence from the band that was announced a year ago with drummer Steve Brown (brother of former DOKKEN drummer Mick Brown) filling in and doing a fine job of holding things down. The band closed their set with "Signs" and another nice Houston performance was in the books.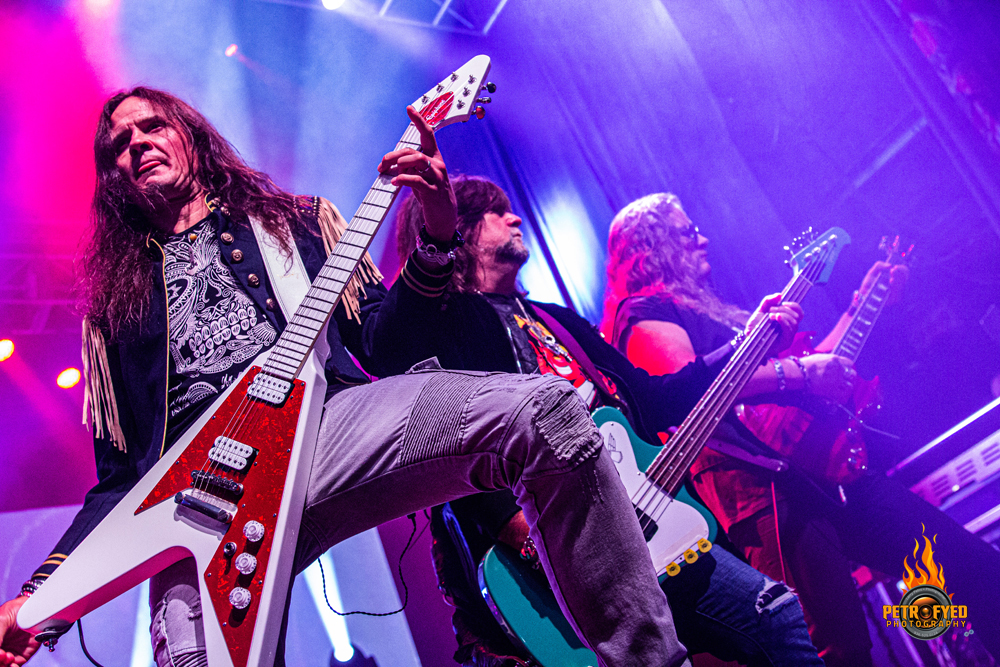 Setlist:
"Modern Day Cowboy"
"Hang Tough"
"Time To Rock"
"Heaven's Trail (No Way Out)"
"Breaking Free"
"Miles Away"
"Changes"
"Lazy Days, Crazy Nights"
"Call It What You Want"
"What You Give"
"Edison's Medicine"
"Love Song"
"Little Suzi"
"Thank You"
"Signs"
Check out some more photos from the show!
All Photos By Larry Petro/Petrofyed Photography

Please log in to view RANTS



NIGHT LEGION Fight Or Fall

IMMORTAL War Against All

JOE PERRY Sweetzerland Manifesto MKII

BUCKCHERRY Vol. 10

DAVE LOMBARDO Rites Of Percussion

HELLOWEEN, HAMMERFALL In Worcester, MA With Photos!

DARK FUNERAL, CATTLE DECAPITATION, 200 STAB WOUNDS, BLACKBRAID In Houston, TX With Photos!

MR. BUNGLE, MELVINS, SPOTLIGHTS In Portland, OR With Photos!

PANTERA At Welcome To Rockville With Photos!

THE BLACK DAHLIA MURDER, TERROR, FROZEN SOUL, FUMING MOUTH, PHOBOPHILIC In Anaheim, CA With Photos!

ENFORCER Nostalgia

BUZZFEST Featuring GODSMACK, I PREVAIL, HIGHLY SUSPECT, THE STRUTS And Others In Houston, TX With Photos!

SLEEP TOKEN Take Me Back to Eden

UGLY KID JOE, FOZZY, PISTOLS AT DAWN In Houston, TX With Photos!

TESLA, FASTEST LAND ANIMAL, KURT DIEMER In Orlando, FL With Photos!

CATTLE DECAPITATION Terrasite

TYGERS OF PAN TANG Bloodlines

MYSTIC PROPHECY Hellriot

WHITECHAPEL, ARCHSPIRE, SIGNS OF THE SWARM, ENTHEOS In Santa Ana With Photos!

ALCATRAZZ Take No Prisoners

BURNING WITCHES The Dark Tower

ELVENKING Reader Of The Runes - Rapture

CHAOS AND CHARNAGE Tour Featuring SUICIDE SILENCE, DYING FETUS, BORN OF OSIRIS, ABORTED, CROWN MAGNETAR, SANGUISUGABOGG And SLAY SQUAD In Anaheim With Photos!

ENFORCED War Remains

SAVAGE EXISTENCE Savage Existence

BLACK ROZE Penny For Your Sins

WINGER Seven