QUEENSRYCHE Digital Noise Alliance


By Andrew Depedro, Ottawa Corespondent
Thursday, September 29, 2022 @ 10:27 AM


| | | |
| --- | --- | --- |
| | | |
QUEENSRYCHE
Digital Noise Alliance
Century Media




In April 2022, QUEENSRŸCHE finished a five-week North American tour supporting metal gods JUDAS PRIEST. The tour had been not only marked the first time in two years that both bands were able to return to the live stage, but more so for the legendary Bellvue, Washington progressive metal quintet, it had sparked a sudden rejuvenation – the sound of a band locked-in and firing on all cylinders. "The PRIEST tour was a great springboard for us to get back onstage in what's essentially a new world," says founding guitarist Michael Wilton. "We had so much momentum going off of our last record [2019's The Verdict] and then the world, our business, came to a grinding halt. We had to survive, pick ourselves up and get back to being QUEENSRŸCHE." Indeed, the convalescing period has helped to coalesce into another career milestone for the band with the release of their 16th studio album, Digital Noise Alliance.

With 20 million albums sold worldwide, innumerable accolades and a career that has charted the course of multiple genres, the 40-year career and legacy of QUEENSRŸCHE was always prone to its own fair share of adversity. And much – well, really all – of the overall tone of Digital Noise Alliance(named after a lyric in the song "Sicdeth") reflects on the isolation, the sense of helplessness and impassiveness which had impacted the tone of the recording and songwriting process. "Being left to your inner abandons brought up a lot of feelings," Wilton admits. "It was a weird, strange time and not knowing if you were going to see the light at the end of the tunnel. It sucked, but it did ignite some of the creative elements for the new record." Yet on the plus side, with frontman Todd LaTorre having his own home studio in Tampa where the album was ultimately recorded with producer and mixer Zeuss (ROB ZOMBIE, HATEBREED), those same emotions of inner abandonment took shape into lyrics and song ideas when Wilton met up with LaTorre and began assembling the bare-boned riffs for the album. Those same writing sessions continued for a year with tracking on the album commencing in the first week of January 2022. And as for the music on this album, Wilton looked to the past for amplified inspiration. "We ended up using Michael's collection of old Marshalls," says Zeuss, "The amp from The Warning and the amp from Rage For Order or Mindcrime or Empire. Each song has different amps and different guitars that reach back to that era. Some of these amps that hadn't been turned on in years and had markings on them that dated back to those records. We'd turn them on and it would be like, 'Whoah!' Like we were awakening this beast. It brought a lot of great vibes to the album."

And the end result of pontificating over the past two years? A loud sonic gathering of quite possibly the band's most well-rounded work since Operation: Mindcrime which, despite QUEENSRŸCHE's moniker as the 'Thinking Man's Metal Band', appears to effortlessly come together without any overguessing. The opening number and first single "In Extremis" lives up to the proverbial QR code, the easily recognizable and frantic riff work of Michael Wilton backing LaTorre's clean vocals showcasing the song's dynamic and powerful impact. "Chapters" and "Lost In Sorrow" continue the momentum while slightly changing the tempo and mood up a bit. But it's "Sicdeth" and "Behind The Walls" where QUEENSRŸCHE are the closest to their early 80's sound, particularly with LaTorre's emboldened vocals working with the songs' dramatic cadence assisted by bassist Eddie Jackson, guitarist Mike Stone and drummer Casey Grillo. Otherwise, while Digital Noise Alliance may harken back to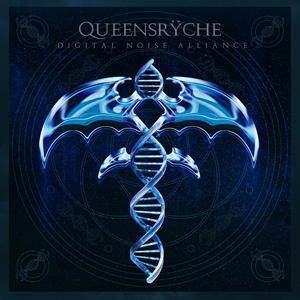 QUEENSRŸCHE's early sounds, it's also an album that searches out new anthems without having to replicate much of its past work. "Forest", for all of the accolades it receives for attempting to convey "Silent Lucidity", comes out as more melancholic as its overall theme is about loss on a more personal level, especially more relatable following a global pandemic. "Nocturnal Light" also particularly stands out as the dual guitar work of Wilton and Stone focus more on rhythm-style playing than on full-on leads. And finally, "Tormentum" has the distinctive honor of being the first 7-minute-plus QUEENSRŸCHE song to be released in nearly a decade, also harkening back to their Mindcrime days of lengthy conceptual compositions.
Despite LaTorre's admission that QUEENSRŸCHE have always "walked the fine line between not telling people what to think, but simply to think", Digital Noise Alliance is the quintessential QR album in terms of sound, passion, melodies and lyrical intelligence, stealthfully moving the band forward while showcasing many of the band's notable and recognizable sonic attributes that have made them a household name in the modern hard rock/progressive/metal scene. Its genetic cosmetics in full view throughout the album, it leaves the listener little surprise as to why the album title's initials spell out DNA.
5.0 Out Of 5.0
http://www.queensrycheofficial.com/
https://www.facebook.com/QueensrycheOfficial/
https://twitter.com/queensryche
https://www.instagram.com/queensrycheofficial/

Please log in to view RANTS


KAMELOT The Awakening

ALTER BRIDGE, MAMMOTH WVH In Houston, TX With Photos!

ACID KING Beyond Vision

STEEL PANTHER On The Prowl

NIGHT DEMON Outsider

YNGWIE MALMSTEEN In Ottawa, Canada

THEORY OF A DEADMAN, SKILLET, SAINT ASONIA In Houston, TX With Photos!

OFFICER X Hell Is Coming

PERIPHERY Periphery V: Djent Is Not A Genre

INSOMNIUM Anno 1696

STEEL PANTHER, CROBOT, TRAGEDY In Houston, TX With Photos!

BABYLON A.D. Live Lightning

ROTTING CHRIST, CARACH ANGREN, UADA, GAEREA In Houston, TX With Photos!

MOTÖRHEAD Bad Magic: Seriously Bad Magic

TRAGEDY I Am Woman

ROXANNE Stereo Typical

ANTHRAX, BLACK LABEL SOCIETY, EXODUS In Houston, TX With Photos!