TALAS
1985
Metal Blade Records
www.metalblade.com/talas




TALAS didn't make a huge mark on the rock scene during the '70s and '80s, but for some reason there's a mystique and legend about them that follows bassist BIlly Sheehan to this day. Undoubtedly Sheehan achieved more success with DAVID LEE ROTH, MR. BIG, THE WINERY DOGS, and SONS OF APOLLO, but for some reason it always comes back to 'formerly of TALAS' when referring to the bass legend.

TALAS disbanded in 1984 shortly after the release of their third studio album Live Speed On Ice. TALAS did manage to demo material for a fourth album that never materialized, until 2022 that is. With the exception of "Black And Blue", the music on TALAS' latest album was written in 1985, hence the 1985 title.

"Inner Mounting Flame" is a high-energy rocker with exuberant vocals courtesy of Phil Naro. "I'll Take The Night" is anthemic and keeps the power flowing. Newcomer Kirk Najdovski lays down a driving riff on "Crystal Clear", while OG drummer Mark Miller rolls through some ear catching fills.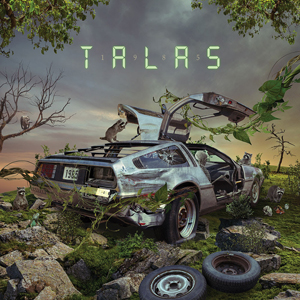 "Do You Feel Any Better" has a bluesy groove to it, and great multi-part harmonies in the simple yet effective chorus section. Funny how the lyrical content of "On The Take" is still relevant in 2022. Naro is full of anger and passion in his vocal delivery here.
"The Power To Break Away" is the most '80s' sounding song on the album, radio friendly with a little Rock edge. The vocal melodies are the real stand out on "Black & Blue". It is riffs and licks galore on "Close To The Killer". I don't normally write about instrumentals on an album, but Billy Sheehan's bass work on "7IHd h" is probably the coolest all-bass composition I've ever heard.
The songs on 1985 may have been written during the decade of decadence, but nothing on this album sounds dated. 1985 keeps the energy high, the hooks flowing, and the songs simple. TALAS can rest their hats knowing they ended on a high note. 1985 is a fitting eulogy to the late Phil Naro.
4.3 Out Of 5.0
(Phil Naro recorded a self-titled album with LIPS TURN BLUE that was also released in 2022. Well worth your time to take a listen.)
The Rock Is George Podcast: Music, Whiskey, Pop Culture, and Nostalgia.
www.rockisgeorge.com