STRYPER
The Final Battle
Frontiers Music Srl
www.stryper.com




Back in 2020, STRYPER released their 13th studio album Even the Devil Believes. I rated the album 10/10 (for another website) and dubbed it "STRYPER's best album of the modern era". Needless to say, with the October 21, 2022 release of STRYPER's 14th studio album The Final Battle, the band had tough competition against itself. So how does the new album fare? Read on.

"Transgressor" begins with a shrieking, yet melodic wail courtesy of vocalist Michael Sweet. The band follows with thunderous energy and power. The guitar work and solos by Ox Fox are pure fire. "See No Evil, Hear No Evil" slows the tempo down a scooch, and is commanded by a marching beat. STRYPER delivers flawless vocal harmonies on the chorus.

"Same Old Story" is a nod to old-school STRYPER with its slick '80s style production and catchy refrain. "Heart & Soul" may be packed with dark crunchy riffs, but it has an inspiring theme. "Near" and "Til Death Do Us Part" are companion power ballads that express love and affection for that special someone.

Bassist Perry Richardson and drummer Robert Sweet steal the spotlight on "Out, Up & In". The messages ring out loud and clear on "Rise To The Call" and "The Way, The Truth, The Life". Whether you believe or don't believe, you are sure to find something you like in these two songs. Some have already answered the call, and others need to hear these words of encouragement and faith in these trying times.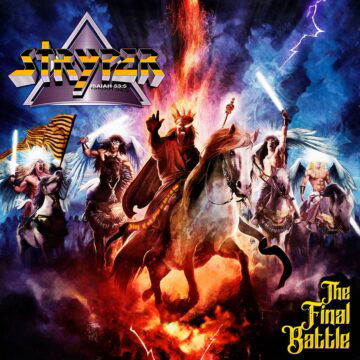 "No Rest for the Wicked" keeps the focus on Michael Sweet's still powerful and harmonic vocals. The rest of STRYPER joins him on the chorus for their trademark multi-part harmonies. "Ashes To Ashes" concludes the album with the same vim and vigor that kicked it off.
STRYPER is on a hot streak when it comes to their music in the modern era. The Final Battle is just as mighty as 2020's Even the Devil Believes, and a bit heavier. Forget what you know about the Glam Metal STRYPER of the '80s, the current version of STRYPER is pure Heavy Metal. Albeit for a few throwback 'keep the fans happy' songs.
The Final Battle is just as catchy and powerful as its predecessor, and delivers a positive message of hope, faith, and love. I've said it before and I'll say it again, you don't have to believe in the message to enjoy STRYPER. You just have to believe in truly great Heavy Metal and Rock and Roll.
4.7 Out Of 5.0
The Rock Is George Podcast: Music, Whiskey, Pop Culture, and Nostalgia.
www.rockisgeorge.com