AUTOPSY Morbidity Triumphant


By Peter Atkinson, Contributor
Tuesday, October 4, 2022 @ 8:13 AM


| | | |
| --- | --- | --- |
| | | |
AUTOPSY
Morbidity Triumphant
Peaceville Records




The math can get a little fuzzy where Bay Area death metal legends AUTOPSY are concerned. Though the quartet formed in 1987 and issued the classic debut Severed Survival in 1989, they split up in 1995, then had a brief reunion in 2008 that became a genuine reformation in 2009 and have been going strong ever since. So over 35 years, they've been active for about two-thirds of that time, or 22 years, give or take.

Morbidity Triumphant is either the band's eighth or ninth full-length, depending on whether one considers 2015's Skull Grinder a full-blown album or an EP – or "mini-album", if you will. At just over 28 minutes, it clocked in at about 30 seconds less than SLAYER's Reign In Blood, but featured just seven tracks, including instrumental outro "Return To Dead", as opposed to Reign's 10 tunes. So there is some gray area there.

Thus, Morbidity could be considered the long-awaited follow-up full-length to 2014's Tourniquets, Hacksaws and Graves – or the aforementioned Skull Grinder. Either way, it's been awhile. And, regardless, Morbidity finds AUTOPSY in fine form, gnashing out its murky, crusty, unabashedly grotesque and resolutely old school death metal with its usual vigor and aplomb - and delivering on the promise of Wes Benscoter's gloriously sick "cloak made of faces" cover art that seems something of an homage to both Buffalo Bill's exploits in Silence Of The Lambs and those of DETHKLOK's fashion designer Eric von Wiechlinghammer and his "special leather" from the "Dethfashion" episode of Metalocalypse.

It sure is nasty – especially as some of said faces are shown in lurid detail being sliced off hapless "donors" to sewn fresh. And with tracks like "Stab The Brain", "Flesh Strewn Temple", "Knife Slice, Axe Chop" and "Skin By Skin", to name just a few,the bandcertainly follows, umm, suit here as it lurches, chugs, rumbles and pukes its way along.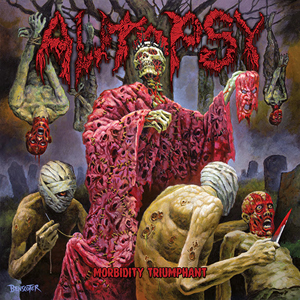 The original core trio of drummer/vocalist Chris Reifert and guitarists Eric Cutler and Danny Coralles is joined for Morbidity by new bassist Greg Wilkinson, who is no stranger to the band having played with Reifert in STATIC ABYSS and worked with all three at his Earhammer Studio in Oakland. And Wilkinson's thick, grinding grooves provide the perfect anchor for Cutler and Corrales' hack-and-slash riffs and Reifert's horrific retching vocals, propelling faster, more savage tracks like "Stab The Brain", the almost hardcore blitzkrieg of the 1:43 "Maggots In The Mirror", or "Final Frost" and "Born In Blood" after their slogging starts, and adding heft to the soupy swagger of "The Voracious One", "Flesh Strewn Temple" and "Your Eyes Will Turn To Dust".
As is usual for AUTOPSY, the production on Morbidity is ragged and unpolished, yet still quite lethal - like a wall of razorblades or something. It remains a welcome alternative to the uber-slick, over-processed tech-death or the contrived buzz-sawing of the hordes of Swe-death revivalists that seem to be everywhere these days, sounding both primal yet genuine.
And even though the band's sound and approach haven't changed all that much over 35 years – or 22, depending on how you count them – AUTOPSY continues to craft compelling and brutal, yet ghoulishly catchy death metal. Morbidity Triumphant comes packed with memorably gnarly riffs, caterwauling solos, clangorous rhythms and lyrics that can still make you go "Ewww!" And you can't really ask for much more than that.
3.5 Out Of 5.0

Please log in to view RANTS