TRAUMA Awakening


By Andrew Depedro, Ottawa Corespondent
Thursday, October 6, 2022 @ 10:35 AM


| | | |
| --- | --- | --- |
| | | |
TRAUMA
Awakening
Massacre Records




Born and bred in California's Bay Area in 1981 during a crucial year for metal music, a gathering of five ambitious and musically proficient longhairs heeded the call to bang some heads in a loud, fast and thrashy matter. Their frontman Donny Hillier consumed a steady diet of ZEPPELIN and SABBATH and shared a love of PRIEST and MAIDEN with guitarists Mike Overton and George Lady. And with the seismic rhythm section of Dennis Schafer on drums and one Cliff Burton on bass, the band known as TRAUMA and dubbed as "the next big thing" by many in the burgeoning thrash scene at the time, were poised to take on the world thanks to anappearance as part of the compilation series curated by Metal Blade Records. 1982's Metal Massacre II compilation had featured their first-ever recording "Such A Shame" and the band had even shot a video for the song "The Warlock" in Santa Ana, California in preparation for what would be their upcoming debut album Scratch And Scream. The world was indeed TRAUMA's proverbial oyster at the time, right?

Kinda.

Yes, their aforementioned debut album eventually saw the light of day in early 1984 through Shrapnel Records (formed by record producer and Guitar Player columnist Mike Varney) and it did garner some enthusiastically positive reviews from the worldwide metal press, including tastemaker publications Kerrang!, Circus, and Metal Forces. But their fame was becoming well overshadowed by then by other big players from the Big Four – notably, from their former Metal Massacre mates METALLICA, whom Cliff had joined the year before and would by then be two out of three of their first couple of studio albums deep into their career before his tragic passing in 1986. By then, TRAUMA, having already undergone several lineup changes including the inclusion of powerhouse double kick drummer Kris Gustofson, were all but brain-drained. Luckily, the band was still well revered both amongst many bands and fans alike in the Bay Area scene over time, prompting their reformation some three decades later with their sophomore effort Rapture And Wrath and the group's first ever appearances overseas, most notably at Germany's Headbangers Open Air festival. Their momentum continued with 2018's As The World Dies but the passing of original frontman Donny Hillier two years later once again cast TRAUMA's future in doubt. His replacement Brian Allen – whose modern-sounding powerful vocal style ranges somewhere in between Ralf Scheepers and Stu Block – in 2021 managed to bring the band back in time from its slumber with the aptly-titled Awakening. With Steve Robello (guitar), Joe Fraulob (guitar), Greg Christian (bass), and the last active original member Kris Gustofson (drums) in this lineup, TRAUMA are eager to trip at the brain once more.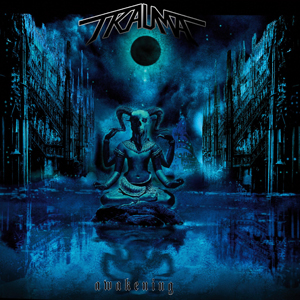 Opening number "Walk Away" – a song originally written about the Middle East according to Steve Robello, who adds "But as we see from recent events, never ending violence and warfare isn't monopolized by that region of the world" – is TRAUMA's classic sound of soaring melodies and fierce riffs colliding in songs that are equal parts sharp, fierce, grandiose, and theatrical. The follow-up number and single "Death Of The Angel", which Steve's wife Rochelle penned, delves "into the worst of human nature with this one - getting directly in the mind of one of history's most notorious serial killers"; indeed, it is described as a song written from the perspective of such notable killers such as Ted Bundy and involving some of the actual violent acts incorporated into the lyrics – even including a snippet from one of his recorded confessions in the intro. Not all that lyrically far removed from some of SLIPKNOT or MARILYN MANSON's earlier material, for want of a comparison here. And "Meat" is a catchy punk-style number whose lyrics have a morbid yet goofy vibe to them that's reminiscent of some of EXODUS' earlier material, with both Robello and Fraulob's solid riffing complimenting each other throughout the song. Some of the other erstwhile surprises outside of the album's main singles include the encapsulating groove of "Voodoo", the bombastic impact of "Falling Down" and the frantic-sounding old-school thrash/power vibe of "Blind", "The River Red" and the album's closing thundering number "Death Machine".
As dormant as they may have been throughout much of the success of the Bay Area thrash scene compared to their other peers, TRAUMA have appeared to have been fully revived from their unplanned slumber with a new outlook on life. Awakening appears to be the latest in the band's growing catalogue to continue to bang the heads that did not bang the first time around.
5.0 Out Of 5.0
https://www.facebook.com/TraumaThrash/
https://www.instagram.com/traumametal/
https://twitter.com/trauma_theband
https://www.traumametal.com/

Please log in to view RANTS


ACID KING Beyond Vision

STEEL PANTHER On The Prowl

NIGHT DEMON Outsider

YNGWIE MALMSTEEN In Ottawa, Canada

THEORY OF A DEADMAN, SKILLET, SAINT ASONIA In Houston, TX With Photos!

OFFICER X Hell Is Coming

PERIPHERY Periphery V: Djent Is Not A Genre

INSOMNIUM Anno 1696

STEEL PANTHER, CROBOT, TRAGEDY In Houston, TX With Photos!

BABYLON A.D. Live Lightning

ROTTING CHRIST, CARACH ANGREN, UADA, GAEREA In Houston, TX With Photos!

MOTÖRHEAD Bad Magic: Seriously Bad Magic

TRAGEDY I Am Woman

ROXANNE Stereo Typical

ANTHRAX, BLACK LABEL SOCIETY, EXODUS In Houston, TX With Photos!