SOEN In Paris, France


By Larry Petro, News Monkey
Friday, October 7, 2022 @ 7:57 AM


| | | |
| --- | --- | --- |
| | | 24 September 2022 |
Review And Photos By Tony Sanchez
Expectations were pretty high for tonight's show given it has sold out the 500 seats weeks before the due date. I arrive just as the first opening band are closing their set so I didn't get to witness their show but the place is pretty jammed already and the atmosphere promises for a great night.
Soon after a quick setup, it's time for the second opener. French band LIZZARD takes the stage and I immediately recognize the drummer Katy from an interview I'd seen somewhere where she'd mentioned Danny Carey as an influence. Well, this power trio had TOOL written all over, but in a good way, not in a "we try to be TOOL way" but rather a "TOOL is a major influence and we wear it on our sleeves" kinda way. The crowd is super responsive as their vocalist/lead guitarist Mathieu engages in banter in between songs. Very accomplished musicians with a high-energy drive that set the stage perfectly for the rest of the evening.
By the time SOEN takes the stage opening with "Monarch", the place is electrified. Something striking is how great they sound from the get go, and how well lit they are. They are able to convey an arena light-show in a 500 seat venue which is pretty impressive as it is done very well. When the band launches into "Martyrs", the crowd gets really loose and we're now entering epic show territory by the fourth song on the set list. A super chilled Martin Lopez leads his bandmates with such an effortlessness that it isn't hard to see why many consider him one of the best drummers out there. The whole band sounds tight and delivers a powerful performance song after song, engaging with the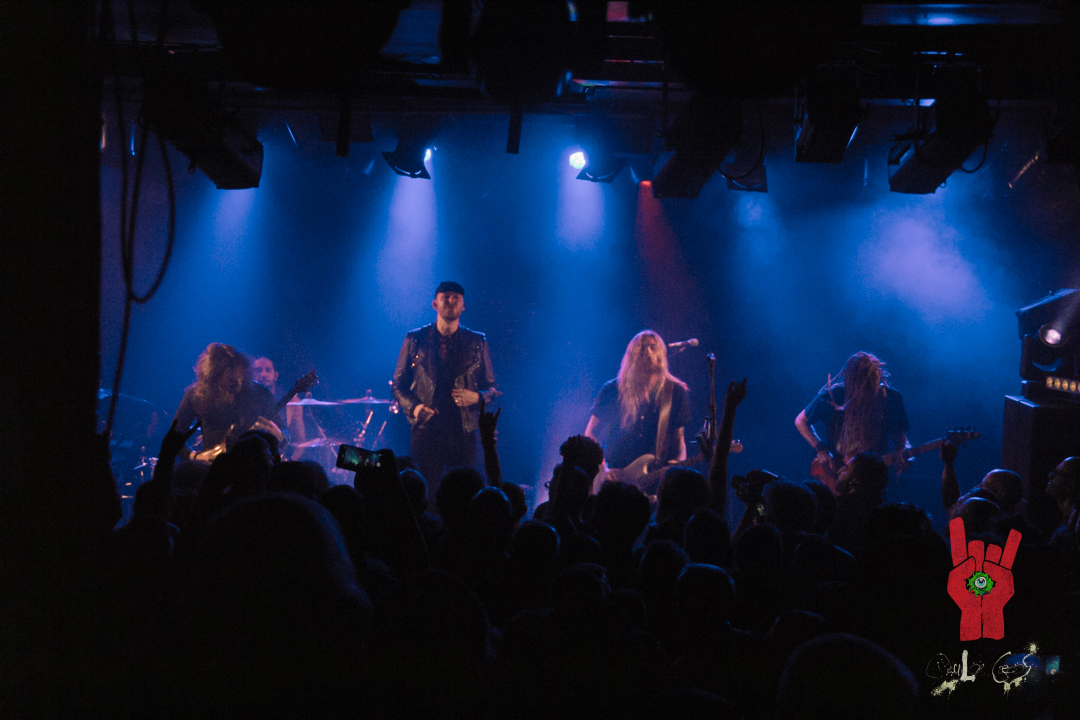 crowd as they seem to be having a great time on stage. Joel Ekelöf's vocals sound great and it's hard to tell they're almost reaching the end of their tour by how well he sounds. Lars Åhlund is as possessed as usual, covering as much ground from guitars to vocals to keyboards, a live powerhouse. Cody Lee Ford doesn't even blink when delivering the goods and his vocals are almost as impressive as his guitar playing. Oleksii Kobel, who entered the SOEN universe in 2020, was very effective in handling the low-end department and keeping that tightness together. "Lucidity" sets the expectations straight that in the 10 years since their first release, SOEN has been able to conquer fans across the world, far outside the Prog bubble, to reach a broader audience. A kid no older than 14 wearing ear defenders in the front row singing every song out loud is proof of that (and that good parenting also leads to greater tastes in music). After a mandatory encore for such a great performance, the Swedish quintet closes the show with "Lotus" to the cheers of a delighted Parisian crowd.
Tonight's performance and the reception from the audience hints at a possible bigger boat the next time SOEN will come into town. They are clearly an arena band in my book so it might be that one day, those present during that tour will look back and feel lucky they got to experience such a great band in these conditions. Until next time…

Please log in to view RANTS




YNGWIE J. MALMSTEEN, GLENN HUGHES In Worcester, MA With Photos!

ALICE COOPER Road

RAT ROD Four On The Floor

GIRLSCHOOL WTFortyFive?

DANKO JONES Electric Sounds

AVATAR, ORBIT CULTURE, THE NATIVE HOWL In Houston, TX With Photos!

THE DEAD DAISIES In Hollywood, CA With Photos!

KILL DEVIL HILL Seas Of Oblivion

THE DEAD DAISIES In Ottawa, Canada

MAMMOTH WVH In Santa Ana, CA

UADA Crepuscule Natura

BARONESS Stone

KAMELOT, BATTLE BEAST, XANDRIA In Houston, TX With Photos!

CRYPTOPSY As Gomorrah Burns

RAY ALDER II

GHOST, AMON AMARTH In Houston, TX With Photos!

U.D.O. Touchdown

DETHKLOK Dethalbum IV