INCURSION Blinding Force


By Alex Yarborough, Orlando Contributor
Tuesday, October 25, 2022 @ 8:00 AM


| | | |
| --- | --- | --- |
| | | |
INCURSION
Blinding Force
2022 No Remorse Records




An 'incursion' is defined as a sudden, hostile invasion of a place or territory. Nashville, Tennessee based true metal band INCURSION are invading ears and minds with their fantastic debut album Blinding Force, out on November 11th from Greece's No Remorse Records.

INCURSION is firmly entrenched in the style of the New Wave of Traditional Heavy Metal. You will hear high power, no frills, headbanging battle tunes in the classic '80s style, with elements of speed metal and power metal. The band has actually been around that long, first forming in 1982 and eventually releasing their first EP, The Hunter in 2020. The current lineup of INCURSION is: Steve Samson (vocals), Maxx Havick (guitar), Michael Lashinsky (guitar), Robbie Crede (bass), and Dan Douchette (drums).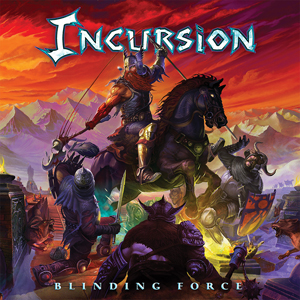 The first song is the title track, "Blinding Force", which builds from a nice intro into a total battle hymn. The guitars and drums gallop along at high speed. The attractive album cover art (by Marcos Miller) depicts the lyrics and a Viking incursion! More speed and power follow with "Vengeance", a nice aggressive track full of spectacular guitar riffs and double bass drumming. "Running Out" (lyric video HERE) was the first single released from the album, and this catchy song is bound to appeal to fans of early IRON MAIDEN. (The single release for the song features a cover of TRIUMPH's "Allied Forces" as a B-side). "The Sentinel" (not the JUDAS PRIEST song) is a mid-tempo track that builds up to a huge chorus. "The Rites" is a galloping track about the rituals of a satanic cult. "Master of Evil" ended up being one of my favorites on the album. This track's unrelenting tempo adds to its appeal. "Strike Down" is a solid tasty track with an infectious chorus. "Hang Em High" gets a little meaner with its approach, with a tempo just a hair below speed metal. The album closes with the superb "Riot Act", which might be the best song on the entire album.
Overall, Blinding Force is a powerful true metal album that leaves the listener satisfied, with all nine songs being compelling and faithful to the NWOTHM movement. The album feels cohesive and flows perfectly from beginning to end. INCURSION's Blinding Force and will appeal to fans of true metal bands like STEEL TORMENTOR, EVIL, POWER THEORY and BYFIST. Buy or die!
4.5 Out Of 5.0

Please log in to view RANTS