TOBIAS SAMMET'S AVANTASIA
A Paranormal Evening With The Moonflower Society
Nuclear Blast
www.avantasia.com




A Paranormal Evening With The Moonflower Society is the 9th studio album by AVANTASIA. Led by the 'Peter Pan of international Rock and Metal', Tobias Sammet gives listeners another glimpse into his twisted world of magic and wonder. Once again Tobias brings along a support cast of characters and vocalists known the world over for their talents and showmanship.

Sammet is the musical storyteller on "Welcome To The Shadows", and he is backed up by a powerful melodic choir to introduce you to the adventure that lies ahead. Ralf Sheepers (PRIMAL FEAR) brings his trademark wails and thunderous voice to "The Wicked Rule The Night". Double kick drums and hefty guitars dominate in Ralf's wake.

"Kill The Pain Away" is haunting and a bit tribal, as Sammet duets with songstress Floor Jensen (NIGHTWISH). The track is full of energy and excitement. Michael Kiske gives one his best non-HELLOWEEN performances on "The Innermost Light". He is both melodic and intense, and that's how we all prefer him anyway.

Sammet knocks it out of the park on "Misplaced Among The Angels". He could have sold this one without the addition of Floor Jensen, but she of course gives the track more texture and passion. Tobias teams up with Ronnie Atkins (PRETTY MAIDS) on the reflective track "Paper Plane". The duo really know how to control and deliver the right amount of emotion.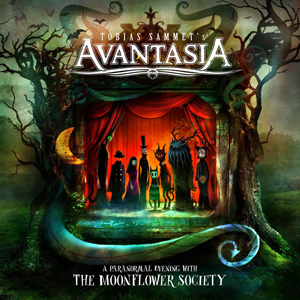 Bob Catley (MAGNUM) joins Tobias Sammet to introduce you to "The Moonflower Society". The track has the same framework as a lost MAGNUM opus. "Rhyme And Reason" comes at you with rapid fire drums and keyboards. Sammet goes back and forth trading musical barbs with Eric Martin (MR. BIG).
Another legendary Metal storyteller steps up to the plate on "Scars". Geoff Tate (Ex-QUEENSRŸCHE) flexes his trademark melodies as seamlessly as ever. Tobias hangs in there with Tate, as if he's ready to be passed the torch. The 10 minute epic "Arabesque" closes out the album. It features a cavalcade of vocalists including the returning Michael Kiske and Jørn Lande.
When it comes to concept albums, some people like to follow the story, others could care less as long as the songs are good. I fall into the latter group. A Paranormal Evening With The Moonflower Society is packed with enormous melodies, eloquent arrangements, thunderous kick drums, driving guitars, and some of the best, if not the best, theatrical Heavy Metal on the planet.
Just when you think it can't be done, AVANTASIA continues to get better and better with each album. Come to the theatrical show that is AVANTASIA. I guarantee you it's no night at the opera.
4.9 Out Of 5.0