DARKTHRONE
Astral Fortress
Peaceville




DARKTHRONE Holy DARKTHRONE…I always wait with baited breath for the release of new material and today is the day! I have often said that Fenriz is a genius. He gets an idea in his head and he makes it a reality. He's eclectic and often musically misunderstood. He likes all kinds of music and he has an open mind when it comes to experimentation. Nocturno Culto is the epitome of black metal. He is instantly recognizable and needs no introduction. His voice is immense and commanding. They are both constantly in the studio working on new music and this year they have given us Astral Fortress.

This album continues where Eternal Hails left off. It is written in much the same vein of sound and it has that gritty, traditional black metal feel to it. This duo works well together and has for their entire career. Blaze In The Northern Sky is the quintessential black metal album; it is one that every black metal fan must own. Transylvanian Hunger has a cult following and its worshippers come from all walks of life, or death. This new record holds its own with its predecessors.

I hear all eras and incarnations of DARKTHRONE on this record. Whether you have been along for the ride since their first album or you have recently discovered them, this is a cold, sludgy offering that will please even the most discerning listener. Oh, and the black metal elitists will like it too.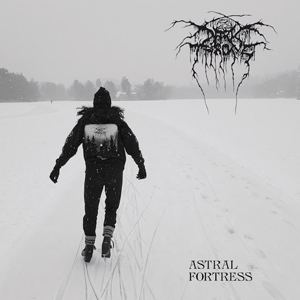 Kicking off the album is "Caravan of Broken Ghosts" and it has that visceral punch to the gut that you would expect from DARKTHRONE. It has an even pace and it draws you in and keeps you listening. I think this is the case with any opening track from any DARKTHRONE album. They open strong and stay that way for the entire record. Merging into track two, aptly titled "Impeccable Caverns of Satan", you get the same feeling that you get when you listen to "In The Shadow Of The Horns". It is crisp and precise and still leaves you feeling a bit breathless. It is, so far, my favorite track on the album. I am absolutely not ashamed to say that I am that snarky, jaded, black metal elitist in the back of the room with my arms folded and waiting for the "wow factor". This song gives so much more than that.
"Stalagmite Necklace" is a bit different. It has that Soulside Journey feel. So many new black metal fans don't know that the band was a death metal band before morphing into the black metal legends they are today. When I say that Fenriz is eclectic, I truly mean that he is likely to throw something off the wall at you and wait for you to digest whatever it was he served up. "The Sea Beneath The Sea of The Sea" is a ten minute opus that covers all the bases of metal, progressive rock, death and doom. It leaves you wondering what will be next and it transitions nicely into "Kevorkian Times", a song that is about exactly what the title infers…taking leave on your own terms. It's a bit creepy, but it is supposed to be.
The album wraps up with a brief, instrumental bit of noise called "Kolbotn West of The Vast Forests", a slight nod to the band's geographic origins, and easily moves right into "Eon 2", a smooth, polished piece of metal. It neatly wraps up this package of blistering, strange, visceral and perfect offering of True Norwegian Black Metal. I am again amazed and amused at the vast and tremendous offering DARKTHRONE has given us.
All Hail the mighty DARKTHRONE.
I'm sure you already know that I am giving this one 5 out of 5 stars.
5.0 Out Of 5.0