ANUBIS EP Collection


By Jason 'JRock' Houston, Contributor
Wednesday, November 9, 2022 @ 8:01 AM


| | | |
| --- | --- | --- |
| | | |
ANUBIS
EP Collection
Independent Release, 2022




I must tell you all, that ANUBIS is a band that I had never heard of before. This all changed when I received the band's promotional digital download of their latest release, EP Collection which was just released in 2022. So please know that I listened to this bandís recorded history with real, fresh ears having no prejudged thought to what I was about to hear come out of my computer speakers.

What I can tell you is that I heard some really heavy, powerhouse drumming, soaring vocals that would give SLAYER's Tom Araya a real run for his money, and a heavy, double guitar attack.

This all took me back to the real heydays of JUDAS PRIEST. You will swear that the heavy riffing was coming from KK Downing and Glenn Tipton.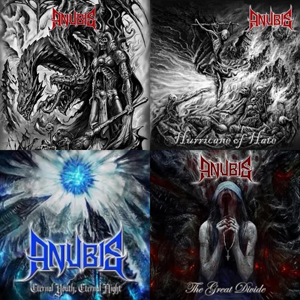 I think for anyone who is a fan of real traditional heavy metal like I am or if also like me you're hearing ANUBIS for the very first time, that you'll also feel as though you were treated to a real full blown, 100% full speed metal feast, a real headbanger's delight.
I believe it's a smart move on ANUBIS' part to release this EP collection. That is because for people like myself and others who are just discovering the band, this release gives a real good taste of what this bandís recorded history so far has been all about.
ANUBIS is a new rising force on the Los Angeles metal scene and with their powerhouse blend of metal, ANUBIS is no doubt a band to watch in the years to come. I guarantee you all, that not only will ANUBIS take itís brand of metal to all of California but it'll be total world domination for this band.
5.0 Out Of 5.0

Please log in to view RANTS