U.D.O.
The Legacy
AFM Records
www.udo-online.de




Vocalist Udo Dirksheinder formed U.D.O. 35 years ago in the wake of his departure from the German Heavy Metal act ACCEPT. If you weren't aware, the 1987 debut by U.D.O., Animal House was supposed to be the next album for his former band. Udo Dirkshneider has logged more years and albums under the U.D.O. banner, but he'll forever be associated with ACCEPT it seems.

U.D.O. has released 18 studio albums, 7 official live albums, and 3 compilations over the span of 35 years. For a retrospective release such as The Legacy, obviously some fan favorites would have to be excluded in favor of others, but there are certainly more than enough great cuts here to please everyone.

For the most part, you are getting two tracks from each studio album. However, albums We Are One (2020), Dominator (2009), Mission No. X (2005), Thunderball (2004), No Limits (1998), Solid (1997), and Time Bomb (1991) are only represented with one song each. Included in the collection are four bonus tracks that have never appeared on an U.D.O. release.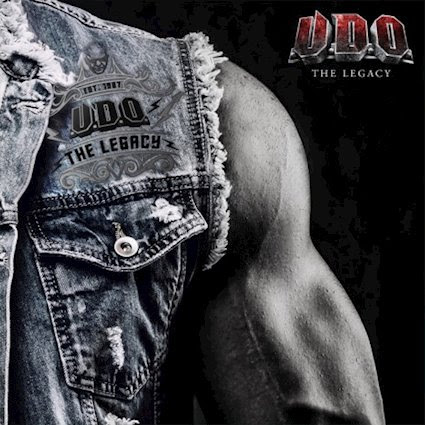 Simple yet effective riffs drive the song "Wilder Life". Dirkschneider's signature gruffness shines throughout. While enjoyable and not overly-complicated, it does seem like a song you would cut to make space on a full album. "What a Hell of a Night" packs a little more bang for the buck. The pace is faster and the riffs are heavier. The gang vocal section is catchy, but this is another throw-away cut.
"Falling Angels" is a deep track that starts off soft and unassuming. U.D.O. kicks up the distortion, while Dirkshneider delivers an emotional and forceful vocal performance. "Dust And Rust" has to be a lost mid-80s track based on the guitar tone alone. It has a galloping drum beat that complements the chugga-chugga riffage perfectly. The chorus is powerful and signature U.D.O.
The Legacy is the most definitive and encompassing U.D.O. 'best of' collection to date. It's chock-full of gritty anthems, thought-provoking commentary, and some of the most authentic Heavy Metal to ever come out of Germany. The bonus material is a 50/50 split on whether they stand honorably beside U.D.O.'s back catalog.
It seems like sacrilege to exclude songs like "Animal House" and "I'm a Rebel" for the inclusion of 4 bonus tracks. This release seems to signal U.D.O.'s time at AFM Records is up, as Dirkschnider has already released a studio album under his full name with another label. The Legacy is certainly the best route for U.D.O. to go out on top.
4.5 Out Of 5.0