TYPE O NEGATIVE
Dead Again
Nuclear Blast
www.typeonegative.net




TYPE O NEGATIVE's 2007 album Dead Again is considered by some to be cursed. The gothic metallers had just left their longtime label Roadrunner Records and signed with Steamhammer, a division of SPV GmbH, for the release of Dead Again. Two years after the album's release, SPV GmbH filed for bankruptcy.

This left future releases and streaming of the album in limbo. Three years after the release of Dead Again, bassist and frontman Peter Steele died suddenly from sepsis. Since then, the studio that the album was recorded in burned to the ground as a result of Hurricane Sandy.

15 years later, the remaining members of TYPE O NEGATIVE and label Nuclear Blast are able to reintroduce Dead Again to the world. The band's final album is now available in multiple 3LP vinyl configurations, cassette, CD, and streaming. The 15th anniversary edition of Dead Again features live audio bonus tracks that, if you are a fan, you most likely have.

The first half was part of a bonus DVD included with a Best Buy exclusive version of the album, and the second half is from a bonus DVD included with the past Special Edition version. You cannot get the live cuts on the streaming or cassette versions of the 15th anniversary edition.

The album's title track "Dead Again" kicks things off. It's dark, sludgy, and deep. The track picks up tempo after a slow lead-in. Steele struggles with drug addiction lyrically. Shades of Psychedelica and Stoner Rock bleed through on "Tripping a Blindman". This track also picks up the pace when the vocals hit. Steel is intense in his vocal delivery, but a bit wordy throughout.

"The Profits of Doom" is a ten minute epic full of TYPE O NEGATIVE's signature guitar tones and unique vocals. Steele sounds like he is preaching from the pulpit and he foretells a bleak future. "September Sun" is probably the closest thing you're going to get to a 'ballad' by the band, and it runs a gamut of emotions in 9+ minutes.

"Halloween In Heaven" is a hard-charging track full of the band's irreverent and dark humor. If you like long and ominous epics, the previous tracks are nothing compared to "These Three Things". Clocking in at 14+ minutes, Steele tackles abortion and religion in the bluntest of terms.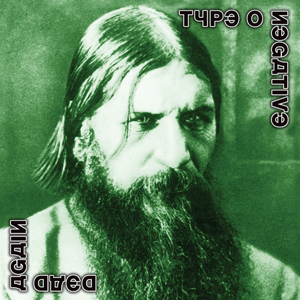 Steele laments about his mother on the drum-prominent "She Burned Me Down", while guitar heavy, rapid-fire track "Some Stupid Tomorrow" acts as its sequel. "An Ode To Locksmiths" has a surprising bluesy swagger to it. Betrayal and emotional blackmail close out the album on "Hail And Farewell To Britain".
So, the bonus live tracks. They are not bad, but they are not exceptional either. If you like different interpretations of songs, and varying quality of recording, then you might find a few things here you like. The first non-Waken live tracks are reminiscent of the '80s tape trading days. The recordings are raw and don't sound like much planning was involved.
The set is performed in a small setting, and the band sounds like they are still establishing their sound. TYPE O NEGATIVE is known for slowing Heavy Metal down, but in this live setting things are different.
The Wacken 2007 live set shows a more refined and mature TYPE O NEGATIVE. The quality has improved immensely, and the band keeps the music fairly close to the appropriate tempos and arraignments.
Dead Again is a great representation of TYPE O NEGATIVE. It shows a band firing on all cylinders. The pinnacle release for the band was 1996's October Rust in my opinion, and TYPE O NEGATIVE kept trying to reach those heights once again in the years that followed. Dead Again is close, but one wonders what they could have achieved after this album.
3.8 Out Of 5.0