IRON ALLIES
Blood In Blood Out
AFM Records




Herman Frank and David Reece are distinguished metal veterans who continue to produce recorded works at a pace that exceeds many of their contemporaries. They also have an interesting career intersection as previous members of ACCEPT, though they were never in the band at the same time. Reece's first notoriety came when he stepped into the spotlight to replace Udo Dirkschneider on the polarizing Eat The Heat, while Frank was with the band from 1982–1983 during the Restless And Wild and Balls To The Wall album cycles. His final stint in ACCEPT was from 2010-2014 for the first three reunion discs featuring current vocalist Marc Tornillo.

Now they have joined forces in IRON ALLIES, and it works far better than many similar pairings. The personality behind the mic (with a specific range, tone and melodic sense) always makes a significant impact on a band, and it's apparent that Herman had a vision and found the right vocalist and supporting players to realize it — as opposed to an arbitrary juxtaposition of musicians. Reece and Frank's accomplices on the record are Malte Burkert (bass), Mike Pesin (guitar) and Francesco Jovino (drums). They were good choices for their respective roles and make estimable contributions; the end result is that Blood In Blood Out comes across as more cohesive than a "project".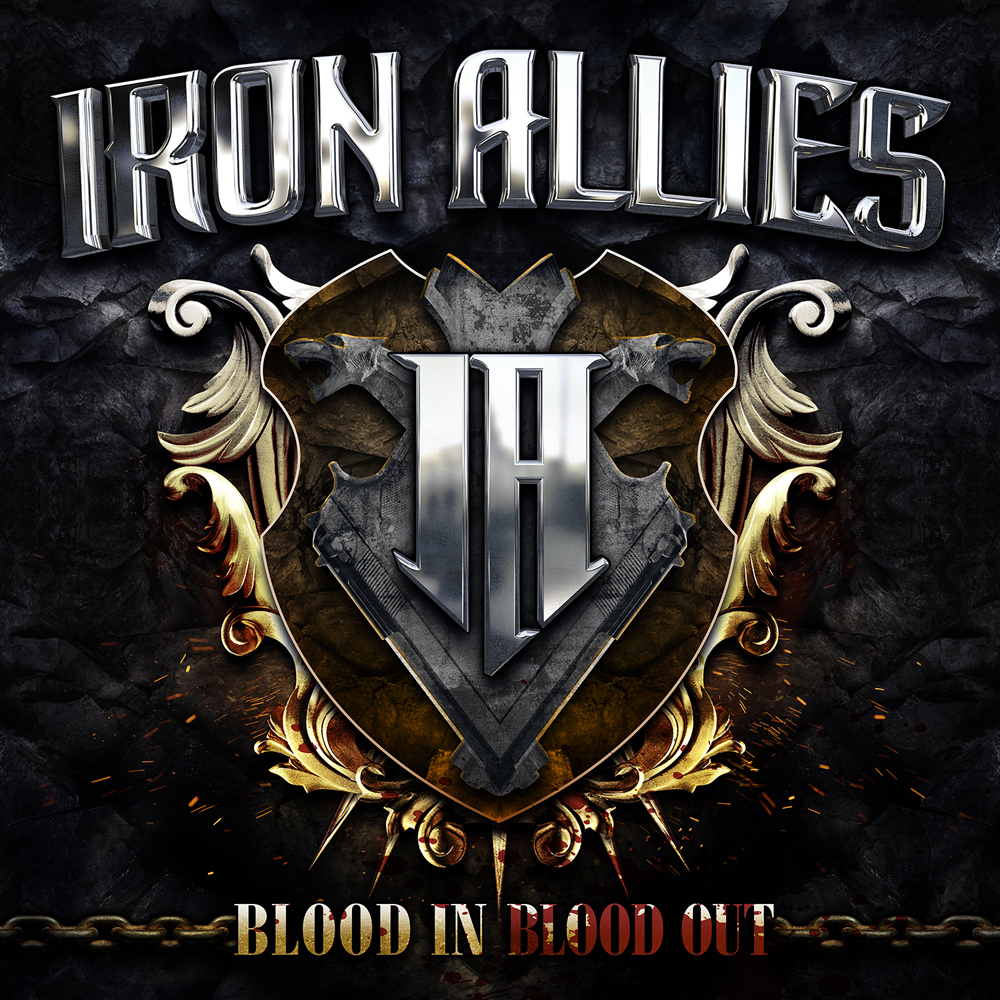 Herman Frank again demonstrates his knack for creating tracks for an apt vocalist to build melodic metal anthems, and David Reece takes advantage of the opportunity and backs up his writing with a great performance. He has the bluesy approach that works so well in metal, but what sets him apart is a thicker tone and slight soul influence (reminiscent at times of Paul Stanley) — paired with the omnipresent Coverdale phrasing. Additional kudos to David for interesting lyrical turns that rise above the mundane.
Based on this analysis, it seems safe to say that Blood In Blood Out is a distinctive and successful variation on the HERMAN FRANK formula. There's no need to go further than the official video for "Blood In Blood Out" to hear IRON ALLIES' take on classic metal, while "Destroyers Of The Night" and "Full Of Surprises" are rooted in power metal — with these two styles being the essence of this release.
Blood In Blood Out sounds stellar thanks to production from Herman and Arne Neurand (who has worked with him in various capacities on recent HERMAN FRANK efforts) and mixing and mastering by the renowned Dennis Ward (also the bassist for PINK CREAM 69).
The music is firmly in the vein of Herman Frank's other bands (HERMAN FRANK and to a lesser extent, VICTORY) — but that's a positive. The disc emphasizes his winning blend of classic metal/power metal tracks with memorable guitar hooks and flashy, extended leads. IRON ALLIES' Blood In Blood Out is an outstanding effort from an unexpected pairing.
4.6 Out Of 5.0