CANDLEMASS Sweet Evil Sun


By Francisco Zamudio, Metal X Candy 2.0
Wednesday, December 21, 2022 @ 10:00 AM


| | | |
| --- | --- | --- |
| | | |
CANDLEMASS
Sweet Evil Sun
Napalm Records




It is great to know that many of the amazing bands from the early 1980s are still pumping out records, staying true to their original sound (ie, did NOT "sell out"), are touring, and most importantly for the most part, still alive. Some of these bands are actually the cultivaters of their respected genre. This time around we're talking about Doom Metal and Swedish legends CANDLEMASS who recently released their 13th full-length album titled Sweet Evil Sun, through Napalm Records.

Through nearly four decades, CANDLEMASS has had a slew of musicians who have had their name tied to the band. All in all, the original and now current line-up consists of Bassist and lead songwriter Leif Edling, Lars Johansson and Mats "Mappe" Björkma on guitars, Jan Lindh on drums and returning once again is vocalist Johan Längqvist. His first appearance on their 1986 full-length debut Epicus Doomicus Metallicus essentially helped coin the phrase 'Epic Doom Metal'. His return on 2019's album, The Door To Doom, which made many lists for Best Albums of 2019, also helped them win another Grammy.

I could be saying this because I've been watching a few Tim Burton/Danny Elfman films but Johan's vocal approach is quite reminiscent of Elfman's style of musical story-tellling. It's haunting, narrative, romantic and immersive with an eloquent soundtrack backing him up. The song "When Death Sighs" is a great example of this with the accompanying female vocals by Jennie-Ann Smith (AVATARIUM) giving it a dramatic theatrical feel. The drums on Scandinavian Gods reminds me of Bonham's intro to "When The Levee Breaks". A clever approach in the recording process by producer Marcus Jidell. Recorded at NOX studio in Stockholm, Sweden, the whole production on the album sounds wonderful. The acoustic intro on "Devil Voodoo" is proof of this. On this album, they pick up the tempo a little to make their sound a bit more Rock while heavily laced with their trademark doom vibe injected in for good measure. The keyboards thrown in throughout the album is a perfect compliment that just seems to round everything out dark and smoothly.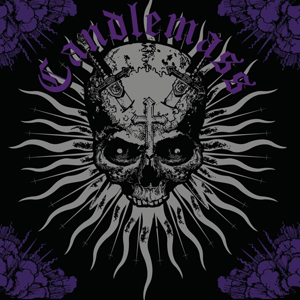 While the era of vocalist Messiah Marcolin during 1987 through 1989 was a memorable and great one, CANDLEMASS' debut was one that set the tone for Doom Metal. With a couple of hiatus' throughout their career, one came in the mid-nineties after the album Chapter VI that lasted only a few years before returning with their 1998 collaborative effort entitled Dactylis Glomerata that had contributions from many musicians, one being Michael Amott of, at the time, CARCASS (and eventually ARCH ENEMY). Then next would be in the early 2000's and would reunite then record 2005's self-titled that led to them winning what would be their first of two Swedish Grammys. Another break-up loomed but they did manage to release another Grammy winning album. So as the saying goes, 'what's life without whimsy'. If all that info was hard to wrap your head around, I don't blame you.
TYPE O NEGATIVE, CROWBAR, DOWN, SLEEP, INCANTATION - the list of bands who must have obviously been influenced by CANDLEMASS is a long one. Of course credit where credit is due, CANDLEMASS had also stated that they were influenced by BLACK SABBATH. I couldn't tell you what relevant, modern bands will still be around 40 years from now. I'll be just over 80 years old, who knows if I'll still have my hearing, let alone be alive. One thing is for sure and that is that 40 years ago, the 1980s was a kick ass decade for Metal. For CANDLEMASS to come this far though trials and tribulations, to capture what they did decades ago and with the use of modern technology, they made a great attempt at capturing the spirit of Epic Doom Metal that many modern bands only dream of.
3.5 Out Of 5.0

Please log in to view RANTS