SNOWY SHAW This Is Heavy Metal, Plain & Simple

By Daniel Höhr, European Correspondent
Wednesday, January 18, 2023 @ 7:56 AM

| | | |
| --- | --- | --- |
| | | |
SNOWY SHAW
This Is Heavy Metal, Plain & Simple
Independent Release




What is heavy metal? Ask ten metalheads and you more than likely to get eleven different answers. It's a form of rock music, for sure. It's a form of art, it's a life style, to many it's a religion. And most certainly, as Blacky Lawless of W.A.S.P. said, when I asked during an interview at the 2000 Wacken Open Air what metal was to him, it's an attitude. We could go on and on debating this almost philosophical question – but thanks to Snowy Shaw of KING DIAMOND, NOTRE DAME, THERION, DREAM EVIL etc fame, we don't have to.

This Is Heavy Metal, Plain & Simple is the title of Snowy Shaw's slightly unusual work that's been available as a physical release (plus several bonus tracks) and on the usual streaming platforms since Christmas (yes, I know I'm bloody late). Actually, the twelve tracks have been available longer than that because during the pandemic year of 2021 Snowy opted to release one single each and every month (digitally) throughout the year. As an added bonus, Snowy invited several of his teenage heroes, living legends, former bandmates and friends to perform as guest stars on each track. And a man with such an impressive history as Snowy Shaw has quite a few interesting people to ask. Thus the album – or compilation of singles, we shall get back to that – features (former) members from KING DIAMOND, THERION, OZZY OSBOURNE, DARK FUNERAL, MERCYFUL FATE, DEATH SS, DORO, HARDCORE SUPERSTAR, MUSTASCH, TORCH, DREAM EVIL, LILLASYSTER, U.D.O, ARCH ENEMY, SABATON, SOILWORK, RAUBTIER, ERIKA, ROSS THE BOSS, AMARANTHE, etc.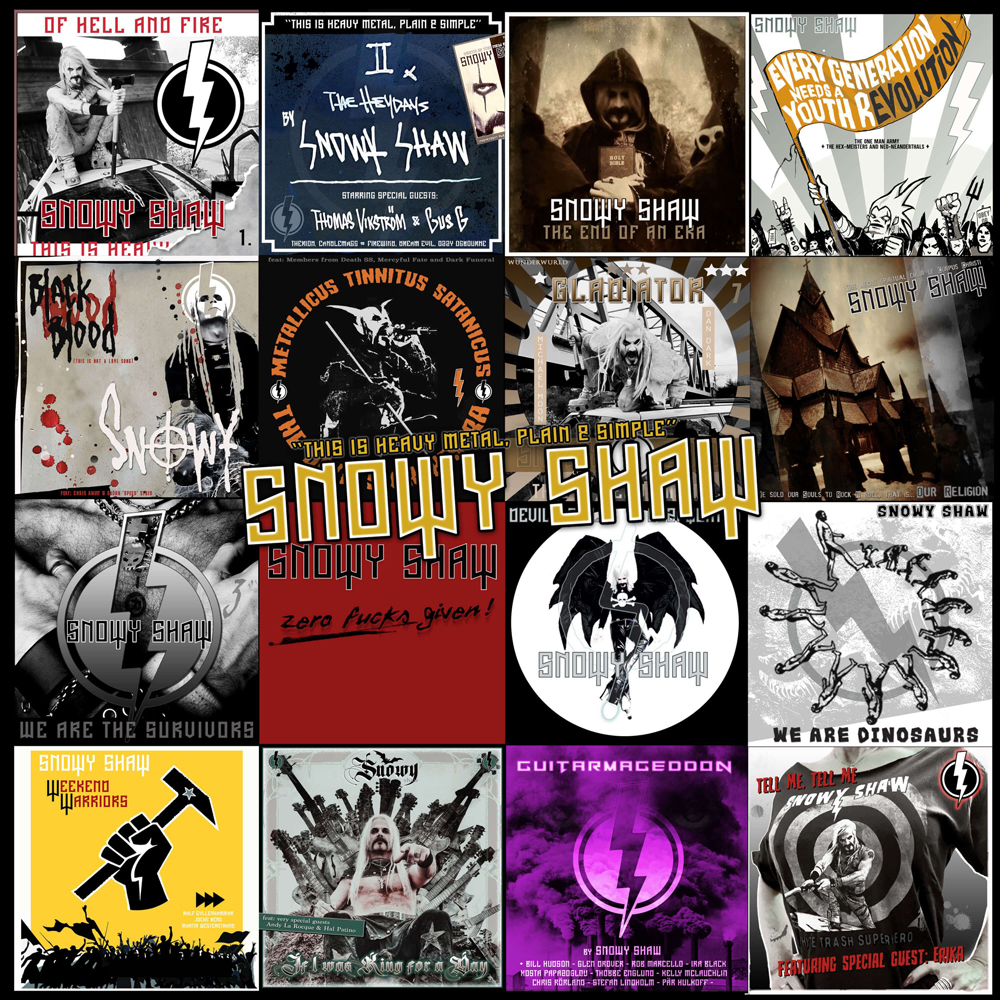 As the title suggests, Snowy doesn't aim to reinvent the wheel and we metalheads don't necessarily like that sort of thing anyway. He does, however, come up with twelve killer tracks that are extremely fun to listen to. He covers the full range of what goes by the name of Heavy Metal. And there's quite a lot. The thrashy up-tempo openener "Black Blood (This is Not a Love song)" featuring Björn Strid and Chris Amott is so totally different from the following groovy and melodic "The Heydays" featuring Gus G and Thomas Vikström. "We Are The Survivors" featuring Marc Lopes, Olof Mörk, and Alicia Grimoire is a jolly old shout-along banger that is best played at 11. In the course of This Is Heavy Metal, Plain & Simple no metal cliché is left out, neither lyricwise nor musical. There is plenty of hellfire as there is extreme guitarsturbation – in the best possible way. For the latter, check out "Guitarmageddon", a hell of a shredfest.
This Is Heavy Metal, Plain & Simple bursts with fun as much as musicality, sometimes jaw-dropping volicity. And indeed, this is also what heavy metal is supposed to be – fun and entertainment. Whether or not it is an album, doesn't matter so much. The cover artwork is made up of the single covers. It also lacks the musical coherence of an album. Instead you get a compilation of 17 awesome tracks – the last one being a true anthem pretty much in the vain of JUDAS PRIEST called "Zero Fucks Given". And there you go.
Conclusion: not a masterpiece (not supposed to be, I guess) but definitely a fun album, great songs featuring an incredible range of high-profile musicians, something unusual and at the same time oozing with all our favourite metal clichés. The only complaint I have is the production sound, that could be fuller and richer but that's me whining on a high level.
4.0 Out Of 5.0