ANTHRAX, BLACK LABEL SOCIETY, EXODUS In Houston, TX With Photos!


By Larry Petro, News Monkey
Monday, February 13, 2023 @ 11:01 AM


| | | |
| --- | --- | --- |
| | | Legendary Thrashers Celebrate 40 Years At Bayou Music Center February 11th |
All Photos By Larry Petro/Petrofyed Photography
Kicking off their 40th anniversary with a highly successful run last summer with support from BLACK LABEL SOCIETY and HATEBREED, ANTHRAX returned in 2023 with Round 2 of their anniversary celebration, once again dragging along Zakk Wylde and his BLACK LABEL SOCIETY, and joining on the fun for this go 'round was another set o thrashers who have alco been around for over 4 decades, EXODUS. There was headbanging action a-plenty headed our way and Bayou Music Center in downtown Houston was the scene of the crime on February 11th, and although there were a couple of other shows playing the same night (Eric Johnson at House Of Blues and Stephen Pearcy and SLAUGHTER at Rise Rooftoop), this show was the place to be!
Three bands meant an early showtime and at precisely 6:30pm EXODUS, led by vocalist Steve 'Zetro' Souza and guitarist Gary Holt, stormed the stage and started their 45 minute set with "The Beatings Will Continue (Until Morale Improves)", a fitting opener for sure as they treated the crowd to a good ol' fashioned thrash beating from start to finish. Crowdsurfing and furious mosh pits started early and were the order of the evening as the band, tight and fired up, plowed through classic numbers like "Blood In, Blood Out", "Blacklist", "Bonded By Blood" and one that got the crowd into a frenzy, "The Toxic Waltz". Rounded out by guitarist Lee Altus, bassist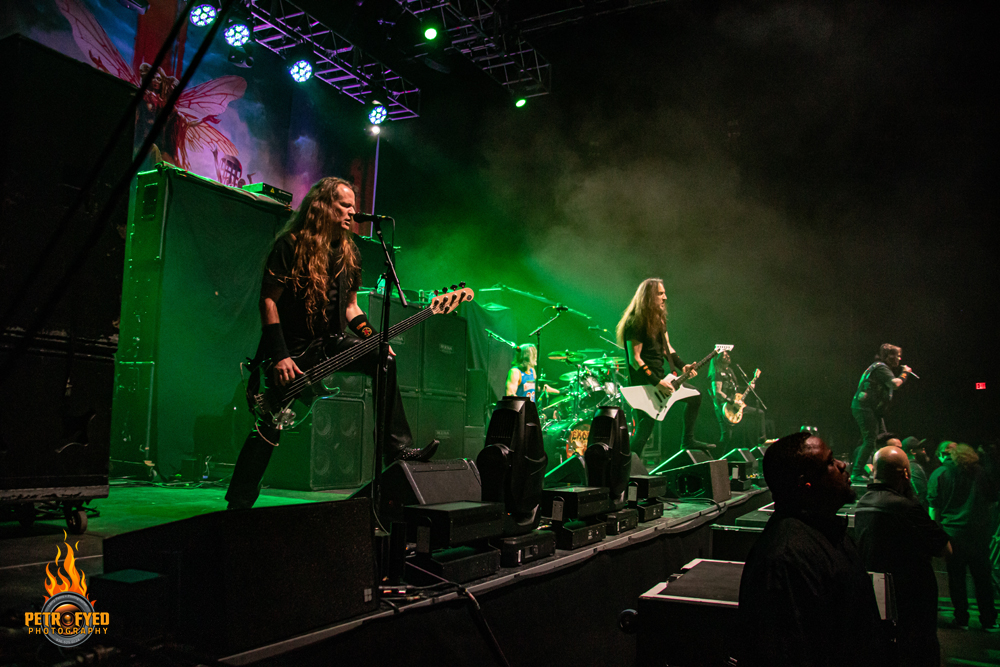 Jack Gibson and sole original member, drummer Tom Hunting, who was an absolute beast behind the kit and showed no signs of the cancer he battled just a couple of years ago, the band came out on a mission to please, and please they did, closing out their portion of the show with "Strike Of The Beast".
Setlist:
"The Beatings Will Continue (Until Morale Improves)"
"A Lesson In Violence"
"Blood In, Blood Out"
"Blacklist"
"Piranha"
"Prescribing Horror"
"Bonded By Blood"
"The Toxic Waltz"
"Strike Of The Beast"
The 'Houston Chapter' of BLACK LABEL SOCIETY was primed and ready for their heroes, guitarists Zakk Wylde and Dario Lorina, bassist John 'JD' DeServio and drummer Jeff Fabb, and they also did not disappoint. As co-headliners for this tour they got an hour and 10 minute slot and made the most of it by squeezing in 13 songs, starting with opener "Funeral Bell". Though not exactly a 'thrash' band by any means it mattered little to the band or the crowd as they fed off each other throughout such inclusions as "Destroy & Conquer" and "Destruction Overdrive", fitting numbers to describe exactly what they did to the Houston fans as Wylde stood front and center and frequently thrust his fist into the air.
A little over halfway through their set, tapestries of Vinnie Paul and 'Dimebag' Darrell were draped over the walls of stage amps as BLS paid homage to their fallen brothers with the poignant track "In This River". It was at this point that the crowd took just a few minutes of calm in the insanity and cell phones lit up and maybe even a tear or two was shed as the tribute was performed. The craziness returned with the next song, "Trampled Down Below" and following "Set You Free" came "Fire It Up", a number I first remember playing on the very first installment of the Guitar Hero video game series, and during this performance beach balls were tossed out from the stage into the crowd. This track developed into a full-fledged guitar solo jam bewteen Zakk and Dario that seemed to go on forever, the highlight of which was when they both stood on top of risers at center stage and played their axes behind their necks simultaneously, precision perfectly I might add. From there they finished things up with the double shot of "Suicide Messiah" and what has become their trademark show closer, "Stillborn". It was another fantastic set that left the crowd spent and there was still one more band to come...
What can you say about ANTHRAX that hasn't been said a thousand times before? They've been kicking fans' asses for decades and after 40 years you really can't imagine these guys calling it quits anytime soon. Their evening began with a curtain draped over the front of the stage as a video montage played of a whole slew of fellow rockers talking about their memories of ANTHRAX which probably lasted at least 5 minutes with the last 30 seconds or so devoted solely to those rockers saying the name, ANTHRAX. Now at an absolute fever pitch, the crowd went nuts as the band launched into "Among The Living", the title track to the band's classic third album from 1987, and from there the band proceeded to lay waste to the Bayou Center. In just the first 3 songs alone that we photographers were allowed into the barricade to shoot we had to constantly dodge crowdsurfers as ANTHRAX put the pedal to floor and pummeled us with a set from across their storied history like "Caught In A Mosh" and third number "Madhouse".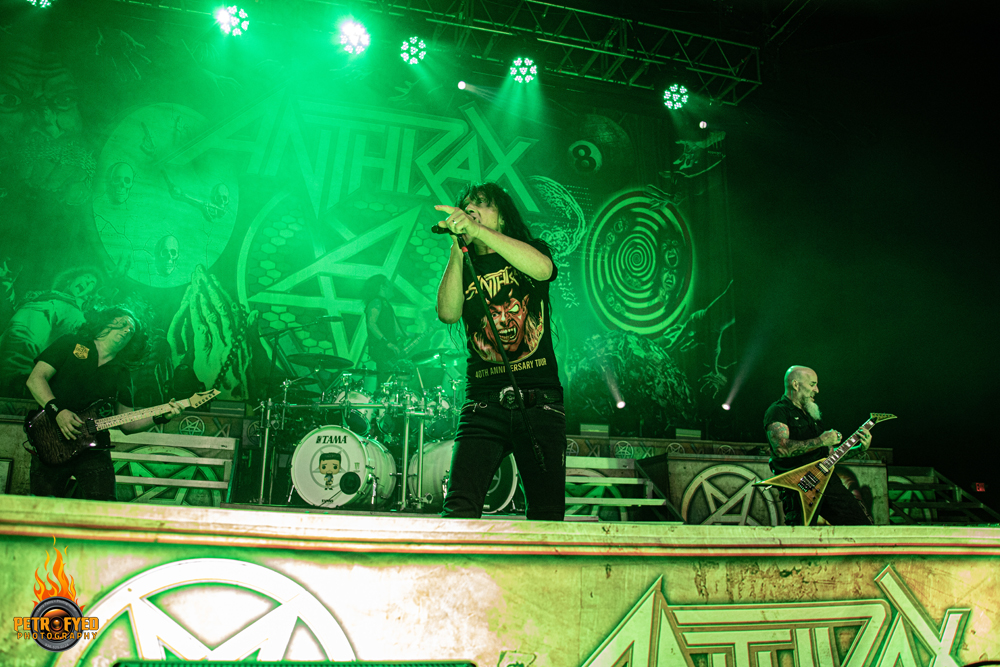 To say that this was an intense show by one of the 'Big 4' would be an understatement as the sonic assault continued with "Keep It In The Family" and "Metal Thrashing Mad". And just when you thought it couldn't get any better they reached down and tightened the screws a bit more with "Antisocial" and "I Am The Law" before surprising us and going back to the John Bush era and giving a solid performance of "Only".
The band, vocalist Joey Belladonna, guitarists Scott Ian and Jon Donais, bassist Frank Bello and drummer Charlie Benante, were energetic and engaging throughout their set with Belladonna frequently pointing to various members of the crowd and tossing guitar picks at every opportunity, including once while I was in the barricade shooting as he handed me a pick to give to a child standing at the front of the crowd. And as I stood in the crowd to watch the rest of the show there was a child of maybe 5 or 6 on their parent's shoulders with horns held high, a testament to the influence ANTHRAX has had on generations of metal fans.
The band concluded the final set of the night with two cover songs that they have really made their own, "Got The Time" (Joe Jackson) and "Bring The Noise" (PUBLIC ENEMY), and probably one of their most famous tunes, "Indians". If you've never had the opportunity to catch ANTHRAX live or even if you have a thousand times, this is one anniversary tour you do not want to miss!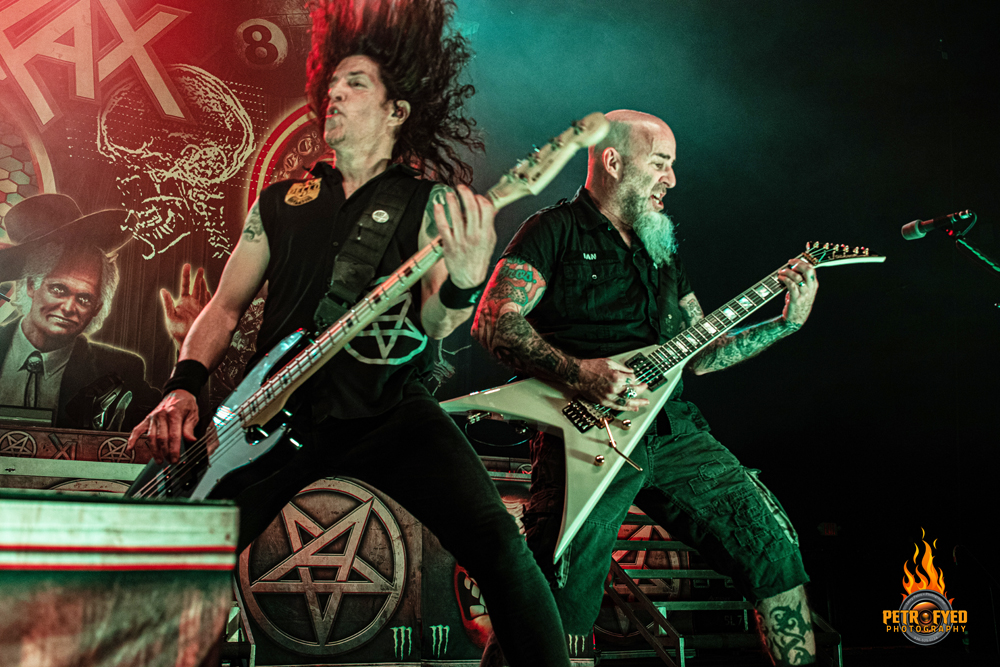 Remaining Tour Dates:
2.13 Wichita, KS, The Cotillion
2.14 Oklahoma City, OK, The Criterion
2.15 Albuquerque, NM, Revel
2.17 Riverside, CA, Riverside Municipal Auditorium
2.18 Oakland, CA, Fox Theater
Setlist:
"Among the Living"
"Caught in a Mosh"
"Madhouse"
"Metal Thrashing Mad"
"Keep It in the Family"
"Antisocial" (TRUST cover)
"I Am the Law"
"In the End"
"Only"
"Got the Time" (JOE JACKSON cover)
"Bring the Noise" (PUNBLIC ENEMY cover)
"Indians"
Check out some more photos from the show!
All Photos By Larry Petro/Petrofyed Photography

Please log in to view RANTS


WISHING WELL Sin And Shame

OTTTO Life Is A Game

SAXON More Inspirations

THE WINERY DOGS, BLACK HEART SAINTS In Houston, TX With Photos!

ROBIN MCAULEY Alive

CRADLE OF FILTH, DEVILDRIVER In Santa Ana With Photos!

KAMELOT The Awakening

ALTER BRIDGE, MAMMOTH WVH In Houston, TX With Photos!

ACID KING Beyond Vision

STEEL PANTHER On The Prowl

NIGHT DEMON Outsider

YNGWIE MALMSTEEN In Ottawa, Canada

THEORY OF A DEADMAN, SKILLET, SAINT ASONIA In Houston, TX With Photos!

OFFICER X Hell Is Coming

PERIPHERY Periphery V: Djent Is Not A Genre

INSOMNIUM Anno 1696

STEEL PANTHER, CROBOT, TRAGEDY In Houston, TX With Photos!

BABYLON A.D. Live Lightning

ROTTING CHRIST, CARACH ANGREN, UADA, GAEREA In Houston, TX With Photos!

MOTÖRHEAD Bad Magic: Seriously Bad Magic

TRAGEDY I Am Woman