TRAGEDY
I Am Woman
Napalm Records 2023
www.letsmaketragedyhappen.com




New York sensation TRAGEDY is an all Metal tribute to the BEE GEES and beyond. They have been lighting up stages across the globe with premature glitter bombs, swollen disco balls, and bombastic exuberance for over a decade. In addition to the stage, TRAGEDY destroyed the Internet with their viral videos for "You're The One That I Want" (2015) and "Stayin' Alive" (2017).

In 2021 TRAGEDY signed with Heavy Metal mainstay Napalm Records for the release of Disco Balls To The Wall, a compilation of their best material from their independent releases over the years. I Am Woman is the latest release by the New York sextet and it features covers of some of the most renowned and empowering women in music.

Thunderous drums and driving guitars run roughshod throughout "Le Freak" (CHIC). "I Will Survive" (GLORIA GAYNOR) takes that familiar intro and creeps it out with haunting vocals and an ominous guitar strum. The groove is kicked into overdrive after the first verse.

"She Bop" (CYNDI LAUPER) is played fairly close to the original. The keyboards are swapped out for heavily distorted Metal guitars. Your mom probably knows "Memory" (ELAINE PAGE) from the Broadway classic Cats better than you do. TRAGEDY maintains the major elements of the ballad, but adds some killer guitar courtesy of MRS. SMITH and SLAYER-style drum work.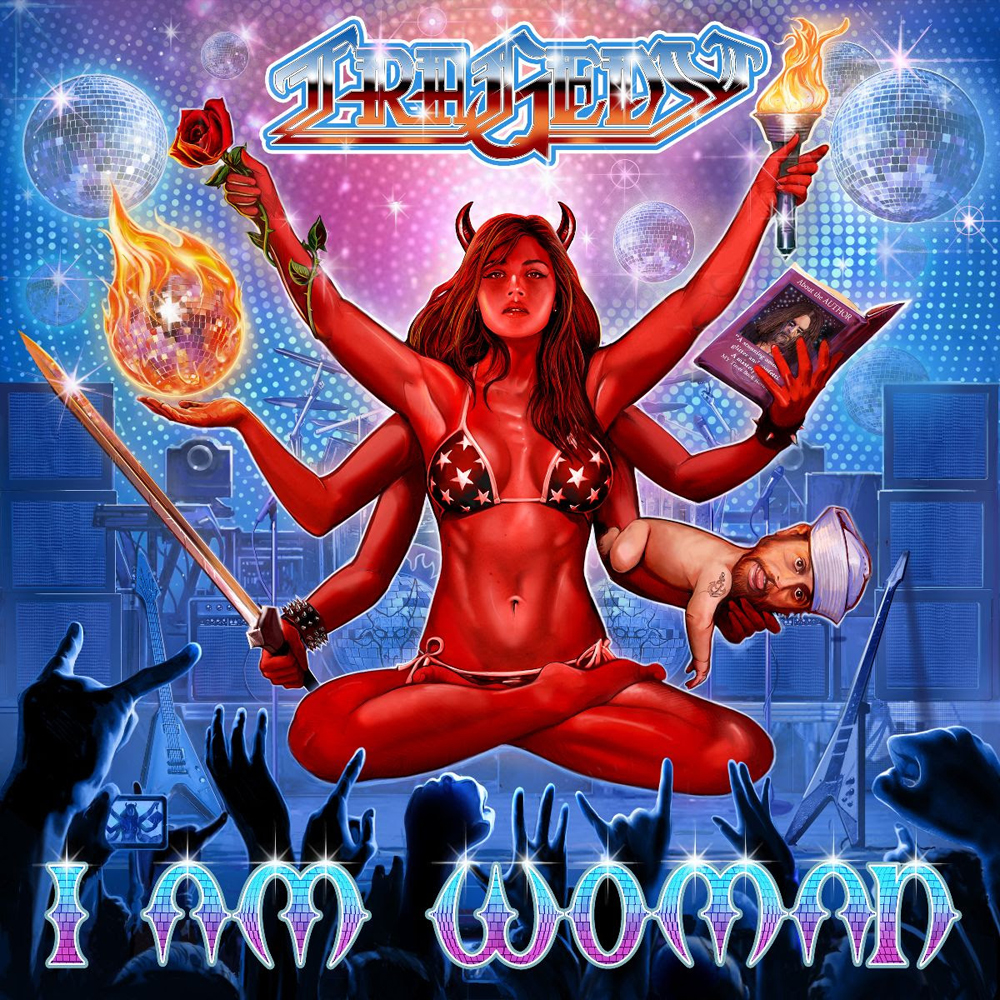 TRAGEDY gives "Lay Your Love On Me" (ABBA) the IRON MAIDEN treatment. 1964 James Bond theme "Goldfinger" (SHIRLEY BASSEY) gets a swift kick in the ass, going from sultry to maniacal. Broadway mainstay Marcy Harriell joins the band for their juiced-up rendition of "Respect" (ARETHA FRANKLIN).
"Flashdance… What A Feeling" (IRENE CARA) has a futuristic Heavy Metal feel to it. It's as if Jennifer Beals is now dancing on the deck of the Starship Enterprise. TRAGEDY gives a wink and nod to German Power Metal with their version of "I'm So Excited" (THE POINTER SISTERS).
"Here You Come Again" (DOLLY PARTON) switches back and forth from a Sunset Strip power ballad to a punishing double-kick driven headbanger. Finally, TRAGEDY bridges the gap between the old school and the current pop scene by combining "I Am Woman" (HELEN REDDY) and "Roar" (KATY PERRY).
I Am Woman is a fun album for a listen or two, but I have a feeling that the real money shot is with TRAGEDY's live performances. Consider I Am Woman as the calling card for the wild and crazy Disco roadshow that is TRAGEDY.
3.3 Out Of 5.0