STEEL PANTHER, CROBOT, TRAGEDY In Houston, TX With Photos!


By Larry Petro, News Monkey
Sunday, March 5, 2023 @ 11:35 AM


| | | |
| --- | --- | --- |
| | | Bands Are On The Prowl At The House Of Blues On March 1 |
All Photos By Larry Petro/Petrofyed Photography
One of the nice things about being recently retired from my real job as an IT professional is that now I can attend shows even if they happen to occur in the middle of the week, without having to worry about getting up for work the next morning. And the first show I had a chance to cover since I left the official workforce was the On The Prowl Tour featuring L.A.'s bad boys STEEL PANTHER along with CROBOT and TRAGEDY downtown at the House of Blues on a Wednesday night, March 1st.
What started as a metal tribute to the music of the BEE GEES, New York's TRAGEDY has morphed over the years into covering more than just that 70's trio, especially with the release of their new album I Am Woman, which is a collection of cover songs from women artists. And interestingly enough, their 7 song set on this night didn't include anything from the new album. Kicking their set off was their namesake cover of the BEE GEES hit, "Tragedy", which was followed up with "Gimme! Gimme! Gimme! (A Man After Midnight)" by ABBA, "Sweet Caroline" (Neil Diamond) and "It's Raining Men" (THE WEATHER GIRLS). The thing about this band is that if you didn't look at the setlist in most cases you couldn't actually tell easily what song they were covering because they put such a metal spin on things. But the band, vocalist Disco Mountain Man, guitarists Mo'Royce Peterson and Garry Bibb, bassist Andy Gibbous Waning and drummer The Lord Gibbeth (although it appeared that someone else was filling in for him unless his disguise really worked and made him look completely different than band photos I have seen), dressed in their glam outfits and makeup, were having a great time and the crowd seemed to know and appreciate everything they played, including You're The On That I Want" from the movie Grease, "How Deep Is Your Love" and set closer "Stayin' Alive". TRAGEDY definitely fit in with the whole 'parody' theme of the night.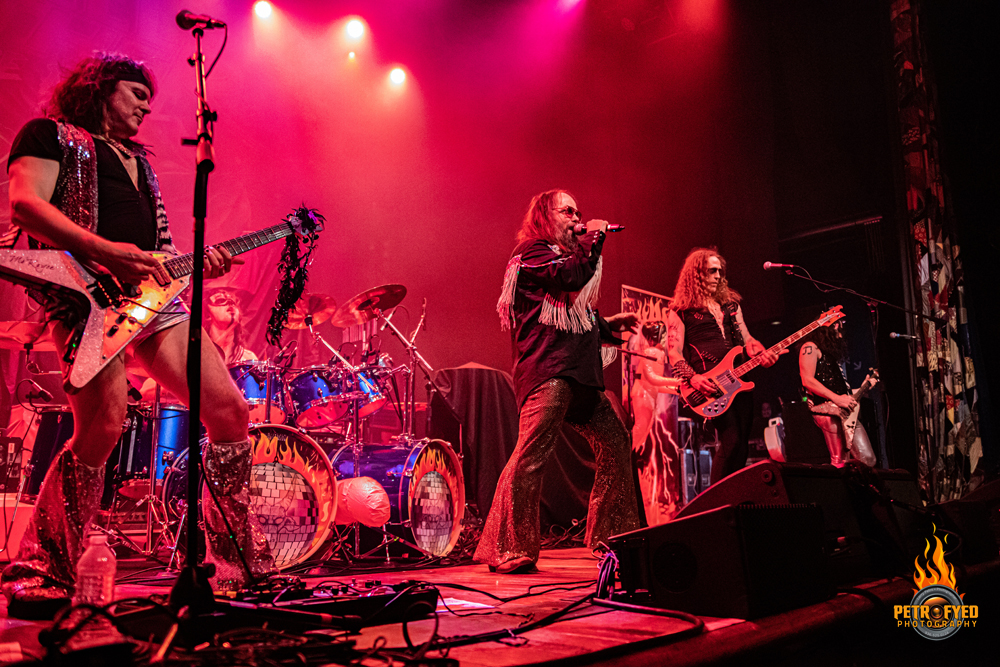 Setlist:
"Tragedy" (BEE GEES)
"Gimme! Gimme! Gimme! (A Man After Midnight)" (ABBA)
"Sweet Caroline" (NEIL DIAMOND)
"It's Raining Men" (THE WEATHER GIRLS)
"You're The One That I Want" (JOHN FARRAR)
"How Deep Is Your Love?" (BEE GEES)
"Stayin' Alive" (BEE GEES)
Next up was Pennsylvania's own CROBOT. Described as ' dirty groove rock' I initially thought that this was the odd band out on this package as the others are more of the parody nature but I was pleasantly surprised at exactly how well they did fit in and having never seen them live before, was most impressed with their set. Opening their set with an intro that involved frontman Brandon Yeagley strapped to an electric chair prior to their first song, the aptly titled "Electrified". Yeagley has ditched the facial hair of yesteryear with a clean cut look while still maintaining the voracity and energy he's known for when performing live, so much so that it became a challenge at times to capture him on film because he rarely stood still long enough! Their nine song playlist included four selections from their most recent album, Feel This; the aforementioned "Electrified", "Dizzy", "Golden" and finale "Without Wings", along with other known songs like "Gasoline", "The Necromancer" and "Low Life". Yeagley and his cohorts, guitarist Chris Bishop, bassist Tim Peugh and drummer Dan Ryan definitely left a solid impression on the modest crowd in attendance and is certainly worth seeing in their own right.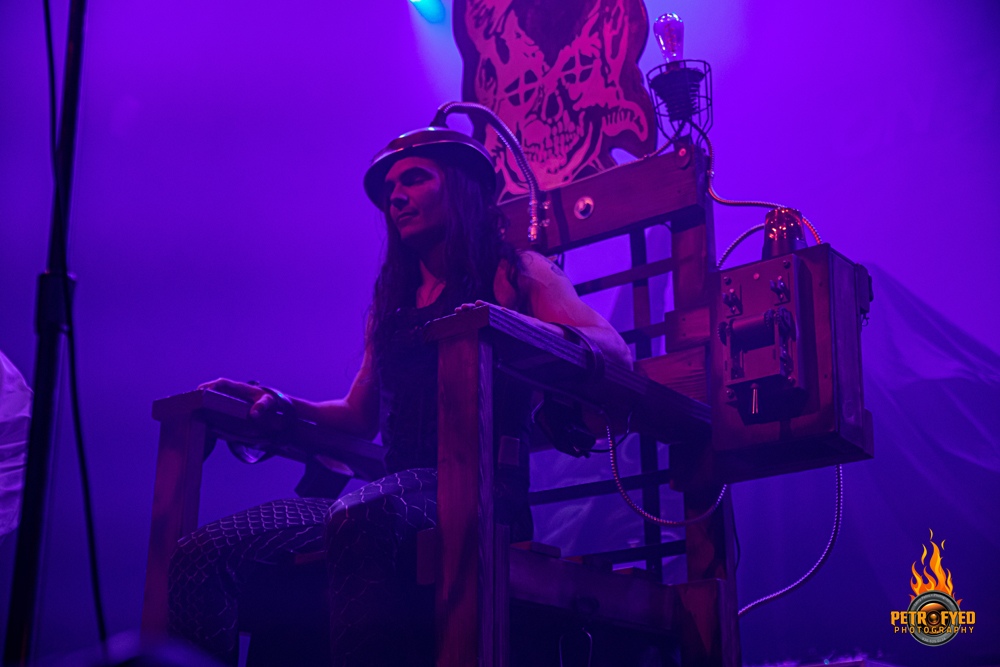 Setlist:
"Electrified"
"Dizzy"
"Livin' On The Streets"
"Gasoline"
"The Necromancer"
"Drown"
"Golden"
"Low Life"
"Without Wings"
And finally it was time for the PANTHER, a band that is all alone in the genre that I like to call 'porn metal'. I mean let's be real here, of all the bands that ever were or ever will be, this is the band your mother warned you about. If you are of the 'woke' persuasion or are easily offended by x-rated lyrics and songs then STEEL PANTHER is absolutely not for you and you probably shouldn't be seen anywhere near a show of theirs. There is no thin veiled subtleties or questions about exactly what the band means in their music because it's 'in your face', literally AND figuratively. It's vulgar and blunt but they're not meant to be taken seriously. Or are they? They take the whole sex, drugs and rock n' roll shtick and go all the way to 11 with it. "Eyes Of A Panther", a classic opener in every sense of the word, akin to POISON's "Look What The Cat Dragged In", and also one of the most mellow songs lyrically for the band, it was no holds (or holes) barred for the remainder of the evening. Tracks like "Asian Hooker", "All I Wanna Do Is Fuck (Myself Tonight)", "Never Too Late (To Get Some Pussy Tonight)" and closer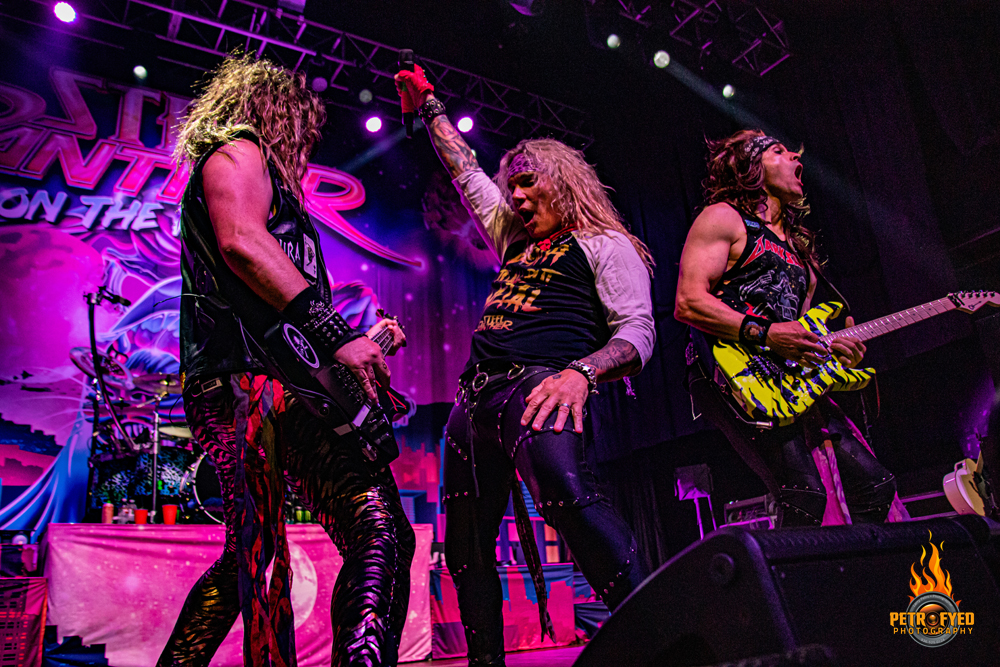 "Gloryhole" easily left no doubt what this show was about. But it wasn't just about the music. The banter in between songs was as comedic as watching an Andrew Dice Clay routine with no topic too taboo, whether it was drummer Stix Zadinia poking fun of DEF LEPPARD's Rick Allen or vocalist Michael Starr joking about doing cocaine after the show with underage daughters of concertgoers, there was 'something' for everyone and this reviewer hasn't laughed as much during a rock concert in, well forever.

The new album from the band, On The Prowl dropped in the past week or so and was represented in concert with 3 tracks from the release being played, the poignant "Ain't Dead Yet", "1987" and the previously mentioned "Never Too Late...". The band was having so much it should be illegal, and in some cases just might have been and newest addition, bassist Spyder seems to fit in perfectly, as if he's always been in the band, as was certainly the most engaging when it came to us photographers. SP concluded the first portion of the show with "Party All Day (Fuck All Night)" and then returned for encores "Community Property" and "Gloryhole".

The current US tour runs through April 8 and then the guys jump across the pond for a UK, Ireland tour so if you think you have the stomach for a raunchy good time, check it out!

Remaining Tour Dates:
3/6/23 – Nashville, TN – Marathon Music Works
3/8/23 – Ft. Lauderdale, FL – Culture Room
3/10/23 – Orlando FL – The Plaza Live
3/11/23 – St. Petersburg, FL – Jannus Live
3/12/23 – Atlanta, GA – Buckhead Theatre
3/14/23 – Baltimore, MD – Rams Head Live
3/16/23 – New York, NY – Irving Plaza
3/17/23 – Philadelphia, PA – Keswick Theatre
3/18/23 – Sayreville, NJ – Starland Ballroom
3/19/23 – Worcester, MA – The Palladium
3/21/23 – Detroit, MI – The Fillmore
3/22/23 – Columbus, OH – The Bluestone
3/24/23 – Indianapolis, IN – Egyptian Room
3/25/23 – Chicago, IL – House Of Blues
3/26/23 – Bloomington, IL – The Castle Theatre
3/28/23 – Milwaukee, WI – The Eagles Club Stage
3/29/23 – Minneapolis, MN – The Fillmore
3/31/23 – Lincoln, NE – Bourbon Theatre
4/1/23 – Denver, CO – The Fillmore
4/2/23 – Salt Lake City, UT – The Depot
4/4/23 – Portland, OR – Crystal Ballroom
4/6/23 – West Hollywood, CA – Whisky A Go Go
4/7/23 – West Hollywood, CA – Whisky A Go Go
4/8/23 – San Diego, CA – House Of Blues
5/14/23 – Glasgow, UK – O2 Academy
5/15/23 – Newcastle, UK – O2 City Hall
5/17/23 – Manchester, UK – Academy
5/18/23 – Birmingham, UK – O2 Academy
5/20/23 – London, UK – O2 Forum Kentish Town
5/21/23 – Bristol, UK – O2 Academy
5/23/23 – Leeds, UK – O2 Academy
5/25/23 – Belfast, UK – Ulster Hall
5/26/23 – Cork, IE – Cyprus Avenue
5/28/23 – Dublin, IE – Vicar Street
Setlist:
"Eyes of a Panther"
"Let Me Cum In"
"Asian Hooker"
"All I Wanna Do Is Fuck (Myself Tonight)"
"The Burden of Being Wonderful"
"Party Like Tomorrow Is the End of the World"
Guitar Solo
"Death to All but Metal"
"1987"
"Ain't Dead Yet"
"Girl From Oklahoma"
"Never Too Late (To Get Some Pussy Tonight)"
"Party All Day (Fuck All Night)"
Encore:
"Community Property"
"Gloryhole"
Check out some more photos from the show!
All Photos By Larry Petro/Petrofyed Photography

Please log in to view RANTS


WISHING WELL Sin And Shame

OTTTO Life Is A Game

SAXON More Inspirations

THE WINERY DOGS, BLACK HEART SAINTS In Houston, TX With Photos!

ROBIN MCAULEY Alive

CRADLE OF FILTH, DEVILDRIVER In Santa Ana With Photos!

KAMELOT The Awakening

ALTER BRIDGE, MAMMOTH WVH In Houston, TX With Photos!

ACID KING Beyond Vision

STEEL PANTHER On The Prowl

NIGHT DEMON Outsider

YNGWIE MALMSTEEN In Ottawa, Canada

THEORY OF A DEADMAN, SKILLET, SAINT ASONIA In Houston, TX With Photos!

OFFICER X Hell Is Coming

PERIPHERY Periphery V: Djent Is Not A Genre

INSOMNIUM Anno 1696

STEEL PANTHER, CROBOT, TRAGEDY In Houston, TX With Photos!

BABYLON A.D. Live Lightning

ROTTING CHRIST, CARACH ANGREN, UADA, GAEREA In Houston, TX With Photos!

MOTΦRHEAD Bad Magic: Seriously Bad Magic

TRAGEDY I Am Woman