THEORY OF A DEADMAN, SKILLET, SAINT ASONIA In Houston, TX With Photos!

By Larry Petro, News Monkey
Thursday, March 16, 2023 @ 12:04 AM

| | | |
| --- | --- | --- |
| | | The Rock Resurrection Tour Brings The Music To Life At Bayou Music Center |
All Photos By Larry Petro/Petrofyed Photography
When I started making my concert calendar for 2023 the month of March immediately stood out because there were literally a TON of shows hitting the Houston area that month besides the shows I put down for myself, including a stretch of 3 shows in 5 days starting with the Rock Resurrection Tour featuring THEORY OF A DEADMAN, SKILLET and SAINT ASONIA On Tuesday, March 14th at Bayou Music Center. And what a show it was!
SAINT ASONIA was the first of a pair of acts from our neighbors to the north in Canada and in case you've never heard of them, they carry a certain supergroup pedigree about them as band leader and vocalist Adam Gontier many of you might remember from 3 DAYS GRACE and his bandmate, guitarist Mike Mushok hails from STAIND. SAINT ASONIA got the night off to a raucous start with "Better Place" from their self-titled debut record of 2015 and the song could not have been more accurate for those of us in attendance as we were certainly in a 'better place' than those who weren't there. The close to sold out crowd seemed quite familiar with the band as they sang along with nearly every track they played, which included 2 songs from Gontier's former band, "Never Too Late" and the smash hit "I Hate Everything About You" which sent the crowd into a frenzy. The 8 song set also included an APOCALYPTICA cover of the song I Don't Care", which might have seemed odd or out of place to a layperson until you realize that Gontier was actually the guest vocalist on the song and video they released. SAINT ASONIA finished their time with "Devastate" and "Let Me Live My Life". If you've never checked this band out, do yourself a favor a do so as they were fantastic!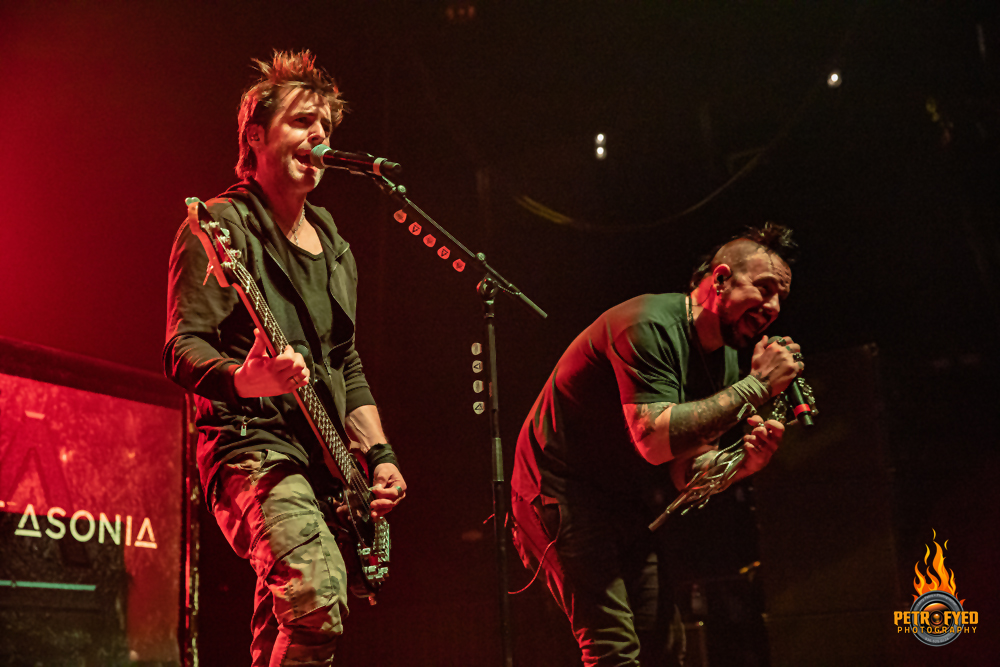 Setlist:
"Better Place"
"Above It All"
"The Hunted"
"Never Too Late" (3 DAYS GRACE)
"I Hate Everything About You" (3 DAYS GRACE)
"I Don't Care" (APOCALYPTICA)
"Devastate"
"Let Me Live My Life"
The Rock Resurrection Tour was a co-headline jaunt and in the pecking order of appearance SKILLET was to be the ones to come on first each evening and by the end of the night I couldn't help but think that this really should have at least been a situation where they alternated closing slots and that may indeed be the case and I'm just not aware of it. At any rate the Christian metal group came on first and set the bar high, kicking things off with "Feel Invincible" from the 2016 album Unleashed and on this evening SKILLET were both unleashed and felt invincible as they torched the Bayou Music Center with 14 songs including "Rise" and "Legendary", the latter of which bassist/vocalist John Cooper spent most of the song in the barricade engaging with the fans as he sang. Drummer Jen Ledger not only plays a mean kit and provides backing vocals but also gets to shine as co-vocalist on several tunes like "Awake And Alive", during which guitarists Corey Cooper (John's wife) and Seth Morrison stood on rising platforms positioned on either side of the drum riser and a cellist even joined them onstage.

Following tunes such as "Hero", "Whispers In The Dark" and "Comatose", Adam Gontier returned to the stage and assisted vocally on the track "Finish Line". The band closed their portion with the 'monster' hit "Monster" and then "Rebirthing" and "The Resistance". SKILLET played with the absolute passion, fire and intensity that they're known for and tonight was no exception. SKILLET brought it. *mic drop*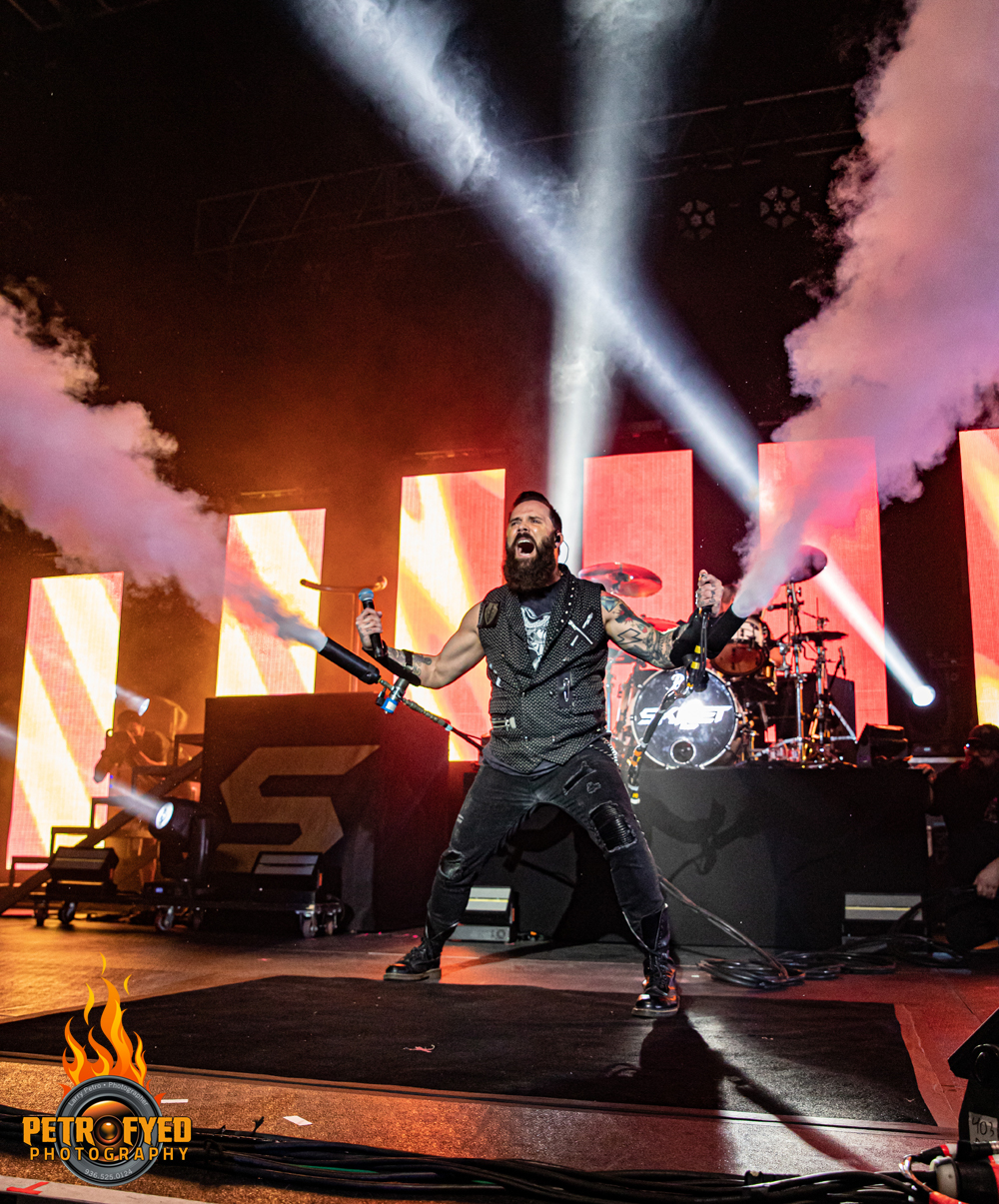 Setlist:
"Feel Invincible"
"Rise"
"Surviving The Game"
"Legendary"
"Awake And Alive"
"Hero"
"Not Gonna Die"
"Whispers In The Dark"
"Psycho In My Head"
"Comatose"
"Finish Line" (With Adam Gontier)
"Monster"
"Rebirthing"
"The Resistance"
And finally, it was time for the second Canadian export of the night in THEORY OF A DEADMAN. I have to be honest when I say that the intensity level suffered a slight drop when they took the stage, not because THEORY isn't a great band in their own right, it was just that the music of THEORY is more of the radio-friendly rock variety compared to the metal stylings of SKILLET. Prior to their appearance as I stood outside in the designated smoking area I observed approximately 1/4 of the crowd exit after SKILLET. That was such a shame because if I pay good money for a show I'm gonna stay at least through a portion of all the bands even if I'm not familiar with them and those that left really missed out on a great show from THEORY OF A DEADMAN. The band has a brand new album Dinosaur that's due out tomorrow, March 17th, and following the taped intro of "Sweet Caroline" by Neil Diamond the band came out with the title track to said new release, "Dinosaur" and immediately followed it up with the tongue in cheek rocker "Bitch Came Back" and then their version of "Two Of Us (Stuck)", originally done by Bill Withers and Grover Washington, Jr.. Of course a THEORY show wouldn't be complete without the track that everyone should remember, "Not Meant To Be". Frontman Tyler Connolly hasn't lost a step in the nearly 25 years he's led the band and for proof one need look no further than the cover of the Chris Isaak song "Wicked Game", which if you've heard the song you know it isn't that easy to pull off but Connolly did so admirably (ironic because Connolly looks real similar to Isaak anyway).

The band kept thing rolling along with "Angel", "History Of Violence" and "Rx (Medicate)" before putting the final exclamation point on with another great hit of theirs, "Bad Girlfriend". It was nice to see THEORY finally back in Houston again and playing a larger venue like Bayou Music Center and if this tour hits your town it would be well worth your money to go and see it! All 3 bands are definitely out resurrecting rock! The tour with SKILLET ends March 26th before THEORY hits their home turf at the end of April for some headline shows and dates supporting DISTURBED.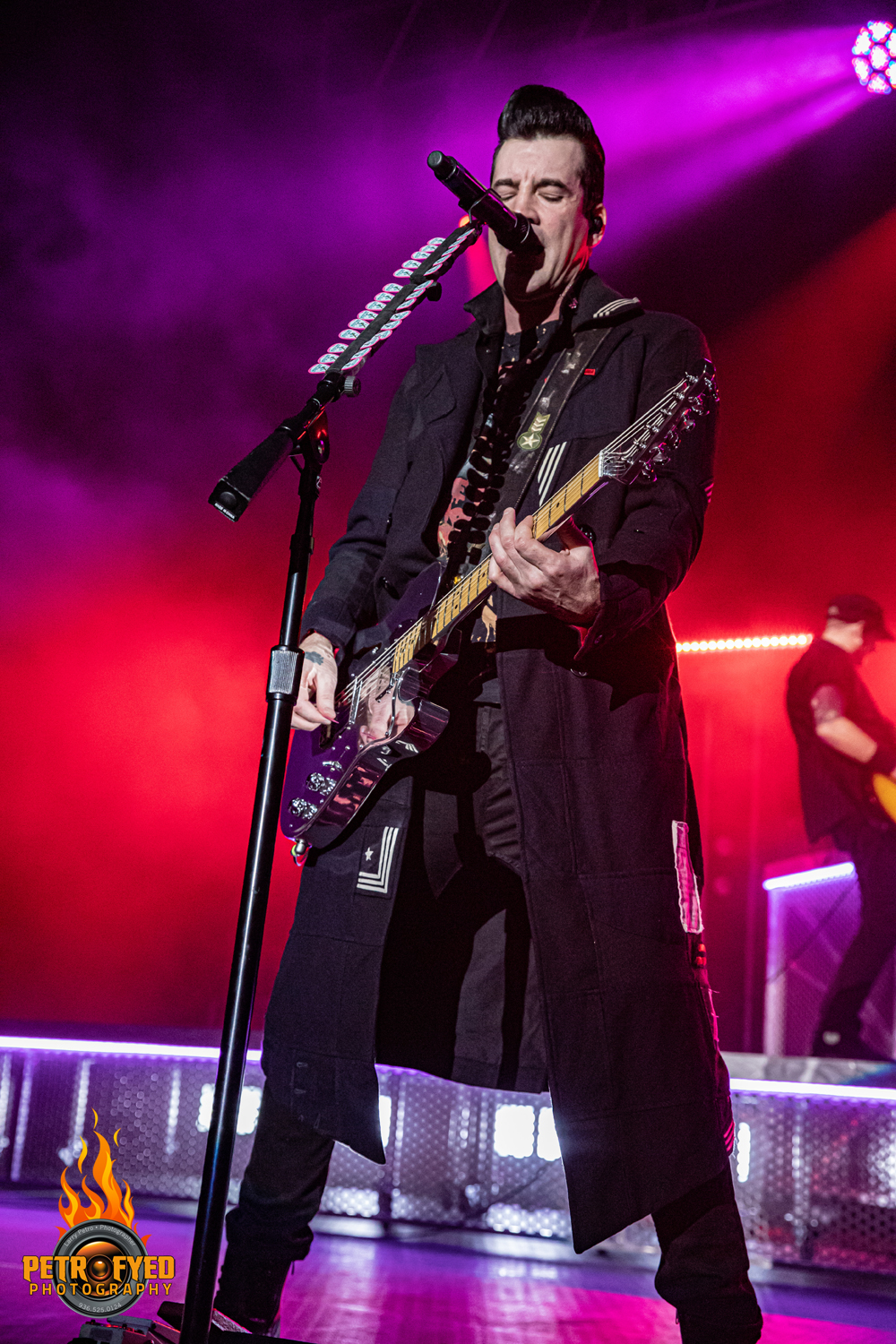 Remaining tour dates:
March 17 – Kansas City, MO @ Midland Theatre
March 18 – Omaha, NE @ Baxter Arena
March 19 – Denver, CO @ Mission Ballroom
March 21 – Las Vegas, NV @ Brooklyn Bowl **
March 22 – Phoenix, AZ @ First Arizona Federal Theater
March 24 – Reno, NV @ Grand Sierra Resort – Grand Theatre
March 25 – Wheatland, CA @ Hard Rock Live
March 26 – Los Angeles, CA @ The Wiltern
Setlist:
"Dinosaur"
"Bitch Came Back"
"Two Of Us (Stuck)"
"Hate My Life"
"Not Meant To Be"
"Lowlife"
"Hurricane"
"Ambulance"
"Wicked Game" (Chris Isaak)
"Angel"
"History Of Violence"
"Rx (Medicate)"
"Bad Girlfriend"
Check out some more photos from the show!
All Photos By Larry Petro/Petrofyed Photography