SAXON More Inspirations


By Francisco Zamudio, Metal X Candy 2.0
Monday, March 27, 2023 @ 9:07 AM


| | | |
| --- | --- | --- |
| | | |
SAXON
More Inspirations
Silver Lining Music




You may wonder what some of the legends themselves listen to when they lounge around, whether on the road and between shows or simply at home. While we have THEIR music on blast, they're listening to classics older than them or bands within their generation. So it seemed appropriate that Metal legends SAXON point the finger back to some other greats in Rock history and pay homage in the form of this new release called More Inspirations where they cover some of Rock's greatest hits and deep cuts. A second part as it were, a follow-up from 2021's Inspirations, here on this new release they hit us with another 10 SAXON'ized tracks of classic cuts.

From KISS to THE ANIMALS to RAINBOW to ZZ TOP to URIAH HEEP and plenty more, traditionalists should enjoy SAXON's take on these songs that get endless play on the radio, along with some random and lesser known (by some) songs like NAZARETH's "Razamanaz", ALICE COOPER's "From The Inside" or THE WHO's "Substitute". They're all over the spectrum with this one as evident with a cover of "The Faith Healer", a song and of the few larger hits by TE SENSATIONAL ALEX HARVEY BAND - and "Tales of Brave Ulysses" originally done by CREAM. The covers on More Inspirations that I particularly like were "Gypsy" (by URIAH HEEP), "Man On The Silver Mountain", naturally (one of Ronnie James Dio and RAINBOW's many hits) and the opener to the album, the anti(Vietnam)-war anthem that helped raise consciousness back in the day, "We Gotta Get Out Of This Place" from THE ANIMALS.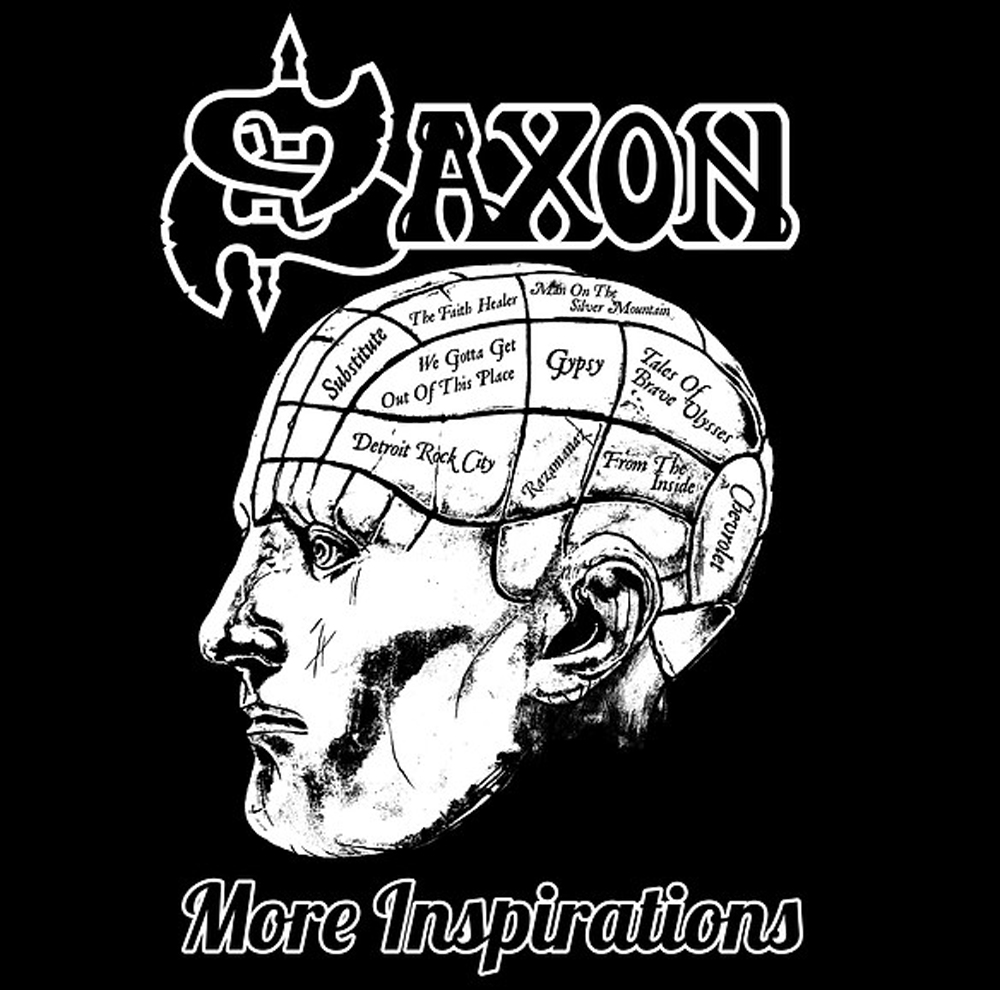 Personally, and as a musician myself who enjoyed doing a lot of covers, it's great to see legends like SAXON take initiative and release another covers album. I unfortunately come across a lot of (local) musicians who harp negatively and voice their disdain for bands doing covers. Doing covers has become a HUGE thing in the last few years because let's face it, many at-home-musicians, both experienced AND inexperienced, stepped up and provided some entertainment during some dark times. Nevertheless, I know I myself used this method to learn to play drums, by covering and watching all these great Rock and Metal bands doing their thing, eventually adding my own flavor to it, just like SAXON does here on More Inspirations.
Seb Byford, a name not many might recognize is son of the man himself, vocalist and SAXON co-founder Biff Byford brought this album together and produced it, along with assistance from engineer Jacky Lehmann. Seb has worked on multiple SAXON releases while Lehmann hands contributed to many great live recordings with some awesome bands like AMON AMARTH, DESTRUCTION and AT THE GATES to name a few.
With the recent announcement of original guitarist Paul Quinn turning to retirement from the road, I know I speak for the masses of SAXON loyals that we wish him well and look forward to his upcoming contribution to the next original album. Until then, we'll crank up 2022's release Carpe Diem along with their self-titled, Battering Ram, Denim And Leather and Wheels OF Steel… HELL, all of their discography rulez, so turn it up!
4.0 Out Of 5.0

Please log in to view RANTS