LAST IN LINE Jericho


By Daniel Höhr, European Correspondent
Saturday, April 1, 2023 @ 9:41 AM


| | | |
| --- | --- | --- |
| | | |
LAST IN LINE
Jericho
earMUSIC 2023




Back in 2013 Vivian Campbell, Vinny Appice, and Jimmy Bain, original members of the band DIO and co-writers on the Holy Diver, Last In Line and Sacred Heart albums, teamed up with vocalist Andrew Freeman to form LAST IN LINE. The release of their debut album Heavy Crown in February 2016 was overshadowed by the tragic passing of bassist Jimmy Bain, who was then replaced by Phil Soussan of OZZY OSBOURNE fame. The second album II came out in 2019 and showed quite a musical development, which was also the result of the bands heavy touring. The band had gelled and matured. Some more heavy touring followed and then the virus struck.

Now the band's third album Jericho is out and once again LAST IN LINE deliver solid Hard Rock and Heavy Metal music with all the ingredients you're looking for when your musical preferences are deeply rooted in the 1980s. Admittedly, it's hard not to miss Dio on this album. To be fair, Andrew Freeman is an outstanding vocalist with an impressive vocal range and incredibly different kinds of timbre in his voice and taking on vocal duties in a band that is composed of the line-up that recorded some of DIO's greatest music, means stepping into enormous shoes. And Freeman does so with ease. And yet, every now and again, I find myself wondering what this or that part of a song would sound like when sung by Ronnie James Dio. I guess I'm not the only one and this is by no means any point of criticism.

The first thing you notice is the crystal clear and crispy production sound - kudos to engineer Chris Collier. The second thing is the sheer tension that spans from the drum intro to the melodic up-tempo opener "Not Today Satan" to the end of the closing track "House Party At The End Of The World".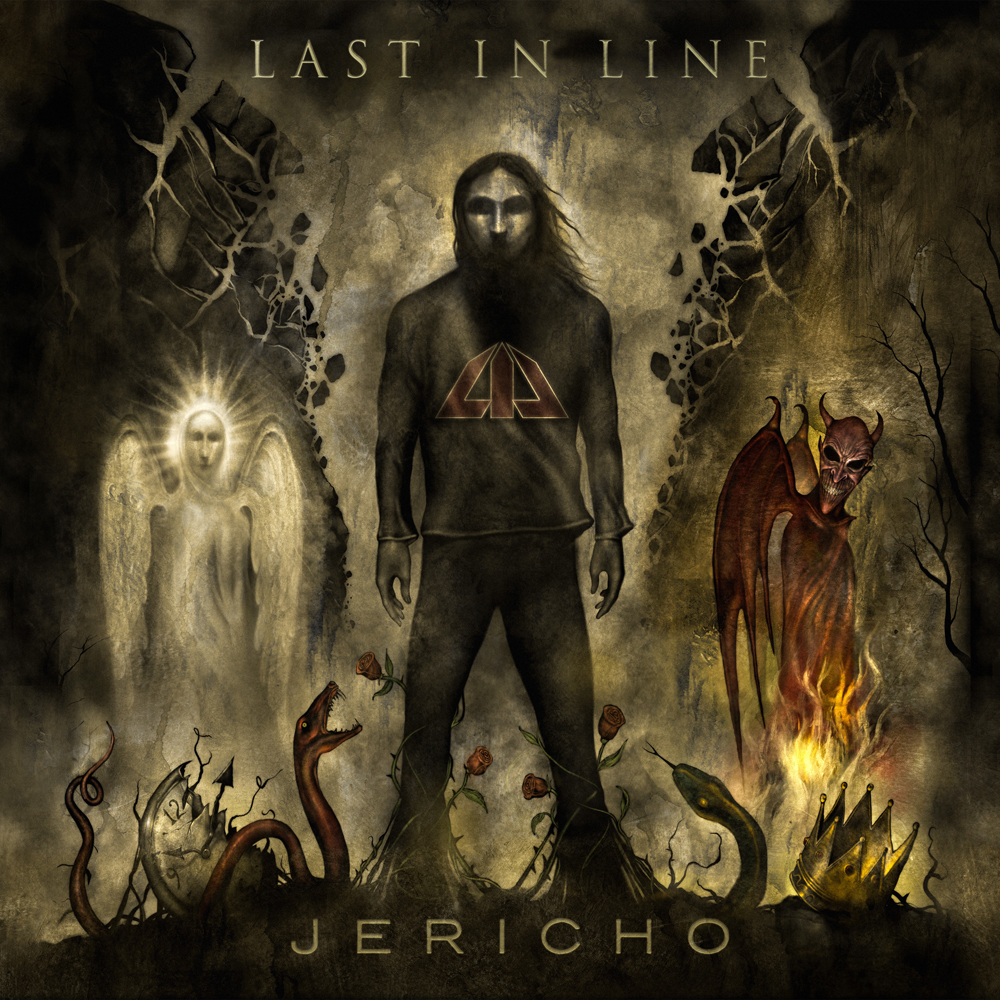 To name but a few gems on Jericho, the mid-tempo groover "Ghost Town" is an incredibly strong track, captivating and full of tension. The vocal line in the verse is more reminiscent of LED ZEPPELIN before it bursts into the anthemic chorus. Fantastic lead guitar work by Vivian Campbell, not just here but throughout the album. The ensuing "Bastard Son" is another undisputed highlight on Jericho and also one of the more DIO-esque numbers on the album. The track conjures up "Stargazer" vibes with its hypnotic and riffy guitar work and its straight-in-your-face vocals. "Burning Bridges" is a powerful ballad which allows singer Andrew Freeman to showcast his stellar vocal qualities. "Hurricane Orlagh" is the most dynamic song thanks to its arrangement, oscillating between the verse with its BEATLES-esque harmony vocals and sparse instrumentation and true Heavy Metal outbursts, thereby creating an incredible intensity. "Walls Of Jericho" and "Story Of My Life" are real headbangers, melodic and definitely stadium compatible.
There is more to explore on Jericho and it's really worth it. The band's writing skills, their stellar musical performance, the energy of the album make Jericho an outstanding studio effort, which to me is already one of the highlights in 2023.
5.0 Out Of 5.0

Please log in to view RANTS



OBITUARY, IMMOLATION, BLOOD INCANTATION, INGROWN In Los Angeles With Photos!

SAVOY BROWN Blues All Around

JAG PANZER The Hallowed

THE DEFIANTS Drive

GLORYHAMMER Return To The Kingdom Of Fife

NIGHT LEGION Fight Or Fall

IMMORTAL War Against All

JOE PERRY Sweetzerland Manifesto MKII

BUCKCHERRY Vol. 10

DAVE LOMBARDO Rites Of Percussion

HELLOWEEN, HAMMERFALL In Worcester, MA With Photos!

DARK FUNERAL, CATTLE DECAPITATION, 200 STAB WOUNDS, BLACKBRAID In Houston, TX With Photos!

MR. BUNGLE, MELVINS, SPOTLIGHTS In Portland, OR With Photos!

PANTERA At Welcome To Rockville With Photos!

THE BLACK DAHLIA MURDER, TERROR, FROZEN SOUL, FUMING MOUTH, PHOBOPHILIC In Anaheim, CA With Photos!

ENFORCER Nostalgia

BUZZFEST Featuring GODSMACK, I PREVAIL, HIGHLY SUSPECT, THE STRUTS And Others In Houston, TX With Photos!

SLEEP TOKEN Take Me Back to Eden

UGLY KID JOE, FOZZY, PISTOLS AT DAWN In Houston, TX With Photos!

TESLA, FASTEST LAND ANIMAL, KURT DIEMER In Orlando, FL With Photos!

CATTLE DECAPITATION Terrasite

TYGERS OF PAN TANG Bloodlines

MYSTIC PROPHECY Hellriot

WHITECHAPEL, ARCHSPIRE, SIGNS OF THE SWARM, ENTHEOS In Santa Ana With Photos!

ALCATRAZZ Take No Prisoners

BURNING WITCHES The Dark Tower

ELVENKING Reader Of The Runes - Rapture

CHAOS AND CHARNAGE Tour Featuring SUICIDE SILENCE, DYING FETUS, BORN OF OSIRIS, ABORTED, CROWN MAGNETAR, SANGUISUGABOGG And SLAY SQUAD In Anaheim With Photos!

ENFORCED War Remains

SAVAGE EXISTENCE Savage Existence