RON YOUNG
Judge This Book By Its Cover
JRNYman Publishing 2022




Here's a hot take on Judge This Book By Its Cover by LITTLE CAESAR frontman Ron Young; LITTLE CAESAR's debut album failed because Ron Young didn't kiss ass on the way up. He was truthful and opinionated, which are great virtues to have, but Young and LITTLE CAESAR didn't have the clout as a freshly signed band. Geffen wanted LITTLE CAESAR to do things their way, but Young wanted to do things his way, and continuously butted heads with the big-wigs at the label.

Had Ron played the game, let Geffen have their way, the returns on LITTLE CAESAR's debut would have determined if Ron & his band could now do things their way. In other words, if the album brought in a ton of money for the label, LITTLE CAESAR would have had the leverage to have control over their future material.

Sure, there was quite a bit of buffoonery within Geffen and their executives according to Young, plus egos, in-fighting, and mergers. However, plenty of successful acts on the label seemed to have survived all of that, and went on to enjoy the spoils. Was it because they were that much better than LITTLE CAESAR, or was it because they kissed the executives collective asses, and did things the label's way at first? Hindsight is 20/20 I suppose.

Judge This Book By Its Cover starts off, like most Rock memoirs, with Young's troubled upbringing. His mother was a complicated figure, who's behavior and actions end up having a long term negative effect on Ron Young's life.

Young tries to keep his memoir on a timeline, but side-steps throughout the book. Honestly, the stories that jump outside the timeline are some of the most interesting and amusing. Young's tales involving Gene Simmons, Jenna Jameson, Bryan Adams, and Arnold Schwarzenegger are worth their weight in gold.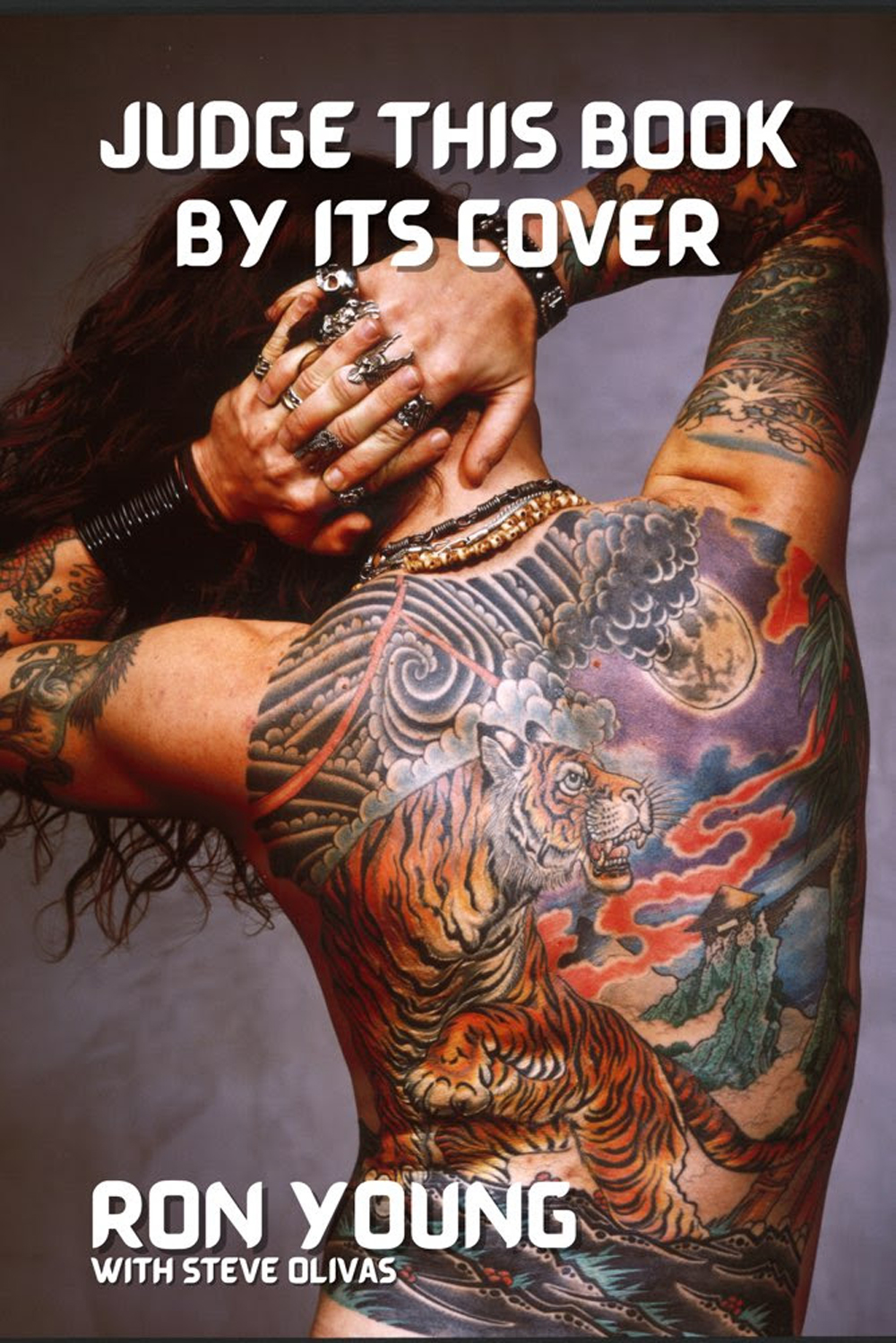 The centerpiece of Young's memoir revolves around the making and release of their 1990 self-titled debut album, that no one could get a physical copy of despite its rotation on radio and MTV. Despite LITTLE CAESAR's brief time in the spotlight, even Young acknowledges that he achieved and experienced more than the thousands of other bands trying to make it at the time.
Young turns to heroin after the failure-to-launch of his debut album and the hardly-ever-was release of LITTLE CAESAR's follow-up album. This is of course on top of the bumbling label executives, image consultants, ego-driven producers, and David Geffen himself squashing any hope that LITTLE CAESAR will get a second chance at another label.
Young is honest in hitting rock bottom and in his recovery. In fact, Young is honest about a lot of things in his personal life and in the business as well. Some of these industry insights have been told many times before, but some things are sure to raise an eyebrow or two.
With the help of an old friend, Young gets an opportunity to work behind the scenes. No, not as a studio executive. Now living sober, Ron meets his current wife, who is surprisingly a blast from the past. These events help Young become an adult (his words).
Around 2009 Young reunited with the core members of LITTLE CAESAR, and they have been performing live and releasing new music from time to time ever since (with some member changes). Young gives fans an insight to why some members still remain and others have moved on. Ron Young now has the one thing that eluded him in 1990…control (and maturity).
4.0 Out Of 5.0