REDEMPTION I Am The Storm


By Nathan Dufour, Great White North
Saturday, April 1, 2023 @ 10:14 AM


| | | |
| --- | --- | --- |
| | | |
REDEMPTION
I Am The Storm
2023, AFM Records




It is true, for anyone who has lived a reasonable amount of time, that life is tragically unfair. You can work your fingers to the bone, make great strides in whatever stream of life speaks to you, and still be obscure, so to say. The good news is, I like , obscure. The bad news is, I like obscure. And yes, I know that I am selling REDEMPTION short by saying their art is obscure, but bear with me, and grant me a little grace here.

Plainly put, REDEMPTION should be a band on everyone's radar, no matter your chosen metallic predisposition. The vision of Nick Van Dyck is consistently verbose and nuanced at once - his compositional skill in progressive metal realms is really second to none. And on he toils, his woodshop slowly becomes a forest of riffs and feelings that don't have names but everyone knows. And what best to pair with emotion than more emotion? In addition to Van Dyck's astounding ability to elicit deep emotions, there is also a knack for getting simply the best vocalists to sing with him. Which brings us to the second album to feature Tom Englund, whose resume need not be reposted here - if you don't already know, you're already lost.

Englund, being possessed of a voice that is "...widely known to have the power to make normally rational people weep uncontrollably…" (Dom Lawson) is absolutely on fire on I Am The Storm, having come off two EVERGREY albums recently and showing no signs of slowing down. I attribute this to work ethic and Tom recently becoming a father- I understand there is very little sleep to be had so may as well create. Unlike EVERGREY though, REDEMPTION is of course a different project and therefore requires a different voice, or character, on behalf of Englund than perhaps fans of only one band are familiar with. This time around, as the cover art bellies, it's super hero. I cannot overstate how huge, and raw, the vocal performance is on I Am The Storm. From the opening riff of the title track (which has been stuck in my head for a while), you best make sure your hands and feet are inside for the duration of the ride.

I Am The Storm is, in a word, stormy, but it should be noted that the storm in this case is slow brewing. Sure, there are riffs aplenty augmented with some great keyboard and rhythm work throughout the first third of the record, but nothing seems to stick until just beyond the halfway mark, for me at least. "Resilience" hits all the buttons, all at once, and is easily a standout and standalone track of 2023. If anyone asks you what REDEMPTION is about, show them this track.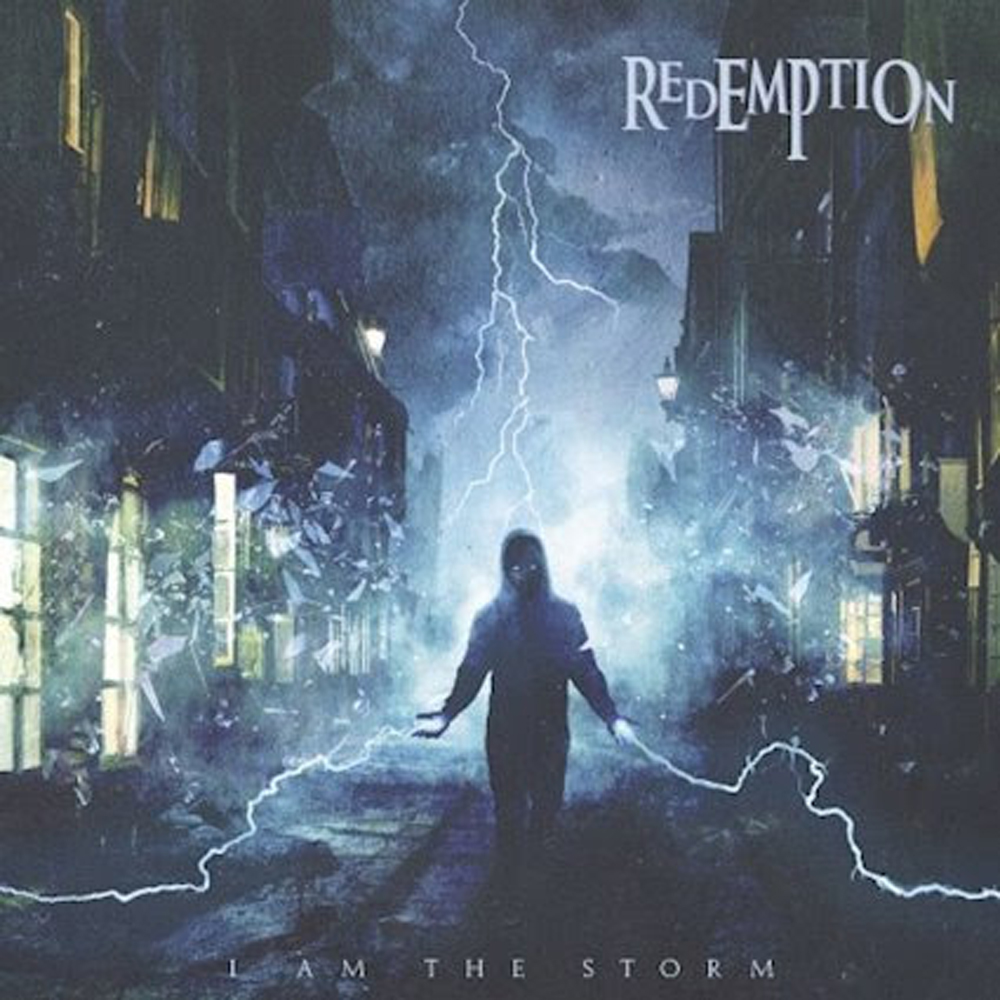 And what is progressive music without the hallmark of at least one long song? "Action At A Distance" has you covered. And, like the best prog opus' it does not at all seem like a fourteen and change minute song. The genre hallmarks (or are they tropes? Depends who you ask) are on display, REDEMPTION firing on all cylinders, sucking the listener into their world in an effortless display of restraint, overindulgence, and beyond all - undeniable panache.
The inclusion of GENESIS cover "Turn It On Again" is a fucking banger. Full stop. Go find it. It can live rent free in my head along with the original until I die and I'm not even mad.
Closing on a high note (or rather a pinch harmonic), "All This Time (And Not Enough)" is a barnburner of a track with a great title and an all encompassing feel - it sends shivers right down to your toes. A longer track again, it shows not only what REDEMPTION are capable of in terms of compositional strength but also, somehow, leaves the listener at a cliffhanger moment. What's next for the band? Where else will they take us, and when?
I know I omitted any mention of the remix track but honestly, I am so taken with the rest of the album proper that to do so would be a disservice to the entirety of the effort contained in I Am The Storm. Make sure you have some dry clothes, and step on into the eye of the storm. You'll be glad you did. Seek REDEMPTION. Spread their word.
4.0 Out Of 5.0

Please log in to view RANTS