Bump Her Sticker Alert!

By Philthy Phil, 8-Foot Viking
Tuesday, May 9, 2006 @ 5:06 PM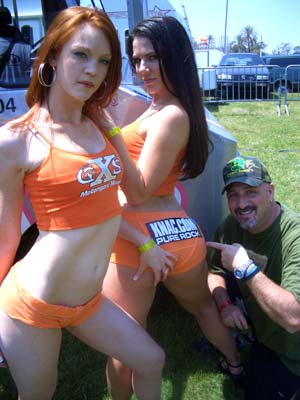 Finally!

Leave it to KNAC.COM's Junkman to be johnny-on-the-spot with his camera and a supply of KNAC.COM bumper stickers.

THIS is what I'm talkin' 'bout when the call goes out for creative use of the KNAC.COM bumpersticker...and in this case, it wasn't me calling...Junkman answered his own call to duty. And with these lovely ladies from gxsmotorsportmodels.com, who wouldn't be standing at attention?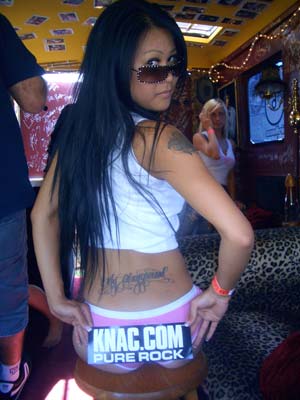 Junkman met these fine KNAC.COM fans at the California Truck Jam in Irvine, California this past Sunday, which, if you think about it, is ironic, because trucks don't have trunks. (I'll wait, 2, 3, 4...)
Don't forget to send your self-addressed, stamped envelope to:
KNAC.COM Bumperstickers
5254 Melrose Avenue
Suite 115D
Hollywood, CA 90038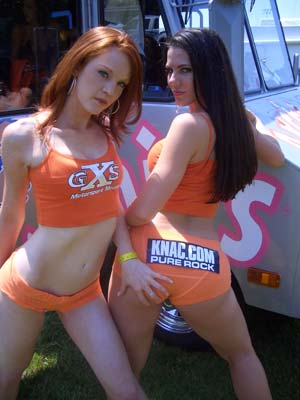 Now get busy! Whether it's making a fashion statement, like Junkman (How dare you? You think he was trying to get laid? Junkie has a much higher calling than that!), decorating the neighborhood, or finishing up the look of your ride, there's nothing like a KNAC.COM bumpersticker to say, "Pure Rock lives at KNAC.COM and so do I."

Incidentally, Junkman wanted me to remind you that a KNAC.COM bumber sticker doubles as a great bikini-wax kit-just in time for beach season!

If you come up with a photo worthy of posting, send it to [email protected]