QUEENS OF THE STONE AGE In Portland, OR With Photos!

By Krishta Abruzzini, Pacific Northwest Writer
Wednesday, October 11, 2023 @ 8:24 AM

| | | |
| --- | --- | --- |
| | | At The Veterans Memorial Coliseum October 02 With Special Guests VIAGRA BOYS, JEHNNY BETH |
All Photos By Krishta Photography
With a slurry of the unknown fate of QUEENS OF THE STONE AGE in the past few years, post the release of the 2017 album Villains, frontman Josh Homme's well publicized court battles, run in with the accidental kicking of a photographer at a show, divorce and rehab, this was a show well anticipated by many fans. In support of the new album, In Times New Roman, QOTSA is out with a multi-city, The End Is Nero Tour and sounding stronger than ever. Homme was at the top of his game again, and the band was welcomed with nearly 7000 fans in attendance.
Opening the show was Jehnny Beth, a French musician, singer-songwriter, and actress, known for being in the English rock band, SAVAGES. It was a 3-piece band with a guitarist, keyboardist and herself. They were heavy on techno and a lot of dark lit drama with strobes. As a photographer, it was a tough shoot, but despite the strobes, (and gratitude that I do not suffer from seizures), they delivered well as an opener and her photos were stunning.
Up next was my new favorite band, VIAGRA BOYS. If you haven't heard of them, do yourself a favor this very minute, and go look them up. Start HERE. That rabbit hole is a fun one to go down. Formed in 2015 in Stockholm, this Swedish Punk band consists of lead singer Sebastian Murphy, with musicians Linus Hillborg (guitar), Elias Jungqvist (keyboards), Henrik Hockert (bass), Tor Sjoden (drums), and Oscar Carls (saxophone). The band's lyrics are known for using satire and dark humor to criticize the right-wing, toxic masculinity and far-right conspiracy theorists. Yes, boys!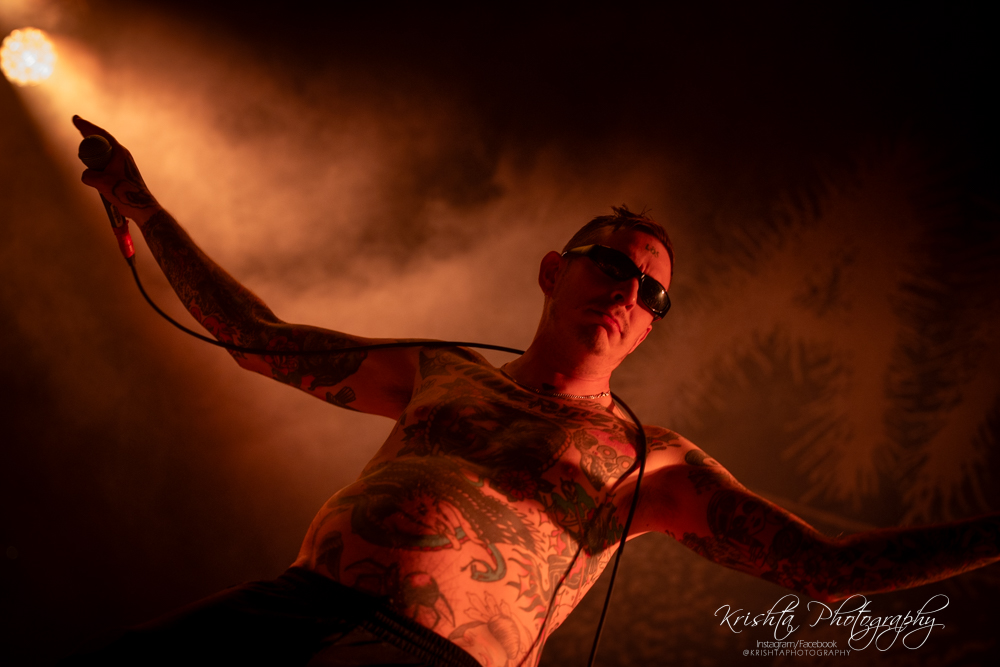 A shirtless, tattooed Murphy, along with the shortest of short, shorts donning saxophonist Carls and keyboardist Jungqvist, it's obvious from the get go that this band does not give one fuck, and delivers a punch, old punk style right between horns. One of the most entertaining bands I've ever seen, I am now a forever fan.
Setlist:
"Ain't Nice"
"Slow Learner"
"Punk Rock Loser"
"Troglodyte"
"Ain't No Thief"
"ADD"
"Sports"
"Research Chemicals"
QOTSA took the stage next and holy shit, the opening song? "Regular John"! Josh Homme has stated this is the band's best song, and hasn't been played live since at least 2018. I overheard one audience member saying that his friend that missed the show would have given an organ to see that song played live. They came in swinging a heavy hitter like that and had their fans in the palms of their hands the rest of the evening. I have heard from longtime fans that this was the best setlist so far on this tour and it was gifted to Portland, OR. I was surprised that the second song, "No One Knows", being such a banger of a hit, was on so early in their set, but the die-hard fans after hearing "Regular John" probably could have gone home extremely happy even if that was the only one song on the list.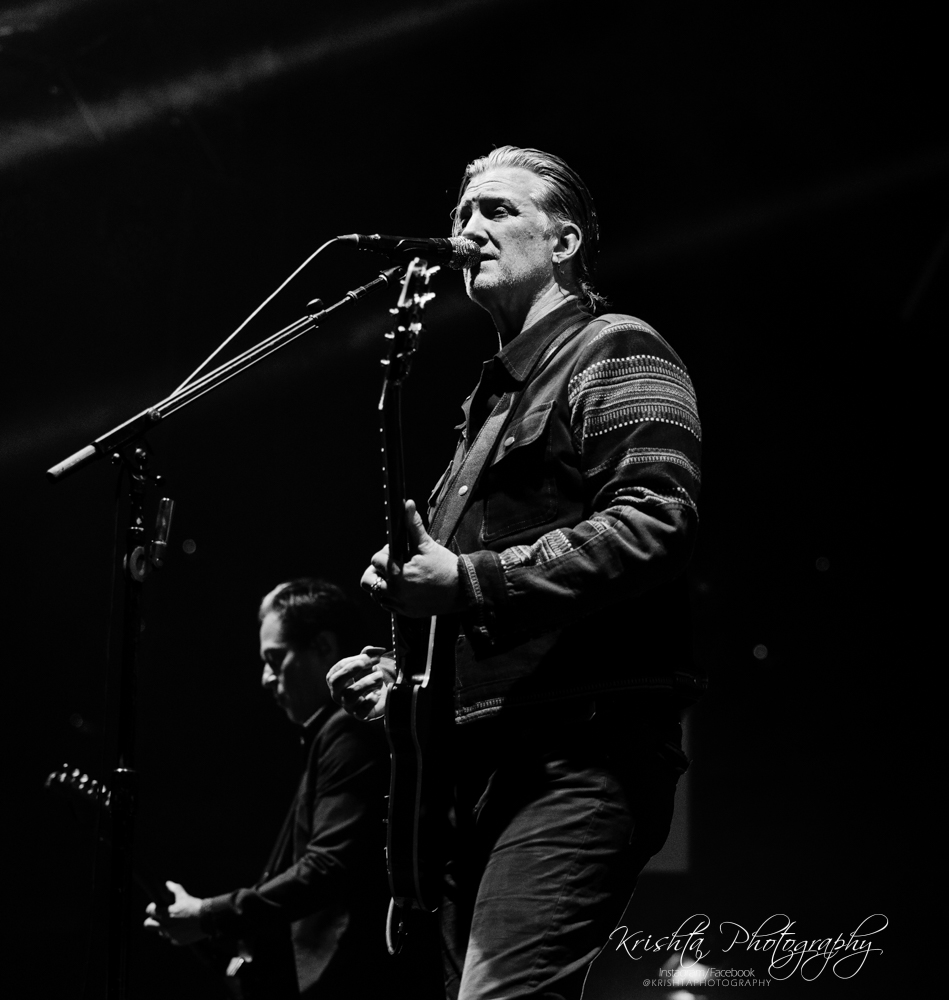 A friend was telling me they had hoped they sounded better than the last tour they were on several years ago here. They delivered. Albeit at the Veterans Memorial Coliseum, which basically is a cement bunker known for being a great venue for ice hockey and a terrible venue for live music, QOTSA themselves sounded absolutely on the top of their game. Homme, along with Troy Van Leeuwen (guitar, lap steel guitar, keyboards, synthesizers, percussion, backing vocals), Michael Shuman (bass, keyboards, synthesizers, backing vocals), Dean Fertita (keyboards, synthesizers, guitar, percussion, backing vocals) and Jon Theordore (drums, percussion, samplers), were the best version of this touring tribe in years.
I personally would have loved to have heard "Mexicola" in the set, one of my all time favorites, but I guess you just can't always get what you want. In quoting a ROLLING STONES lyric, one highlight of the night, and also one of my favorite QOTSA songs, during "Make It Wit Chu", Homme does a little singalong with the audience to the STONES' "Miss You", following by him singing and an impersonation of Peter Frampton's, "Do You Feel Like I Do". It was so joyful. Obviously Homme is in great spirits and it often felt as though it was an intimate show despite being in a coliseum. So grateful to have been there.
One highlight for me, especially being a photographer, was how fantastic the lighting design was for this show. I went to the soundboard, and saw this amazing woman dancing as she worked the lights. Her name is Emmanuelle "Gigi" Pedron from France, and she is a badass. Check her out HERE.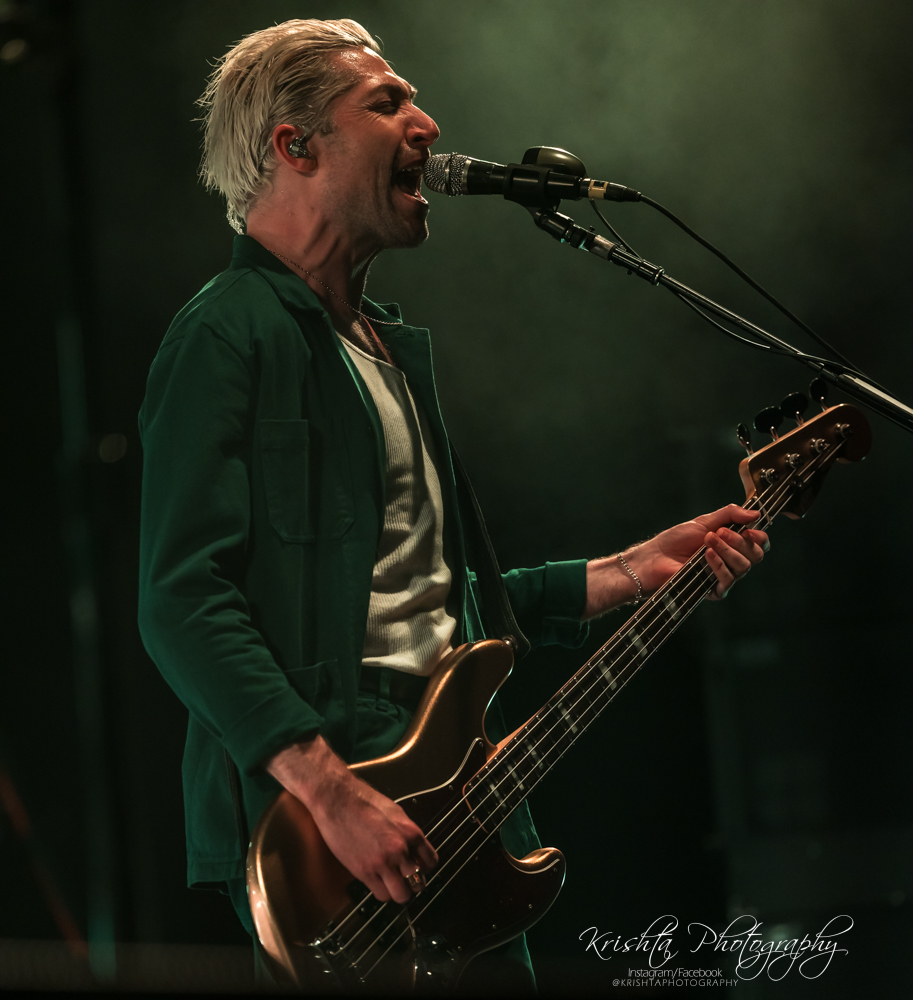 Thank you QOTSA!
SETLIST:
"Regular John"
"No One Knows"
"Smooth Sailing"
"My God Is the Sun"
"Emotion Sickness"
"If I Had a Tail"
"I Sat by the Ocean"
"Carnavoyeur"
"The Way You Used to Do"
"Misfit Love"
"Negative Space"
"Make It Wit Chu"
"Straight Jacket Fitting"
"Little Sister"
Encore: