All Photos By George Dionne/@rockisgeorge

The second night of a back-to-back weekend of concerts for me at The Vault in New Bedford, MA was billed as the "Hellacious Halloween Party" and featured a triple bill of bands. Fellow KNAC.COM scribe/interviewer/photographer George Dionne and I were on hand to cover the event in tandem. You can check out his great photography at the end of this article.

Before the show started, I got to rectify a slightly embarrassing moment from the night before when I ran into DANGEROUS TOYS guitarist Paul Lidel. The night before, I hadn't even recognized him. But on this night, I saw him right as I walked in the door and we ended up chatting for a few minutes before he asked if I'd be interested in doing a review of his new solo project album. Yaay for some early networking, right? I gave him my info and he was going to have the label send me the download link.

When the show started, George and I were situated on separate sides of the stage. I ended up hanging out with a couple of guys who have their own YouTube music channels. I had met J.C. (The Flipside Vinyl Community) and his fiancee Michelle before but I had only just met Chris Propfe (Chris Propfe Musically Obsessed) earlier in the day. But it was good to hang out with some people I knew for the first set of the night.

And what a set it was! I must say that I was rather unprepared for just how much I would end up enjoying BAD MARRIAGE. While I knew of the band for a while now, I hadn't even heard any of their music until a week ago. I liked it so I was looking forward to seeing them live. I had briefly talked to drummer Michael Delaney before the show at the band's merch table about the band's set list for the evening.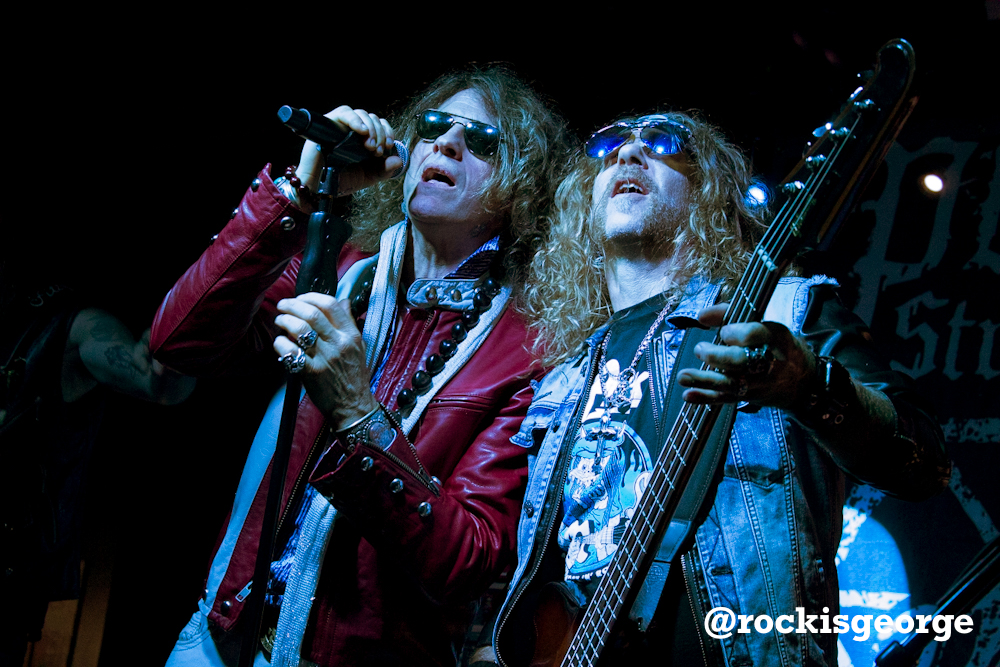 But when I look at the person next to me two or three times during a band's set and exclaim "Holy SH*t!", you know I'm enjoying what I'm seeing and hearing. Such was the case when BAD MARRIAGE took the stage. Featuring a three guitar attack after adding former TESLA guitarist Tommy Skeoch to the lineup earlier this year, the band's set kicked off with the song "Gateway Drug" which is oddly perfect in regards to me because I was hooked right from the start. It was a killer opening song with the band (vocalist Jonny Paquin, guitarist Mike Fitz, bassist Ian Haggerty, bassist Todd Boisvert and the aforementioned Michael Delaney on drums) putting on a thunderous and raucous performance from start to finish.
Their set list covered material from their first two albums, their recently released EP and a brand new song that hasn't been recorded yet called "Dangerous". And with the brief slowdown in the middle of one song towards the end of the set, BAD MARRIAGE kept up a continued barrage of high energy and hard hitting fast paced rock and roll. There wasn't a moment or song that didn't fit in perfectly to their set and I enjoyed the variety of songs like "Ready Aim Fire", "Bad Blood", "Artificial Mind" and "Old School Stereo" a lot. Their set closing cover of JUDAS PRIEST's "Breaking The Law" was excellent as well!
I may not have been "in the know" before now when it comes to BAD MARRIAGE but after seeing them live, I am definitely into the band. Forget the third time being the charm, all it took was one time seeing the band and now I'm found wanting a lot more from the band!
Set List
"Gateway Drug"
"Bad Blood"
"Ready Aim Fire"
"Second Hand Smoke"
"Who's Ready to Rock"
"Artificial Mind
"Dangerous"
"Match Made In Hell"
"Knock Three More Times"
"Old School Stereo"
"Breaking the Law" (JUDAS PRIEST cover)
For more on BAD MARRIAGE visit: http://www.badmarriagemusic.com

CONCERT FUN FACTS - BAD MARRIAGE has two full-length albums, two EPS and according to drummer Michael Delaney, the band is working on 12-14 new songs as well. The band, which has been together since 2015 will be heading out on tour with GLENN HUGHES and ENUFF Z'NUFF in February 2024. I picked up a copy of their Bad Marriage 2 album after the set and it was signed by 4 of the band members. There's a photo of me with drummer Michael Delany retweeted on the KNAC.COM Twitter page too.

Next up on the night was the band ALL SINNERS. I've reviewed their outstanding 5-song self-titled EP and got to see them open up for METAL CHURCH this past summer, but I was really looking forward to seeing them again because they are just so damn good!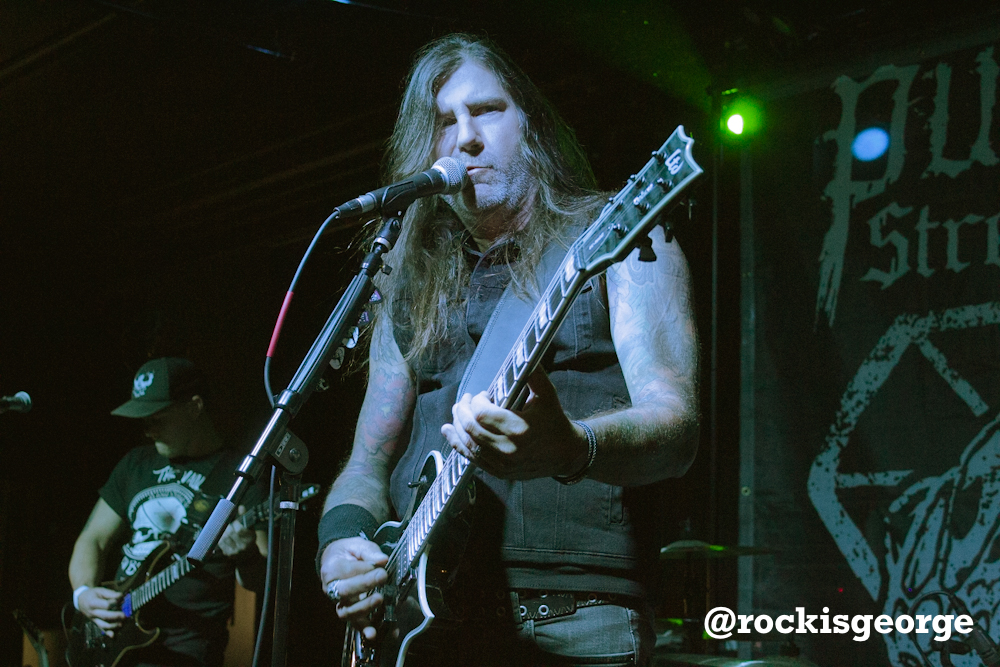 Singer Mike Golarz, guitarist Nick Testone, drummer Roger Chouinard and bassist Bruce Morrison seemed to be that much more a tight band unit this night, if that's even possible given how much I liked their set opening for METAL CHURCH.
They hit it out of the park right off with the song "Dead To Rights" and bounced back and forth between songs from their EP and newer material yet to be recorded. Tracks like "Buried Alive", "Believer" and "The Hunted" continue to be galvanizing tracks to hear in a live setting but I love "Rise Up" a lot and the live debut of the new song "The Wave" gave you an inkling of how good that song will sound when it is recorded for a new release. ALL SINNERS has been opening for a lot of national touring acts in recent months and believe me when I say they have definitely earned it because they are on fire from first note to last. Speaking of last, given the Halloween aspect of the night, closing out their set with a cover of DANZIG's "Mother" was wholly appropriate. Plus it sounded pretty damn good too.
ALL SINNERS put on yet another great performance and I can only hope to be able to be along for the ride for future shows as well because their music really hits home for me a lot.
Set List
"Dead To Rights"
"Rise Up"
"Into The Flames"
"Deaf From The Echoes"
"Buried Alive"
"Believer"
"The Wave"
"The Hunted"
"Mother" (DANZIG cover)
For more on All SINNERS, check out the band's Facebook page at http://www.facebook.com/AllSinnersBand

The Hellacious Halloween Party reached its crescendo soon after ALL SINNERS had finished their set. The makeup of the crowd saw at least a few people dressed up in costumes to reflect the night's theme (including one guy dressed similarly to the killer clown used on the DANGEROUS TOYS albums).

I'd never seen DANGEROUS TOYS live back in the day and until last week, I'd never heard their last two studio albums. Man, the Pissed album is freaking phenomenal, no? Yes, I know saying that nearly thirty years after it was released is being late to the party to the Nth degree but still, what an album!

When DANGEROUS TOYS hit the stage, they proceeded lay waste to the audience with a fiery set that hit every high point any fan could've wished for.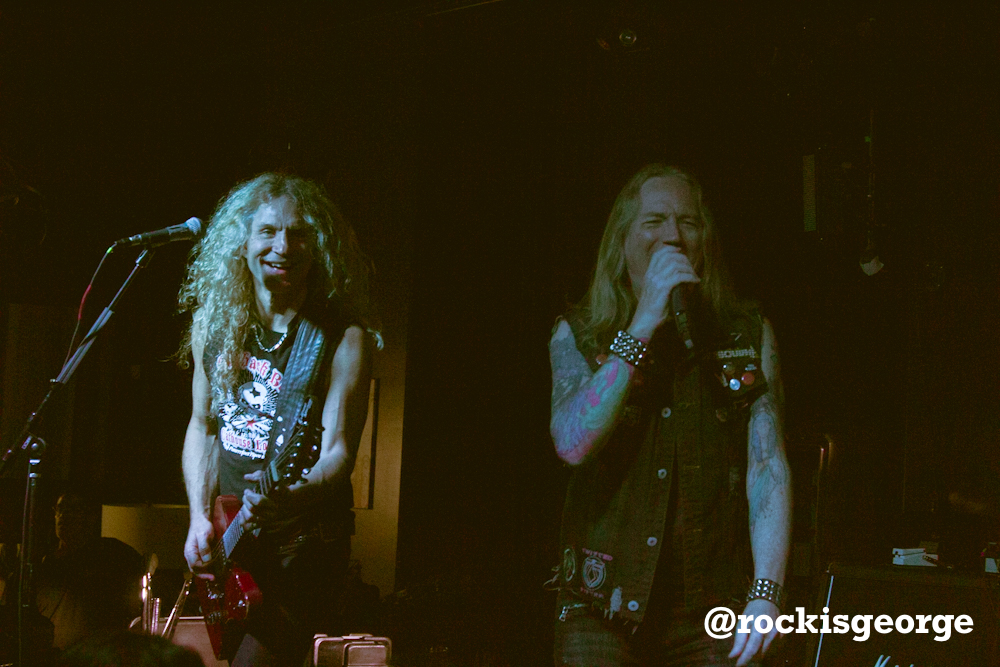 Maybe it was my ears playing tricks on me but singer Jason McMaster's voice has an elasticity to it that makes it seem like it's still 1989. You can certainly understand why he's been called to fill in for a couple of bands recently who had issues with their singers being able to perform.
But the band as a whole retains that insane level of intensity as well. Nearly 35 years after the band first hit the scene, DANGEROUS TOYS was still being powered by a killer two guitar tandem (Scott Dalhover and Paul Lidel) shredding all over the stage while bassist Mike Watson and Mark Geary set down a heavy thumping bottom end that ties it all together.
Kicking off with a slamming rendition of "Outlaw", the set list was a superb mix of tracks from the first three DANGEROUS TOYS albums, plus two "new" songs that have yet to see the light of day as a studio version. So you got to hear all the hits like "Gimme No Lip", "Teas'n, Pleas'n" and the ever popular "Queen of The Nile" which had a great introduction from McMaster.
But what really got me is the songs that were album tracks back in the day. It was almost like hearing them for the first time because songs like "Bones In The Gutter", "Line 'Em Up" and "Ten Boots (Stompin')" were kicking my ass!
When the band played "Pissed" and "Paintrain" from the Pissed album, I was stoked because of my newfound love of that album. Of course, those two "new" songs I mentioned were so good that I wish the band would get on the ball and release some of this music in a physical format because "Hold Your Horses" and especially "Hangman Boogie" are killer tracks!
From the very first time I heard the song "Sport'n A Woody", it always brought a smile to my face. The kind of smile because of the "dirty" nature of the, ahem, thrust of the song's subject matter. But getting to hear it live made me realize that I still have that immature sense of humor inside of me because I still got a big sense of fun out of the lyrics and I'm sure I had a grin on my face.
Towards the end of the set, both George Dionne and I saw METAL CHURCH singer Marc Lopes walk in the door. So when Jason McMaster announced they were going to have a special guest join them for their last song, we kind of looked at each other thinking he meant Lopes. So when he brought up the killer clown guy on stage instead, I don't mind saying I was a little disappointed. However, that faded quickly because DANGEROUS TOYS launched into "Scared" and suddenly the whole place was rocking out hard to the song. It brought the night's Hellacious Halloween Party to a fitting conclusion and all I can say is that it made for a perfect capper to one hell of a concert weekend for me on a personal level.
DANGEROUS TOYS brought the hammer down in New Bedford and though there wasn't much in the way of sugar and only a little bit of leather, the audience was definitely the nail! Their set was utterly fantastic and reminded me of just how much you can enjoy the whole concert experience when you get a band that is on the top of their game.
My friend Roger has said to me in the past, "Can you believe we get to experience all this stuff nowadays?" This relating to seeing (and meeting) all the bands we grew up listening to back in the day. Truth be told, if it had happened back then, most people probably wouldn't have appreciated it like we sure as hell do now.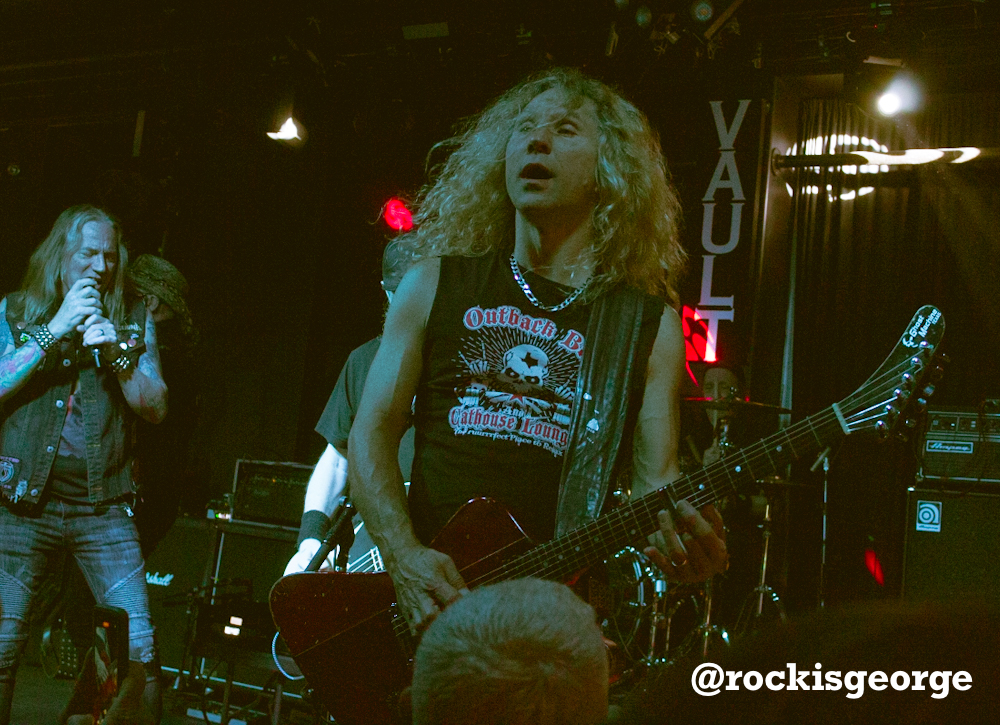 But on Saturday October 21st, BAD MARRIAGE, ALL SINNERS and most definitely DANGEROUS TOYS put on one the singularly best triple bills I've been witness to. This was a pure rock and roll experience that needs to be repeated as often as possible, period.
Set List
"Outlaw"
"Take Me Drunk"
"Sugar, Leather & The Nail"
"Gimme No Lip"
"Hold Your Horses"
"Bones in the Gutter"
"Ten Boots (Stompin')"
"Queen of the Nile"
"Pissed"
"Paintrain"
"Hangman Boogie"
"Sport'n a Woody"
"Line 'Em Up"
"Teas'n, Pleas'n"
"Scared"
For more on DANGEROUS TOYS, check out http://www.dangeroustoys.us.

CONCERT FUN FACT: For a taste of the concert, check out the Smash Machine! Youtube channel, there's at least three video clips for each band from The Vault show. Here's the link: https://www.youtube.com/@smashmachine1144

Check out some more photos from the show!
All Photos By George Dionne/@rockisgeorge