CAVALERA, EXHUMED, INCITE In Los Angeles, CA With Photos!

By Francisco Zamudio, Metal X Candy 2.0
Tuesday, October 31, 2023 @ 10:43 AM

| | | |
| --- | --- | --- |
| | | The Morbid Devastation Tour Hits The Wiltern On October 18th |
All Photos By Thomas Delgado/@batfacetom/@forthehordeprod
Now admittedly, I am not much for nostalgia when it comes to Metal. While I still enjoy my favorite bands, I dont' get stuck listening to the same stuff over and over, nor attend every single one of their tours every year. Few exceptions aside, such as bands that are no longer around and some who rarely tour or even less come through Southern California - there are moments that I do give into nostalgia and for Max and Igor Cavalera and in the words of Gomez Addams, "I am that fool!". As the half-incomplete Tribal 'S' tattoo on my abdomen will tell you, I absolutely love the Max-era SEPULTURA. Now within about a year, I've caught this act 3 times, not to mention the debut tour of the CAVALERA CONSPIRACY over 10 years ago. The last couple of recent times being the most intense as they themed their tour around the Morbid Visions and Bestial Devastation re-recorded releases. Again on this tour cycle were Step-Son Ritchie's INCITE and Gore Death-Metal troupe EXHUMED. This line-up isn't a typical line-up and a bit of variety gave something for everyone.
I'm not the only one in the crowd full of nostalgia. The people went absolutely ape-shit for CAVALERA. And why not? These 2 albums served as a gateway for a lot of Metalheads who were in the midst of Death Metal's infancy and Thrash Metal. Morbid Visions released in 1986 and Bestial Devastation just a year prior, around the same time 7 Churches was released. On this nite at Los Angeles' Wiltern, the intensity in CAVALERA's live performance was matched by the full-blown aggression from the audience, especially those throwing down in the pit which seemed to just go faster and harder after every lap. No doubt the crowd had to be a mix of those who caught their recent set at the METAL INJECTION FEST (watch my recap HERE) along with those who couldn't or wouldn't hit the Orange County show. Empowered with Max's son Igor on Bass, who also happened to contribute to the re-recorded album and EP, and Travis Stone (PIG DESTROYER) on guitar - the fury of their set was absolutely crushing.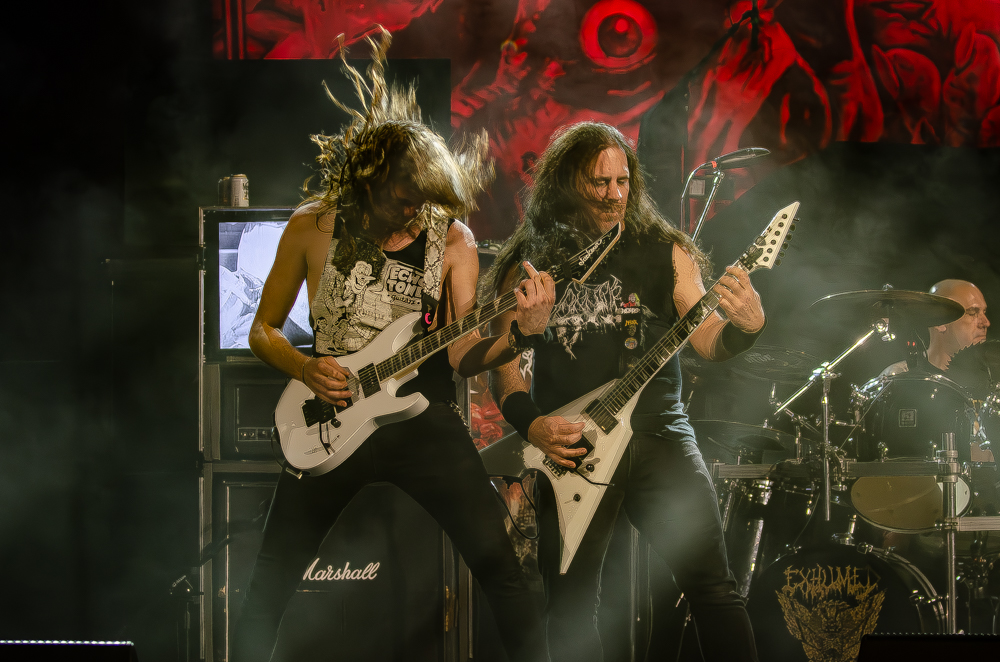 Included in their set is the brand new song "Sexta Feira 13" that appears on the re-recording of Bestial Devastation, otherwise their set was the same as their previous which also included later Max/Igor-era SEPULTURA melodies of "Dead Embryonic Cells", "Refuse/Resist", "Territory", "Slave New World" and "Escape To The Void". Add to that was an awesome joint cover with the guys in EXHUMED for "Iron Fist".
The other band on the bill was INCITE, a name that has been around for 14 years now with already 6 albums under their belt and should get more well-deserved acclaim. Ritchie is an amazing frontman, so full of energy, owning the stage. Crazy to realize he's (only) 38. Headbanging like a maniac, even taking a nice leap off the drum monitor in total Randy Blythe-esque fashion (watching him do that is enough to blow your kneecaps), launching himself over the drums probably about 8 feet in the air. This groove-oriented Metal band is one of the better examples of Modern American Metal with an energetic frontman and well written songs that come across very well live.
Now EXHUMED, in a lot of ways, are the perfect band. They sounded super tight this nite as well as that nite in O.C. These guys are super fun to watch and their music simply crushes your guts with good ol' Death Metal riffage and gore-grinding goodness. With the same set list as before, they opened with "Drained of Color" from their recent release To The Dead, 1 of 2 songs from that album and the other being "Rank And Defiled". Between this one and their full-length debut Gore Metal and Hamilton's debut Necrocancy, these would be the only albums they'd play 2 cuts from. The rest were a song from Horror, "Death Revenge" and a new song "Lysergicide" from their recently released EP Beyond The Dead. With only just a temporary breather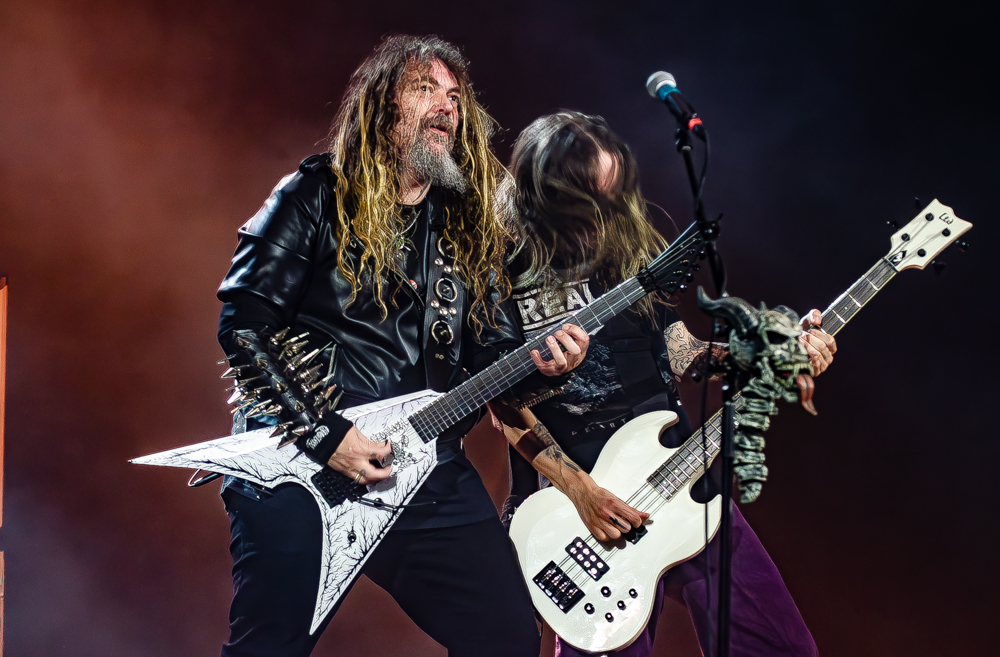 to give a birthday shoutout to Matt Harvey who turned 48 (hear our chat we had just a year ago, HERE), no show would be complete without the appearance of Dr. Philthy who engaged in an air-guitar battle with guitarist Sebastian Phillips, who's been with the band since 2018 and appeared on the 2019 release Horror. Mike Hamilton (DEEDS OF FLESH) who also happened to celebrate a birthday as well and turned 51, gives me hope at 45. He is absolutely killing it on drums. What a trip to remember that it was 10 years ago that I caught these guys (of the many times seeing them) at a venue in East Los Angeles which was probably my first time and with a different line-up then. They have their sound down to a 'T' and are exciting to see on stage.
I make no apology for honestly saying I prefer the original raw sound of Bestial Devastation and Morbid Visions. Listening back to the classic recordings, their live performance now excellently captures the essence of those records. With the upcoming anniversary of 1987's Schizoprenia, this needs to be the next celebratory tour to come around, and apparently will according to Max. So even though they still play Max-era songs, the SEPULTURA we know now has had its own success without looking back. So to argue who the "real SEPULTURA" is is a moot point. I am more excited to see how far the CAVALERA brothers can take their own legacy.
Check out some more photos from the show!
All Photos By Thomas Delgado/@batfacetom/@forthehordeprod