DRAGONFORCE, AMARANTHE, NANOWAR OF STEEL, EDGE OF PARADISE In Houston, TX With Photos!

By Larry Petro, News Monkey
Wednesday, November 1, 2023 @ 10:05 AM

| | | |
| --- | --- | --- |
| | | UK's Warp Speed Warriors Lay Waste To The House Of Blues October 20th |
All Photos By Larry Petro/Petrofyed Photography
Just a year and a half snce their last appearance and barely week after they unveiled their forthcoming new album Warp Speed Warriors, UK extreme power metal stalwarts DRAGONFORCE once again graced the stages of the Bayou City with an outstanding show of force at Houston's House of Blues downtown. And in keeping with their penchant for bringing a package tour to give the fnas the most bang for their buck, this tour was once again a gathering of four respectable metal bands from across the genre. While last year's tour included FIREWIND, VISIONS OF ATLANTIS and SEVEN SPIRES, this year's package also had an international flavor that included Sweden's AMARANTHE, Italy's NANOWAR OF STEEL and Los Angeles' own EDGE OF PARADISE. There was certainly something for everyone on this night! And as with my last review of KAMELOT's recent show (review on KNAC.COM HERE), the fans in Houston seem to be heeding the call to support the bands by buying lots of merch, as evidenced by the long lines snaking round the venue right from the start.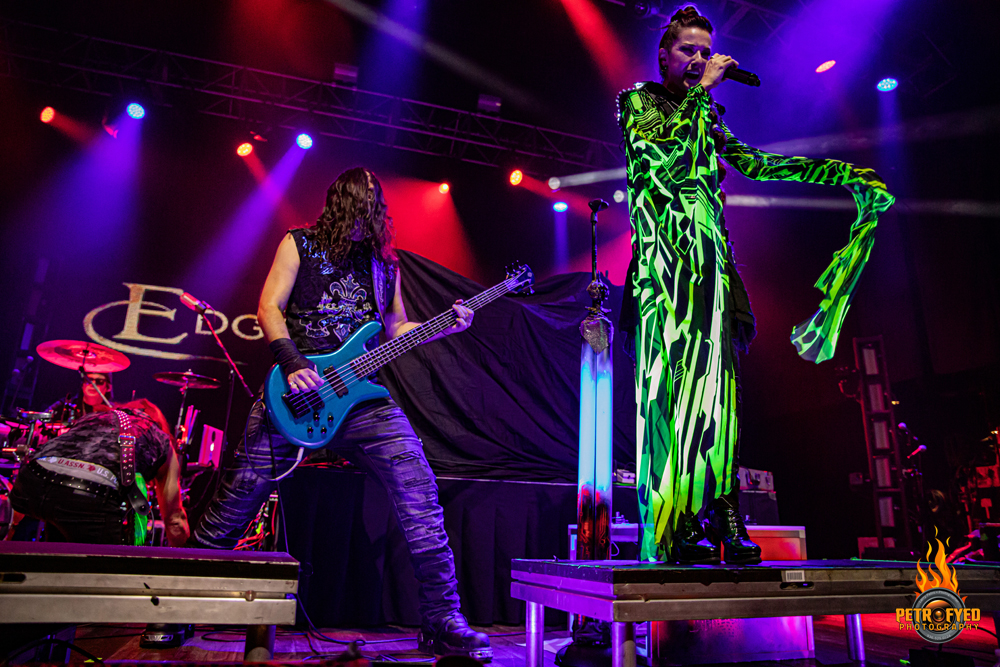 Starting things off was EDGE OF PARADISE, led by the beautiful and sultry voice of vocalist Margarita Monet who, besides being both visually and vocally appealing, is also a very talented artist with some of her prints being part of the merchandise table available for purchase. Adorned in a neon green and black flowing outfit Monet led the band through a brief but solid 7 song set beginning with "Soldiers Of Danger" and concluding with "Basilisk", bookending their show with new songs from the recently released new album Hologram. The set was heavy on the new album with 5 of the 7 songs coming from Hologram and the other two coming from their first album, The Unknown in the form of the title track and "Digital Paradise". It was a fantastic start to the night and EDGE OF PARADISE is certainly worth seeing on their own.
Setlist:
"Soldiers Of Danger"
"Hologram"
"This Is Personal"
"Digital Paradise"
"The Faceless"
"The Unknown"
"Basilisk"
https://www.edgeofparadiseband.com/
Next up was NANOWAR OF STEEL from Italy a band that has actually been around for nearly 20 years now with numerous albums and EPs to their credit. They're described as a comedy heavy metal band and with album titles such as Stairway To Valhalla, Dislike To False Metal and A Knight At The Opera one could only imagine what this band would look and sound like and even their name is a pun on metal acts MANOWAR and RHAPDOSY OF FIRE. Visually, my first thought was that this band was metal's version of the VILLAGE PEOPLE with each member depicting a different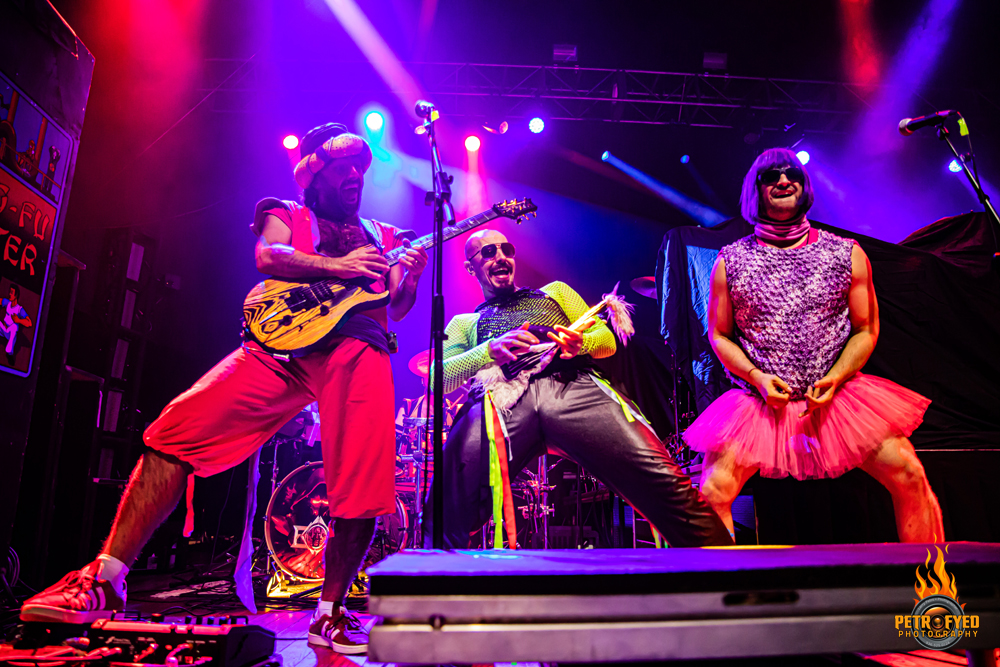 'persona'. Now exactly what each persona was, well, that was certainly open to interpretation as you had one vocalist of the two they employ dressed somewhat as a sadomasochistic, the other dressed in what looked like a sleeveless sweater, pink tutu (yes a tutu) and a purple wig. Guitarist Mohammed Abdul and drummer Uinona Raider looked somewhat like Saudi Arabian sultans and bassist Gattopanceri666, well, I have no idea what his 'character' was supposed to represent. Musically though, these guys were on point and even if they're not meant to be taken seriously, they provided a generous dish of comedy and metal music all wrapped into one. Interestingly enough their set was actually shorter song-wise than EDGE OF PARADIES at 6 songs but entertainment was the theme of the night with tracks like "Uranus", "The Call of Cthulhu" and "Disco Metal". Vocalist Potowotominimak employed several wardrobes/costumes during the show such as a Cthulhu mask during the Lovecraftian track "The Call of Cthulhu" and a large barn owl costume during "Il cacciatore della notte". A lot of chuckles could be heard throughout the band's performance. Mission accomplished.
Setlist:
Butt Intro
"Uranus"
"The Call Of Cthulhu"
"Il cacciatore della notte"
"Disco Metal"
"Norwegian Reggaeton"
"Valhalleluja"
https://www.nanowar.it/
Direct support for DRAGONFORCE this time around was Sweden's AMARANTHE and with certainly no offense to the headliners, this is the band I was most looking forward to seeing. The one and only time I had the privelage of seeing them live was nearly 8 years ago when they headlined at Scout Bar south of Houston with BUTCHER BABIES. And although they would pass through town again a couple of years later I was unable to attend the show and instead had one of my other writers, Halo, cover the show for KNAC.COM. Also armed with a new album in the form of The Catalyst, this sextet is somewhat unique in that they employ 3 vocalists, 2 clean singers, the sexy Elize Ryd and Nils Molin and one 'harsh' singer, newcomer Mikael Sehlin. This triple vocal attack has worked well for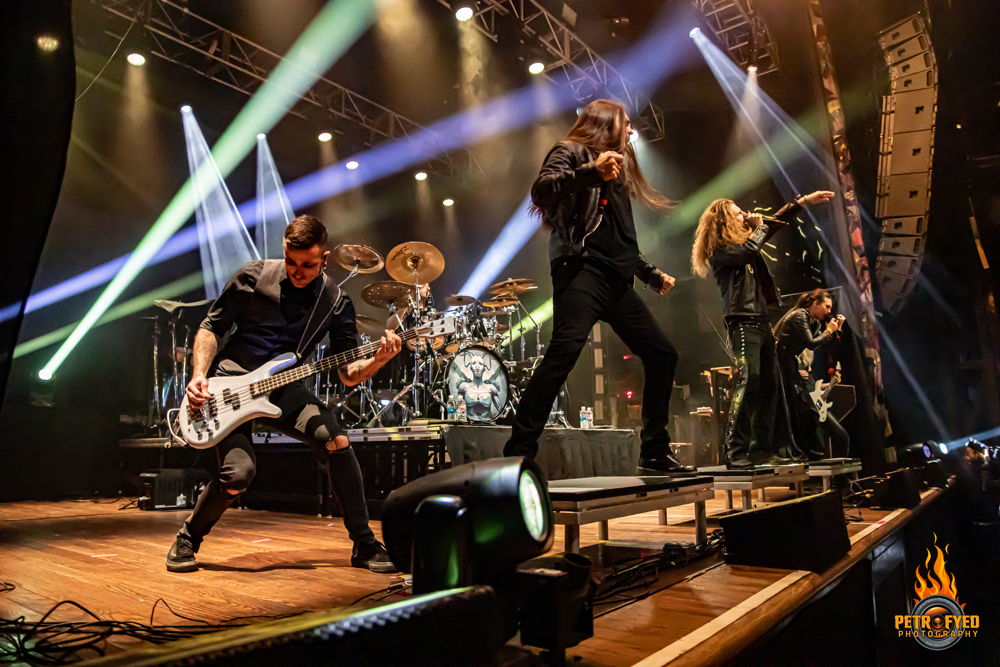 AMARANTHE since the beginning and once I heard and saw the video for "The Nexus" I was hooked. Wikipedia describes them as everything from pop metal, melodic death metal, metalcore, power metal, symphonic metal, death metal, heavy metal, and alternative metal but I would go with Synth Pop Metal myself because none of those other genres seems to really fit and despite their use of an unclean singer, 'death metal' is absolutely NOT what I personally would tag them with. Their style of metal in a lot of cases is actually something that you could dance to and visuals of a rave party come to mind. Regardless, they're a great live band and their 12 song set was nicely spread over 6 of the band's albums with opener "Fearless" coming from the Manifest release of 2020, from which 4 tracks of their show were taken. New opus The Catalyst was represented with one song, single "Damnation Flame". The viral crowd was treated to other songs like "Digital World", "The Nexus", "Amarantine" and "That Song" which included a snippet of QUEEN's "We Will Rock You" and great set closer "Drop Dead Cynical". IT would be great to see AMARANTHE come back again, this time as the headliner.
Setlist:
"Fearless"
"Viral"
"Digital World"
"Damnation Flame"
"Hunger"
"Strong"
"Maximize"
"The Nexus"
"Amaranthine"
"Archangel"
"That Song"
"Drop Dead Cynical"
https://www.amaranthe.se/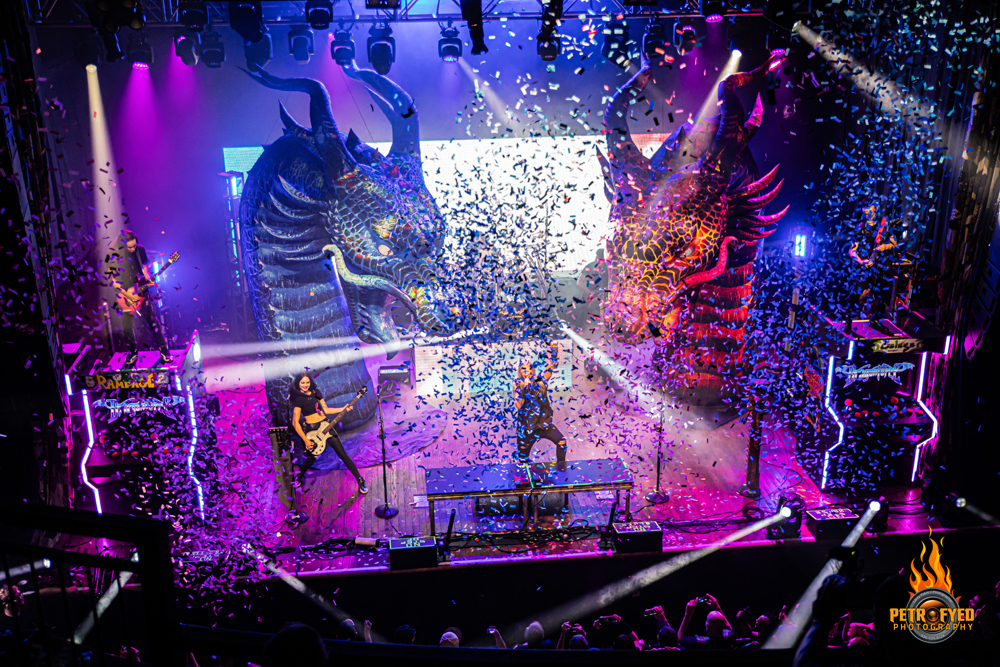 At 9:45 sharp as the strains of the Yanni song "Point Of Origin" streamed through the venue PA system, a blast of confetti cannons introduced headliners DRAGONFORCE to the stage, launching things with "Revolution Deathsquad", going all the way back to the 2005 album Inhuman Rampage. The obliteration continued with "Cry Thunder" and "Heroes Of Our Time" before we got our first taste of new music in the form of the just-released single and video, "Power Of The Triforce". As one would expect from a DRAGONFORCE performance, we were witness to a instruction in power metal shred assault courtesy of the twin guitar attack of Herman Li and Sam Totman, who traded licks back and forth throughout DRAGONFORCE's 14 song show and frequently joined together atop the platform that was center stage and separately above the large replica video game consoles that adorned each side of the stage setup. Current frontman Marc Hudson belted out the classic tracks in fine fashion as bassist Alicia Vigil and drummer Gee Anzalone providing the tumping low end. The use of lasers, confetti cannons and vocalist Hudson wielding a CO2 gun which he sprayed into the audience were definite highlights of the show, much like their appearance here last year. This year mid-set we were treated to a pair of parody songs in a bit of comedic relief. The first, "We Love The War" was a poke at historical war metal veterans SABATON where guitarist Totan and NANOWAR OF STEEL's Baffo provided the vocals. The second was "Plastic Tree", a tongue-in-cheek imitation of NIGHTWISH, this time with EDGE OF PARADISE's Monet joining Totan on the vocals. Oh, and did I mention Houston's own shred master, Rusty Cooley joined the band onstage for these numbers, much as he made an appearance durng last year's show in Houston.
The band finished the first portion of the show with "Valley Of The Damned" before the curtain once again engulfed the stage as they prepared for their encores. The curtain opened once again, this time revealing two inflatble dragon heads, one red and the other blue, positioned on either side of the stage as they kicked into "Highway To Oblivion". Their cover of the Celine Dion classic "My Heart Will Go On" followed by the one songe that nearly everyone has heard at some point, especially if you've ever played the Guitar Hero game, that being "Through The Fire And Flames". Another blast of the confetti cannons, this time containing long streamers as well, concluded a nearly two hour set and sent the crowd home pleased with what they had witnessed.
The current U.S. tour continues through 11/19 in Los Angeles so you still have time to catch this tour if it comes near you, something I would highly recommend! IT should also be noted that hat guitarist, singer and content creator Billy Wilkins, who caught the band's attention with his performance of "Through The Fire And Flames" going viral on TikTok, is also joining the band on the tour, giving them now 3 axes. Standing mostly toward the back of the stage through most of the show, he did get the opportunity to stand center stage with Herman Li and showcase his skills.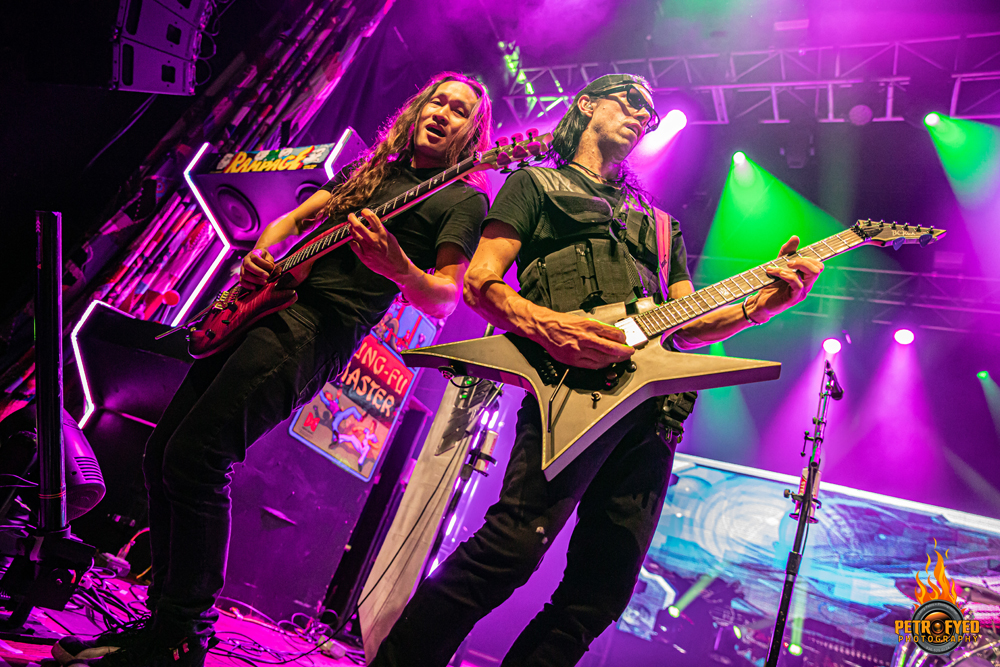 Remaining DRAGONFORCE Dates:
01.11.23 US - Baltimore, MD / Baltimore Soundstage
03.11.23 US - New York, NY / Palladium Time Square
04.11.23 US - Worcester, MA / The Palladium
05.11.23 CA - Montreal, QC / MTelus
06.11.23 CA - Toronto, ON / Danforth Music Hall
08.11.23 US - Cleveland, OH / Agora Theater
09.11.23 US - Detroit, MI / The Majestic
10.11.23 US - Chicago, IL / House of Blues
11.11.23 US - Minneapolis, MN / First Avenue
12.11.23 US - Lawrence, KS / Granada Theater
14.11.23 US - Denver, CO / Summit Music Hall
15.11.23 US - Salt Lake City, UT / The Depot
16.11.23 US - Boise, ID / Knitting Factory
18.11.23 US - Berkeley, CA / UC Theater
19.11.23 US - Los Angeles, CA / The Wiltern
https://dragonforce.com/
Setlist:
"Point of Origin" (Yanni song played through the PA)
"Revolution Deathsquad"
"Cry Thunder"
"Heroes of Our Time"
"Power of The Triforce"
"Soldiers of The Wasteland"
"The Last Dragonborn"
"We Love The War" (SABATON parody with Sam Totman and Baffo from Nanowar of Steel on vocals)
"Plastic Tree" (NIGHTWISH parody with Sam Totman and Margarita Monet from Edge of Paradise on vocals)
"Fury of The Storm"
"Doomsday Party"
"Valley of The Damned"
Encore:
"Highway to Oblivion"
"My Heart Will Go On" (Celine Dion cover)
"Through The Fire And Flames"
Check out some more photos from the show!
All Photos By Larry Petro/Petrofyed Photography