DOKKEN Heaven Comes Down

By George Mihalovich, Pittsburgh Contributor
Friday, November 3, 2023 @ 10:43 AM

| | | |
| --- | --- | --- |
| | | |
DOKKEN
Heaven Comes Down
Silver Lining Records




DOKKEN, like many of the legacy metal bands that are still active, could rely on their back catalog and live performances - nothing more required. However, it seems that acts that continue to record (JUDAS PRIEST, IRON MAIDEN, U.D.O., SAXON, STRYPER and METAL CHURCH, to name a few) seem to be notably more vibrant. This holds true of the DOKKEN and their first release since 2012's Broken Bones.

Heaven Comes Down is consistently energetic and heavy (as measured by DOKKEN and classic metal standards) with quality songwriting from start to finish.The first four songs are fairly aggressive (note "Fugitive" and "Gypsy", videos on KNAC.COM HERE and HERE respectively), and it isn't until Track Five that we move into balladesque territory with "I'll Never Give Up" - which still retains an edge. Then it's back to "rokken" (rhymes with DOKKEN) on tunes such as "Saving Grace" and "Over The Mountain" until the final track, "Santa Fe", which is a sparse autobiographical snapshot of Mr. Dokken's life supported solely by acoustic guitar and light percussion.

It's a cohesive, purposeful and polished album made by a battle-tested unit in top form. The first-class rhythm section of BJ Zampa (drums, and check out his intro to "Saving Grace") and Chris McCarvill (bass) powerfully and authoritatively support the songs; both are perfect within the DOKKEN template and work together seamlessly. Jon Levin may have gotten his start on the East Coast, but he nails the "West Coast/LA gunslinger style" (Eddie Van Halen, George Lynch, Warren DeMartini, Jake E. Lee) without being inauthentic or derivative. He's a fine example of someone who has not gotten lackadaisical or complacent as time rolls on - he keeps getting better - and Jon's slick leads and harmony lines are integral to the record. A case in point is his stellar melodic work that builds to a speedy crescendo on "Lost In You".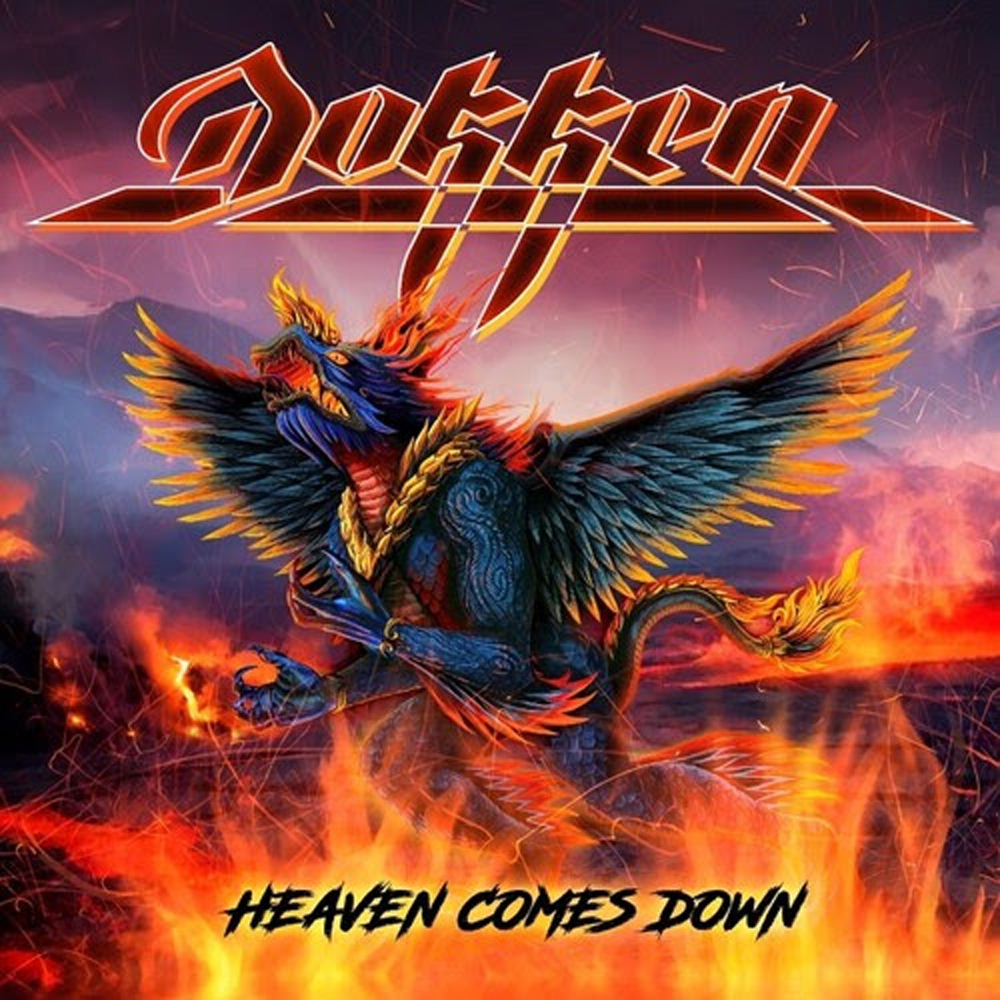 While Heaven Comes Down is an obvious reference to the famous Tooth And Nail track, its overall style, production and sound has more in common with elements of Back For The Attack, Hell To Pay, Broken Bones, and the highly underrated Up From The Ashes (Don has stated this was supposed to be the follow-up to Back For The Attack). It's also true to the form of these releases in that it touches on relationships, life and current topics couched in general terms to be interpreted by the listener. Don Dokken's highly recognizable but more roadworn voice works well with the material, and he comes across as a familiar but older and wiser version of himself; one that hasn't lost his touch crafting memorable melodies and introspective, melancholy lyrics. It's quite a statement for him, particularly considering the health and vocal issues he has experienced in the latter part of his career. He's now 70 and working with a far more limited range, so the fact that he can still turn in a convincing and memorable performance is something of a triumph over adversity.
The album was engineered by Bill Palmer, produced by Bill Palmer and Don Dokken, and mixed by Kevin Shirley (AEROSMITH, IRON MAIDEN, JOE BONAMASSA). These names definitely lend an air of competence and confidence that the production values won't disappoint, and these assumptions are well-founded. The aforementioned team achieved something that is difficult to do these days, which is to create a sonic footprint that ties the disc together. The sound is spacious and clear with a big bottom end, loud guitars and forward vocals; everything adds up to avintage metal vibe with a modern perspective.
Heaven Comes Down is an outstanding and succinct 10-track offering of classic melodic metal. No, it's not Tooth And Nail or Under Lock And Key, but it's recognizably DOKKEN in the present. If this is indeed their last studio effort, Heaven Comes Down is a worthy bookend to the storied recording career of one of the 80s most important metal bands.
4.7 Out Of 5.0