All Photos By Thomas Coffman/Coffman Rock Shots
One last KISS...
 KISS formed in January of 1973 and now 50 years later they will go down in history as one of the biggest rock bands ever formed. The original four members created something that was so big and so amazing that the world of rock music would never be the same.
The first 3 albums were not anything to brag about (sales-wise) but the live shows were selling out everywhere. On every occasion it has been about the live shows! KISS has always felt as if when they played, they were playing arenas no matter how small the venue. Beginning with the little clubs and working their way to the biggest venues in the world, KISS would conquer the dreams they had as children. Once the KISS Alive! album came out the rollercoaster ride began. The Alive! album not only saved their career but also the record company.
KISS is the biggest gold record awarded band ever. They broke all of the records for attendance set by THE BEATLES in Tokyo. KISS' merchandise is a multi-million dollar business that includes but is not limited to condoms all the way to caskets and even a comic book that included their actual blood in the red ink. No one else can say that! They have done everything that they ever set out to do.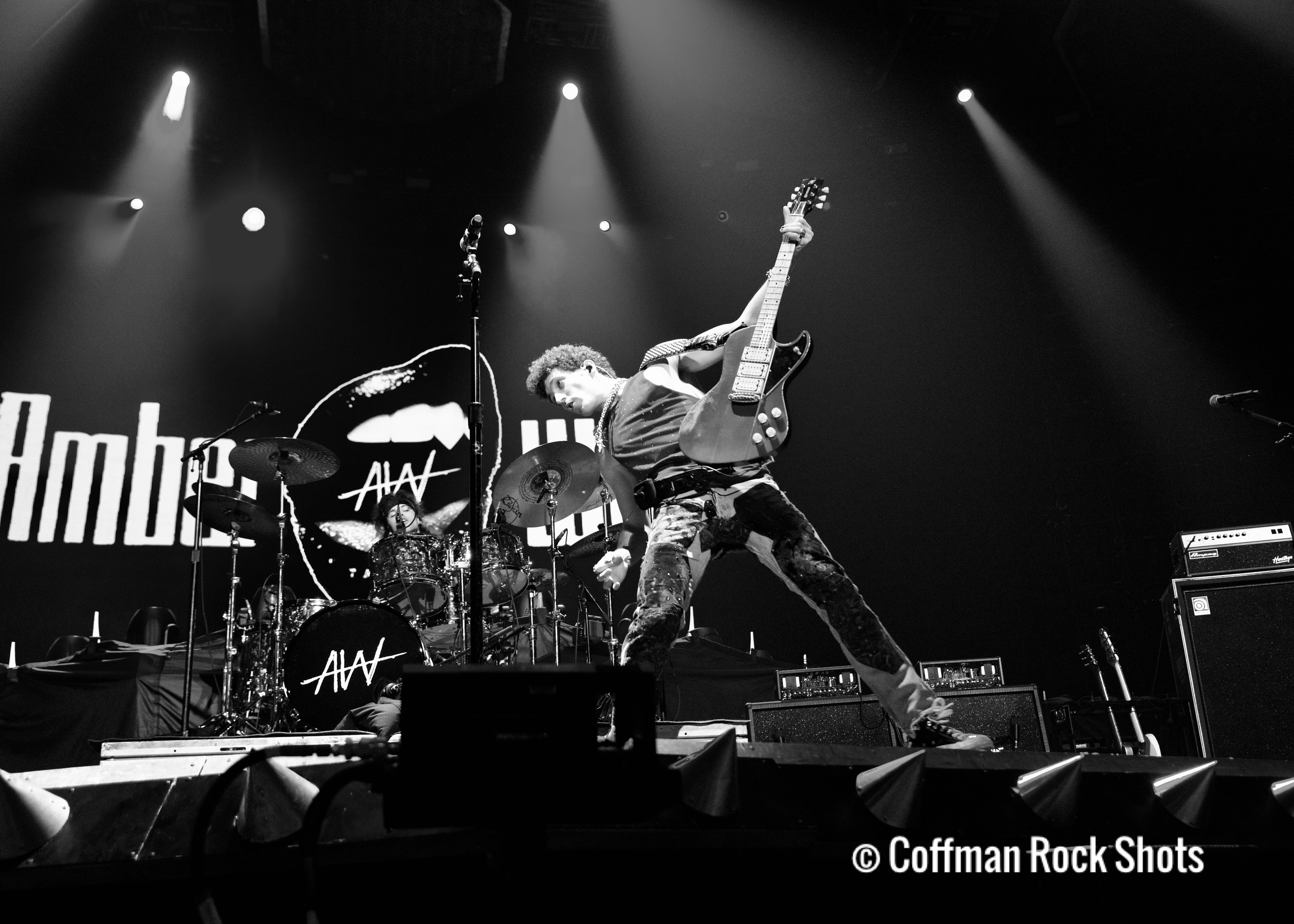 I travel to a lot of places to photograph concerts and when I return home I'm pretty worn out and so I started to think about KISS, the makeup and the costumes and then I began to wonder, how in the hell have they been doing the travel schedule and appearances among other events for 50 years?!!
KISS has done movies, cruises, restaurants (Rock & Brews), in addition to a long list of other things. I recommend that you have to visit KISS MONSTER GOLF and KISS WORLD in Vegas because both will blow your mind!!
When KISS announced the End of The Road Tour at first I was in denial. How could my heroes be ending, but all good things must come to an end...unfortunately. KISS honestly has nothing more to prove to us or themselves for that matter. This tour promised to be bigger and better than ever. I'm not sure how that can even be possible but leave it up to KISS to prove it.
So now for the final show in TEXAS!! It's a Sunday night and believe me that no one is thinking about work the next day. Our focus is on our heroes blowing us away one last time.
The opening band was a surprise for me. Evan Stanley (son of Paul Stanley) has a band called AMBER WILD and they have released two songs recently and they were ready to show the world who they were. From the start I was pleasantly surprised with the musicianship because I had not really known about the band. Stanley who was on vocals and shared guitar leads was very impressive.
The band really had it together and sounded tight and was definitely entertaining. All around a great show with catchy tunes and good looks. Definitely keep an eye out for them!
Song list :
"Breakout"
"Constant Constellations"
"Struggle"
"Three Shades"
"Silver"
"Lover"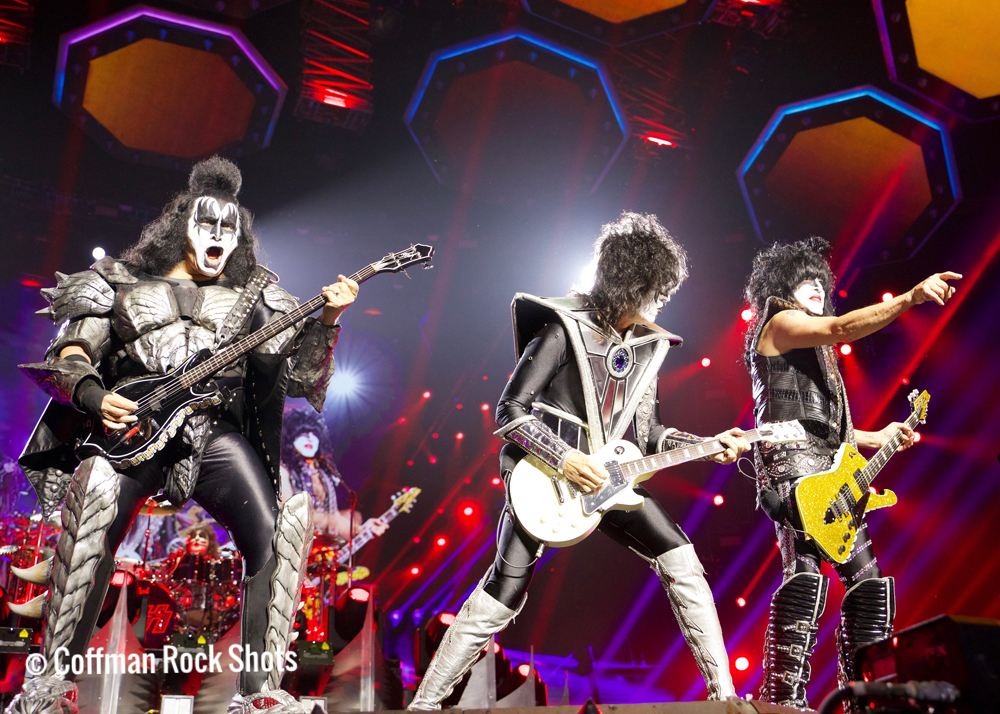 Band Members:

Evan Stanley: Lead Vocals, Guitar
Marshall Via: Guitar, Vocals
Jake Massanari: Bass
Thomas Lowrey: Drums

And now the voice behind the giant curtain screams...

"You wanted the best, you got the best" and you get chills as if you were a thirteen year old kid again. The curtain drops and it's just the biggest stage setup that you can imagine!

Three platforms come floating down with smoke shooting straight down as if it was a spaceship. Huge drum riser brings down the Catman with drums surrounding him in Catman fashion. The band kicks in with "Detroit Rock City" and the crowd is engulfed in the spectacle that is a KISS show as only KISS can do. 50 years of great songs and theatrics packed into one night is hard to do but in KISS fashion they deliver it in style!!

The fire breathing, blood spitting Demon never disappoints. The Star Child is always the showman that everyone expects and loves to see. The Spaceman with killer guitar riffs and sparks shooting from his guitar is something from out of this world. Then of course the Catman is purrrrfect behind the skins keeping the timing for the band. It all comes together to bring the best show in rock history.

The bombastic show is something that everyone should experience once but come Dec 2nd 2023 it's all over. The End of The Road will come to an end of an amazing career for the biggest band ever. It's been a hell of a ride!

Set list:
"Detroit Rock City"
"Shout It Out Loud"
"Deuce"
"War Machine"
"Heaven's On Fire"
"I Love It Loud" (Gene breathes fire)
"Say Yeah"
"Cold Gin"
Guitar Solo
"Lick It Up" (with "Won't Get Fooled Again")
"Calling Dr. Love"
"Makin' Love"
"Psycho Circus" (partial)
Drum Solo
"100,000 Years" (partial)
Bass Solo (Gene spits blood)
"God of Thunder"
"Love Gun" (Paul on B-stage)
"I Was Made for Lovin' You" (Paul on B-Stage)
"Black Diamond" (Paul starts on B-Stage)
Encore:
"Beth"
"Do You Love Me" (Giant KISS balls drop from arena ceiling)
"Rock And Roll All Nite" (Confetti, streamers, mobile)
"God Gave Rock And Roll To You II"
Check out some more photos from the show!
All Photos By Thomas Coffman/Coffman Rock Shots