GATES OF METAL FESTIVAL In Los Angeles With Photos!

By Larry Petro, News Monkey
Sunday, November 5, 2023 @ 10:39 AM

| | | |
| --- | --- | --- |
| | | Held On October 14th And 15th At The Garden Amphitheater |
Review And All Photos By Thomas Delgado/@forthehordeprod/@batforcetom
Metal Heads were treated over two days on October 14th and 15th to the 3rd annual Gates of Metal Festival at the Garden Amphitheater in Garden Grove, CA. The weekend was anchored by two fantastic headliners for each night including RIOT V of New York and hometown Southern California legends SADICTIC INTENT. Night One included a full lineup by HAIL MARY, VICIOUS RUMORS, IRONFLAME, HELLFIRE, ANGER AS ART, HAUNT, KANTATION, ADAMANTIS, SABER, INTRANCED, NINTH CIRCLE, ANGEL FURY, and as mentioned, headliners RIOT V. I was lucky enough to cover the action for Night Two.
The Garden Amp lent itself as a great backdrop for a Metal festival with a main stage and intimate stadium seating as well as an indoor side stage able to hold around 600 or so attendees. Between the main stage and indoor stage, vendors and additional seating gave attendees ample shopping and relaxing in between band setlists all weekend. The side stage for Night Two featured performances from WARCURSE, SUBSURFACE TENSION, INTENTIONAL RAGE, NITE, GREYHAWK, BONDED BY BLOOD, and FUELD BY FIRE.
STYGIAN CROWN got things going on the main stage Night Two, blasting through a set of Doom heavy and crunchy classic Heavy Metal riffs. Frontwoman Melissa Pinion sounded amazing belting out glorious vocal melodies against the heavy stomping tunes of slaying dragons in caves. What an absolute fitting treat to hear this group as my first band of the day after listening to SABBATH's Heaven And Hell on the drive down to the venue. Bonus points for bassist Eric Bryan's The Dark Knight Returns Batman shoulder tattoo. During the set, I realized drummer Rhett Davis and guitarist Nelson Miranda were both from SoCal Blackened Death Thrashers GRAVEHILL. Always awesome to see talented players spreading their legs in multiple projects.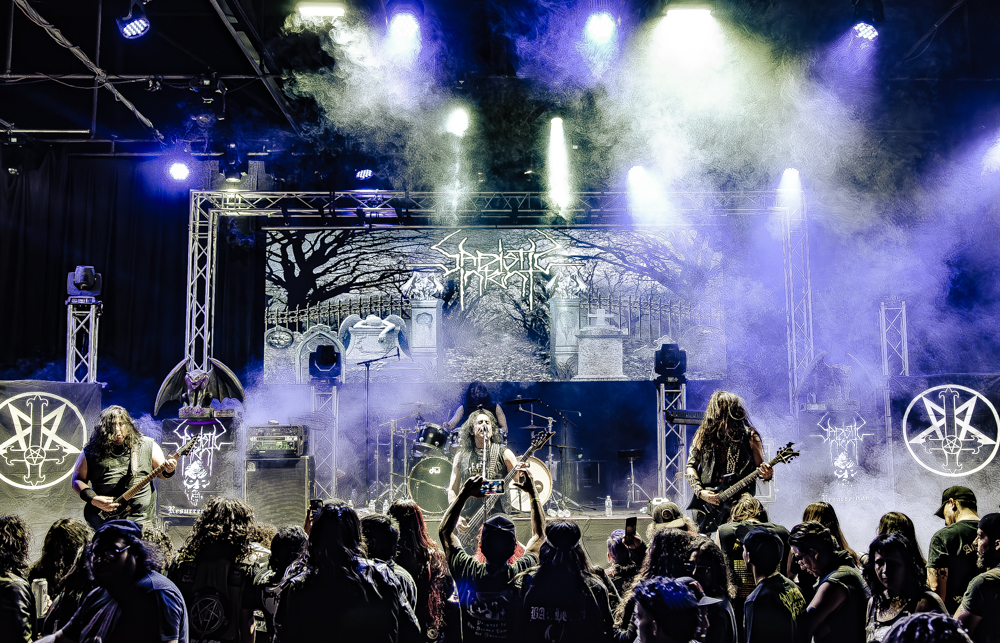 Next up on the mainstage were Heavy/Power Metal vets RUTHLESS. RUTHLESS has a history rooted in the early to mid 80s Heavy Metal scene of Los Angeles, specifically with vocalist Sammy DeJohn having jammed with an early incarnation of METALLICA! RUTHLESS continue waving the flag of classic Heavy Metal as strongly today as they did then. Sammy's voice was insanely impressive and powerful and seemed almost to pour out of him effortlessly. The band looked to be having an amazing time tearing through their set highlighted by Glen Paul's absolute shred clinic.
Next on the mainstage was the first live show for Sin Quirin's new band SIGLOS, and to be honest, I was completely blown away. Right from the start, there was a PRESENCE to this band. Dressed in what looked to be ceremonial garb inspired by Aztec, Maya, and Inca culture, mixed with corpse paint, and blasting the sounds of Blackened, Death, and Industrial metal, the entire crowd was leveled, (Sin's aunt and mother included!) Their set could be described as the musical equivalent of getting your heart ripped from your chest, still beating, and raised to the sky as an offering to the gods before getting your corpse kicked down a temple stairway. I had never seen someone smile so much in corpse paint before the way Sin did, but hard not to do when your family is front row headbanging to every riff along with close friends in the crowd. Do not miss this band live!
As the sun started to finally settle down for the evening, Los Angeles old school Thrash veterans EVILDEAD took the stage. The band tore through their set with ferocity, speed, and attitude, as usual for their live show. It was an injection of aggression that was perfect to keep the mood high and tight for the evening. Northern California Thrash institution HEATHEN then followed with the same level of intensity that they've also been known for. I had just caught them during the summer playing with OVERKILL and they sounded as tight and precise as they did then. Having both of these bands play back to back was an unrelenting speed attack of riffs, solos, and double bass blasts. An excellent appetizer for what was next.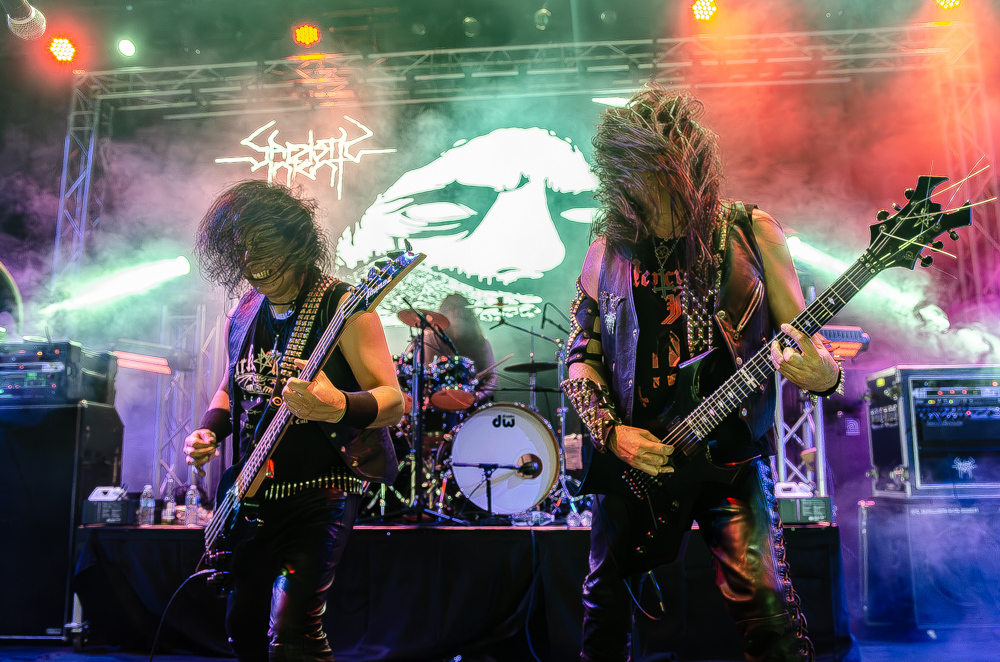 It had been clear since first walking into the venue at the beginning of the day and seeing so many SADISTIC INTENT shirts who people were here to see. SADISTIC INTENT hometown shows are too far and few between for my liking, but in a way, it really does help to build the anticipation and mystique of the band. SADISTIC INTENT, for those not totally in the know, were present and active during the historic birth of both Death Metal and Black Metal scenes in Southern California. Brothers Rick (guitar) and Bay (bass, vocals) are also known for owning and operating the legendary Dark Realm Records in Downey, California. One step into the shop and you understand their place in both scenes. Signed posters, albums, and even personal letters from RONNIE JAMES DIO, JUDAS PRIEST, OZZY OSBOURNE, KING DIAMOND, and Fenriz from DARKTHRONE litter every inch of the black painted walls. There are even scrapings of the basement wall from EURONYMOUS' Helvete record shop in Oslo, Norway on display. At one point, the members of SADISTIC INTENT were even in POSSESSED helping Jeff Becerra revive a version of the band in 2007.
SADISTIC INTENT came on to a massive swell of excitement and absolutely levelled the Garden Amp. The lighting, stage setup, sound, and pummeling riffs gutted every fan in attendance. Being front row for the action felt like an incredibly blasphemous spiritual experience. Song after song grimmer, heavier, faster, and more evil sounding. A true call back to the primitive sounds of early Death and Black Metal. The band hardly stopped to allow anyone to catch a breath until they had to take care of a quick technical issue, at which time Bay and Rick both took the opportunity to thank the fans for the decades of loyal support. They finished the set and promised to be back again for a show in 2024. It was a fantastic exclamation point to a weekend of metal. Impressive to consider this was only the 3rd annual Gates of Metal Festival. It definitely left me wanting more and to see how else this Southern California festival can build and grow in the future!
https://www.facebook.com/p/LAs-Gates-of-Metal-Festival-III-100088378346752
Check out some more photos from the show!
All Photos By Thomas Delgado/@forthehordeprod/@batforcetom