SKILLET, THEORY OF A DEADMAN, SAINT ASONIA in Idaho Falls, ID With Photos!

By Breezy Bird, Idaho Contributor
Monday, November 6, 2023 @ 3:32 PM

| | | |
| --- | --- | --- |
| | | At Hero Arena Inside The Mountain America Center November 1 |
All Photos By Breezy Bird Photography
The staff at the Mountain America Center have been killing it this year! As 2023 nears its end, so does our inaugural season of amazing rock shows. It's so nice to be able to fit in a concert without taking vacation days from my "real" job! Thank you, Mountain America Center, for allowing me to have my cake and eat it too! Last night was yet another opportunity to enjoy an evening of live music when The Rock Resurrection Tour blessed a mass of concertgoers at Hero Arena inside the Mountain America Center in Idaho Falls, Idaho (November 1, 2023). The bill included Canadian rockers SAINT ASONIA and THEORY OF A DEADMAN along with the American Christian quartet SKILLET.
SAINT ASONIA was the first to take the stage. As a big fan of THREE DAYS GRACE, I have long awaited the opportunity to see frontman Adam Gontier perform with this ensemble. SAINT ASONIA has had a few different lineups since their inception in 2015 but is often considered a supergroup. SAINT ASONIA currently consists of Adam Gontier on lead vocals and rhythm guitar, Mike Mushok (formerly of STAIND) on lead guitar, Cale Gontier on bass and backing vocals, and Cody Watkinson drums. Their 8-song set was phenomenal, albeit too short for my liking. Even though some of the crowd had not heard of SAINT ASONIA by name, they quickly recognized the familiar lyrics and began to sing along. The setlist included hits from the self-titled first album as well as songs from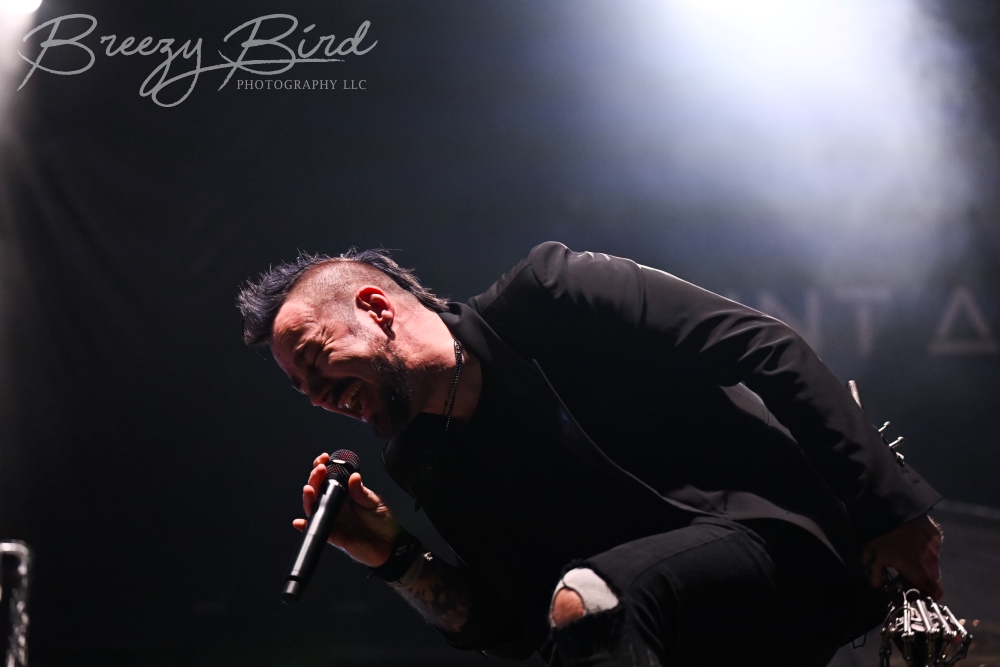 their more recent releases Flawed Design and Introvert. To spark people's memories, they even included 2 singles from Adam's time with THREE DAYS GRACE: "Never Too Late" and "I Hate Everything About You". We were also treated to a rendition of APOCALYPTICA's "I Don't Care", a song that featured Adam Gontier as a guest vocalist. The set was amazing and was a great way to kick off the evening. Adam was engaged with the crowd and his enthusiasm was palpable. In all honesty, SAINT ASONIA was the main reason that I attended this show and I was not disappointed in the least. I hope to have the opportunity to see them in a headlining role in the near future.
Setlist:
"Better Place"
"Above It All"
"Devastate"
"Never Too Late" (THREE DAYS GRACE)
"I Hate Everything About You" (THREE DAYS GRACE)
"I Don't Care" (APOCALYPTICA)
"Wolf"
"Let Me Live My Life"
Billed as a co-headlining tour, I was anxious to see which band would be performing next. From everything I read, I expected SKILLET to be up next. To my surprise, THEORY OF A DEADMAN (TOAD) took the stage on the heels of a recording of one of the greatest sing-along songs ever made, "Sweet Caroline" by NEIL DIAMOND. Having been around since 1999, TOAD are seasoned veterans and it definitely shows in their performance quality. Their set began with "Dinosaur", the title track from their newest album release bearing the same name. Although the song was unfamiliar to me, the audience really seemed to like its catchy, dare I say an Elvis Costello-meets-Dwight Yoakam groove. THEORY OF A DEADMAN lead vocalist, Tyler Connolly, energetically strutted around the stage, interacting with fans and feeding off of the excitement in the air. While bandmates Dave Brenner, Dean Back, and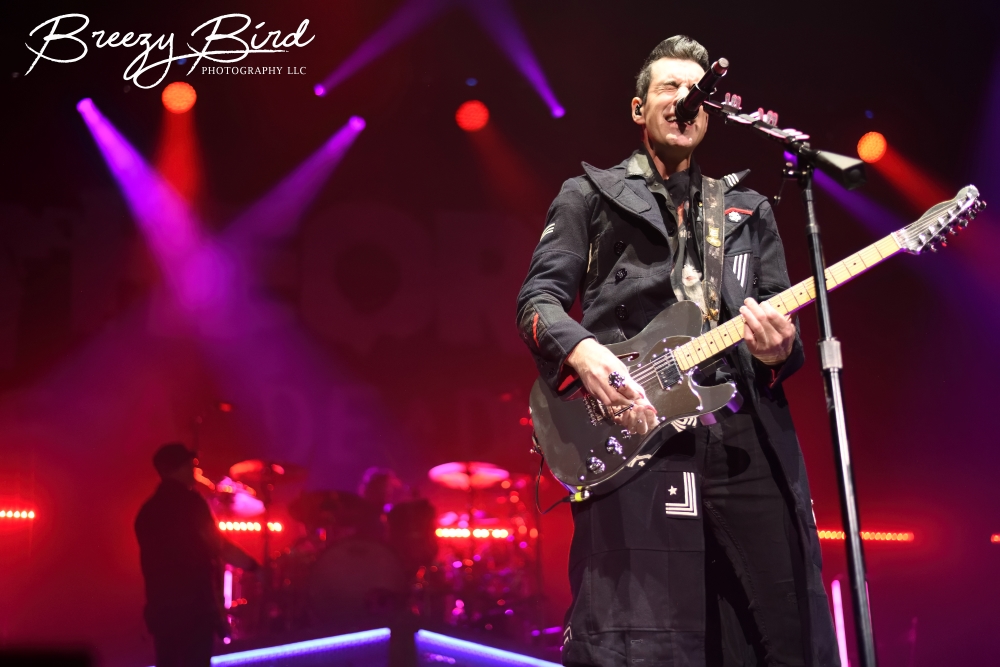 Joey Dandeneau kept the beat going in the background, all eyes were glued to Connolly with his perfectly coiffed pompadour and uber flashy mirror-finished guitar. On stage, he's a big-time personality with a captivating presence. TOAD put on a great show, mixing in some of their mainstay hits along with some impressive covers. At one point, Connolly sat before a keyboard to deliver his interpretation of "Wicked Game" by rockabilly revivalist Chris Isaak. It's almost impossible to ignore the striking likeness of Connolly and Isaak, making this the quintessential cover song. To my surprise, there was even an instrumental version of "Nutshell" as well as a bit of "Friends In Low Places" by Country great Garth Brooks. As a whole, I would describe the performance as fun and invigorating. What more can you possibly ask for in a live show?!

Setlist:
"Dinosaur"
"Bitch Came Back"
"Two of Us (Stuck)"
"Not Meant to Be"
"Lowlife"
"Nutshell" (ALICE IN CHAINS)
"Santa Monica"
"Wicked Game" (Chris Isaak)
"Don't Stop Believing" (JOURNEY)
"All or Nothing"
"Ambulance"
"Friends in Low Places" (Garth Brooks)
"Angel"
"Hate My Life"
"Rx (Medicate)"
"Paradise City" (GUNS N' ROSES)
"Bad Girlfriend"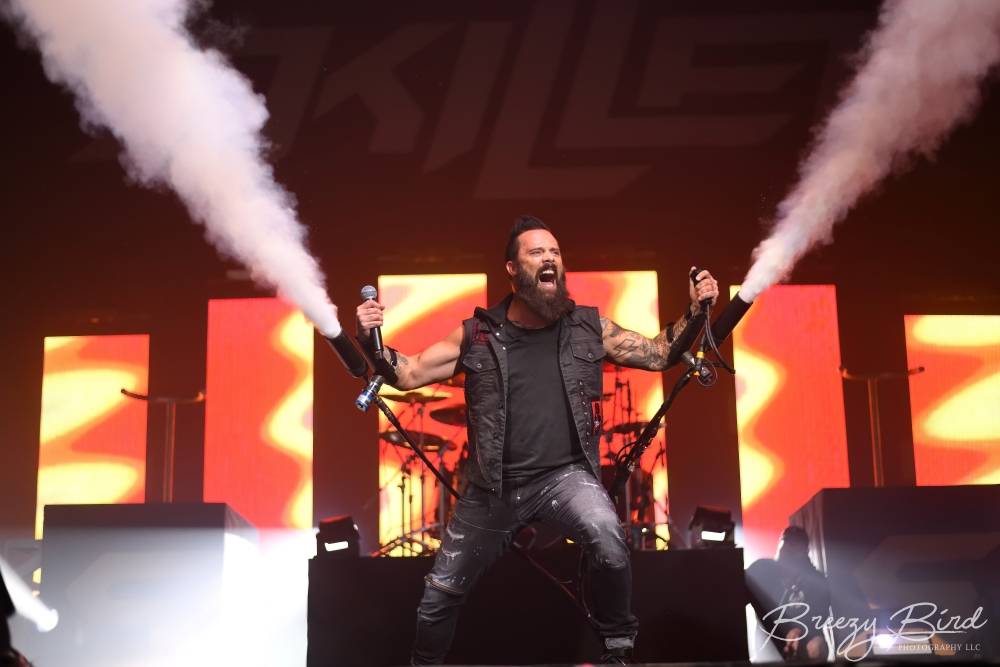 After a brief intermission, headliners SKILLET took the stage. As I looked around the venue, it was obvious that most in attendance were there to see these Tennessee-based Christian rockers. Once a worship band side project, SKILLET has since amassed an incredibly loyal following of adults and adolescents alike in part because their shows always offer a combination of purity and wholesomeness that is family and faith friendly. It's entertaining to watch John Cooper on bass and lead vocals harmonize with co-lead vocalist Jen Ledger from behind her drum kit. Another fun interaction is between John and his wife Korey Cooper on rhythm guitar, keyboards, and backing vocals. Seth Morrison adds to the overwhelming feeling of cohesion and unity while shredding away effortlessly on his lead guitar.

SKILLET took the stage with crowd favorite "Feel Invincible" from their 2016 album, Unleashed, setting the tone for the rest of their high-powered set. From the first note, it was clear that SKILLET intended to unleash a can of whoop-ass all over the place. As they worked their way through the expansive catalog of hits, the intensity only continued to surge. The audience was hyped as was the band, and in the best of all reciprocal relationships, the energy grew exponentially. Korey Cooper could be seen whipping her purple hair around while John Cooper presided over the audience like a luminary. At one point during the 14-song set, John donned a pair cannons of on his wrists that spewed white clouds of CO2 into the air.

As the setlist raged on, we were treated to "classic" SKILLET songs as well as newer material in a perfect fusion of past and present. As the show progressed on, Seth and Korey could be seen rising high above the stage as they played on hydraulic platforms. And, what would a respectable rock show be without a classically trained cellist?! Tate Olsen took center stage and played a solo on his cello before taking his place on one of the risers leading into "Comatose" and "Awake and Alive". SKILLET continued through their recognizable collection of tunes including "Hero" and "Whispers In The Dark". Just when I thought that the show had peaked, Adam Gontier returned to the stage to collaborate on "Finish Line". SKILLET concluded their impressive set with 3 mega hits: "Monster", "Rebirthing" and "The Resistance".

If you have never seen SKILLET live, you're really missing out. I wouldn't go as far as to say that I'm really a big fan, but their stage presence is phenomenal and unparalleled. They are relentless in their pursuit of performance and it is a show you won't regret seeing. The Resurrection Tour made me feel awake and ALIVE!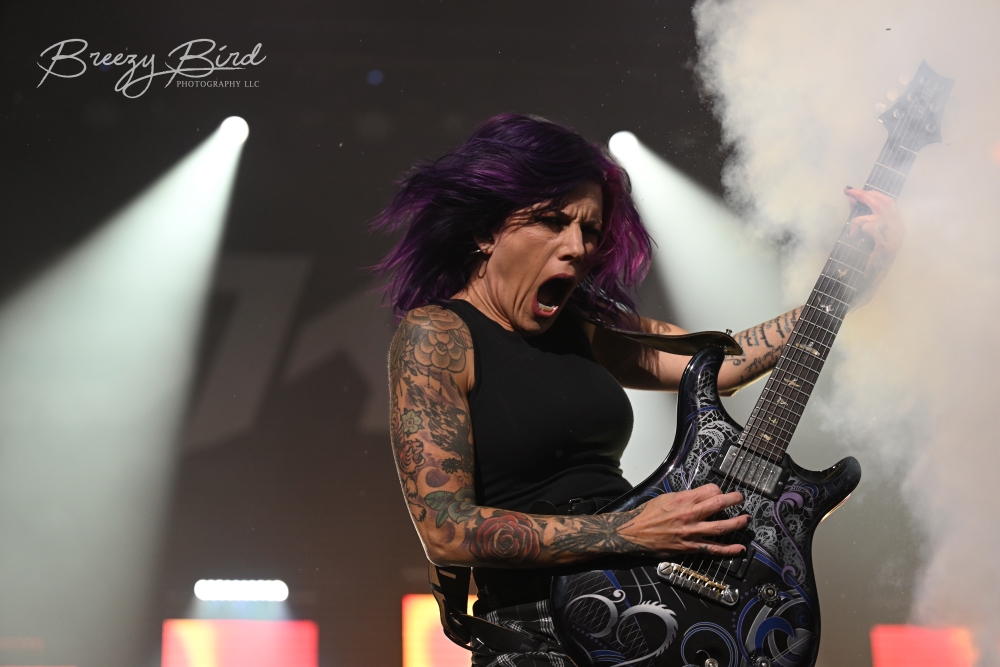 Setlist:
"Feel Invincible"
"Rise"
"Surviving the Game"
"Legendary"
"Awake and Alive"
"Hero"
"Not Gonna Die"
"Whispers in the Dark"
"Psycho in My Head"
"Comatose"
"Finish Line"
"Monster"
"Rebirthing"
"The Resistance"
As I end what is likely my final review of the year, I'm going to go on a sappy tangent. I need to give my husband, Jason, a huge shout-out for being my constant wingman. Concerts have always been "our thing" because we love each other's company and share similar music interests. We attend a lot of shows together, oftentimes with our kids in tow. These days, for the first three songs of each set, he can often be found solo, dutifully recording setlists while I'm photographing all the action from the opulence of the barricaded area. His support and encouragement allow me to expand my horizons and try new things without guilt or fear of failure. We sure do make a great team and that, my friends, is what love is all about! If you happen to see him unaccompanied, don't even think about it ladies--he's taken!

The tour continues through December 9th so there's still time to check them out!
Nov. 07 - Billings, MT
Nov. 08 - Bismarck, ND
Nov. 10 - Minneapolis, MN
Nov. 11 - Brookings, SD
Nov. 12 - Waukee, IA
Nov. 14 - Grand Rapids, MI
Nov. 15 - Peoria, IL
Nov. 17 - Youngstown, OH
Nov. 18 - Johnstown, PA
Nov. 19 - Mashantucket, CT
Nov. 21 - Norfolk, VA
Nov. 22 - Salem, VA
Nov. 24 - Jacksonville, FL
Nov. 25 - Orlando, FL
Nov. 28 - Mobile, AL
Nov. 30 - Huntsville, AL
Dec. 01 - Spartanburg, SC
Dec. 02 - Johnson City, TN
Dec. 05 - Fort Wayne, IN
Dec. 06 - Evansville, IN
Dec. 08 - North Little Rock, AR
Dec. 09 - Wichita, KS
Check out some more photos from the show!
All Photos By Breezy Bird Photography