OV SULFUR, MENTAL CRUELTY Join For North American "Beyond The Eternal Tour"

By Larry Petro, News Monkey
Tuesday, November 7, 2023 @ 9:17 AM

| | | |
| --- | --- | --- |
| | | |
The flames of heavy metal are set to spread across North America as the titans of blackened deathcore, OV SULFUR, and the German juggernauts, MENTAL CRUELTY, announce their co-headline tour. The powerhouse bands are primed to deliver a sonic onslaught unlike any before, marking MENTAL CRUELTY's first North American tour since their albums A Hill to Die Upon and Zwielicht. This tour also heralds the first co-headlining venture for OV SULFUR, fronted by the formidable Ricky Hoover, showcasing their debut LP The Burden Ov Faith that has already shaken the metal community to its core.

OV SULFUR and MENTAL CRUELTY will be joined by the ever haunting GHOST BATH and gore fueled EXTERMINATION DISMEMBERMENT. Starting on February 7th in Mesa, AZ, and wrapping up on March 9th in Las Vegas, NV, the "Beyond the Eternal Tour" will terrorize venues with a blistering array of shows scheduled across the continent. (Note: EXTERMINATION DISMEMBERMENT will not appear at the Montreal, QC and Toronto, ON dates.)

Tickets are on sale now so go secure your spot in the pit for the "Beyond the Eternal Tour". Tickets can be found here: https://bnds.us/9s1oc0 OV SULFUR shares their excitement, stating, "We're beyond excited (no pun intended) to announce the 'Beyond the Eternal Tour', which we're co-headlining with labelmates MENTAL CRUELTY. Both bands deliver blackened deathcore with ferocity. Our metalcore inflections are complemented by their extra-blackened leanings for a bill that's devilishly divine.

To elevate the tour, we got depressive post-black metallers GHOST BATH, whose genre agnostic take on their umbrella genre is not far off from ours, as well as EXTERMINATION DISMEMBERMENT: one of the heaviest slamming deathcore bands on the planet all the way from Belarus!

If you like your deathcore with a heavy heeping of brutality and an undercurrent of blasphemy-both lyrically and with (lack of) regard to musical rules-this is THE tour for you. Come join us BEYOND THE ETERNAL!"

MENTAL CRUELTY is set to unleash hell, proclaiming, "The time has come! MENTAL CRUELTY will finally come back to North America with one of the sickest line-ups to date, and we couldn't be happier about it. On board and co-headlining we have label mates OV SULFUR, who will bless you with heavy riffs and crushing breakdowns that will rock your socks off.

In addition, we are more then happy to have GHOST BATH and EXTERMINATION DISMEMBERMENT on the line-up as well. While GHOST BATH will take you to another planet with their haunting atmosphere and emotional-driven melodies, EXTERMINATION DISMEMBERMENT will make sure to leave nothing but devastation behind them-so be sure to bring some extra underwear, just in case.

As for us, we are beyond excited to finally show you our latest record Zwielicht live, and we can't fucking wait to see all of you again after 4 years of not touring North America. (For those keeping track, that means A Hill to Die Upon has yet to bless your stage, too, so expect some of that!)

If you are into blast beats, devastating breakdowns, haunting atmospheres and heavy-as-fuck riffs, you don't want to miss this. This will be a tour to be remembered, that's for sure!"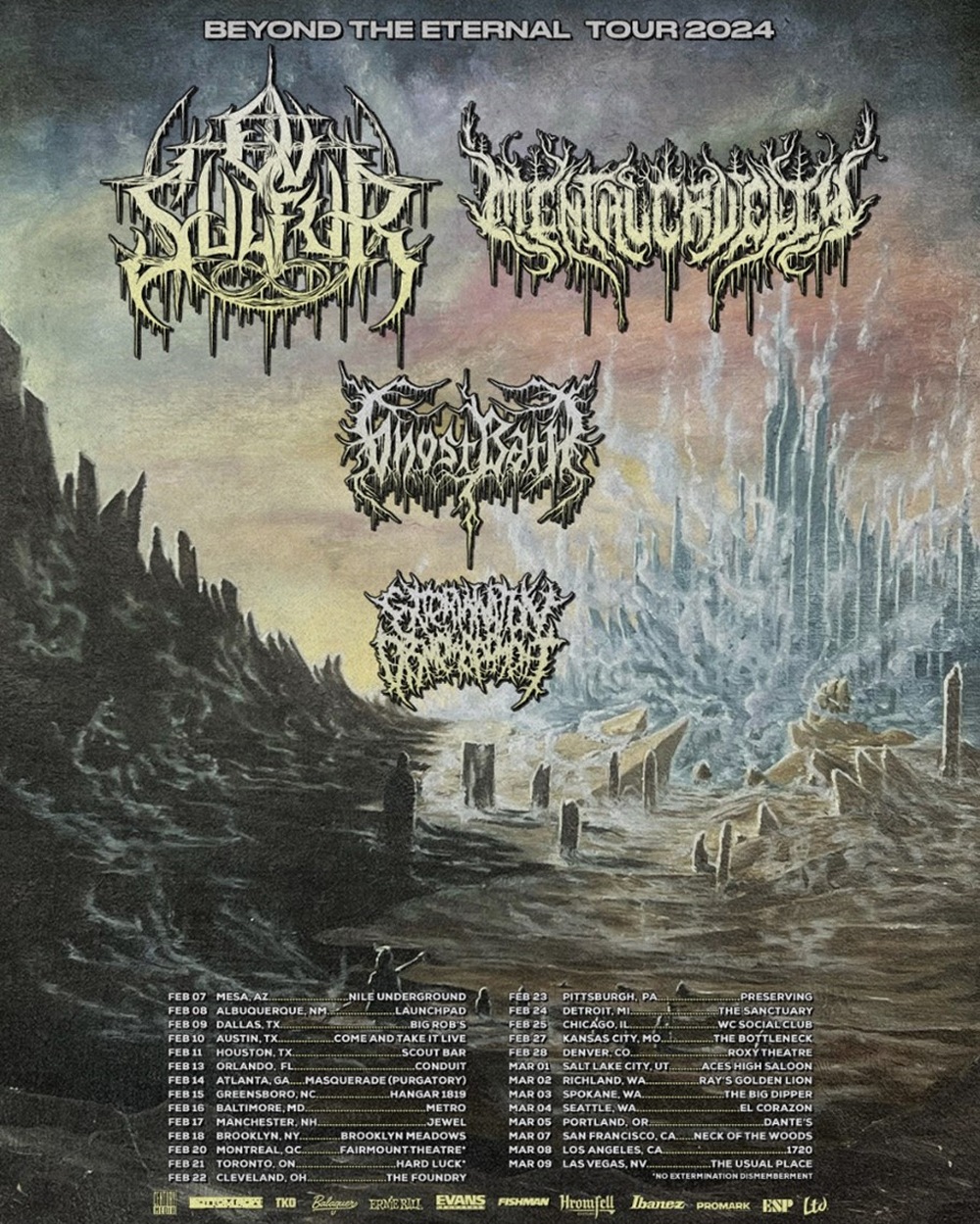 Secure your tickets for a night of unparalleled metal mayhem and witness the relentless power of OV SULFUR and MENTAL CRUELTY, together with their hand-picked, genre-bending support acts. Brace for impact - the "Beyond The Eternal Tour" will forge an unforgettable trail of metal history.
Feb. 7, 2024 - Mesa, AZ @ Nile Underground
Feb. 8, 2024 - Albuquerque, NM @ Launchpad
Feb. 9, 2024 - Dallas, TX @ Big Rob's
Feb. 10, 2024 - Austin, TX @ Come And Take It Live
Feb. 11, 2024 - Houston, TX @ Scout Bar
Feb. 13, 2024 - Orlando, FL @ Conduit
Feb. 14, 2024 - Atlanta, GA @ Masquerade (Purgatory)
Feb. 15, 2024 - Greensboro, NC @ Hangar 1819
Feb. 16, 2024 - Baltimore, MD @ Metro
Feb. 17, 2024 - Manchester, NH @ Jewel
Feb. 18, 2024 - Brooklyn, NY @ Brooklyn Meadows
Feb. 20, 2024 - Montreal, QC @ Fairmount Theatre *
Feb. 21, 2024 - Toronto, ON @ Hard Luck *
Feb. 22, 2024 - Cleveland, OH @ The Foundry
Feb. 23, 2024 - Pittsburgh, PA @ Preserving
Feb. 24, 2024 - Detroit, MI @ Sanctuary
Feb. 25, 2024 - Chicago, IL @ WC Social Club
Feb. 27, 2024 - Lawrence, KS @ Bottleneck
Feb. 28, 2024 - Denver, CO @ Roxy Theater
Mar. 1, 2024 - Salt Lake City, UT @ Aces High Saloon
Mar. 2, 2024 - Richland, WA @ Ray's
Mar. 3, 2024 - Spokane, WA @ The Big Dipper
Mar. 4, 2024 - Seattle, WA El Corazon
Mar. 5, 2024 - Portland, OR @ Dante's
Mar. 7, 2024 - San Francisco, CA @ Neck Of The Woods
Mar. 8, 2024 - Los Angeles, CA @ 1720
Mar. 9, 2024 - Las Vegas, NV @ The Usual Place
* = no EXTERMINATION DISMEMBERMENT