JOHNNY O'NEIL
Brand New Day
Bearded Maggie Records
http://www.johnnyoneil.com




Clearly you are going to have to call me late to the party when it comes to JOHNNY O'NEIL. Before I got my hands on a copy of Brand New Day, I had no idea that there had been two releases out before this new album. Hell, I was ignorant to the fact the group existed at all.

But being late doesn't mean I can't make up for lost time and that's what I was hoping to do by checking out this new album. I think it was "Mission Accomplished" by the time I finished listening though.

The album's title track leads off the disc and you get an immediate sense for how things are going to develop. The song starts off like it is revving up, just waiting for the signal to kick into gear and when it does, you get a cool sounding melody merged with a hard rocking musical score. I was immediately energized as I listened to this opening number.

The band, besides O'Neil of course, features guitarist John Funk, bassist Benny Craig and Joachim Baecker on drums. Reading up on them via the website, it's clear that they have all the chops one would need to put forth some killer music. And it shows throughout Brand New Day.

The material is a nice mix of fast paced numbers like "Comin' Down Like a Mountain" (which has a nice heavy thump to it), ballads like "It's Too Hard To Say Goodbye" (a song that knows how to mine the more emotion-driven side of your musical mind) and then adds in some more lively numbers that are enhanced by the inclusion of piano and organ (performed by Jason Peterson DeClaire) that gives songs like "My Mona" an extra dimension to them. It's simplistic to boil it down to this but whenever I heard a song with a piano that is lively and crackling with electricity, I think "this is a bar room boogie type of song". For me, that means if I was hearing it in a bar, I'd be glued to the performance because I like the way the music catches my ear. Add in some really good vocal work and you've got one killer track. Oh, and I can't forget to mention the cool saxophone solo in the song too.

One of the things that, while not surprising, is always great to hear is how the guitar solos turn out on songs. The song "In Search Of" has a kind of smooth moving groove in its delivery but that solo got me keyed into the song that much more.

The album closing track "Tell Me Your Story" is mainly a slower paced track but twice during its seven minute run time, you get a full bore rocking flourish. The first is for the song's solo and then you get it again as the extended outro. I enjoyed the song as a whole, but that ending was smoking hot!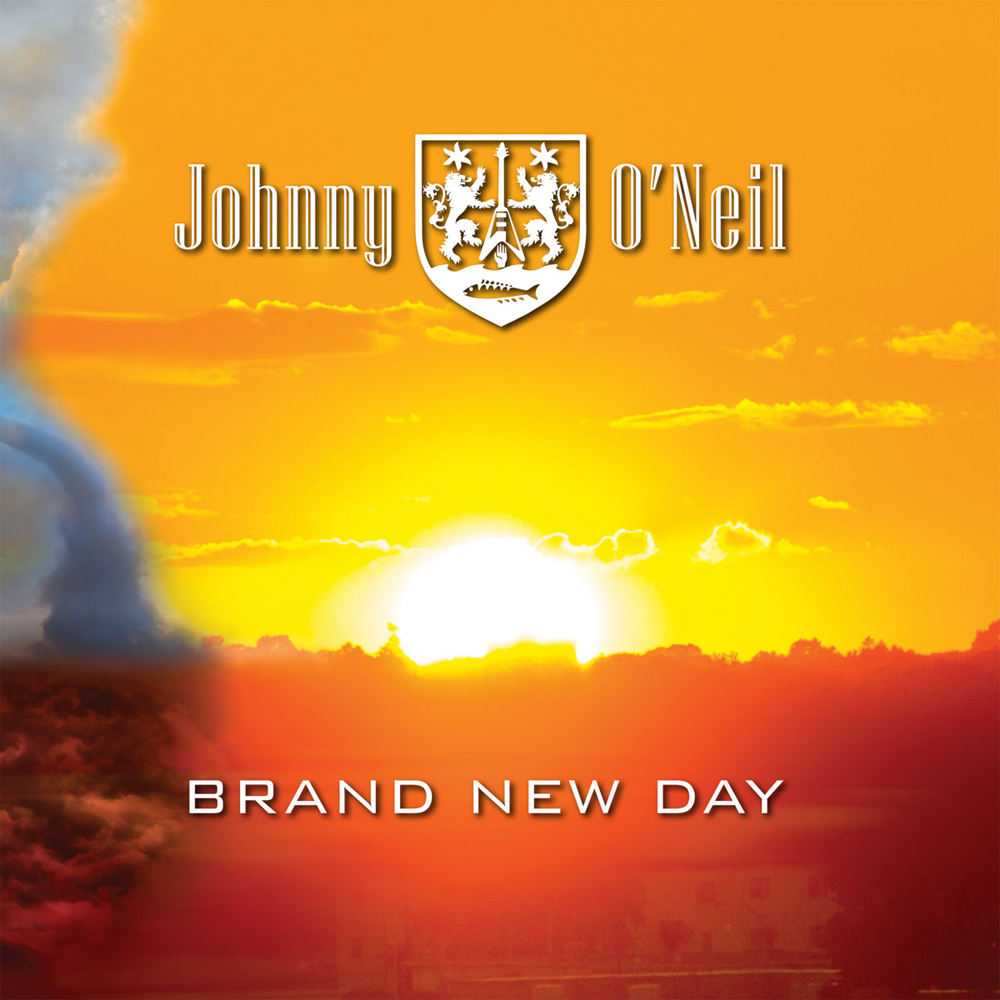 JOHNNY O'NEIL does a cover of the THIN LIZZY song "Don't Believe A Word" on the album. I found it pretty interesting but I can't offer much in the way of comparison to the original track since I've sadly never found my way into a deep dive into THIN LIZZY's catalog. However, since I liked this version, maybe that will be the catalyst for me to do so.
With all this being said, I still haven't gotten around to mentioning my two personal favorite songs on Brand New Day.
The first of those two songs is "Hands Up". The song has a great sound throughout. It's uptempo pacing is further enhanced by the piano line threaded throughout the track. The song just flat out rocks and you get yet another cool ass killer solo in it.
But even that song just ever so slightly pales to the smoking hot track "When Janie Moved Into Town". If you immediately find yourself thinking that this is a "story" kind of song, you are right. O'Neil's vocals bring the lyrics to life in such a way that you feel like you are there in the story. The song starts out slow and has a deeply enriched bluesy sound to it. After the first lyrical verse, you get the addition of a bit more lively and rocking tone to the track while maintaining the feel of "the blues". Everything about this song resonated strongly with me and you get this amazing outro on the song that finishes off what I found to be a rather exceptional piece of songwriting.
As I said, prior to getting my hands on this album, I had no prior experience with JOHNNY O'NEIL. But after listening to said album, the phrase "brand new day" serves to sum up, at least in part, what I thought of the Brand New Day album as a whole.
It's a hugely entertaining CD that combines melody and killer music with an immediately endearing vocal presence to give listeners a wide ranging musical palette to sit down and wrap themselves up in. Brand New Day is just a damn fine rock and roll record!
4.5 Out Of 5.0