FUMING MOUTH Last Day of Sun

By Peter Atkinson, Contributor
Thursday, November 16, 2023 @ 8:34 AM

| | | |
| --- | --- | --- |
| | | |
FUMING MOUTH
Last Day of Sun
Nuclear Blast Records




Photo Credit: @blackcardfilms

You could see how a life-threatening illness might put one in a fatalistic mood. For FUMING MOUTH frontman/guitarist/founder Mark Whelan it seems to have gone way beyond that, to full-blown apocalyptic.

After surviving a bout of Acute Myeloid Leukemia, which coincided with the height of the COVID pandemic, Whelan and FUMING MOUTH are back with their second album, a conceptual effort that - true to its title, Last Day of Sun - finds humanity facing perhaps the ultimate extinction-level event: a sun that will go forever dark in 24 hours. Talk about climate change!

But Last Days is not an exercise in "we're all fucked and it's all our fucking fault" finger-waving and hectoring, a la CATTLE DECAPITATION. Instead of moralizing, FUMING MOUTH offers a bit of righteous indignation at life's cruel fate combined with fight-to-the-last moxie, as well as a degree of "I'll Find You" romanticizing/wishful thinking and "Live like it's your last day alive" empowerment.

So, amid the doom and gloom of the end of days coming literally at the end of that day - and tracks like "R.I.P. (Rest In Piss)" or "The Sign Of Pain", where even God won't save you - Whelan manages to find aglimmer of hope here and there. Granted, it is all delivered by way of the band's blunt force vehemence, so like the dying sun at the core of Last Day, that hope soon fades amid the clamor.

Boasting a presentation that blends hardcore bludgeon with vintage Swedish death metal buzz-sawing, Last Days is big on abrasiveness, but still offers some of the usual "concept album" atmospherics and theatrics, though thankfully in moderation. "Disgusterlude" does just what it says as a short, gnarly instrumental that splits the album in two. The sparsely instrumented "Leaving Euphoria", with its recited/spoken vocals, provides dramatic effect, as do themuted, chanty choir-ish vocals that punctuate the suitably doomy plod of title track, and the intermittent cleans/moaning backups on "The Silence Beyond Life" and the finale "Postfigurement".

Given the snub-nosed bombast that surrounds them, these more experimental/melodic moments seem a bit awkward and tentative, as if the band is holding back instead of diving into them with the same zeal it displays when things grow more ferocious. FUMING MOUTH definitely sounds more confident and comfortable when it simply drops the hammer.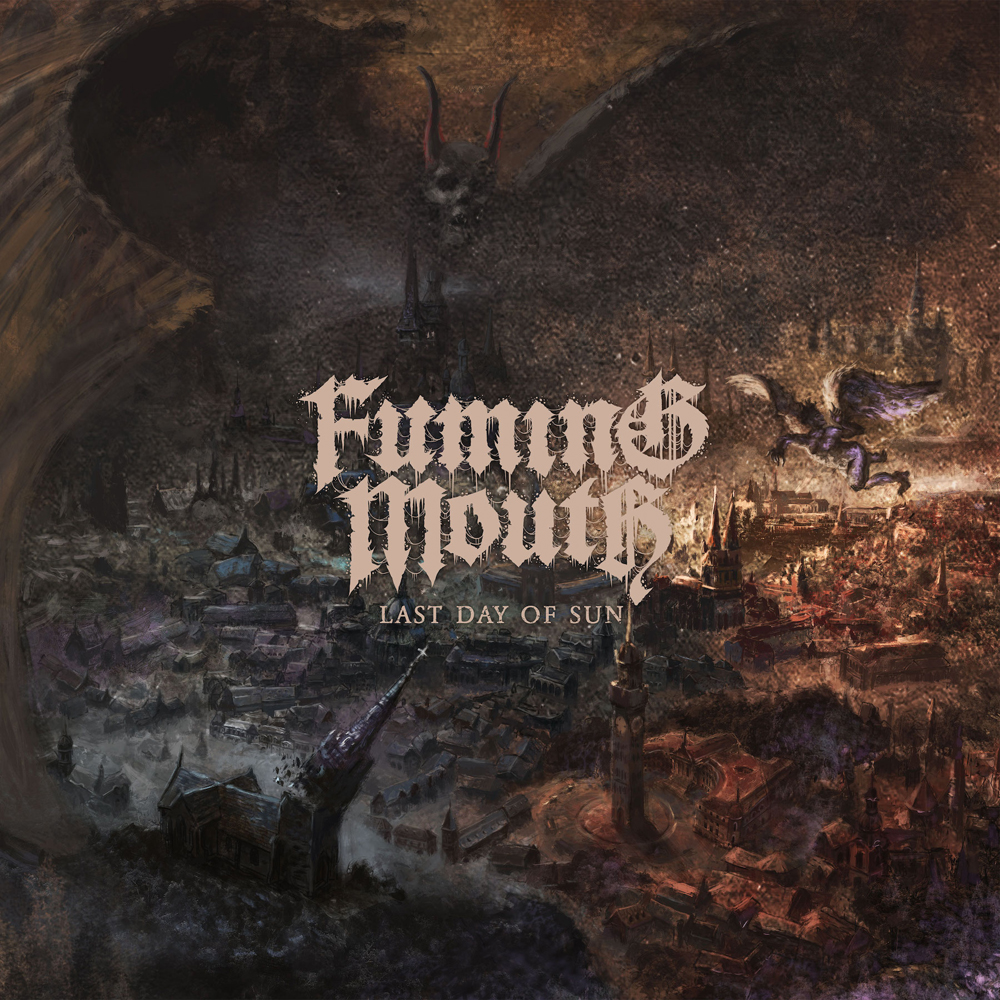 Buoyed by the ragged, clangorous production of CONVERGE's Kurt Ballou, whose signature God City Studio sound rivals that of the Sunlight Studios' HM-2 pedal-powered guitar grind that made "Swe-death" a thing back in the day, the heavy side of the band almost always connects here. At six-plus minutes, the surge and slog opener "Out of Time" is overlong but provides an effective back and forth where the tempos are concerned, gradually working itself into a lather a la "Hell Awaits" atop the clatter of James Davis' drummingand delivering some beefy grooves and plenty of ENTOMBED-like grit along the way.
"Respect And Blasphemy", "The Sign Of Pain" and "I'll Find You" - maybe the most brutal love song ever - are full-on ragers, topped by Whelan's drill sergeant bellow, whereas b>"The Silence Beyond Life", "Kill The Disease" and "Postfigurement" follow the "Out Of Time" script and play faster parts against creepy crawl slowness and thunking breakdowns. Oddly enough, "Rest In Piss" is actually the album's catchiest tune with its loping hooks and bouncy bottom end, though that is offset to a degree by lurching slow parts.
After a year of chemo and a bone marrow transplant, Whelan gets a heaping helping of catharsis with Last Day of Sun. The grim, visceral work, with its undercurrent survival instinct theme, turns something as uniquely personal as a brush with deathinto an over-the-top metaphor that is perhaps more relatable, in some weird way - who doesn't love a good end of the world opus? And though it stumbles from time to time, Last Day is compelling, cacophonous and genuinely inspired.
3.0 Out Of 5.0