All Photos By Larry Petro/Petrofyed Photography
Band Photo Credit: Enrique Sanchez
This band seems to really like playing in Texas! After playing here this past April New York City hard rockers ASPREAD EAGLE returned to the Lone Star State once again with a string of shows throughout the state last week. And like the previous show, the band landed at the Concert Pub North for a Friday show on what was a dreary, chilly night.
For those unfamiliar, SPREAD EAGLE formed back at the end of the 80s ad by 1990 had released their first, self-titled album. Most people will remember them from the rocking song "Switchblade Serenade" which still gets airplay occasionally on SiriusXM's "Hair Nation". The band's second album, Open To The Public dropped in 1993 and then the band went silent for a number of years as its members did other projects. Vocalist Ray West has another project, SUPLAFLY, with bassist, songwriter, producer, and session musician Miguel Gonzalez and they have an album called The Vibe coming out early next year. He was also the vocalist for WEAPONS OF ANEW for a time. Bassist Rob De Luca really needs no introduction as most people will also know his work with numerous artists like Sebastian Bach, UFO, George Lynch, Vinnie Moore and HELMET. In my humble opinion this band should have be bigger than it was but unfortunately timing is everything and coming in at the end of the 'hair metal' era just before grunge took hold didn't help their cause.
The band revived back in 2006 with current drummer Rik De Luca, cousin to Rob joining in 2010 but it wasn't until 2017-2018 when the band signed to Frontiers Music and released their third album, Subway To The Stars in 2019. The band has continued to tour around the country and has even played overseas at some festivals such as Hull Metal Heaven and Hard Rock Hell and is currently in the process of demoing their fourth album.
I had intended on having this review up much sooner but had been a bit under the weather prior to the show and originally had planned on covering the PIERCE THE VEIL show in Houston on 11/12 but made the switch a few days ahead of time to cover SPREAD EAGLE instead and I'm glad I did, no offense to PTV of course and as it turned out I found someone who wanted to cover that show anyway so it all worked out. However, in the days following the show I became ill again and so this review got delayed, sorry guys!
Within just a couple of minutes of entering the venue I ran into newest addition to SPREAD EAGLE, Italian shredder Gianmaria "Jommy" Puledda who's part of the band's touring lineup. He was at the bar getting a beer and some water when he realized he didn't have his credit card on him and of course I offered to take care of it. While I was still there I ran into vocalist West who told me after a brief introduction and discussion that the show would be 'loud as fuck'. A trip to the merch table followed where I met Rob De Luca who was manning the various items for sale that included shirts, signed drumheads and setlists and several varieties of Rob's picks including from his time with UFO ad Sebastian Bach. These bands had played the Concert Pub about 6-8 years ago and I was in attendance for both. I always try and support the bands I see by getting some kind of merch and tonight's purchase was the signed 14" drumhead for a quite reasonable $40.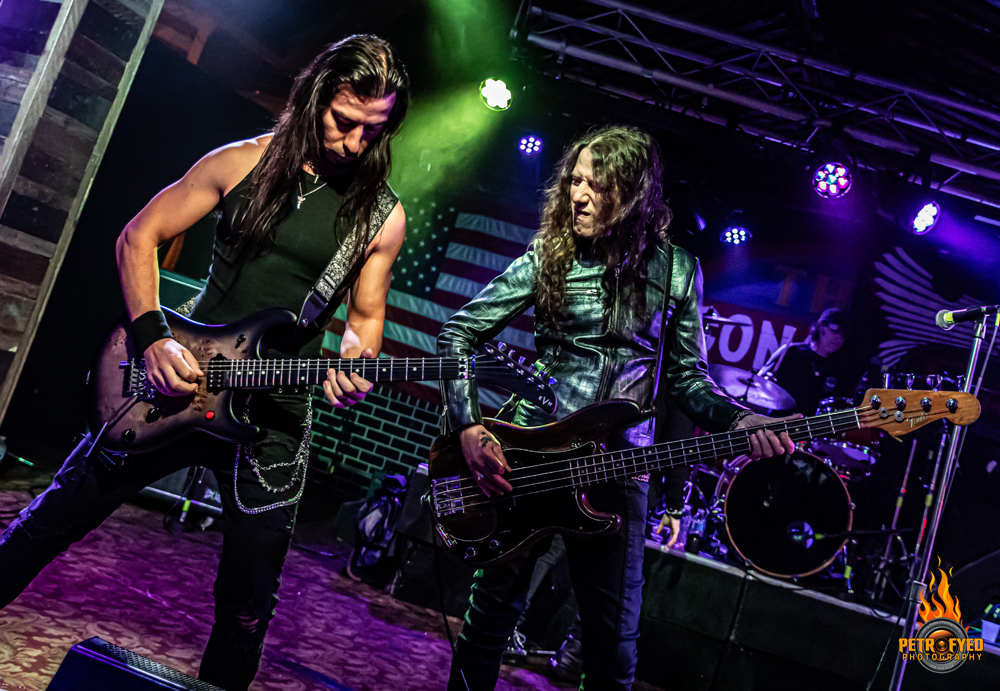 I was a little dismayed at the somewhat sparse crowd for the show. Maybe it was the dreary weather (though it was a Friday night) or the fact that they had played here 7 months prior but it didn't matter to the band. What we got was a nice, solid rock show, the same kind of show we would have gotten if there were a thousand people in attendance. The band started the set with the title track to the latest album Subway To The Stars and immediately followed it up with the rollicking "Sound of Speed", one of about 4 or 5 tracks from the Subway. The band went back to Open To The Public for "Devil's Road" then back to Subway for "More Wolf Than Lamb".
Ray West was very engaging to the crowd and accordingly the crowd was very vocal making it seem as though the house was full of folks. West mentioned on several occasions how grateful he was for the people who came and for the ability to still be playing rock 'n roll at this stage of the game. The set was heavy on the band's debut album with tracks like "Broken City", "Back On The Bitch" and "Thru These Eyes" being performed and even a nod to Rob with the deep UFO cut "Push It To The Limit" included. The band's two biggest hits came next, "Switchblade Serenade" and "Scratch Like A Cat", then "Solitaire". We even got an additional song added to the set in the closing number, a rocking cover of the INXS hit "Don't Change A Thing".
I had never seen SPREAD EAGLE before and I am so glad that I chose to go to this show. The band isn't going to get rich from playing these shows but they give it 110% every night and love what they're doing. They have just a couple more shows booked for this year and a couple already for next year including a performance on the 2024 Monsters Of Rock Cruise in March. Check 'em out if they're near you and head to https://spreadeagle.us/ for all things SPREAD EAGLE!
Interesting note: One of the people who was at this show was former BULLETBOYS bassist Lonnie Vencent, who had just recently moved back to the Houston area (he actually lives not 5 minutes from me). He told me that he would be working on some new music and such with a new band of players from this area so stay tuned for that!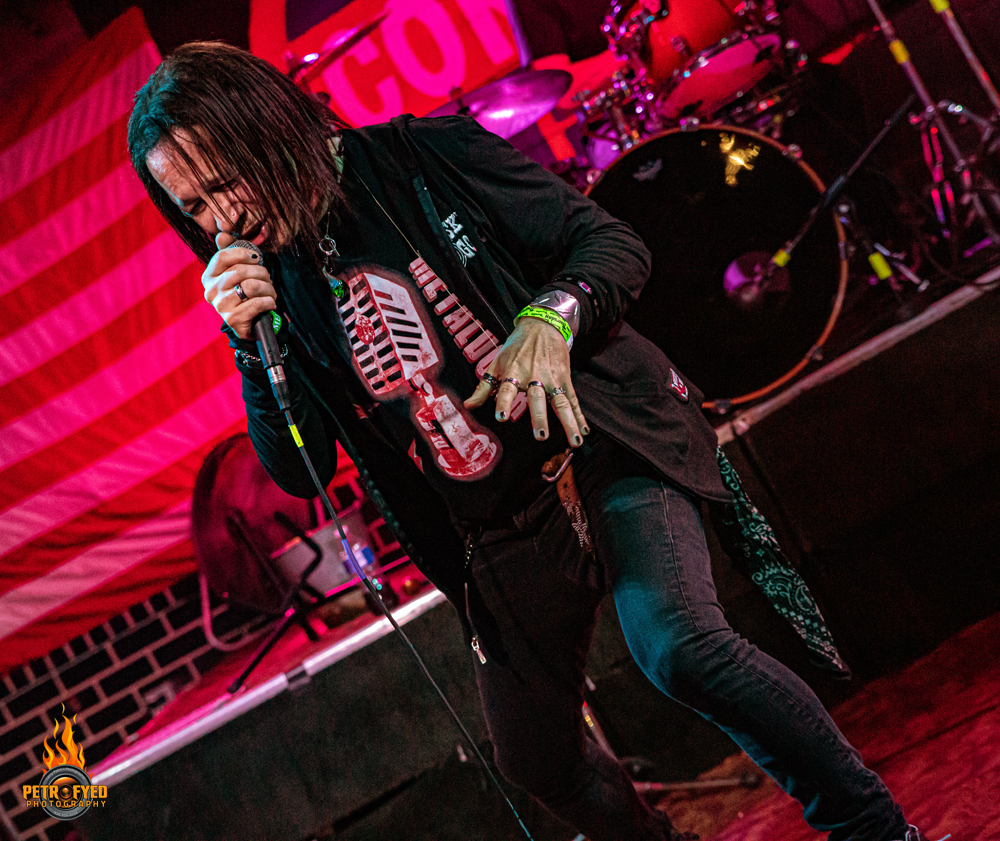 Setlist:
"Subway To The Stars"
"Sound Of Speed"
"Devil's Road"
"Back On The Bitch"
"More Wolf Than Lamb"
"Broken City"
"Suzi Suicide"
"Thru These Eyes"
Jam Session with West rocking on the drums with Rik
"King Of The Dogs"
"Push It To The Limit" (UFO Cover)
"Switchblade Serenade"
"Scratch Like A Cat"
"Solitaire"
"Don't Change A Thing" (INXS Cover)
Related Content:

2023 - Ray West SUPLAFLY SUPLAFLY News

2019 - SPREAD EAGLE Subway To The Stars Review

Check out some more photos from the show!
All Photos By Larry Petro/Petrofyed Photography