JUNKMAN Recaps The 2023 AFTERSHOCK Festival

By Junkman, On-Air Personality
Sunday, November 19, 2023 @ 10:11 AM

| | | |
| --- | --- | --- |
| | | 4 Days Of Fun In California's Capitol, October 5-8, 2023 At Discovery Park |
All Live Photos By Steve Thrasher, Others By Junkman
For the umpteenth time, I travelled to California's capitol city, Sacramento, to attend the four-day Aftershock Festival. Alongside over an estimated 160,000 other music and rock lifestyle fansfrom all 50 states, 40 countries, and every continent besides Antarctica , I saw plenty of action, both on and off the 4 stages. As always, there was plenty of everything in terms of sights, sounds, tastes, and especially being amongst a tribe of like-minded thinking people for an entire weekend. It's something that I always look forward to. This year, once again, it did not disappoint.
Billed as "The West Coast's Largest Rock Festival", Aftershock, once again, took place at Discovery Park, a huge, 300 acre public parkland not far from downtown Sacramento, surrounded by trees, as well as the 5 freeway and the Sacramento and American Rivers. Produced by Danny Wimmer Presents and sponsored by the likes of Jack Daniels, Shockwave, and Coors Light, who all had their names on the four stages, as well as other contributing companies who partnered up, such as LYTE, Topo Chico Hard Seltzer, Hop Valley Brewing, Eargasm, The Pretty Cult, MortusViventi, and Hellflower Soap Company. The event is also proud to host nonprofit partners Artists For Trauma, Fxck Cancer, Take Me Home, and To Write Love On Her Arms.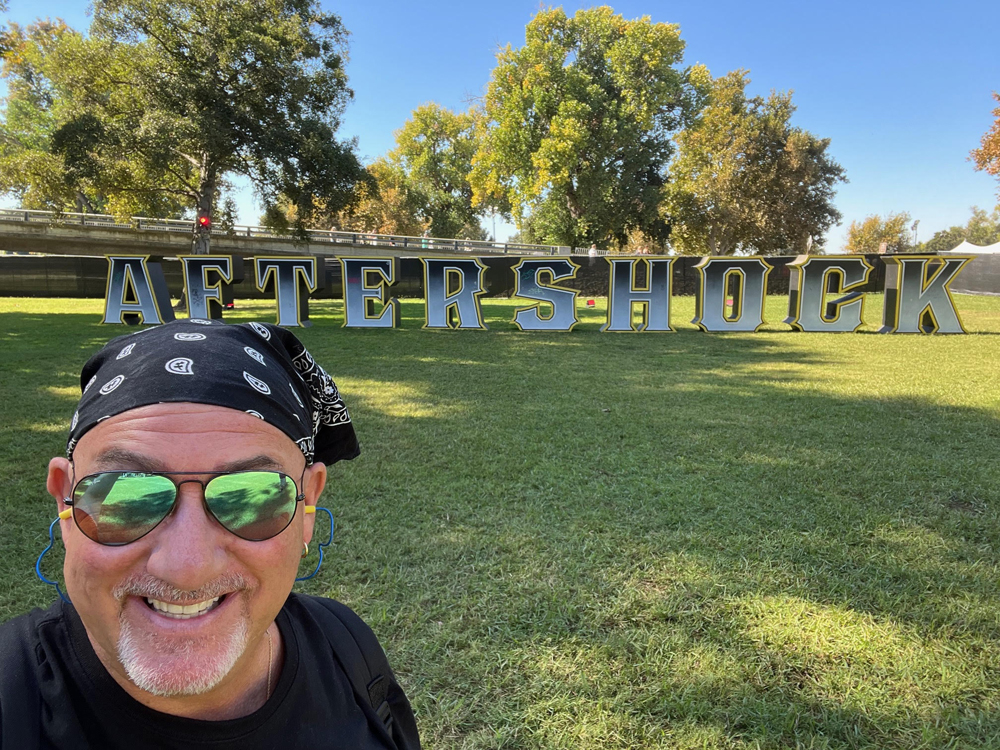 The two main stages, "Jack Daniels" stage and "Shockwave" stage, were separated by a very large VIP section, which gave VIP's a great spot to view the main stage action. Towards the back of it were comfy couches and chairs overlooking a large video screen with a live feed from the main stages and a large sound system. There were plenty of trees for shade from the mid-90's temperature, and plenty of food and water stations to keep attendees comfortable. I was pleased to see two of my favorite vendors return to the festival. For food, the Drewski's food trucks (www.drewskis.com) were out in full force. There were quite a few of them scattered about the grounds. They offered a variety of tasty treats, including my favorite carb-protein combination, Totcho's, a concoction that combined spicy tater-tots covered with either Pulled Pork or Tri-Tip, and smothered with a garlic aioli, BBQ sauce, housemade cheesesauce and bacon, as well as jalapeno's and green onions, which I declined to have on mine. This made the 8-9 miles of walking I did per day possible, as again, the temperature, just like the grill at Drewski's was cookin'.
As for "Liquids" my choice was easy. Festival sponsor Hop Valley Brewing Company (www.hopvalleybrewing.com) who had supplied their wonderful Hazy IPA Stash Panda at last year's event, upped their game with their Stash Bandicoot double Hazy IPA that had an APV of 8 percent. A tasty beverage that hit the spot on numerous occasions for me and many others throughout the weekend, it was without a doubt, my favorite. I also enjoyed their Pineapple Stash House IPA as well. These two libations kept me not only cool, temperature-wise, but nice and mellow as well. The guys from the brewery were hanging out all weekend, and could not have been nicer. I'm a beer guy, and they have terrific products. Be sure to check them out. Tell them I sent you!
Now, as a member of the press, I have some advantages that most do not. I have unlimited access to the expanded press tent, which was located on the far end of the VIP section. Inside the tent, were tables and charging stations, as well as couches, "misting machines" to keep you cool, and a non-stop live update from the hosts of AXSTV's Power Hour who were interviewing many of the acts that would be appearing at the festival. I was able to speak with them at one point, here's what went down on KNAC.COM HERE.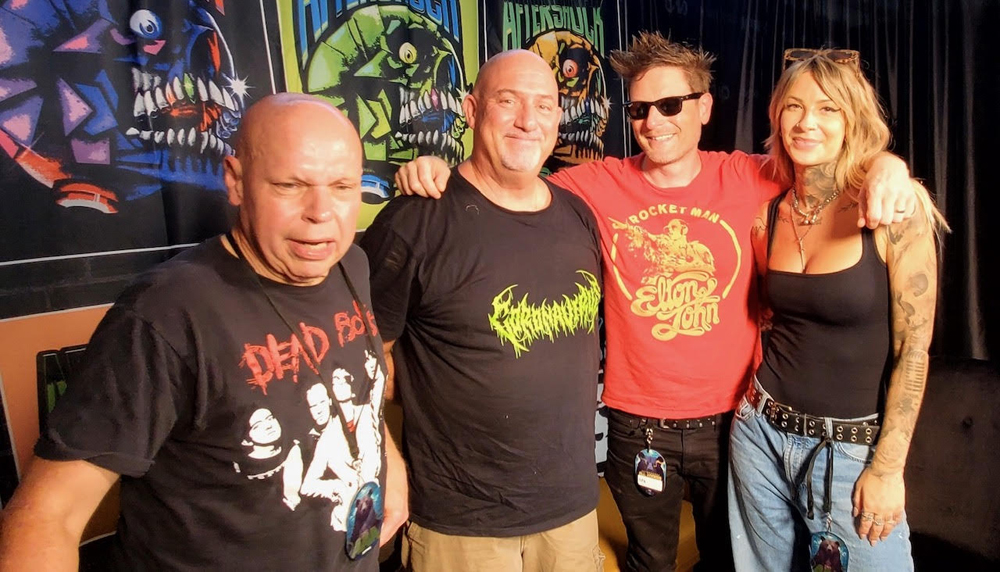 Outside the actual tent, there was a grassy area, with couches and large umbrellas and an open bar, which included the Hop Valley beers I referred to, as well as lots of other cocktails, served up by some very friendly bartenders. Next to the bar was a non-alcoholic "craft drink and coffee bar" that was hosted by Drip, a local mobile drink bar, that served up some incredible choices. My personal favorite, the Arnold Mate was a serious "heat-beater" and quite tasty. Look for them on Instagram and FB.
The Media Tent also doubled as an "Artists Lounge" where band members of the various acts would gather in between their sets to have a drink, and do interviews with the various members of the press that I was, again, fortunate to be a part of. There was also a large flat screen in the corner, so as not to miss any of the action onstage, and if that isn't enough to make you feel comfortable, celebrity chef and restaurant owner Chris Santos and his staff were cooking for us exclusively all weekend! You have seen Chris on TV on the show Chopped and perhaps have been to his amazing restaurants in places like New York, Las Vegas and Los Angeles. The dishes his staff prepared were nothing short of incredible, and Chris himself was a great guy to hang with. He's a total metal-head, and loves the music of bands like the DEFTONES and others.
Outside the stage viewing areas were lots of vendors. The tent that supplied all the official t-shirts, etc, for the 90 plus bands that would appear over the weekend was HUGE, and was filled with attendees the entire time. Many of the bands shirts were completely sold out by early afternoon in some cases. METALLICA's "Blackened Whiskey" bar was doing a brisk business and their location, right by the "Shockwave Stage" was a great place to gather, get a drink and enjoy the show.
I was pleased to see many returning vendors, among them Freak On A Leash (www.freakonaleash.com.), the dog accessory products created by KORN singer Jonathan Davis and his lady, who are both huge dog lovers were there once again, and the booth was centrally located. Trails Clothing who have been a part of all the DWP festivals for years, supplied lots of t-shirts and accessories in a wide variety of designs, and are some of the nicest people that I have met on the circuit. Check them out at www.trailsclothing.com.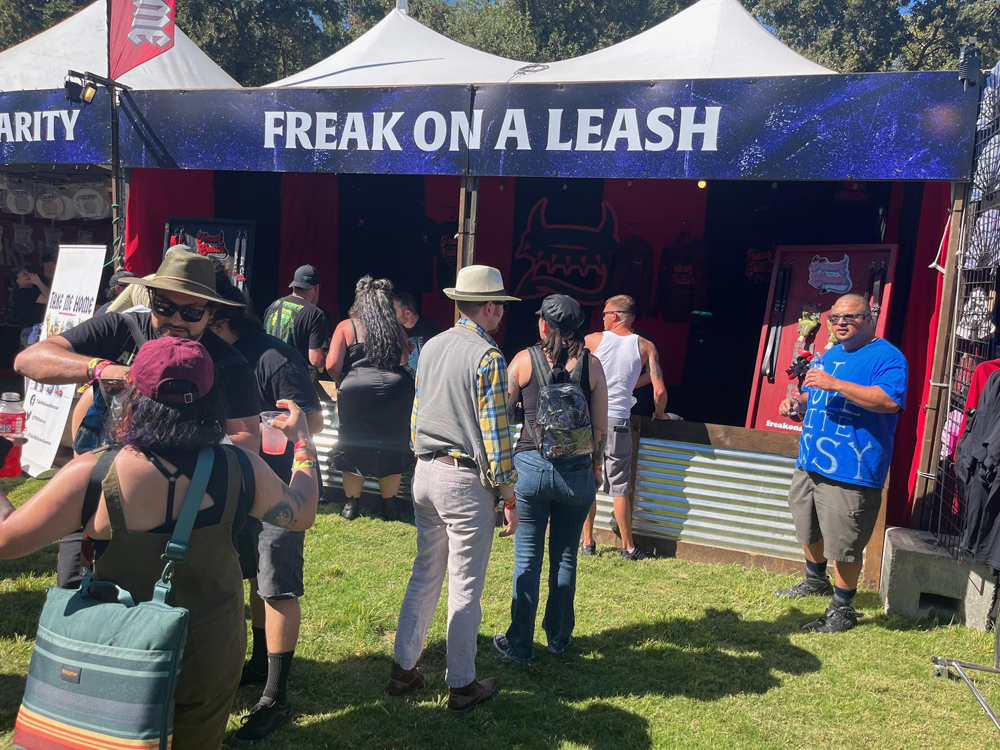 Some newcomers to the fest were a welcome sight as well. Eargasm earplugs had a booth, and if I was in charge of vendors at a loud rock festival, this would be the one I would want to have. Hearing protection is MANDATORY, although I am always shocked at how many people do not use them. Eargasm, and their very helpful staff, were fantastic about getting the word out about their products. They even had a special "Aftershock Edition" custom cased, red filtered (up to 21db!) and extremely comfortable pair of earplugs that I personally used all weekend and beyond. I may add that these are also very useful when rooming with someone who snores. www.eargasm.com.
This is a very well organized event. Kudos to the people at DWP who have really done a lot of work to make sure that this is not only fan-friendly, but safe as well. I was happy to see plenty of green-shirted volunteers who were everywhere, helping to guide the attendees. Even the backs of their shirts were emblazoned with "STAFF-Ask me, I know things..." And indeed they did, mostly about where to find the many water dispensers, bathrooms, and medical tent, as well as the always necessary lost and found. I was very impressed with their attitudes and their knowledge of what to do in case of any distress. The lost and found tent itself was a marvel. It was located by one of the entrances, near the "Shockwave Stage" and it was staffed by some of the friendliest people that I met all weekend.
These days, losing one's phone, glasses, or keys can be a traumatic experience. At Aftershock, the calming, sensitive staff was prepared. A barcode system was set up and tied to the Aftershock phone app and website. For instance, if you lost your phone, and it was found, the staff would immediately charge it, using a bank of chargers that were next to their tent. Pictures of each lost item (phones, eyeglasses, keys medicine, etc) could be recorded and posted on line with a barcode number. If you pictured your item online, and text the claim code, along with proof of ownership, it would be returned to you, either onsite or by mail. I found the system to be brilliant, and was just another example of the way the good people at DWP have put great thought and effort into taking care of the needs of attendees. There have been other festivals that do not, and the horror stories about non-organized and misinformed staff have become all too common in these busy times.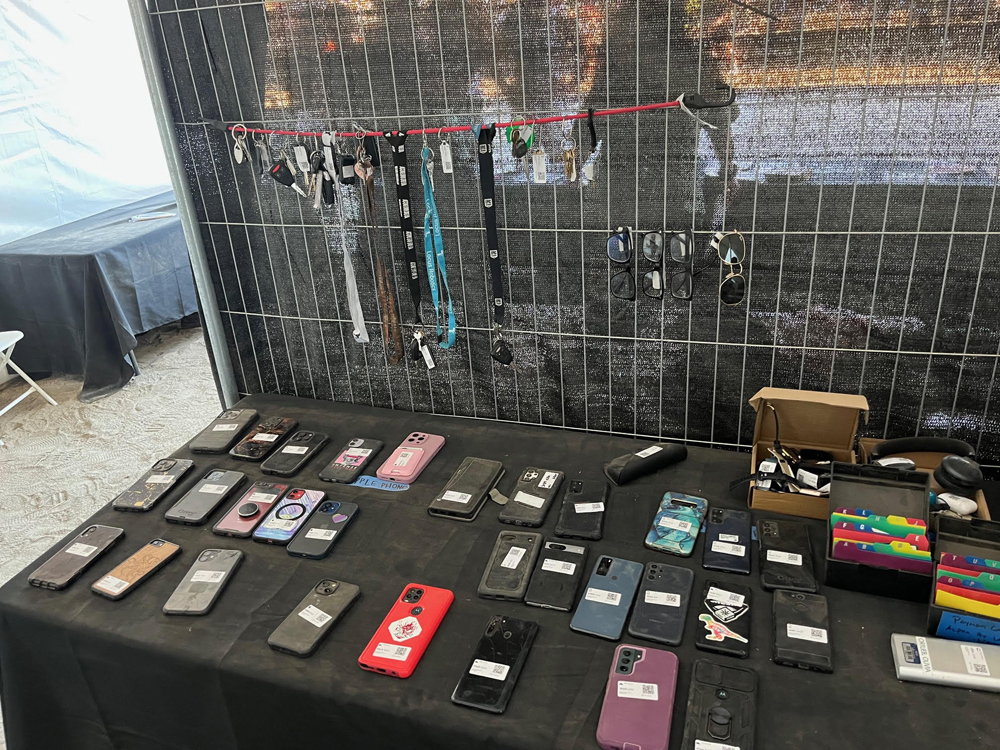 Obviously, the music is what brings out the masses to Aftershock, and again, there was a wide variety of artists to see and hear. Over 90 bands performed on the four stages throughout the four day event. With that amount of talent, there is no way to see everything, but I am a veteran of this festival, and I try and see as much as I can. I particularly like to check out artists that are new to me, as well as the headliners, and there were plenty of both. Over the years I have seen many bands on the small stages of DWP events that have graduated to being headliners on the bigger stages and beyond. It's something that I have a passion for. It's the progress of rock. And the future looks great.
I always get to the gates before the event opens. At noon, when they let the attendees in, they are immediately greeted with the PA systems all blaring the sound of the AC/DC classic "Let There Be Rock". It's like reveille for rock fans. It is a welcoming call to all. It's on. SHOWTIME! The organizers of the event have even put out a spreadsheet style schedule, available on their website, social media pages as well as phone app, of which bands are performing as well as set-times, which are very precise, usually down to the minute most of the time. This way you can plan your "attack" of which stage to invade and when to do it. Organization rocks!
As they have, every year, large stand-up letters that spell out "AFTERSHOCK" are great for photo-ops, as are the large blocks that are emblazoned with some of the headliners album covers and lyrics. They are a physical greeting to the attendees. These are always a must see, and are always filled with groups of people posing in front of them all weekend. It's yet another great idea from the people at DWP to make their attendees feel welcome.
Day 1
Opening day, Thursday was blazing, both on the stage and off. Again the mid-90's temperature hit hard fast, as did the bands onstage. The news that the reunited PANTERA had pulled out of the lineup was bad news, but the spot was quickly filled by STONE TEMPLE PILOTS, who rocked a great set on the Jack Daniels stage. Singer Jeff Gutt has been with the band a while now, and has blended in well. The band came out firing, with the rocking "Crackerman" as Gutt strutted and bounced around the huge stage and channeled original STP singer Scott Weiland in both stage image and sound. Sporting a bright red shirt, he has successfully incorporated his own style with that of the late Weiland, and the band played a very entertaining set, containing many of their hits such as "Wicked Garden" and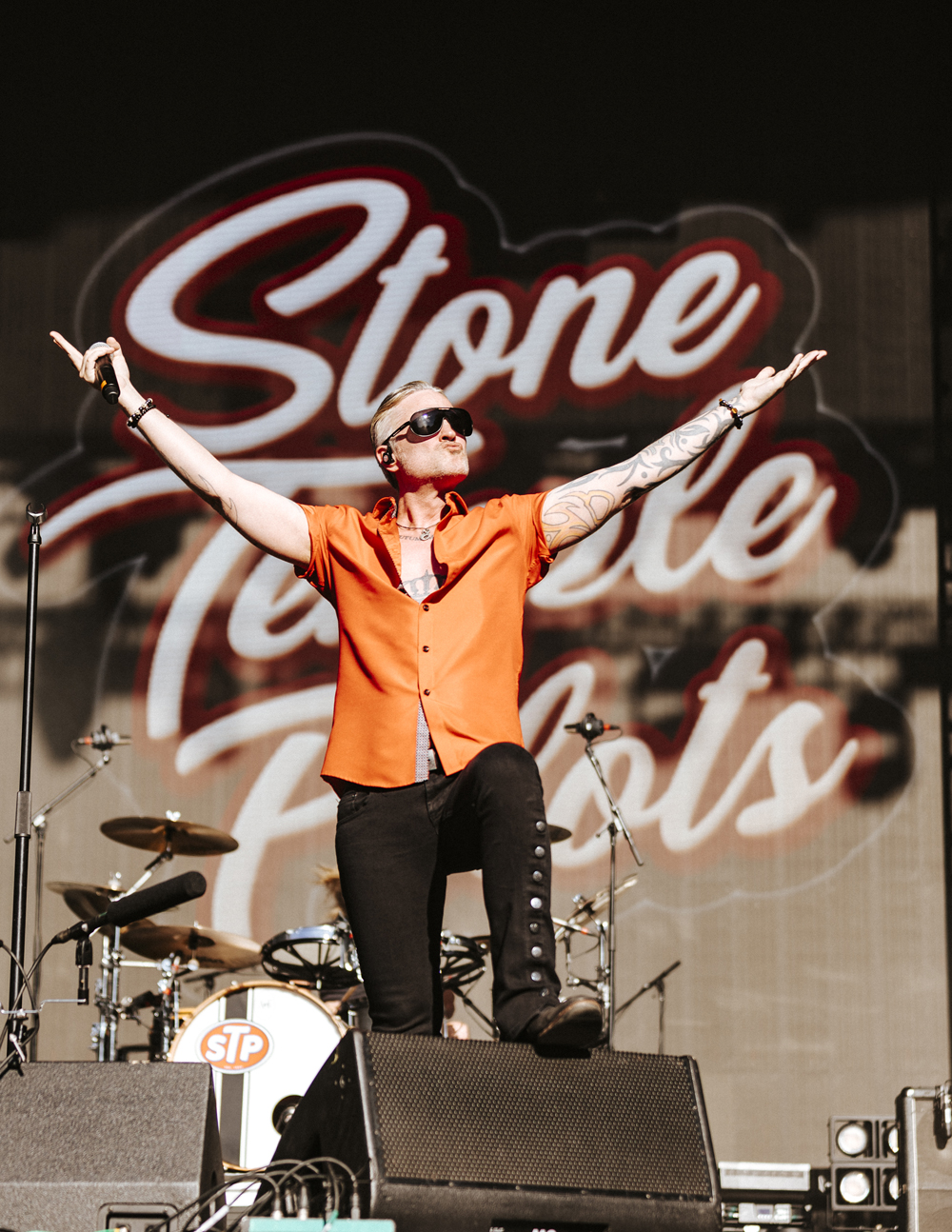 "Plush". The DeLeo brothers, Dean on guitar, and Robert on bass, were steadfast and willing to let Gutt command the front. During "Vasoline" he even jumped offstage and sang from the barrer, close to the crowd. Drummer Erik Kretz was grinning ear-to ear as he pounded his kit with a solid foundation, and the band wowed the crowd with a set closing "Sex Type Thing".
Earlier in the day, KID KAPICHI, from Great Britain, rocked the DWP stage with a pop/punk/grunge blend hybrid that caught my attention. Singer Jack Wilson's fun but snarling delivery set the tone for a very enjoyable set. His humor shone through by alluding to the heat and location of the stage that was shaded by the adjoining 5 freeway - "If only all festivals had an interstate next to the stage" and kept the fun, punky attitude loose. I look forward to seeing them again.
Another British band, the very popular DON BROCO played a very tight, exciting set on the Jack Daniels stage that had their fans singing, and moshing along to everything that was thrown to them, including "Bruce Willis" and the set closing "T-Shirt Song". Australia's KIM DRACULA was interesting in a pseudo-gothic kind of way, at least visually. Sporting purple masks, the band members thrashed about while singer Kim Dracula (aka Samuel Wellings) who was wearing a stylish captains jacket, adorned with epaulets, as well as purple hair, screamed, ala Marilyn Manson "You all want a show? I'll GIVE you a show!" He then crashed his microphone stand onto the stage and used it as a faux machine gun. He then grabbed a chain saw, and danced around, as the band played a variety of styles from straight rock, to disco, to electronica, to industrial, all in the first five minutes of the set. The sweaty crowd loved it, and moshed as well as sang along to their strange cover of Lady Ga Ga's hit "Paparazzi" towards the end of the set. A quirky but enjoyable time was had by all.
THOUSAND BELOW, from San Diego, California cranked their hardcore blend of bass guitar driven rock on the Coors light stage. Singer James DeBerg has a squeaky voice that reminds me of Jonny Hawkins of NOTHING MORE, and they were well received. PENNYWISE did their usual chaos on the Shockwave Stage in front of their amped-up, and hardy fans. There were plenty of onstage "Fuck You's" all throughout the set, including their concert standard "Fuck Authority" which really is the anthem of the aging punk fan. They, as always, wrapped up their set with the anthemic "Bro Hymn" bringing on friends, as well as some members of the DWP staff, to sing along onstage.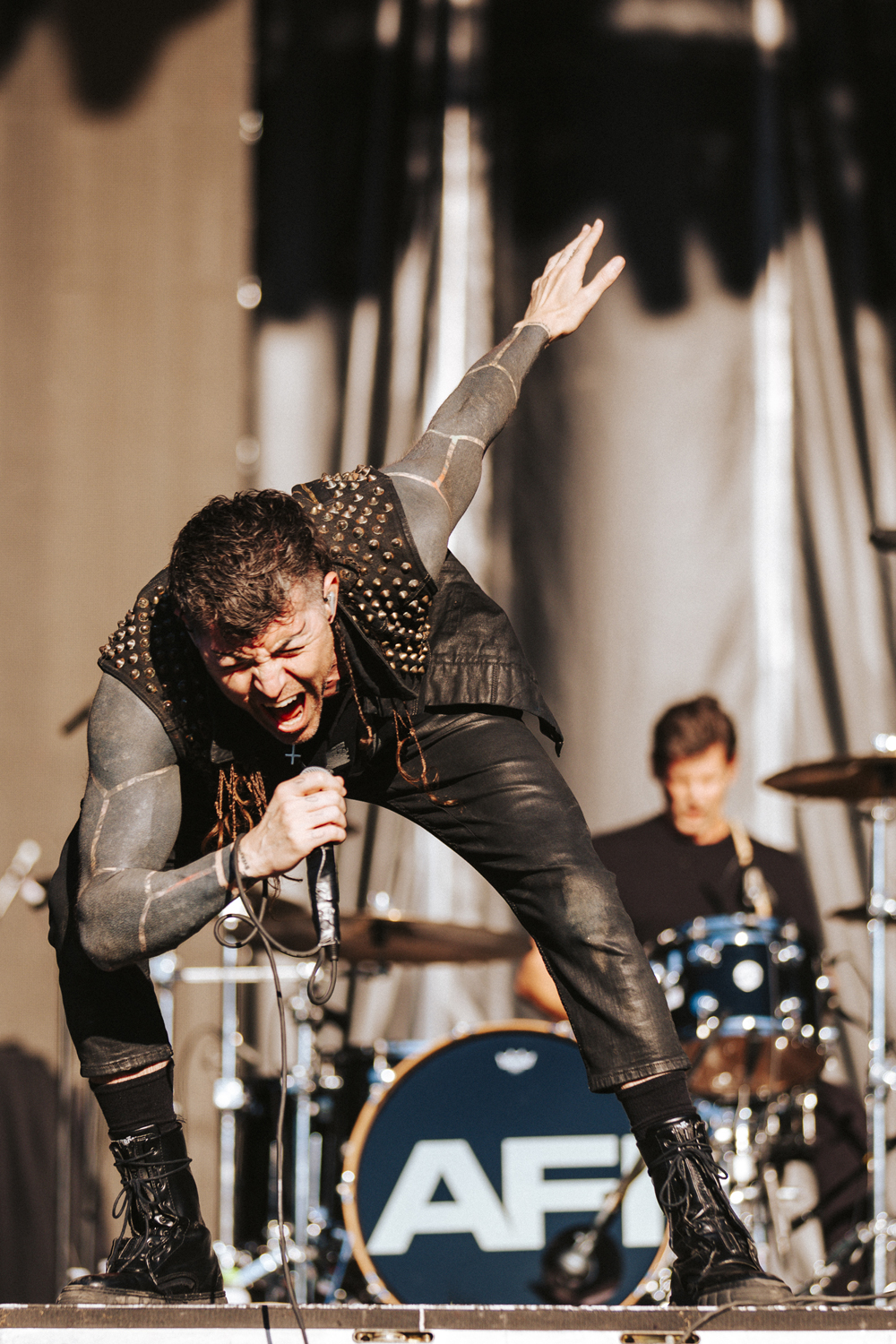 AFI cranked out a great set of pop-punk on the Jack Daniels Stage. Singer Davey Havok, sporting a black studded jacked that spelled out "Death of The Party" on the back, got the party started from his elevated perch on center stage, with the sing-along "Girls Not Grey" that had the crowd bouncing from the minute the band arrived onstage. The band is tight, and seemed to be in sync with the sweaty Sacramento crowd. Havok mentioned his time living in the city and discovering punk rock among other things and thanked them for being there in the extreme heat. By the time they finished their set with their big hit from 2006, "Miss Murder" the entire crowd seemed to collectively catch its breath at once after roaring their approval.
One of the pleasant surprises of the opening day, was a terrific performance from THE CULT on the Jack Daniels Stage. With the sun starting to set, the band, who it seems have been around forever, cranked out a hit filled twelve-song set that gave their fans, myself included, just about everything they would want to hear. Singer Ian Astbury is a dynamic force onstage, and has returned to the energetic front man that has sometimes escaped his grasp the last few times that I have seen them. "Sun King" was the perfect song for this part of the late afternoon, and guitarist Billy Duffy's chunky guitar chords were the driving force in projecting the band into the stratosphere.
Duffy just exudes coolness, with his shades and "Rock star" low-slung Gibson and Gretsch guitars. Asbury, wearing a black ensemble featuring a man-bun and "culottes" sang in an inspired way, and again cranked out the hit's such as "Little Devil" and "Wild Flower" to the solid drum beats of John Tempesta, one of the more solid beaters in the game. "Let's see some Davey Havok energy" Asbury exclaimed, referring to AFI's animated singer, and the band cranked out the dreamy "Rain" as well as ended their killer set with the mega-hits "She Sells Sanctuary" and "Love Removal Machine". After seeing so many young bands, it was great to see a "classic" band such as THE CULT as well as STP in command, and be just as relevant as the new breed of bands to the festival attendees.
INCUBUS is always a big draw, and tonight on the Shockwave Stage, they did not disappoint their large following with a great set, that combined plenty of hits and material from their vast catalogue, as well as some cool cover material. Opening with the jittery "Magic Medicine" that featured DJ Chris Kilmore and his turntable expertise, singer Brandon Boyd is, as always the main focus. His pleading vocals and genuine connection with the fans make him easily adored, especially from the female fans. It wasn't until the fourth song of the set, 2001's "Nice To Know You" that it seemed that the crowd and the band were in sync and completely engaged. A cool cover of THE BEATLES classic "Come Together" was nice, and fun to hear.
The latter part of their set, was when the band really hit full stride. "Are You In?" featured a bit of THE DOORS' "Riders On The Storm" in its midst. Boyd, now shirtless, then led the band through two more of their bigger hits, "Stellar" and "Pardon Me" while directing the latter to becoming an audience sing-along. "Wish You Were Here" as they have usually done, included a bit of the classic PINK FLOYD song of the same title, and the band drove the crowd to new heights of euphoria with the set-closing sing-along 2002 pop song "Drive" that featured guitarist Mike Einzeger joining Boyd center stage while strumming an acoustic guitar.
I caught a great set by L7 who closed up the Coors Light Stage. These ladies brought it! Singer/guitarist Donita Sparks and her snarling delivery were just what I needed to get me fired up, and, by the time they cranked up their 1992 single "Shitlist" I and everyone around me was psyched. Singer/guitarist Suzi Gardner blasted out chunky, punky riffs and occasionally sang lead. She told the crowd she was from Sacramento, and exclaimed "I've gone from Fairytale-town, to under the 5 (Freeway, where the stage was positioned) playing rock n Roll!" Barefoot bassist Jennifer Finch kept her muddy tone intact all through the set. Finch sang lead vocals on "Everglade". These ladies kept the energy flowing and driving, much to the crowds delight, and heads were banging everywhere, including my own. "Surf's up, motherfuckers" they screamed before a raucous version of "Monsters". They finished out their set with the hit "Pretend We're Dead" and a blazing "Fast And Frightening" which was like a metaphor for L7's music.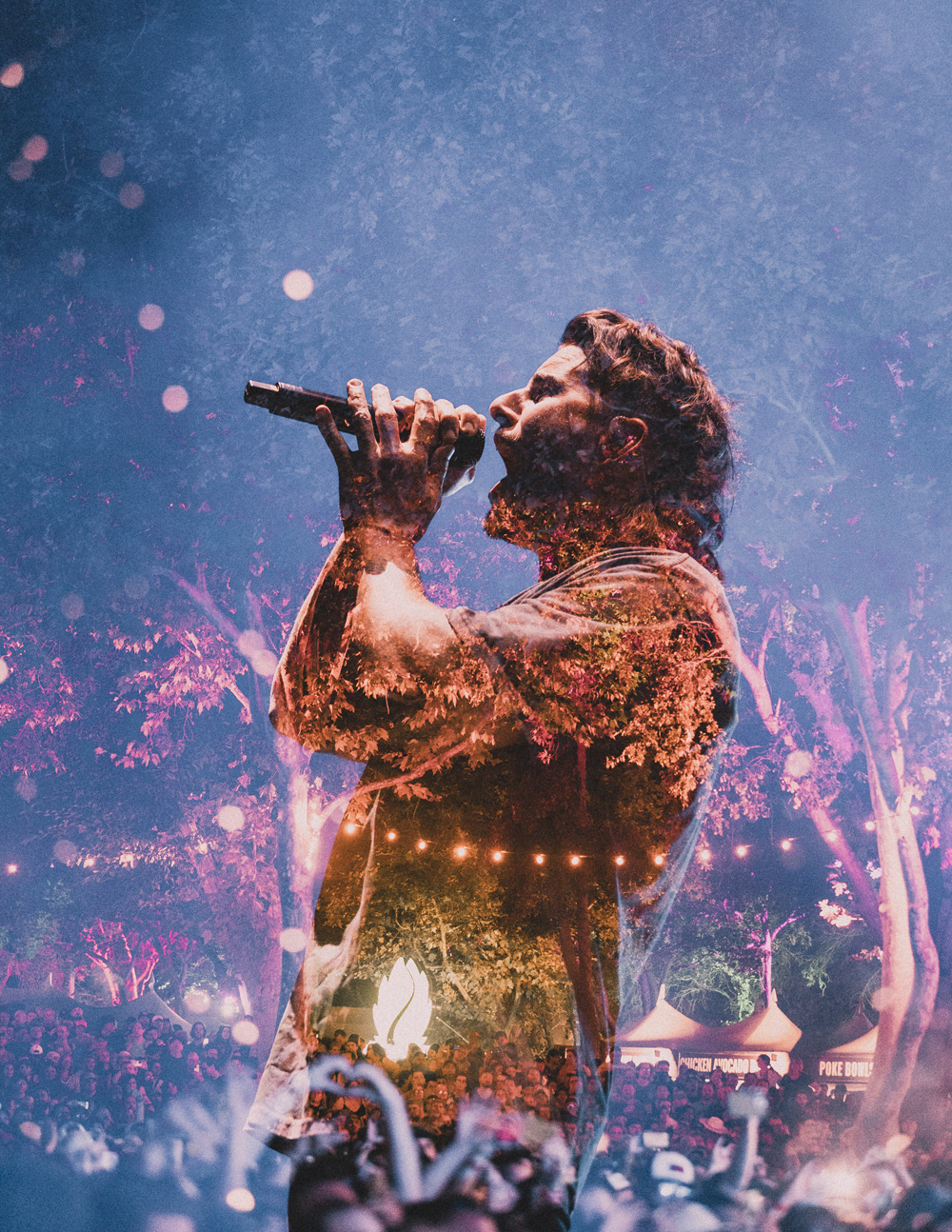 Headliners AVENGED SEVENFOLD had not performed at Aftershock since 2016. Their triumphant return coincided with their new Life Is But A Dream release, and dove right into it with "Game Over" and the bizarre and topical "Mattel". Singer M. Shadows, seated in a wheelchair, soon leaped out and stalked the stage while a backdrop of flames bathed the stage behind the band. "This is day one, you guys are gonna have to pace yourself" he teased as the band cranked out "Hail To The King" that seemed to jump-start their adoring fans, who chanted "Hail" repeatedly.
A7X guitarists Zacky Vengeance and Synyster Gates dual guitar attack is what drives their music, especially on songs like "Buried Alive" and the title track from the 2016 Grammy nominated "The Stage" which singer Shadows remarked beforehand "It looks like no one has gotten hurt out there, so we've got time to mix in a couple extra songs we don't normally play during these festival sets."
A fun moment occurred while Shadows noticed a cockroach onstage. "I know there's a PAPA ROACH joke in there somewhere" he kidded, referring to the Sacramento hometown heroes. He continued by telling the crowd that the band had taken the last 6 years off to make sure they could return to having more fun onstage. Suddenly, his emotions changed as he spoke about the loss of their late drummer Jimmy "The Rev" Sullivan, and the band played the somber "So Far Away".
More A7X favorites like "Nightmare" and "Bat Country" kept the crowd engaged as their killer drummer Brooks Wackerman drove those songs to new heights with his explosive drumming skills and especially during the coda of "Unholy Confessions" which followed. Closing their set with 2007's "A Little Piece of Heaven", AVENGED SEVENFOLD confirmed their popularity with a roar from the audience and proved that they had triumphantly returned to the mainstream. It was great way to end the first day of a wild weekend.
Day 2
Day 2 of the festival got off to a rousing start as FLAT BLACK, featuring former FFDP Jason Hook on guitar, got the action started on the Shockwave Stage. Solid band, great songs, and an adrenalized performance was a fabulous "wake up call" for the still arriving crowd. I am looking forward to their debut release. Early sets by MEMPHIS MAY FIRE as well as FIRE FROM THE GODS got the crowds pumping fists and leaping about, as well as getting small mosh pits started.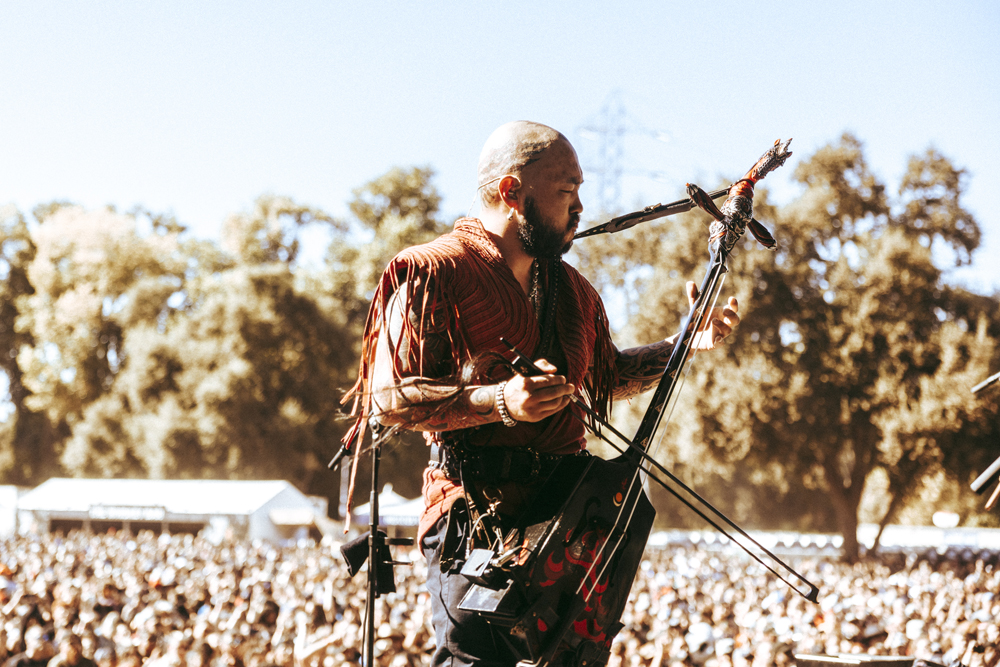 Mongolian Metal band THE HU is always a treat. Their unique stage presentation and hypnotic material, using traditional Mongolian instruments and chanting combined with a heavy rock base on songs such as "Wolf Totem" and an interesting and very cool cover of METALLICA's "Through The Never" opened a lot of eyes. The very popular SKILLET thrilled their audience with a hit-filled set on the Jack Daniels Stage, while Seattle's DRAGGED UNDER cranked out a brief set on the Coors Light Stage.
Progressive rockers COHEED AND CAMBRIA returned to Aftershock and singer/guitarist Claudio Sanchez brought out an arsenal of guitars to cruise through their 10 song set, that culminated with the crowd pleasing "Welcome Home" and Sanchez playing his double-neck guitar behind his head and with his teeth at times. They were followed by the legendary MEGADETH, who packed the Shockwave Stage area with fans, and treated them to a fine mix of the old and new, starting things off with the classic "Hangar 18". Dave Mustaine was in fine form, and actually smiled as he looked out on the crowd. New MEGADETH guitarist Teemu Mantysaari has fit in seamlessly and was totally in sync with fellow band members, ultra-bassist James Lomenzo, drummer Dirk Verbeuran, and of course the one and only Mustaine. He waved to and addressed the adoring crowd of head-bangers. "Are You feeling good?" he asked. He then told the crowd that they were headed home after the show, but they would be back in 2024. Mustaine then spoke of the new album The Sick, The Dying...And The Dead and introduced the single, the appropriately titled "We'll Be Back">
The crowd, and especially the mosh pit, erupted as if it was a past MEGADETH classic, and the band followed up with just that - a trio of "Symphony of Destruction", "Peace Sells" and then a brutal "Holy Wars...The Punishment Due" that brought chaos to the festival grounds in true MEGADETH fashion, and their 40 minute set ended far too soon, for me and many others. As a fan I will take what I can get, and any MEGADETH is fine by me.
LIMP BIZKIT followed with what I and many others considered the most bizarre set of the day. With a huge American flag as a backdrop, singer Fred Durst arrived onstage in full cowboy getup, complete with a straw hat, checkered shirt, huge belt buckle, boots, and more. He spoke in a southern drawl for the entire set, cracking silly redneck jokes, and dancing the "Cotton Eyed Joe" during songs. You'd swear that he was just another guy in line at the Wal-Mart in Amarillo, Texas.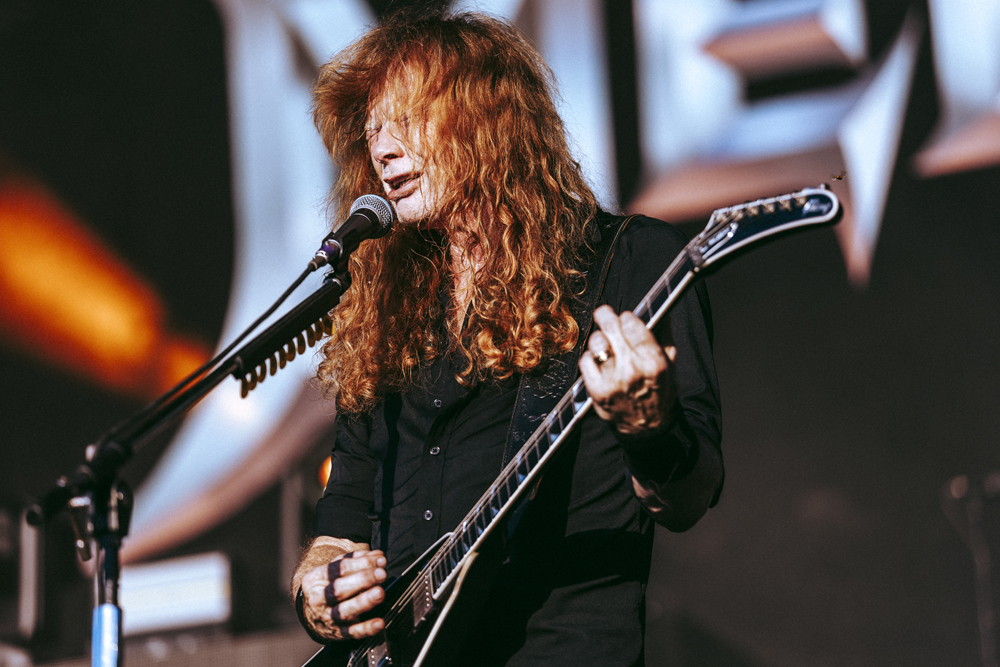 His counterpart, guitarist Wes Borland, had his usual bizarre makeup and scary persona started things rolling with the guitar intro to "Break Stuff" and the crowd went wild. The words "Nu Metal Cowboy" were displayed above DJ Lethal and the band delved into bits of BON JOVI, METALLICA, and NAUGHTY BY NATURE during their hilarious set. Durst was all over, still in character, as he joked that California Governor Newsome was backstage, and introduced festival producer Danny Wimmer, who was standing side-stage, enjoying the show. After a rousing version of their hit "Nookie" Durst also brought out a young, mohawked boy onstage, and attempted to get him to sing along to "Full Nelson". The kid looked scared to death.
As DJ Lethal played a bit of "Take This Job And Shove It" Durst continued with his cowboy persona, and then abruptly tore into a funky "My Way", a hit for the band from 2000. He pleaded with the crowd to emulate the Woodstock 1999 crowd to "Get the fuck up" as they blasted out their classic "Take A Look Around" as the crowd bounced in unison, and roared. LIMP BIZKIT closed out their set, by repeating their opening song "Break Stuff" telling the crowd that "They are not allowed to do this, and we've never done this before" before cranking it up and once again driving the crowd into a frenzy.
The party continued on the Shockwave Stage as GODSMACK brought their pyro-fueled stage show back to Sacramento. As the large curtain bearing their logo dropped, the band opened with "When Legends Rise", the title track of their 2018 release, and cranked out a powerful 12 song set to their adoring fans. GODSMACK concert staples like "1000hp" as well as "Cryin' Like a Bitch!" and "Awake" went over well with their long time crowd. Singer/guitarist Sully Erna, small in stature, but huge in voice and personality led the charge. GODSMACK performed 4 songs off their latest, the appropriately titled Lighting Up The Sky. After telling the the crowd that the band was celebrating 25 years of being a band, they performed the punky "What About Me" before delving into a few new songs, the single "Surrender" and "You And I". One of my favorite parts of a GODSMACK show is the "Drum battle" (officially known as "Batalla de lostambores") between Erna, who is an accomplished percussionist, and drummer Shannon Larkin. As a drummer myself, it is always fun to see them mix it up and have a blast together as they jam to a mix of classic rock songs, all the while showing off their impressive array of drumming chops. The 1-2 punch of GODSMACK favorites "Whatever" and "I Stand Alone" was a great way to end the set, as the crowd roared their approval.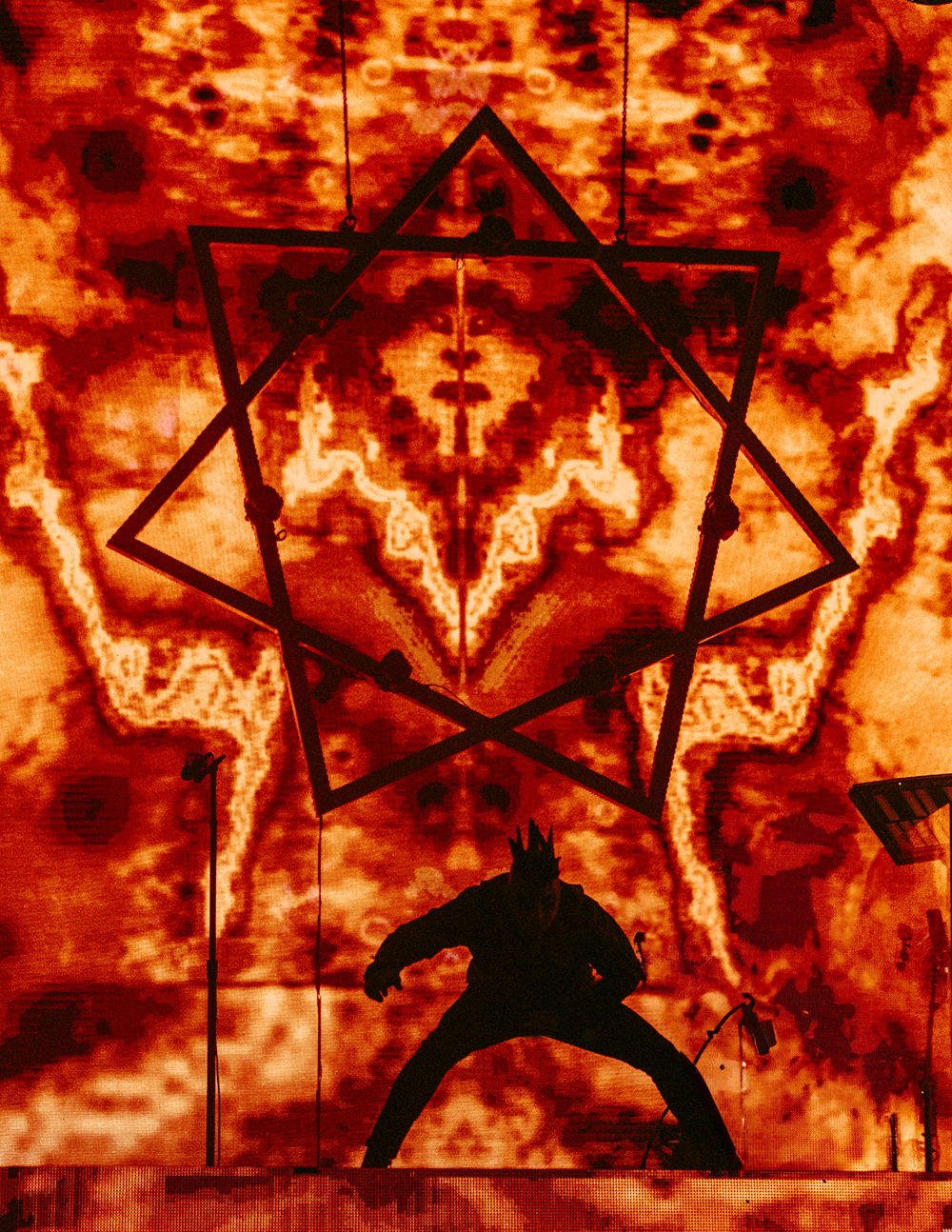 Closing out the day was none other than TOOL. Always a big draw, even though lead singer Maynard James Keenan is sometimes completely obscured from the audience. Tonight, just like the 2019 Aftershock Fest, he appeared to the right of drummer Danny Carey on his drum riser during the opening song "Jambi". What followed was a hypnotic 12 song set that featured many TOOL favorites, including "The Pot", an awesome version of "Pushit" featured extreme guitar noodling from Adam Jones, thundering bass lines from Justin Chancellor and "Forty Six & 2" that brought out an incredible light show that enhanced the experience.
Keenan, sporting a spiked Mohawk and heavy eye makeup, leered on the riser like a gargoyle, and never addressed the sold out crowd. His vocal range goes from a pleading whine to an aggressive growl that rarely changes song to song. An extended "Invincible" from 2019's Fear Inoculum spotlighted all band members, and Carey's tribal drumming held it all together. "Stinkfist" a personal favorite of mine, brought out the loudest applause at song's end. The band combined it with "Swamp Song". It was then that, shockingly, Keenan actually spoke. "Thank you very much Aftershock. You all smell great" was all that was said, and the band then launched into the set closing "Aenema" and suddenly, day two of the festival came crashing to a close.
Day 3
Day 3 of the festival started with the news that SLIPKNOT singer Corey Taylor, who was scheduled to play that afternoon on the Jack Daniels Stage, had injured himself at a show in Los Angeles and would be unable to perform. Bummer. Two of my favorite acts that I was looking forward to seeing had now bowed out (the other being PANTERA, originally scheduled for the first day...). This time there was no replacement act, just some shifting around of set times, and as always the crew was on the case, and it worked seamlessly. Good job again, DWP!
I started the day by checking out AMBER WILD on the Coors Light Stage. AW is the band fronted by Evan Stanley (son of Paul Stanley, he of a band called KISS) and I was pleasantly surprised by the band's terrific blend of rock and pop. The songs, such as "Breakout" and "Silver" were catchy, and the band put on an energetic performance. I noticed many in the crowd singing along to the songs, so even though the band's debut had not been released yet, they were still getting their music out to the people. I enjoyed their set.
Early sets by LUNA AURA as well as ITHACA spotlighted young, attractive female vocalists. BOSTON MANOR, a young British band, with a vocalist that sounded reminiscent of a young Perry Farrell, looked like they would literally roast as they played their blend of grunge pop on a direct sun-soaked Shockwave Stage. The weather on Day Three was becoming a factor early in the afternoon as it seemed hotter than the previous two days of the festival. As I mentioned, there was plenty of relief from the heat, but by the third day it was beginning to catch up.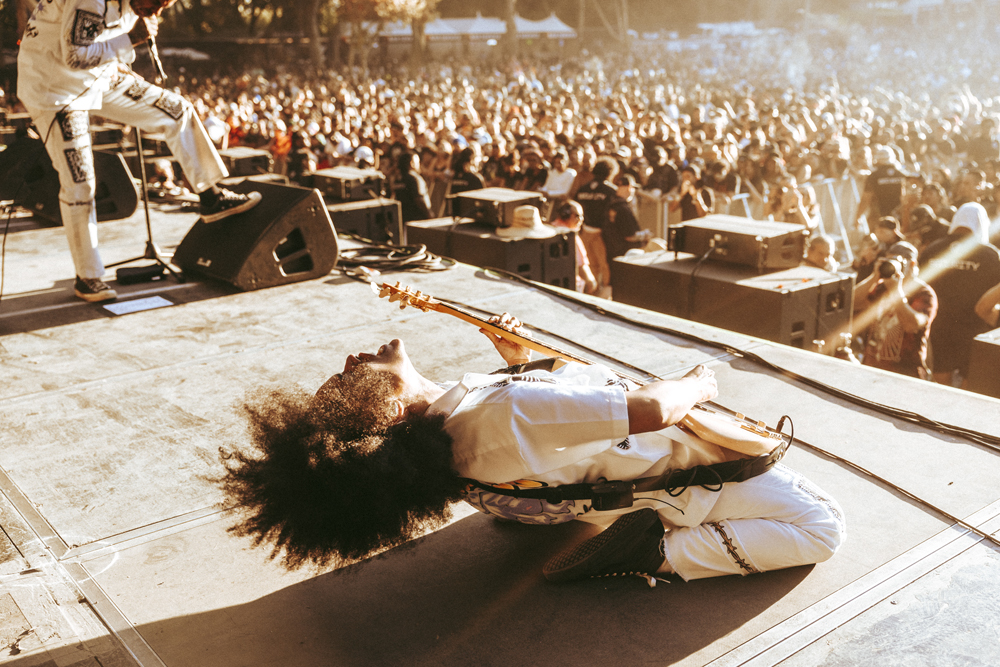 FAME ON FIRE, from Palm Beach Florida, played a very entertaining emo style for their young fans. ESCAPE THE FATE picked up the pace a bit on the JD Stage and AVATAR brought their always entertaining stage show to the Shockwave Stage. AVATAR singer Johannes Eckerstrom is always the center of attention. Colorfully bedecked in a black and red uniform that matched his bandmates' attire, and constantly mugging for the crowd as he waved his cane, Eckerstrom led the crowd in plenty of sing-alongs, such as the opening number "Hail The Apocolypse". He truly is quite the showman, with his scary makeup and even scarier screaming vocals that seem to coincide with a silly sense of humor, which the band pulls off very well. As for the music, it's a defining thud of technically grungy metal, with plenty of programmed drums, as well as screaming guitar solos that go along with the synchronized wind-milling of the heads of the various members of AVATAR during every song. After they closed their set with the appropriately titled "Smells Like a Freakshow" the band bowed and waved while circus music played over the PA system, adding to the fun vibe. It's ALWAYS a fun time with AVATAR.
Also very entertaining is BABYMETAL from Japan. After a recorded intro in English that spoke of "The spirit of heavy metal, traversed across the world" the masked, hooded, band members cranked a brutal intro to "BABYMETAL DEATH" as the three ladies of BABYMETAL - lead singer Su-Metal, and backing singer/dancers Moametal and Momometal strode onstage and began their choreographed dance routines. Festooned in brightly colored costumes, the already excited crowd literally exploded as BABYMETAL launched into their crossover techno-metal hit "Gimme Chocolate!!" Outside of the title of the song, as well as the words "Aftershock" I can honestly say, that I could not understand a squeeky-voiced word that the ladies sang all set. I know that there was some English spoken, but the whole spectacle of BABYMETAL's mixture of sounds and the intensity of the moshing, wind-milling crowd made it hard to decipher what was being said onstage. If you are really into seeing something fun and different from your average metal show, than I highly recommend seeing BABYMETAL.
The reconfigured FEVER 333 made quite the scene on the Jack Daniels Stage. Singer/lead screamer Jason Aalon Butler is a ball of energy from start to finish, using every inch of the stage by leaping, moshing, running, and basically trying his best to incite a riot. The pace set by drummer Thomas Pridgen and bassist April Kae is faster than any high-intensity aerobic workout throughout the set. From the opener "Bite Back" to a sped up cover of BLUR's "Song 2" it was as fired up a band as would be onstage all weekend. Butler even had the balls to climb the rigging and perform on top of the stage, screaming his head off the entire time. Afterwards, he calmly greeted his adoring fans at the rail, as many in the crowd headed for a well-deserved drink to cool off after that show of adrenaline.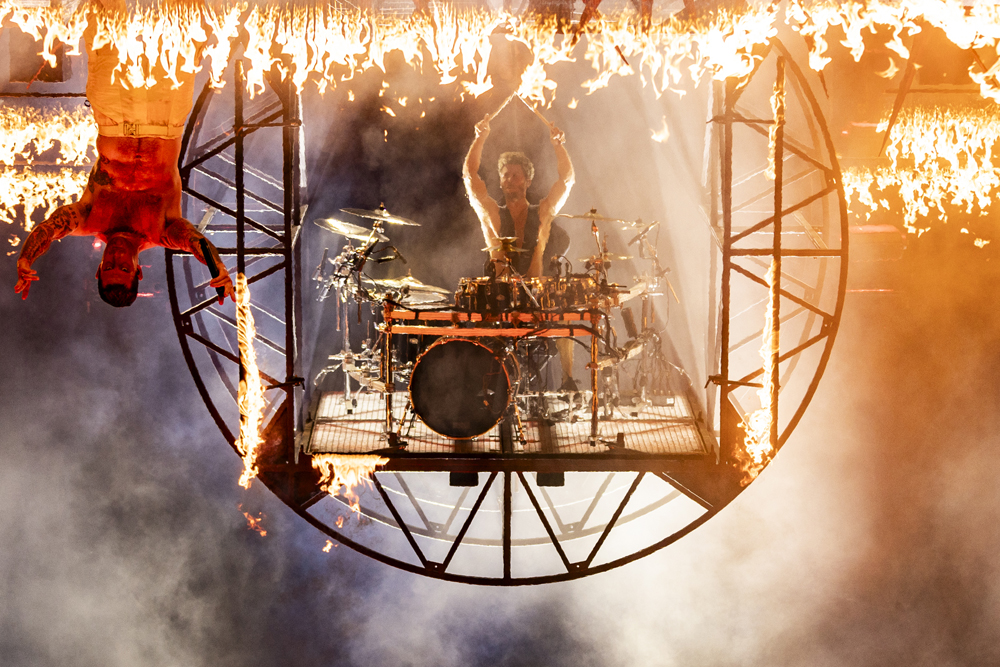 Not to be outdone, Austrailia's PARKWAY DRIVE took hold of the Shockwave Stage and owned it with what I thought was the best set of the day. After festival host/MC Jose "The Metal Ambassador" Mangin toasted the crowd and the band with a "Shoe-y" (apparently, pouring a beer in your sweaty shoe and drinking it is a "thing..") the band appeared onstage amidst a wall of pyro that shot from all directions of the front of the stage as singer Winston McCall led a complete assault on the senses. Clad in all white, he was a literal cheerleader to the packed crowd, and had their complete attention for start to finish. McCall's growly vocals on songs such as "Dedicated" and "Vice Grip" fit well with the crunchy metal riffs supplied by guitarists Jeff Ling and Luke Kilpatrick. The band has grown especially tight since they took a break from the action a few years ago, and have brought their "A-Game" to the concert stage since.
Drummer Ben "Gaz" Gordon has even incorporated a rotating drum kit as part of the stage show and actually hung upside-down at one point as the drum rack was engulfed in flames. PARKWAY DRIVE ended their set with a blistering version of their 2015 hit "Crushed" with many in the crowd high-fiving and roaring their approval of a killer set of Aussie metal.
SLEEP TOKEN, the masked, anonymous British band had quite the buzz going around the grounds before their highly anticipated set on the DWP Stage. I checked them out for a bit and was quite impressed with their genre-bending style of metal. Lots of different influences including progressive, hard-core and industrial keyboard laden songs brought the overflow crowd to an excited frenzy. Their lanky singer, known only as "Vessel" was up for the attention, and their audience was totally into it. They praised them from the opener "Chokehold" to the pleading closer "The Offering", and sang along like pre-teens at a boy-band show.
Oklahoma veterans 311 are a solid live act. Their 10 song, hit laden set on the Jack Daniels Stage, was very entertaining and well-rehearsed. Opening with their huge hit, "Beautiful Disaster" their combination of rock, reggae, ska and funk is always a crowd pleaser, and 311 are no strangers to Aftershock as they appeared at the 2018 event. The progressive rock of "Come Original" and the funky "All Mixed Up" were warmly received, and singer/guitarist Nick Hexum and bouncing rapper "P-Nut" kept their fans entertained throughout. Drummer Chad Sexton, is terrific, his signature saner sound was popping crisp notes, especially during his drum solo, on which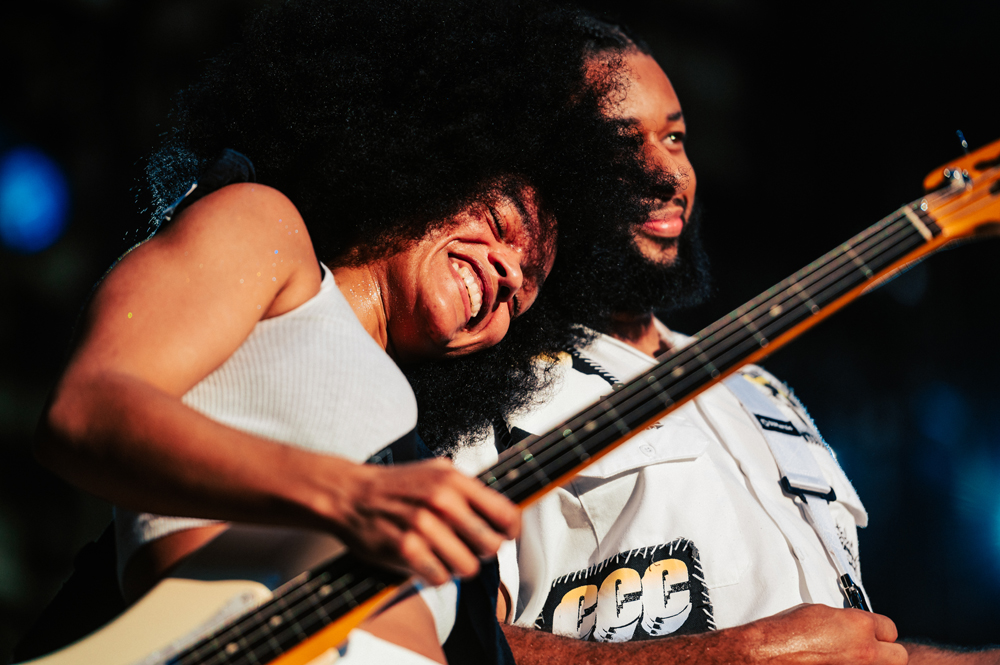 Sexton joined him to jam on some portable drums towards the front of the stage, and the hits continued with the lovely "Amber" and the set-closing rocker "Down" a hugely popular radio song from all the way back in 1995, that still holds up today.
I caught a bit of the fictional metal band DETHKLOK on the Coors Light Stage. When I say "fictional" it's because it is the soundtrack for the Adult Swim adult cartoon series Metalocalypse and is, in reality, the brainchild of creator Brendan Small. Brought to life onstage with a full band including Israeli guitarist Nili Brosch as well as Small, and ultra-drummer Gene Hoglan, they cranked out the most progressive and technical metal of the weekend as clips from the animated series were projected on the screens behind the band. Tons of fog encased the band members, and Brendan Small croaked his "Nathan Explosion" growly vocals, as Brosch, Hoglan, and bassist Bryan Beller shredded.
I made the decision to run to the Jack Daniels Stage to catch the rest of headliners KORN, who as always kicked ass. They played so many songs from so many of their albums that it was like a "Korn Buffet" for the fans. Singer Jonathan Davis is always the main focus, and his jittery onstage persona is one that makes him seem constantly on edge, which blends with the way KORN's songs, such as the opener "Rotting In Vain" and "A.D.I.D.A.S." are portrayed. Davis makes the rounds of stalking the stage, and then plants himself at his unique microphone stand and lets wail, much to the crowds delight. Guitarists Brian "Head" Welch and James "Munky" Shaffer pulled off their patented screaming, wailing, and grungy guitar sounds with ease and force, which gave so much to songs like "Got The Life", "Falling Away From Me" and especially during the rarely performed "Clown", a song from their debut release way back in 1994. Yes, almost 30 years ago. Davis addressed the crowd and thanked them for supporting the band for so long.
KORN drummer Ray Luzier is one of the most talented and exciting players on the planet, and his solo along with touring bassist Ra Diaz was almost impossible to comprehend. Luzier does things behind a drum kit that are so good, I have no words other than "Incredible"! During the opening chords of the crowd pleaser "Coming Undone" which featured a bit of the QUEEN classic "We Will Rock You" I literally could feel the ground shake, as well as - wait for it - a few "Aftershocks" that followed. The band finished off their set with monster version of the late 1990's song "Somebody Someone" that had the crowd as well as the intense stage lighting in hyper drive.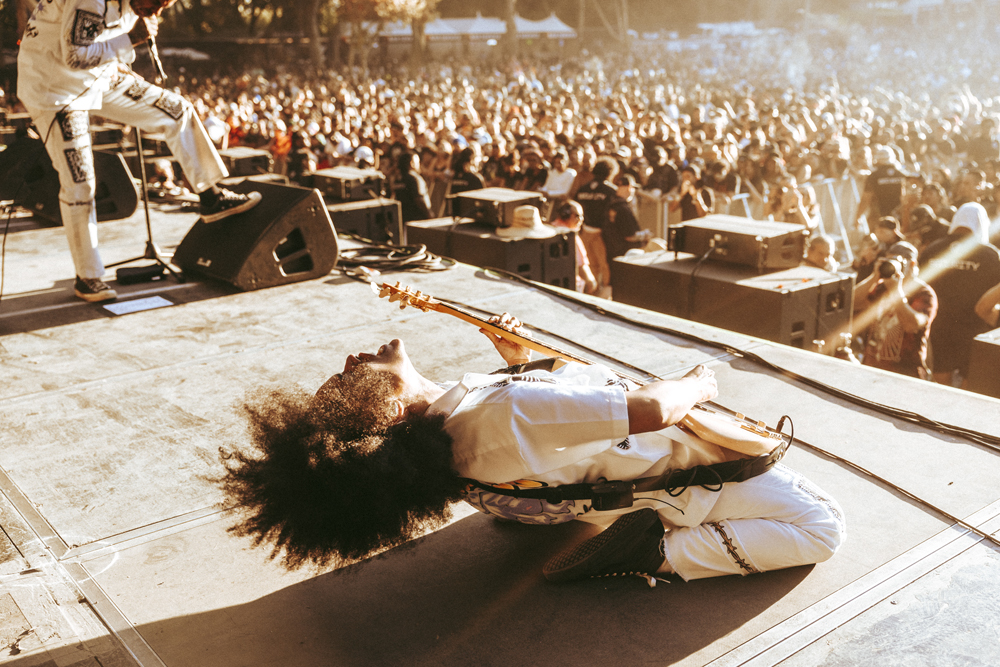 Davis appeared onstage alone for an encore, playing the bagpipes, as his bandmates slowly but suddenly launched into "Shoots And Ladders" and even threw in a METALLICA riff or two as the crowd again went crazy. After a performance of "Twist" KORN closed out the day with the popular "Freak On a Leash" which brought out more chaos amongst the amped-up Aftershock faithful, who sang along to every word. At songs end, as the crowd breathed and gasped for air, Davis thanked them again and promised that the band will return to see them in 2024. With that, Day Three of the festival came to a triumphant end.
Day 4
By the time I arrived for the final day of the festival, I was pretty spent. But hey, I didn't travel to Sacramento to sleep. I checked out Austin Meade and his band who started the day on the Shockwave Stage, and, I must say I was impressed. Looking like the spitting image of the David Spade character "Joe Dirt" and sporting an orange jumpsuit and aviator shades, this Texan and his band rocked a short set heavy on what I can describe as a latter day Southern Rock boogie that brought to mind many of the bands I grew up liking, mixed in with some of today's best rock. It's no surprise to me that he is currently touring with one of my favorite contemporary bands, who I incidentally saw for the first time at Aftershock a number of years ago, DIRTY HONEY.
British band WARGASM was also quite impressive. Led by the dual vocal combination of Sam Matlock and former model/photographer Milkie Way, their aggressive, almost techno-paced brand of rock, they did their best to pump up the still arriving Sunday crowd. They succeeded as far as I and many are concerned, and their songs such as "Fukstar" and "Spit" brought in a new set of fans, as well as their legion of followers as well. RAIN CITY DRIVE, on the Shockwave Stage, as well as the popular REDLIGHT KING on the Coors Light Stage, got the day off to a splendid start.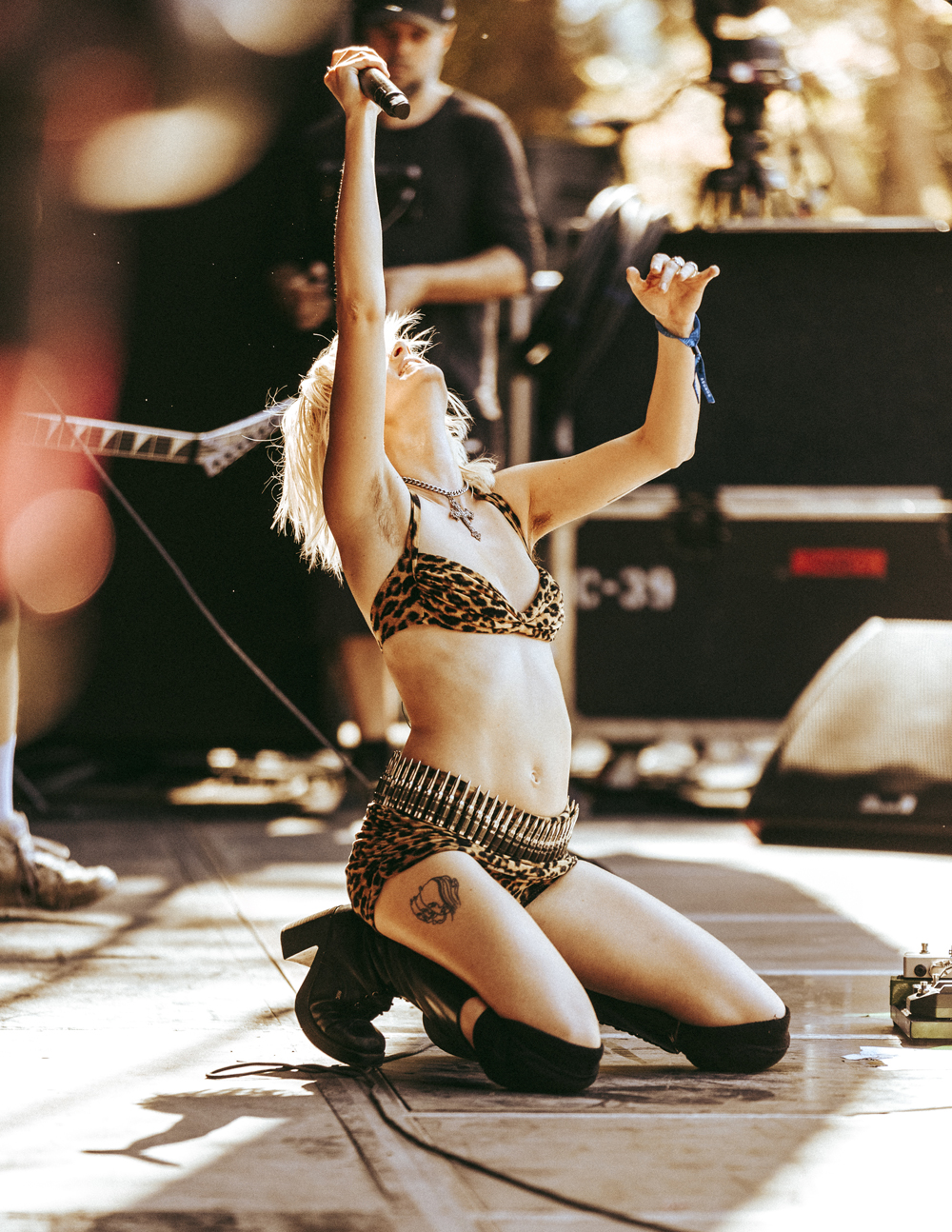 Rocker Ayron Jones has been one of my favorite acts of the past few years, and he and his band rocked their brand of straight-ahead rock and blues until a bit of a technical issue brought the show to a premature end. MAYDAY PARADE, on the Shockwave Stage, and their brand of emotional pop set the stage for the ever popular BADFLOWER who followed. On the Coors Light Stage I enjoyed British band TIGERCUB. Led by their towering singer/guitarist Jaimie Stephen Hall, this trio had a great mix of rock and pop that at times brought to mind other British bands such as WOLFMOTHER and MUSE. It was a welcome change from the emo rock that I had just witnessed and I look forward to seeing them again. Afterwards, I caught the end of DAUGHTRY's set on the Shockwave Stage, and, after he had apparently suffered from some onstage technical issues of his own, finished his set with his powerful version of the JOURNEY classic "Separate Ways (Worlds Apart)". I PREVAIL, on the JD Stage was totally fired up, and the temperature outside as well as the adrenaline were reaching a boil. Their song "Body Bag" got the pits scrambling and their brand of metalcore punk rock got their fans fired up. The bottom-end from "Bad Things" and the set closer "Gasoline" was just the Sunday afternoon lift that I was looking for.
Hometown Sacramento band DANCE GAVIN DANCE is very popular. They have their fans, and their performance at Aftershock was enjoyed by many. Not Me. I have seen them a few times and I'm sorry to say, they don't do much for me. I am not one to criticize, so I'll move on. I visited the Coors Light Stage once again for a peek at fellow Orange County California rockers MOVEMENTS and found their brand of pop rock, including the very popular "Daylily" could open up my eyes a bit to something new to me, and I liked what I heard.
Gearing a hot, sweaty crowd for a bunch of charged up punk rock is no problem for punk veterans RANCID, and their 18 song set was filled with plenty of fire. The opener "Roots Radicals" set the pace with its locomotive, RAMONES-style tempo, and the audience responded accordingly. Crowd surfers, mosh pits and fists waving was the norm, and it really didn't stop for the entire hour of stage time. Guitarists Lars Frederiksen and Tim Armstrong traded vocals as well as guitars solos, although Armstrong spent a large amount of the time flailing his hair about and beating the shit out of his worn axe.
The skinhead punk of "Tomorrow Never Comes" was a total blast from the punk past, even though it is the title track of their latest record. RANCID stays true to its punk roots in every sense. Bassist Matt Freeman took over vocals and displayed great bass skills during "Black And Blue" and drummer Branden Steineckert was like a machine all set, switching the tempo from the speedy punk rock of "Ghost of A Chance" to straight ahead rock and gassed-up ska of "Time Bomb" and the crowd favorite "Ruby Soho" which ended their great set, Armstrong finishing the song while in the audience. RANCID was truly a highlight of the day for me.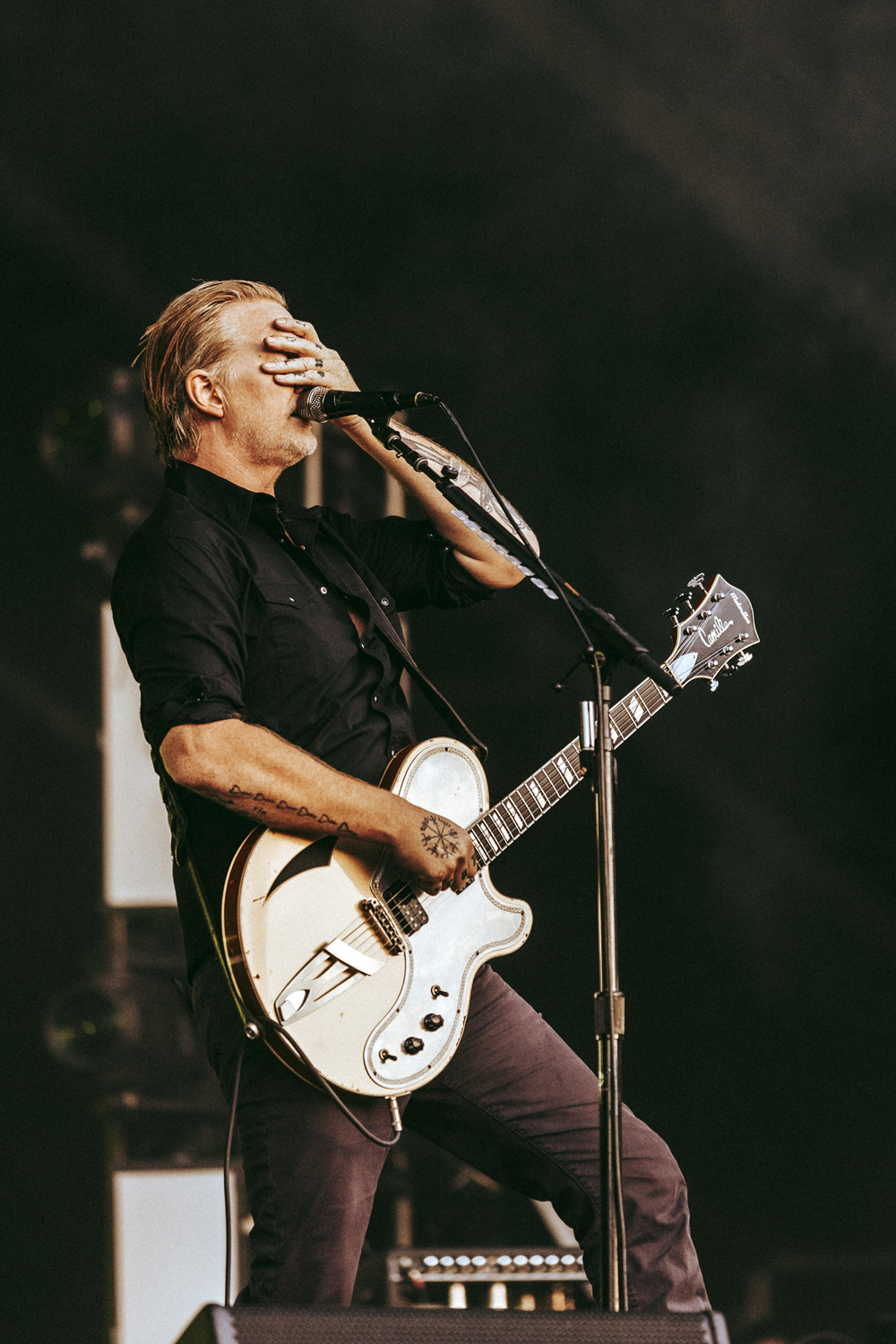 QUEENS OF THE STONE AGE had the task of appearing after RANCID and BEFORE GUNS N' ROSES and were up for the challenge. Strangely coming onstage to a recording of Peggy Lee crooning the Charlie Chaplin classic "Smile", the band immediately changed course and opened with the stop-start rock hit "No One Knows" that set the stage for an enjoyable 12 song set. Singer/guitarist Josh Homme seemed to be having a blast all set long. "I'm stoned as fuck, you look amazing" he exclaimed.
The band's brand of quirky, straight ahead rock went over well as night fell on Discovery Park. Guitarist Troy Van Leeuwen provided a great foil for Homme and they traded guitar riffs on songs like "If I Had a Tail" and the bouncy "The Way You Used To Do". The band slowed down a bit during the funky "Make It Wit Chu" which even threw in a sing-along with a bit of the ROLLING STONES classic "Miss You" and I noticed people actually DANCING as opposed to the usual moshing which was the norm all weekend. QOTSA then rocked their adoring crowd with "Little Sister" and "Go With The Flow" before finishing a flourish, the rocker "Song For The Dead" that sounded great.
With a three hours of stage time scheduled, headliners GUNS N' ROSES kept the crowd at bay, by appearing a half hour past their scheduled time. I'm guessing typical Axl Rose stuff, but hey, it's anybody's guess. After a huge, flaming intro the band charged onstage with their 1986 song "It's So Easy". Rose, dressed in black and sporting a silver wallet chain, ran back and forth the entire song, briefly pausing for one of his patented falsetto screams. Bassist Duff McKagen started a bang-up version of 1991's "Bad Obsession" and it was off to the races. A 25 song set that featured everything you wanted to hear from GnR's catalogue as well as a few covers, most noticeably the post-GnR band VELVET REVOLVER song "Slither". I was pleased to hear Axl Rose and company tackle that one. On the other hand, if I have to hear their long, droning cover of Bob Dylan's "Knockin' On Heavens Door" with its silly "Hey, Hey, HeyHeyHey" refrain another time in this lifetime, I may shoot myself. Naturally, it was performed towards the end of the set and I am glad to say, I held off on that possibility.
Guitarist Slash, as always, was on point. Using a variety of Gibson Les Paul's and BC Rich guitar's, his tone, feel and stage presence are rock solid from start to finish. Drummer Frank Ferrer pounded out the beat to "Mr. Brownstone" and the band followed it up with my favorite track from 1991's Use Your Illusion 2, the magnificent "Pretty Tied Up" that featured great rhythm riffs from second guitarist Richard Fortus.
After Slash and the band played a bit of the classic Link Wray instrumental "Rumble" the familiar intro of the bands 1986 mega-hit "Welcome To The Jungle" got the Aftershock crowd screaming, especially after Rose plied them with "Aftershock, let me hear you scream!" It was then that I noticed a change in the tone of Rose's vocals. And it got progressively more pronounced as the show went on. I had heard horror stories from recent shows that they have done, where it literally gave out, and this was pretty close, as far as I could hear.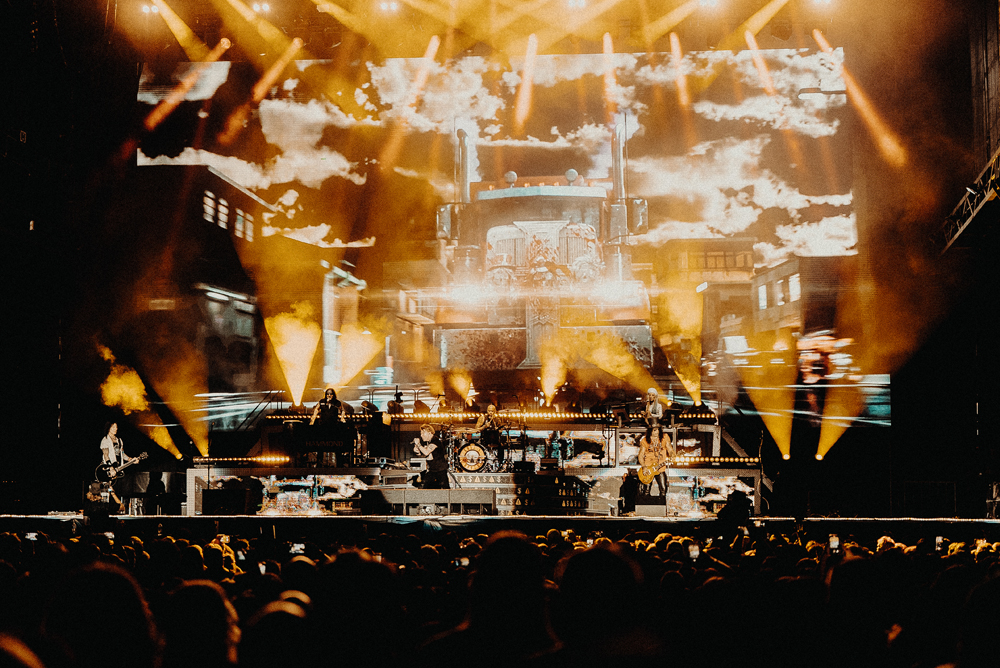 But the band soldiered on. They tore through some of GnR's new tracks such as their latest single "Perhaps" and the title track to 2022's Hard School and "Absurd" from that release which went over well. A few "Deep Cuts" from various points in the bands career, such as "Better" from 2008 and 1991's "Estranged" were cool to hear, but it was the big ones that brought out this crowd en masse. FM radio hits like "You Could Be Mine" and "Rocket Queen" preceded a few more cool covers such as Paul McCartney And Wings' "Live and Let Die", the UK Subs "Down on the Farm" and Duff McKagan's vocal take on THE STOOGES' "T.V. Eye" that was stellar.
After introducing the band at the end of "Civil War", Rose turned the stage over to Slash and led into the familiar intro to "Sweet Child of Mine" that set the crowd off the rails. Afterwards, Axl Rose joined keyboardists Dizzy Reed and Melissa Reese by playing piano and wailing the soaring ballad "November Rain". After performing the tortuous song that I alluded to earlier, the band finished strong with "Nightrain" and the inevitable set closer "Paradise City". The band then joined together on the front of the stage and bowed as the Aftershock faithful roared their approval. And that brought an end to the music for Aftershock 2023.
Seeing a legendary band like GUNS N' ROSES after a day full of new bands just beginning to make their mark on the music scene truly brought everything full circle for me. Out with the old, in with the new, perhaps? As for next year's event, what legends and surprises are to come? I'm sure the good people at Danny Wimmer Presents will throw yet another quality party next October in Sacramento with Aftershock 2024 and bring out the best of the old and new. They know what they are doing, that's for sure, and I'd like to thank them for allowing me to attend and report what I see at their events, as I have done for the last 15 years or so.
I'd also like to thank my fellow attendees, vendors, press people, and the rest of the staff for making it such a great event, and making us all feel safe and taken care of. There are so many stories unfortunately, of unruly behavior in public gatherings these days. I saw absolutely NONE the entire time I was there. Like the late Max Yasgur once said - "Nothing BUT fun and Music, and I god bless you for it!" Again, my extreme thanks to all that made it possible for me to be there. As for now, as Axl Rose sang- "Oh won't you please take me home!" Junkman - OUT!
Check out some more photos!
All Live Photos By Steve Thrasher, Others By Junkman