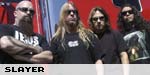 It was recently announced that Slayer and Marilyn Manson will embark on a co-headlining tour. There have been plenty of "interesting" mixtures on tour line-ups over the years, but this one clearly raises some eyebrows.

Historically, a percentage of Slayer fans have been brutal to bands sharing the stage, but this time, there could be as many die-hard Marilyn Manson fans in the house as Slayer fans. Will that temper the situation, or fuel the fire?

We know you have an opinion about this one. Take it away.